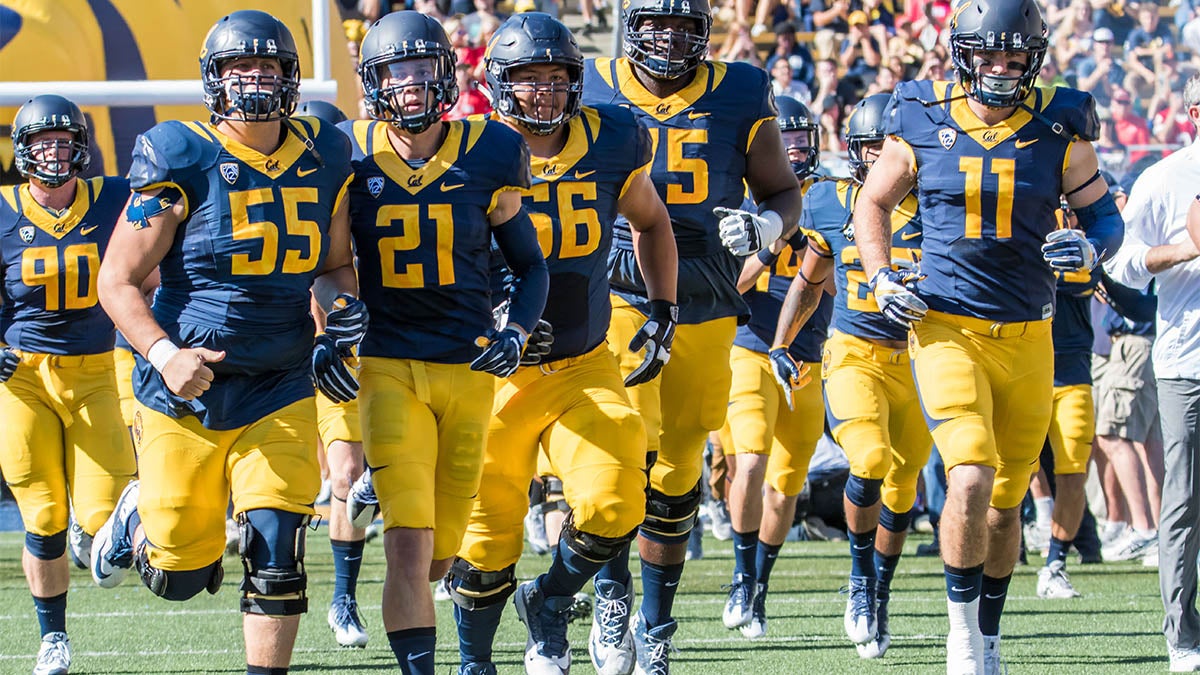 Sidelined for his first two collegiate seasons with an ACL tear, Evan Rambo found a unique way to leave his impact on football.
Through a new course at the University of Cal, Berkeley, the junior safety enrolled in the Sports Tech Collider Sprint, in which students from engineering and science fields are paired with select student-athletes to encourage entrepreneurship and technology in sports. The program culminated in a competition called the Collider Cup.
Rambo partnered with friends and engineering majors, Tushar Mittal and Sahil Hasan, and began working under the name Basys. Their focus was developing a wearable prototype that could actively track data, including approach angles, force and balance, by inserting microchip sensors in shoes and gloves worn by players during practices and, eventually, in games.
Pairing Rambo, a student-athlete with knowledge of sports training and how collegiate athletic programs work, with individuals talented in technology innovation allowed their team to better understand the sports industry and what details and data are most important to analyze.
"It always seems as though the bioscience or the medical or the engineers … they go and they want to create stuff for athletes or for sports programs, yet they, in many cases, lack the basic understanding of how those programs work," said Stephen Torres, an engineering professor at the university who came up with the idea. "In our class, by having the actual student-athletes on every single team, we shortcut all that."
Not only did Rambo's team compete in the Collider Cup competition –– which consisted of presentations to Cal engineering professors and Silicon Valley professionals –– but Basys also won the grand prize. Rambo and the team credited the help of Cal coach Justin Wilcox, who played an integral part in coming up with the idea for the wearable tech to measure force and technique.
"Evan told me what they were thinking, and I spent some time with them," Wilcox said. "A couple of our coaches were involved, too. What were the measurables we would want to use? What's something that's practical, and what's something that maybe sounds good but isn't practical? We ended up with coming up with the ability to measure force."
The class serves as a baseline for sports engineering programs across the country, as the benefits of combining athletes and engineering students was integral to the success of the group. Without the knowledge of the ins-and-outs of football, Basys' technology likely would not have been created, according to teammate Hasan.
"I would say, for us, one of the greatest pieces of help we got was ... regular meetings with coach Wilcox," Hasan said. "He really helped us understand the problem, and he's seen the different iterations of our project. Athletes are competitive. The entire class fostered a certain need to be the best that you possibly can."
Other schools throughout the United States have implemented similar programs to the Sutardja Center for Entrepreneurship and Technology with hopes students using scholastic settings will introduce innovation and technology to sports.
Last year, Clemson University introduced Technology Entrepreneurship in Sports as a class offered by its Arthur M. Spiro Institute for Entrepreneurial Leadership, allowing students to interact and learn from both the business school and athletic department about technologies in ticketing, team communications and field security.
"Innovation in the sports and entertainment businesses has been on an upward trajectory worldwide," said John Hannon, co-instructor and assistant director of the Spiro Institute. "There have been technological advancements in apparel, equipment, virtual reality, training devices, nutrition, health, safety and many other areas of the industry."
Another example is Arizona State University's Innovation Open that took place in February. Sponsored by Avnet, a Phoenix-based technology provider, ASU held a competition to support innovation and technology throughout the area. Hoolest Performance Technologies, founded by ASU's bio-engineering doctoral student Nick Hool, won the $100,000 grand prize with earbuds designed to block stress-causing nervous system signals and decrease the effects of performance anxiety in athletes. The inspiration for this idea stemmed from personal experiences with performance stress on his high school golf team.
"The grant money will help produce our initial 300 products this year and help us launch our paid private beta this summer with elite athletes," Hool said.
As science and technology advances, incorporating new and innovative technologies and programs to allow coaches and scouts detailed analytics of players is imperative for the future of sports.
Teaching young sport engineers and student-athletes through programs like SCET's Sports Tech Collider Sprint course enables people, such as Rambo, to achieve in business, technology and sports.
"People who are from where I'm from don't get a lot of chances to go into the business world or entrepreneur world and really create something from the ground up," said Rambo, who has had internships with Learfield, Crescent Capital Group LP and Comerica Bank. "A chance to create something that you love and do it for your career is really special. This is something I really want to keep pushing, so I can be an example for those kids back home that I made it from the same place you're from."
Ross Andrews is a senior journalism student at Arizona State University
Related Articles
Wearable technology moving from the track to the bedroom
Wearable technology now knows if you are a candidate for diabetes
As science, technology gather more biometric data, who owns the information?
Big data becoming as important as scouting and just as closely guarded
Tags:
analytics
,
Arizona State University
,
ASU
,
Basys
,
Berkeley
,
Cal
,
Clemson
,
Collider Cup
,
data
,
Engineering
,
Entrepreneurship
,
Evan Rambo
,
force
,
Hoolest Performance Technologies
,
innovation
,
microchip sensors
,
NCAA
,
Pac-12
,
SCET
,
sports
,
sports tech
,
Sports Tech Collider Sprint
,
Sports Techie
,
student-athletes