Culture
Archive
Kaepernick workout turns contentious, called 'publicity stunt'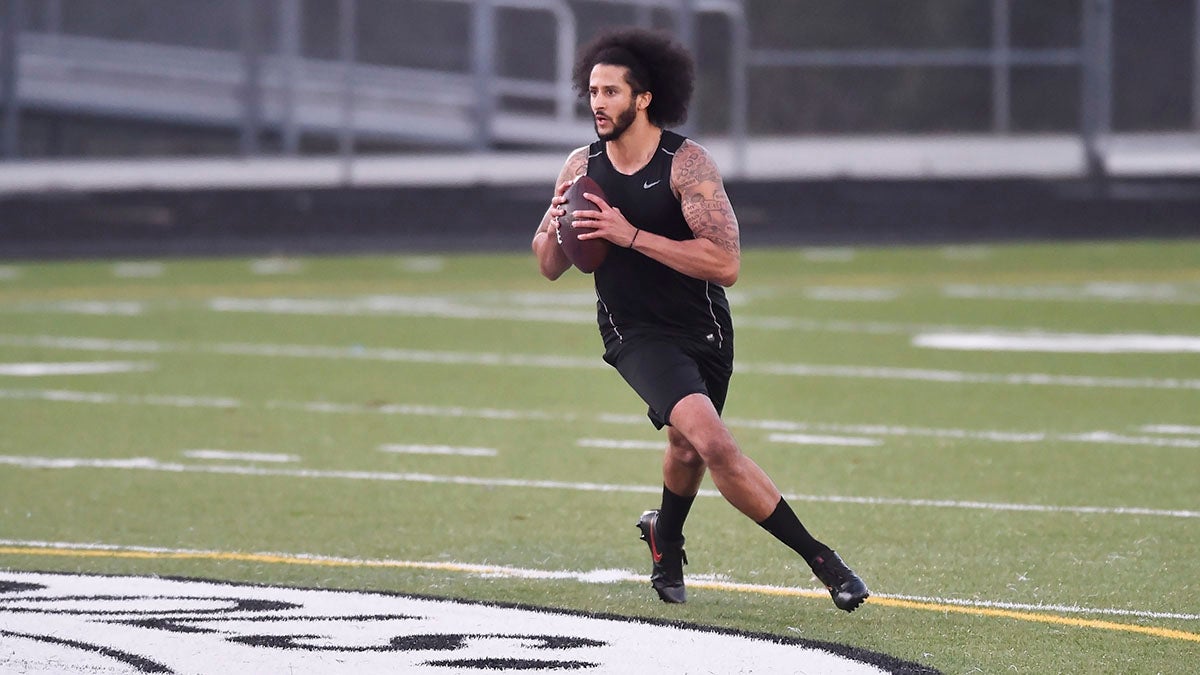 "I've been ready for three years, I've been denied for three years."
That statement by former San Francisco 49ers quarterback Colin Kaepernick echoed loud Saturday, but representatives from only eight of the NFL's 32 teams were around to hear it.


It has been three years since Kaepernick last played in the NFL, and he was embroiled in controversy even before he opted out of the final year of his contract in 2016. His decision to protest police brutality and injustice against people of color by kneeling during the national anthem before games set off a national debate regarding the intersection of sports and politics.
No NFL team has been willing to sign Kaepernick since then. And his contentious relationship with the league took another bizarre turn Saturday afternoon. 
Kaepernick was scheduled to take part in a workout session in front of representatives from 25 of the NFL's 32 teams at the Atlanta Falcons' training facility in Flowery Branch, Georgia. However, Kaepernick and his agents made a last-minute decision to change the location of the workout in the interest of transparency, they said.  
Reportedly, Kaepernick wanted assurances about how the workout and a scheduled interview would be recorded and distributed by the NFL. And there were questions about the waiver that he was required to sign.
As a result, the workout, which was slated to begin at 3 p.m., was pushed to 4 p.m. and moved to Charles Drew High School in Riverdale, Georgia. The location change discouraged many of the teams that were supposed to send representatives, but ESPN's Adam Schefter reported that eight teams still sent representatives, including the Kansas City Chiefs, Philadelphia Eagles, Tennessee Titans, the 49ers, Washington Football Team, Detroit Lions and New York Jets. The identity of the eighth team was not disclosed.
During the workout, Kaepernick flashed the considerable throwing ability that helped him lead the 49ers to Super Bowl XLVII in 2013. According to Schefter, an NFL executive described the 32-year-old's arm talent as "elite," noting that his passing power is as good as it was when Kaepernick was drafted out of Nevada.
Colin Kaepernick made a 90 second statement before leaving pic.twitter.com/QlH2RTnLp5

— Dan Wolken (@DanWolken) November 16, 2019
In a statement, Kaepernick's representatives, Ben Meiselas and Jeff Nalley, cited an "unusual liability waiver" as one reason for the sudden change in the workout schedule. Additionally, Kaepernick requested "a transparent and open process," which included allowing media and spectators to attend the session.
Fans and media did attend the rescheduled workout, and were there to hear Kaepernick's "I've-been-ready" statement.
In response, the NFL issued a statement expressing its disappointment in Kaepernick's decision to bypass the originally scheduled workout. 
"Today's session was designed to give Colin what he has consistently said he wants – an opportunity to show his football readiness and desire to return to the NFL," the statement said, in part.
The statement went on to say that, "Colin's decision has no effect on his status in the League. He remains an unrestricted free agent eligible to sign with any club."
Bleacher Report's Mike Freeman reported that an NFC executive told him at least two teams are "seriously interested" in signing Kaepernick and that the quarterback could land on a roster by the end of the month.
Meanwhile, NFL.com insider Ian Rapoport reported that league partner and acclaimed rap star Jay-Z influenced the league's decision to agree to a workout. After the fact, hip hop magazine XXL reported that Jay-Z was disappointed that the workout became what he called a "publicity stunt."
Reaction to the Kaepernick workout spread rapidly across social media.
"I almost feel like Colin Kaepernick is taking on an entitled stance

It is a privilege to play in NFL, not a right

I commend #Kaepernick for what he's done past couple of years, but god, he is unlikable and that's frustrating to me because he has so much talent"

— TikiAndTierney (@TikiAndTierney) November 18, 2019
More Eric Reid on yesterday's Colin Kaepernick work out in Atlanta and how the Panthers and the 31 other teams could use him pic.twitter.com/tgfbIezh1m

— Antwan V. Staley (@antwanstaley) November 17, 2019
Meanwhile they are using the very video content that would not have been available to them had Colin not demanded transparency. https://t.co/OLcEclE6km

— Eric Reid (@E_Reid35) November 18, 2019
Kaepernick made a big deal about doing a workout for NFL teams. The NFL set it up for him and 25 teams agreed to attend. At the last minute he insisted on having his own film crew. Because he didnt get his way, he pulled out. This guy doesn't want to play. He just wants attention

— Matt Walsh (@MattWalshBlog) November 16, 2019
Me thinking the NFL was about to do the right thing ???

— J. Cole (@JColeNC) November 18, 2019
My thoughts on @Kaepernick7 workout this weekend! @djacoby @jalenandjacoby pic.twitter.com/biMz9cbhQt

— Jalen Rose (@JalenRose) November 18, 2019
Non-sports fan Howard Stern summing up the Colin Kaepernick situation: "This guy got in trouble because he took a knee. Can you imagine? Who cares? Let him take all the knees he wants and let him play. Who gives a shit?"

— Jimmy Traina (@JimmyTraina) November 18, 2019
If I want a job at McDonald's + 25 McDonald's bosses + staff fly to the same McDonald's facility to interview me, maybe I shouldn't wear a "F. U. McDonald's" T-shirt, cancel the whole thing w/an hour to go + then wonder, "Why won't McDonald's hire me?"#Kaepernick

— Rick Reilly (@ReillyRick) November 18, 2019
After the Houston Texans lost to the Baltimore Ravens Sunday, Texans receiver Kenny Stills voiced support for Kaepernick's latest stand.
"It's all hearsay, but if it's true about what was put in the waiver, trying to keep Colin from taking further legal action on the league and things like that, then it was exactly what we thought," Stills told USA TODAY Sports, "which is just a media circus and the league trying to cover their tail, as usual."
Dylan Hunter Carter is a senior sports journalism student at Arizona State University
Related Articles
Kaepernick, Reid settle collusion case
After initial fury, Nike's Colin Kaepernick ad 'well received'
Yale sociologist: Colin Kaepernick, Lebron James important role models 
Extending Kaepernick bold, controversial move by Nike
New poll: Majority of Americans support athletes' right to take a knee
Protesting athletes may have a case under First Amendment
Athlete activism is on the rise, but so is the backlash
Adidas exec on the future of sport, society and Kaepernick