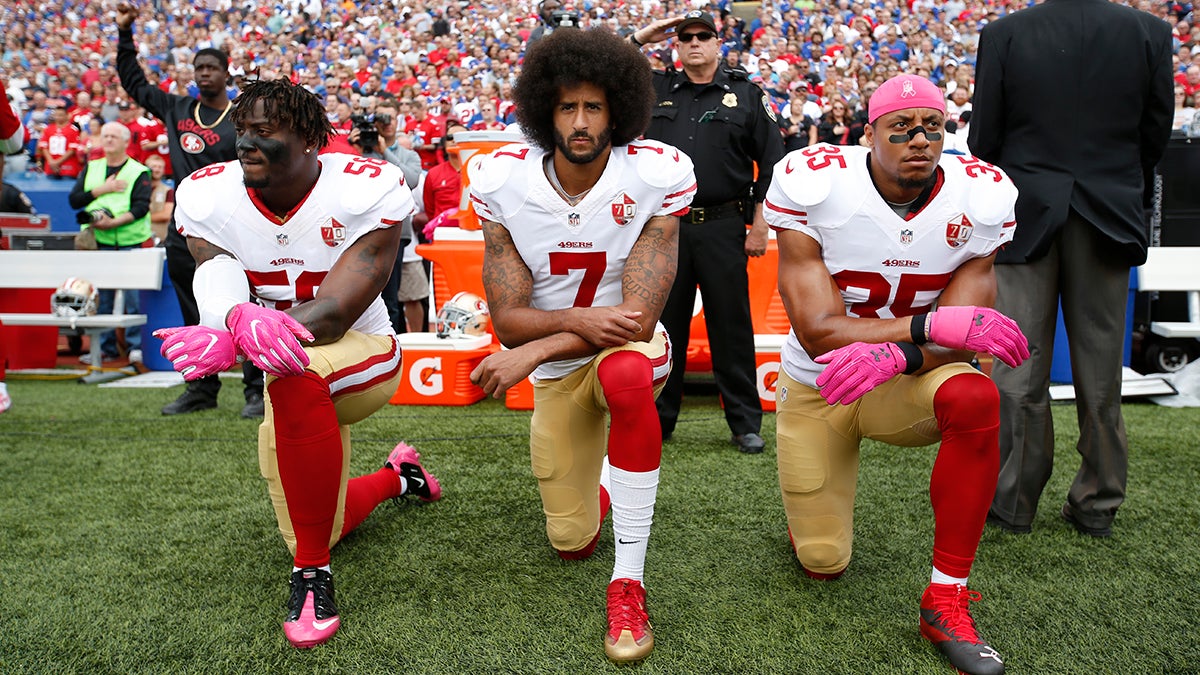 More than a year after filing a collusion case against the NFL, former San Francisco 49ers quarterback Colin Kaepernick has settled with the NFL.


Kaepernick filed a grievance on Oct. 16, 2017 alleging the league and teams were in violation of the anti-collusion clause of the collective bargaining agreement.
Kaepernick last played in an NFL game on Jan. 1, 2017 in the final regular season game of the 2016 NFL season. The 2016 season is also when he started kneeling to protest social injustice against the African-American community.
The reactions to Kaepernick's kneeling were mixed with some people supporting them and others suggesting his kneeling was disrespecting America and the flag.
President Donald Trump was openly against kneeling during the national anthem, speaking out openly on the matter and tweeting several things about the topic overall.
"If a player wants the privilege of making millions of dollars in the NFL, or other leagues, he or she should not be allowed to disrespect our Great American Flag (or Country) and should stand for the National Anthem," Trump wrote. "If not, YOU'RE FIRED. Find something else to do!"
Only a few weeks after Trump's response and not being signed to an NFL roster Kaepernick filed his grievance.
Despite a 28-30 record as a starting quarterback, a 4-2 record in the postseason and a Super Bowl XLVII appearance, Kaepernick remained unsigned even after several starting quarterbacks were injured.
The NFL Players Association released a statement that said: "Today, we were informed by the NFL of the settlement of the  collusion cases. We are not privy to the details of the settlement, but support the decision by the players and their counsel. We continuously supported Colin and Eric from the start of their protests, participated with their lawyers throughout their legal proceedings and were prepared to participate in the upcoming trial in pursuit of both truth and justice for what we believe the NFL and its clubs did to them. We are glad that Eric has earned a job and a new contract, and we continue to hope that Colin gets his opportunity as well."
— NFLPA (@NFLPA) February 15, 2019
The NFL also settled a collusion grievance with safety Eric Reid, who is a former 49ers teammate of Kaepernick. Reid did not play the first three games of the 2018 season before getting signed by the Carolina Panthers. He recently signed a three-year deal for $22 million with the Panthers.
The settlement terms were not disclosed. Kaepernick's lawyer Mark Geragos said the terms of the settlement will not be discussed due to a confidentiality agreement signed by both players and the NFL.
How the people who swore Colin Kaepernick wasn't in the NFL because of talent reacted when they saw the league settled Kaepernick's collusion case pic.twitter.com/HcPxav536L

— Jemele Hill (@jemelehill) February 15, 2019
To recap:
Colin Kaepernick used his platform, sacrificing his #NFL career to incite a 2+ year nationwide conversation about racial and social injustice.

In the end, he seemingly proved NFL owners colluded to keep him out of the NFL & he STILL got paid.
Well done @Kaepernick7.

— Emmanuel Acho (@thEMANacho) February 15, 2019
Just In: A lawyer for Colin Kaepernick says the quarterback has resolved 'pending grievances' with the National Football League. In a tweet from Kaepernick's attorney, Mark Geragos, the resolution of the matter is 'subject to a confidentiality agreement.'

— NPR (@NPR) February 15, 2019
Looking forward to the argument that Colin Kaepernick, who seems to have reached a financial settlement for being blackballed by the NFL over a peaceful and principled protest of systemic racism in America, was just in it for the money

— Bruce Arthur (@bruce_arthur) February 15, 2019
Once arbitrator Stephen Burbank denied the NFL's request for summary judgment last August--meaning Colin Kaepernick had shown a genuine issue of material fact--the NFL realized they could lose to Kaepernick if they wait for Burbank to rule. A settlement is a draw & avoids a loss.

— Michael McCann (@McCannSportsLaw) February 15, 2019
Remember - the cost of the @Kaepernick7 settlement will be borne by all clubs, so factor that into your analysis of the settlement —> X divided by 32 is a lot less X. #math

— Amy Trask (@AmyTrask) February 15, 2019
NOW, sign Colin Kaepernick to a free agent contract; Commissioner: conduct a thorough review of mgt. of entire player protest situation in recognition that League will be well over 80% Black by mid-decade w/ other societal issues coming over stadium wall.

— Dr Harry Edwards (@drharryedwards) February 15, 2019
Lamar Smith is a masters sports journalism student at Arizona State University
Related Articles
After initial fury, Nike's Colin Kaepernick ad 'well received'
Yale sociologist: Colin Kaepernick, Lebron James important role models 
Extending Kaepernick bold, controversial move by Nike
New poll: Majority of Americans support athletes' right to take a knee
Protesting athletes may have a case under First Amendment
Athlete activism is on the rise, but so is the backlash