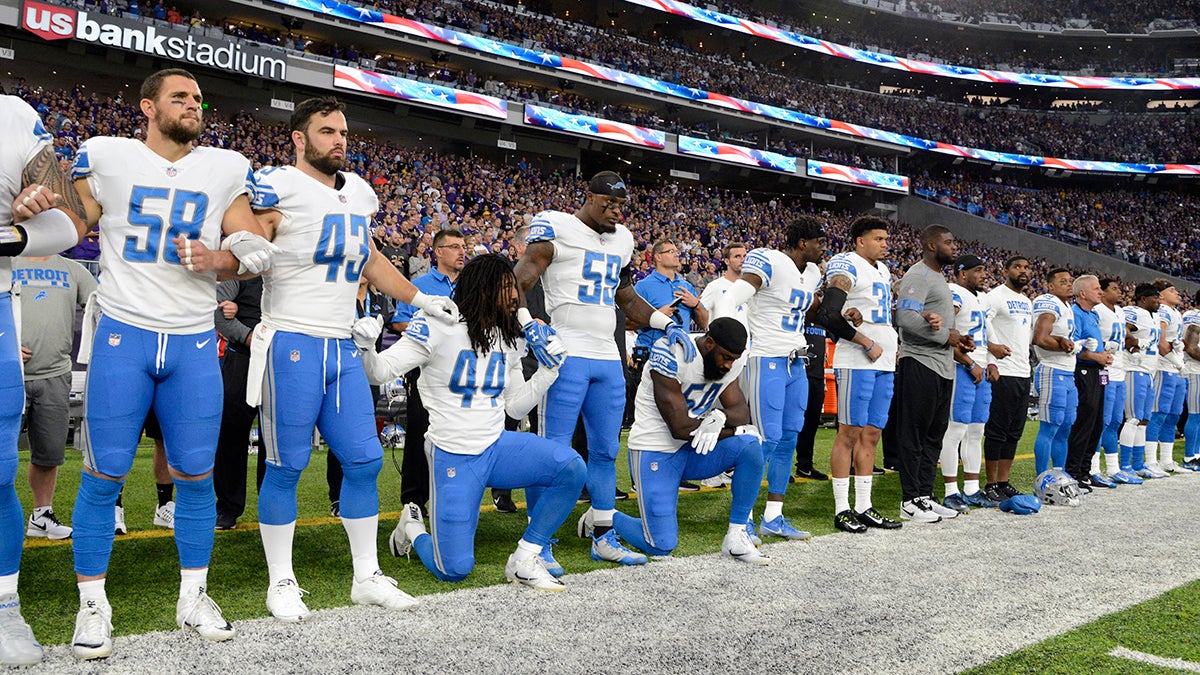 Race-driven protests in the United States and sports have a long, shared history from Tommie Smith and John Carlos through Muhammad Ali up to Colin Kaepernick and other NFL players who have been kneeling to protest police brutality of minorities.
These protests have almost always elicited anger at the time but praise as the years pass. The current furor surrounding NFL players kneeling or raising their fists is likely no different. However, Marc Edelman, a tenured professor of law at the Zicklin School of Business, Baruch College, City University of New York, believes NFL players who have been released or not signed because of their protests may have a case in a lawsuit.
Smith and Carlos protested poverty and lynchings in the United States during the medal ceremony at the 1968 Mexico City Olympic Games. They were "ostracized by the U.S. sporting community and received death threats," only to be considered American heroes decades later.
Around the same time, Ali protested the draft for the Vietnam War saying that as a black Muslim he was a conscious objector. Even though Ali is often considered an American hero today, at the time Ali was ridiculed, stripped of his boxing status and was even sentenced to five years in prison.
Ali never spent time in jail as he fought the ruling and eventually had the Supreme Court reverse his conviction in a unanimous ruling.  Now, President Donald Trump is considering pardoning Ali of his conviction in what some, including Ali's attorney, have considered unnecessary.
NFL players who have protested police brutality against African-Americans have encountered similar hostility from portions of American society while being called out and demonized by Trump.
Most recently, Trump disinvited the Super Bowl champion Philadelphia Eagles from a White House visit. Trump claimed that since the full team would not attend because players disagree with president's stance on players standing during the anthem he was disinviting the team. However, no Eagles player took a knee or stayed in the locker room during the 2017 NFL regular season or playoffs. Some players, such as Malcolm Jenkins or Chris Long, protested in other ways, such as by raising a fist. Trump also did not extend a White House invitation to the 2017 WNBA champion Minnesota Lynx, withdrew his invitation to the 2016-17 NBA champion Golden State Warriors in September and indicated during the NBA Finals that no invitation would be extended to the 2017-18 NBA champions, which turned out to be Golden State again. The 2016-17 NCAA women's basketball championship team, South Carolina, received an invitation only after it was revealed publicly months later that it had not been invited. The school turned down the invitation.
Not one single @Eagles player knelt during the National Anthem in the 2017 regular season and playoffs. Not one Eagles player chose to stay inside the locker room. This has been a team that has been united while respectfully having different opinions.

— Kevin Negandhi (@KNegandhiESPN) June 5, 2018
"This is a very winning, strong issue for me," Dallas Cowboys owner Jerry Jones, under sworn testimony, said Trump told him. "Tell everybody, you can't win this one. This one lifts me."
Trump even sent out threatening tweets claiming the U.S. government could take away "massive tax breaks" from the NFL if it continued to allow players to protest during the national anthem.
As Edelman points out in his article, "the First Amendment does not protect all employees who are terminated based upon their speech. The First Amendment simply prohibits a state actor from limiting an employee's right to speak on matters of public concern."
However, since the arenas are often paid for or owned by the public and the president has made threatening comments about cutting or even deporting protesting athletes, players such as Martellus Bennett and Damontre Moore might have a case to sue.
As Edelman writes:
"The first potential argument is that some NFL teams play their games in publicly-owned stadiums or, at least, in stadiums that are greatly subsidized by municipal governments. In the 1978 decision of Ludtke v. Kuhn, (the United States District Court) Southern District of New York held that New York City's ownership rights over the lease to Yankee Stadium transformed the Yankees' ban against female reporters in the Yankees Clubhouse from a private employer action into state action under the Equal Protection Clause of the Fifth and Fourteenth Amendments. Based on this conclusion, there is at least some precedent, albeit under different clauses of the Constitution, to tie stadium ownership and funding to state action."

"Alternatively, and perhaps far more compellingly, President Trump's repeated statements that threaten to remove "massive tax breaks" from NFL teams unless they "fire" protesting players also may amount to state action by the executive branch to curb political speech, applied through the instrumentality of the NFL team owners. Indeed, in the 1963 Supreme Court decision Bantam Books, Inc. v. Sullivan, the Court found state action where a government entity used the "threat of invoking legal sanctions and other means of coercion, persuasion, and intimidation" to induce private entities to act in a way that chills free speech rights."
There is even more hope for Kaepernick, who is currently suing the NFL for collusion and is expected to seek testimony from Trump and Vice President Mike Pence regarding their pressuring the NFL regarding players protests.
"The CBA also includes an "Anti-Collusion" clause, which stipulates that no NFL club shall enter into any agreement with the league or any club as to whether to offer a contract to a particular player. Pursuant to the CBA's "Anti-Collusion" clause, NFL teams are prohibited from jointly imposing discipline on a player and from creating a blacklist of players with whom the teams collectively choose not to negotiate."
While Kaepernick may have a chance for his lawsuit to succeed, Edelman explains proving collusion will not be easy.
Under this scenario, the burden of proof would lie with the former NFL player to show the existence of such an agreement. Consequently, it would be an uphill battle for any player to prove collusion and doing so would require the player's attorneys to engage in a long and time-consuming internal discovery process.
Kynan Marlin is a journalism student at Arizona State University
Related Articles
Athlete activism is on the rise, but so is the backlash
Athlete activism has global, historical aspects
Standing to kneel: Analyzing NFL players' freedom to protest during the playing of the U.S. national anthem