Business
Archive
After initial fury, Nike's Colin Kaepernick ad 'well received'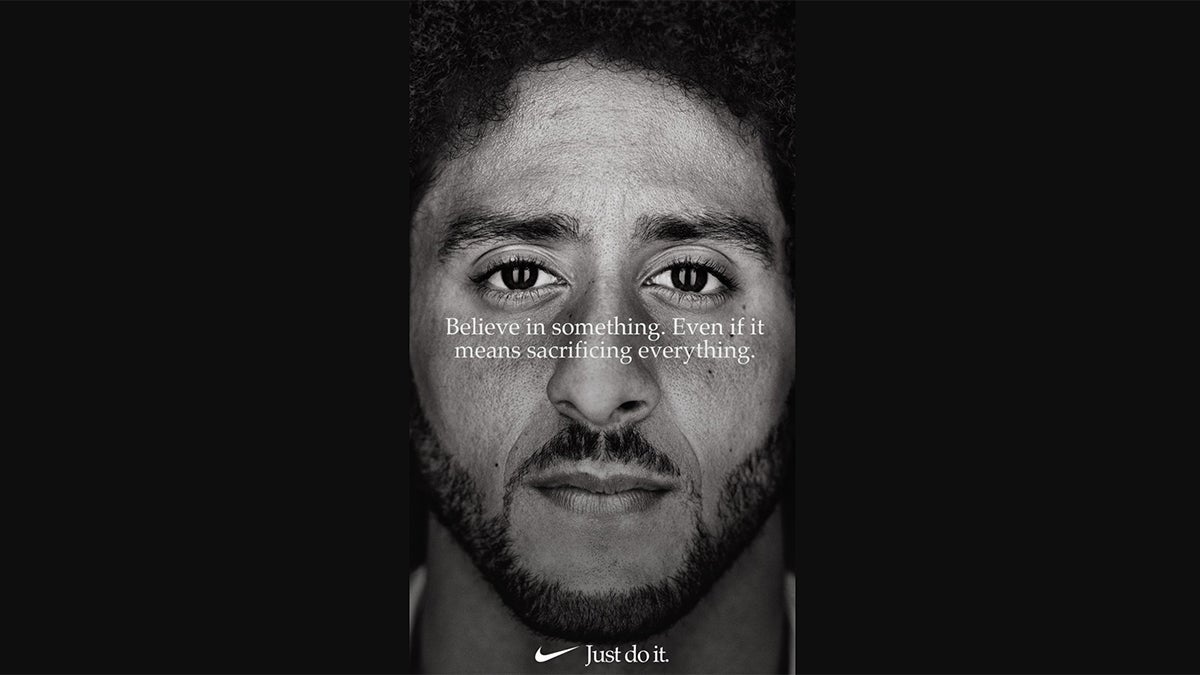 In what feels like forever ago, former NFL quarterback Colin Kaepernick first took a knee during the national anthem to protest police brutality toward African-Americans. That Sept. 1, 2016 move started a national discussion about how or if athletes should protest social justice issues. That pregame move and his subsequent non-signing (with him suing the league for collusion) has made Kaepernick more of an activist than a football player.  
Earlier this week, Kaepernick tweeted a close-up photo of his face with the words "Believe in something. Even if it means sacrificing everything" as part of Nike's 30th anniversary celebration of its "Just Do It" advertising campaign. Since Kaepernick's tweet, there has been a firestorm of both backlash and praise aimed at Kaepernick and Nike. Nike, which has sponsored Kaepernick since 2011, released a commercial during the NFL's season debut on Thursday, Sept. 6 featuring the controversial quarterback.
First the @NFL forces me to choose between my favorite sport and my country. I chose country. Then @Nike forces me to choose between my favorite shoes and my country. Since when did the American Flag and the National Anthem become offensive? pic.twitter.com/4CVQdTHUH4

— Sean Clancy (@sclancy79) September 3, 2018
Kaepernick was one of the most talked about stories in the NFL last year despite not being in the league. So, there is no surprise that Nike's decision to include Kaepernick garnered mixed reactions. College of the Ozarks President Jerry Davis stated that they will drop Nike-made apparel and several videos were posted on social media of people burning and cutting up their Nike products in retaliation to Nike's decision. The backlash may seem harsh, but media analytics company Ace Metrics say it was less polarizing than some of the reactions make it.
Ace Metrix wrote that the Nike commercial was "well received by viewers, suggesting the social media backlash comes from a small minority." Kaepernick's inclusion in Nike's commercial was positively received from Generation Z and Millennial audiences while being regarded mostly positively by Generation X. Ace Metrix CEO Peter Daboll stated, "the fact the ad was less polarizing than average proves Nike pulled off quite a creative feat given the disagreement on both Kaepernick and the NFL kneeling controversy in this country."
Would featuring such a polarizing public figure hurt apparel giant Nike? Although people may have found the ad distasteful and took to social media to display their feelings, an article in MarketWatch stated that "Nike's online sales actually grew 31 percent from last Sunday through Tuesday." There was an initial drop in Nike's stock immediately after Kaepernick's tweet the following Tuesday, but after Thursday's commercial during the NFL's season opener, "Nike shares were trading up to 73 cents at 11:26 a.m. to $81.13," according to the New York Post.
Nike chose to take a risk by making Kaepernick the face of their 30th anniversary of "Just Do It," but, it ended up taking a risk by Kaepernick and making money off of his campaign while angry Americans burn their already-paid-for apparel. At the end of the day, Nike will continue to "just do it." 
Tyler Dare is a senior journalism major at Arizona State University.
Related Articles
Yale sociologist: Colin Kaepernick, Lebron James important role models 
Extending Kaepernick bold, controversial move by Nike
New poll: Majority of Americans support athletes' right to take a knee
Protesting athletes may have a case under First Amendment
Athlete activism is on the rise, but so is the backlash