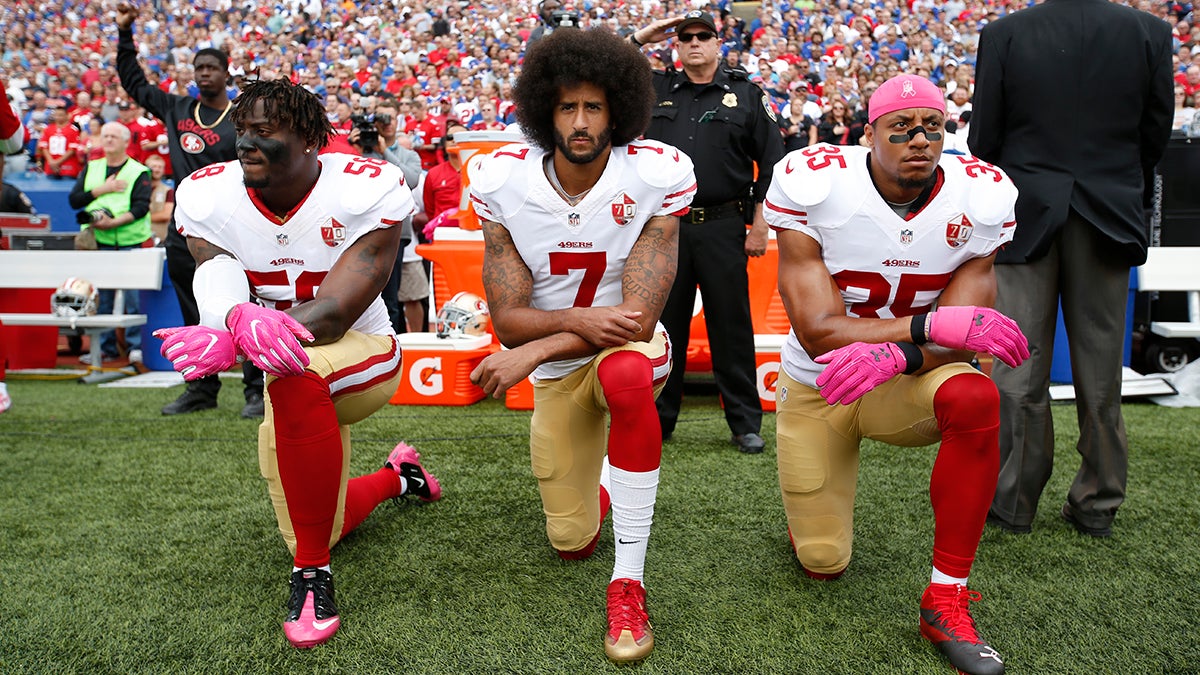 Did Jay-Z sell out Colin Kaepernick?

Days after announcing Roc Nation would work with the NFL on music and social justice issues, Jay-Z's motivation was questioned after TMZ reported  the music mogul would become the first African-American to have significant ownership stake in a team. Critics claimed the artist sold out to the league for that ownership stake.
Questions about Jay-Z's partnership with the league came under fire after he said "we've moved past kneeling" when asked about social justice issues during a news conference with NFL Commissioner Roger Goodell. A reporter had asked the entertainer about former San Francisco 49ers quarterback Colin Kaepernick, who began kneeling during the national anthem to protest police violence and social injustice. 
"For one, when has Jay-Z ever taken a knee to come out and tell us that we're past kneeling?" former Kaepernick teammate and fellow protester Eric Reid said. "Yes, he's done a lot of great work, a lot of great social justice work. But for you to get paid to go into an NFL press conference and say that we're past kneeling? Again, asinine. Players Coalition 2.0, he got paid to take the bullets he's taking now because we're not having it."
TMZ said Jay-Z wants to become a part owner "because he's a huge fan, already has a sports business and wants to continue to be a change agent for the NFL."
Today marks the three year anniversary of the first time I protested systemic oppression. I continue to work and stand with the people in our fight for liberation, despite those who are trying to erase the movement! The movement has always lived with the people! ✊?

?: @REL pic.twitter.com/TAqumRfjbi

— Colin Kaepernick (@Kaepernick7) August 14, 2019

TMZ did not indicate which team he would have part ownership.
According to ESPN,  Reid, who wore a black No. 7 Kaepernick jersey with #IMWITHKAP on the front, knelt during the anthem during the Aug. 16 preseason game.
"The [injustice] that's happened to Colin, they get to say, 'Look, we care about social justice, we care about the black community because we're with Jay-Z,' " Reid said. "Jay-Z is doing the work for them. We all know that it's unjust that Colin isn't in an NFL locker room, the way he lost his job. But they get to pretend they care about social justice."
"Jay-Z made a money move," Reid said. "He's capitalized on this situation. Nobody to my knowledge talked about social justice before Colin started protesting. That was not a topic of the NFL off the field. For Jay-Z to come in and partner to address social justice, do it behind Colin's back, get paid to do it ... I don't have words."
Jay-Z, who has been involved in numerous social justice issues including directly funding projects ranging from offering financial support to victims of police violence to donating to charities, had used his platform to praise Kaepernick's protest.
The New York Times reported one journalist said the new partnership seemed similar to "putting a Band-Aid on a bullet wound when it seems like Colin is getting blackballed by the N.F.L."

According to ProFootballTalk Patriots owner Robert Kraft  played a role in the RocNation/NFL deal.  
As P.R. Lockhart wrote on Vox: "For the NFL, Kaepernick's power has presented a problem. While much of the media attention on public opinions of Kaepernick's protest has focused on conservative-leaning Americans and supporters of President Trump, the league's actions have also affected its standing with black viewers, some of whom have stopped watching NFL games as the quarterback remains unemployed. As the Undefeated's Justin Tinsley explains, "the league needs to recover its cultural cachet, and a big part of that means reaching out to black fans."
Black musicians — some of whom are affiliated with Jay-Z — have also declined to appear on the Super Bowl stage in recent years. Rihanna and Cardi B, for example, reportedly said no to doing this year's halftime show out of solidarity with Kaepernick. It's possible Jay-Z's presence could be enough to convince some of these artists to return to an NFL stage."
Jay-Z was a part owner of the Brooklyn Nets but sold his interest in 2013. His  comments did not sit well with athletes like Kaepernick or Eric Reid, who said the entertainer had sold out to the league. 
Kaepernick has not played in the league since 2016. 
Editor's note: The Global Sport Institute tracks the social justice activities of NFL teams. Check out our season-ending report.
Related Articles
More than T-shirts and hashtags: Measuring social justice impacts in the NFL
How do you measure the impact of athlete activism?
Athlete activism is on the rise, but so is the backlash
Athlete activism has global, historical aspects
John Carlos calls athlete activism more than sports
Athletes' opportunity to be courageous still resonates in Mexico City
Tags:
Colin Kaepernick
,
Eric Reid
,
ESPN
,
Inspire Change
,
Jay-Z
,
kneel
,
NFL
,
ownership
,
protest
,
Roc Nation
,
Vox