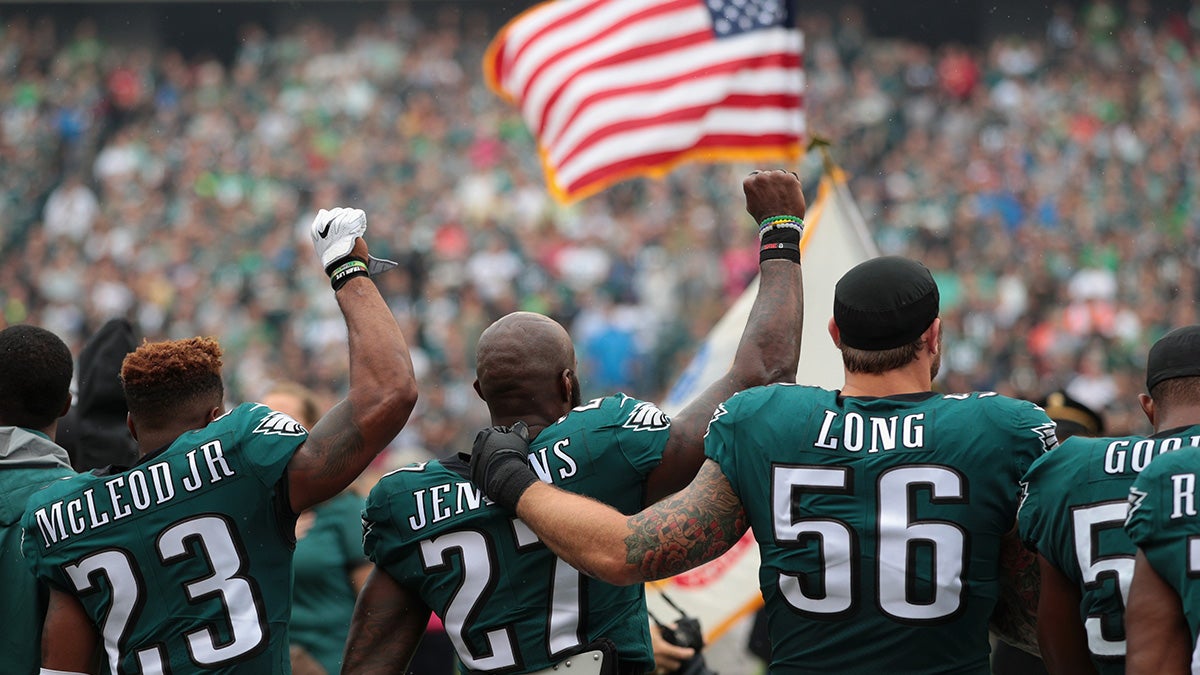 As controversies regarding kneeling as a form of protest have receded from global headlines, little has been written about what those same athletes and organizations are doing now regarding the issues they brought to the forefront.
At the Global Sport Institute at Arizona State University, we were curious about the actual impact the NFL was having in this "2.0" phase of athlete activism. We asked the NFL for, and received, internal reports on this activism and hope that we can do the same thing with other professional sports leagues.
How we examined the issue
Beginning with information provided by the NFL, we searched for activity by players and clubs over the course of last season and this season, using our judgment regarding the social justice protests as the catalyst for the specific activities. We took that information and verified it via online searches:
We searched for event name and/or participants.

We followed links and read news articles and viewed social media posts with video, photos and comments. We used articles and media that reported on the occurrence of the event, not just that it was scheduled.

We conducted searches on some of the NFL's partner organizations to see when the partnerships began, whether the programs were ongoing and if the partnerships began after the social justice catalyst.

Last, we searched for additional activities of the most well-known activists, such as Malcolm Jenkins, Eric Reid, Chris Long and Dolphins owner Stephen Ross.
At the outset, we realized we would not be able to capture all that is being done because some activities may not have a public record. Some players, as is the case with many philanthropists, have contributed anonymously or quietly. They may have been actively involved in their community for some time, which makes it hard to separate social justice activity from overall activity and to pinpoint the social justice protests as the catalyst. In addition, we are unable to provide an accounting of funding because the dollar amounts are not usually reported and are not easily found through public record.
What we found
There were 11 key takeaways in our research.
The NFL established a Social Justice committee of players and owners in December of 2017. The committee has created a Social Justice Grant program to support activities of athletes and clubs.

Social justice-specific activities make up only a part of the overall activities. The NFL has identified three areas of attention: Education and Economic Advancement, Police and Community Relations, and Criminal Justice Reform. Criminal Justice Reform is the new area of attention.

There are ongoing programs that were operating before the protests (with the Police Athletic League, Boys and Girls Clubs of America and other national organizations that work with and support youth).

Since the 2016 season, 335 social justice activities and programs have been verified.

Team and athlete involvement is varied. Still, all clubs have had at least one social justice activity or program.

Athletes are informing themselves and their communities about important social issues and working on them

—

going to schools, on ride alongs with police, participating in and sponsoring voter registration drives, lobbying state and federal government, going to hearings and working through their clubs and personal foundations, etc.

The "top" is involved to varying degrees

—

owners are contributing funding through their foundations, attending events and responding to local communities. For example, the commissioner attended bail hearings and has partnered with athletes to lobby for reform.

There is high interconnectedness

—

players are working together

—

and doing so publicly.

There is a heightened focus on systemic issues and engaging with policy makers. Players have raised awareness of criminal justice and voting rights issues and pushed for reform in 3 states

—

Louisiana, Massachusetts and Pennsylvania.

There is also LGBTQI support/activism.

Athletes continue to do international/global activism and missionary work.
Where this leads us
By any measure, there has been an impressive record of activity. With further analysis, we hope to look at actual impact across sports as a whole and, if possible, make comparisons between leagues. WNBA players have perhaps been the beacon of unity with their team and cross-team organized protests before games and activities like the Seattle Storm's Planned Parenthood rally.
In the National Women's Soccer League, Megan Rapinoe's early on showed her support of NFL players. GSI would be interested in tracking the other activities Rapinoe and others have been engaged in.
In the NBA, for example, LeBron James has been heavily involved in producing various media and building a school. There are other athletes, to varying extents, building hospitals abroad, funding schools and academies, and starting companies — in addition to running and funding charities. This would be a valuable and daunting task and could not be done effectively without the support of the leagues and their data, and the athletes themselves.
Kenneth Shropshire is CEO of the Global Sport Institute and serves as a consultant to the NFL on educational matters. The Global Sport Education and Research Lab is run by Scott Brooks, director of research, and staffed by Edwin Elias, post-doctoral researcher, and Stacey Flores, research assistant.
Related Articles
Athlete activism is on the rise, but so is the backlash
Athlete activism has global, historical aspects
John Carlos calls athlete activism more than sports
Athletes' opportunity to be courageous still resonates in Mexico City