Why this matters
Rhasaan Nichols is a filmmaker committed to elevating untold stories. He discusses A Story Bigger Than Basketball in Haiti, Walking on Water, and his aspirations for future projects.
Earlier this year, Rhasaan Nichols traveled to Haiti to film a documentary about Basketball to Uplift the Youth (BAL), a mentoring program created by his Yale classmate Dave Fils-Aimé. While filming, the unexpected happened and Nichols found himself in another country during the COVID-19 outbreak. 
Upon returning to the United States, Nichols had a fresh perspective on his project. In his short documentary A Story Bigger Than Basketball in Haiti, he mentions that Haiti has an atmosphere of hustle similar to that of Manhattan. "If you get on the sidewalk you better be moving forward because people are trying to get to work," he reminisces. "As a Westerner, I was taken aback by that."
He mentions that this hardworking spirit is especially evident in the young athletes at BAL. The development of youth sports and basketball in Haiti is really a matter of improving infrastructure. For instance, quality concrete courts are incredibly limited and BAL coaches use tape to represent the free throw and three point markers.  He states, "They have the talent, they have the athleticism, but there's just a lot of things that we take for granted here in terms of having a pipeline to get to the top level of a sport." 
Systemic and historical barriers have prevented Haiti from maintaining adequate infrastructure. In 1804, the country gained independence from France in what is widely considered the most successful slave rebellion in history. However, independence came at a cost as France forced Haiti to go into debt with payments for infrastructure. This debt became a foundation for future economic problems which contributed to and exacerbated the effects of corrupt governments and natural disasters. 
Nichols says that while the country has endured these challenges, the people set a precedent for resilience in this moment of global distress. "One storm after another, the people have been truly resilient," he says. There's a sense of community, an acknowledgement of history, and cooperation for improvement.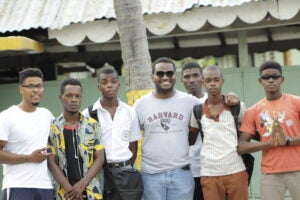 In the wake of the Black Lives Matter movement, Nichols believes that it is more important than ever to tell these stories about Black history and pride across the world. One of his other documentaries, Walking on Water, explores the history of Black surfers in California. He was compelled to make the movie because it was a segment of sport and history that was hidden. He says, "I just knew there was always more to our history besides slavery. I always loved history but it just didn't seem right to me. So when I uncovered this lost chapter that wasn't talked about in American history in high school, I just was on it."
Nichols believes that the intersection of sport, race, and nationality creates a valuable story. He wants to pursue a theme of encompassing Pan-African identity and untold stories. "I love to show different sides of the diaspora and also show Black people in America what's going on with Black people around the globe," he states. "Who knew that basketball was taking off in Haiti, slowly but surely? Who knew there were Black kids surfing in L.A.?"
As everyone in the world is experiencing the effects of COVID-19, Black Lives Matter, and total uncertainty, Nichols stories have a nuanced power. He tells stories of hope without glossing over reality. He tells stories about the future with respect to the past. It's something we could all learn from.
Related