Health
Archive
Marquette's Markus Howard blazes trail for high-profile college athletes speaking out about mental health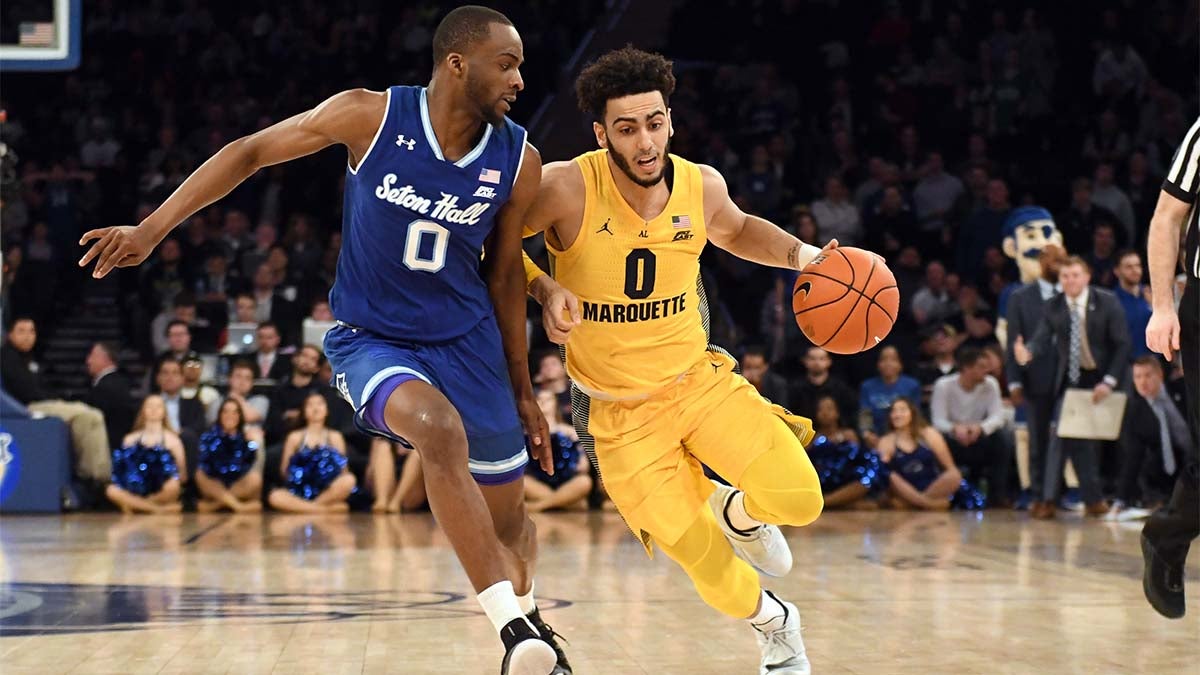 While speaking out about struggles with mental health is becoming more accepted and supported within sport, the tide change has not been as dramatic in the NCAA.

Marquette guard Markus Howard wants to change that.
"It's a duty of mine, to be in the position I'm in, to be able to raise awareness of these kinds of issues going on in our sport," Howard told the New York Times in early March. "I would be doing a disservice to the people around me and the people in the same situation as me if I didn't speak up."
A junior season in which Howard led the Golden Eagles to a No. 5 seed in the NCAA Tournament overwhelmed him emotionally. He reached out to Marquette coaches and started therapy. It became an important means of achieving balance in his life, as did the Marquette chapter of the Fellowship of Christian Athletes, which Howard co-founded.
The Times story also documents the scramble that unfolded when Howard sought help. That multiple people — coach Steve Wojciechowski, trainer Chuck Howard and the player's parents — had to get involved to figure out a solution shows the diligence with which Marquette worked to try to solve Howard's concerns but also how rare it is for college athletes to seek solutions for mental health problems.
Yet there is always a first, and it's likely no coincidence a basketball player was the first high-profile college athlete to acknowledge and try to treat struggles with mental health. NBA players Kevin Love and DeMar DeRozan brought attention to the problems last year by disclosing each had sought professional counseling.
"The last thing this should be is taboo, but that's what it is," Love told ESPN's Jackie MacMullan. "I think about my dad (former NBA player Stan Love) coming from that generation. You don't talk about anything. You hold everything in."
DeRozan echoed the desire to destigmatize and start a conversation about athletes' mental health: "Now, at my age, I understand how many people go through it. Even if it's just somebody can look at it like, 'He goes through it, and he's still out there being successful and doing this,' I'm OK with that."
Still, it is noteworthy that a college athlete, to whom the media is given far less access and whose life is more secret, would talk publicly about a personal subject such as anxiety. Howard will be remembered as a trailblazer.
In January, the Power 5 conferences (Big Ten, Big 12, ACC, Pac-12 and SEC) unanimously approved a rule that requires mental health services be available for student-athletes. Marquette is a member of the Big East, which is not a part of the Power 5.
"As part of it, schools will distribute mental health education information and resources to student-athletes, coaches, administrators and other athletics personnel," espnW reported.
Enna Selmanovic, a swimmer from the University of Cincinnati, publicly supported the measure after a back injury ended her career and initiated struggles with mental health.
"I want to help student-athletes never feel the way I felt because when you wake up in the morning and you wish you didn't, I don't think you can ever get to a lower point than that," she told espnW.
Journalist Kate Fagan helped bring attention to student-athlete suicide in her exploration of the life and death of University of Pennsylvania track star Madison Holleran. The runner's parents didn't see the warning signs until it was too late, and they aren't alone.
As Fegan reported, "between 2004 and 2012, 35 student-athletes took their own lives."
A more recent example is former Washington State quarterback Tyler Hilinski, who took his life on Jan. 16, 2018. Shortly before adopting the measure requiring schools to provide services to student-athletes, they also partnered with the Hilinski family's foundation, Hilinski's Hope. The partnership is aimed at identifying quickly the proper means to treat and support college athletes' mental health issues.
Combining that partnership with the parallel efforts of the NBA and NCAA, perhaps Howard's story can become an early indication the leagues have created an environment in which athletes feel comfortable and confident getting help.
Brendon Kleen is a senior journalism student at Arizona State University
Related Articles
Cyclist Kelly Catlin's death sheds light on the mental health of professional athletes
Educating athletes about mental health stressors needed ASU researcher says
Stigma of mental health issues a barrier to treatment for athletes