Culture
Youth
More female athletes take on formerly male-only sports
Why this matters
Women's and girls' interest in some traditionally male-only sports has grown exponentially in recent years, and new teams and championships are being created in response.
In the past, a girl who wanted to wrestle or play ice hockey would have had to join a boys' team. Now, more girls and women are getting their own teams, and interest is growing among girls and women in sports that once were almost exclusively for boys and men, including wrestling, ice hockey, football and rugby.
"I think we are raising a generation of young girls who, at the early ages, are feeling their own power," said Karen Issokson-Silver, vice president of research and evaluation at the Women's Sports Foundation. "And giving them these opportunities helps unleash that."
Growth at the high school level
At the high school level, girls' wrestling has grown exponentially in the past 10 years. In the 2008-09 school year, 6,025 girls participated in wrestling, and 21,124 did in 2018-19, according to the National Federation of State High School Associations (NFHS) High School Athletics Participation Survey.
For these sports that are newer to female athletes, "interest grew to the point where the numbers were there and the interest was there, so schools are now developing girls' wrestling teams and girls' ice hockey teams," said Bruce Howard, director of publications and communications for the NFHS. "And there are some state championships in those sports in some states."
Girls' wrestling has become the 17th most popular sport, according to the 2018-19 NFHS survey.
"Girls' wrestling is certainly something on the up and up, to the point that our rules committee, as it meets each year, is having to look at language in some rules relating to weight classes and how they structure those," Howard said. 
Previously, the classes were the same for boys and girls.
Beyond having enough interested girls at the school level to start a team, at the state level, "you have to have enough schools involved in the sport to be able to stage a state championship," Howard said. He noted that 13 states now have a girls' component in their state wrestling championships, and he expects that number to grow.
From 2008-09 to 2018-19, the number of girls participating in flag football grew from 5,408 to 11,209. Girls playing 11-player football went from 759 to 2,404. Most girls and women who play tackle football play on boys' and men's teams. But at the professional level, the Women's Football Alliance includes three divisions of all-women pro teams across the U.S.
Girls' ice hockey has been popular for longer than some of these other sports, so it has seen smaller growth in high schools over the years — from 8,261 in 2008-09 to 9,650 in 2018-19. Howard said ice hockey has had girls' teams in state championships for much longer than wrestling has. He added that only 16 states have championships for boys, and only eight of those include championships for girls as well.
Women's ice hockey is now an NCAA sport and the National Women's Hockey League includes five pro teams.
Rugby is less popular at high schools. The NFHS's survey shows 100 girls playing rugby in 2008-09 and 678 in 2018-19. That's a steep increase, but the numbers are still much lower than those for wrestling, football and hockey. The reason may be that people typically play rugby on club teams rather than on school teams.
NCAA emerging sports for women
At the college level, rugby is one of the three sports that the NCAA has designated an emerging sport for women. (This designation "is intended to help schools provide more athletics opportunities for women and more sport-sponsorship options for the institutions, and also help that sport achieve NCAA championship status," according to the NCAA.)
Ice hockey used to be on the NCAA emerging sports list, and the NCAA Committee on Women's Athletics has recommended adding wrestling. 
Kurt Weaver, vice president of rugby operations at USA Rugby, said the number of female rugby players at all age levels has been increasing. "The last 10 years has brought expansion primarily at the high school age, which has driven growth at the college and adult levels as well," he said. 
Weaver explained that women have been playing rugby in the U.S. for several decades, "but the recent initiatives like NCAA emerging sport status, success of our national teams, and also the expansion of younger girls' leagues have all brought new faces and demographics to the game. Our diversity has always been a strength, and that continues to be the case as we grow."
The NCAA's designation is helpful to the sport, Weaver said. "The benefit of association with colleges and the NCAA is immense to a sport like rugby," he said. "Legitimacy of sport stems from the popularity on a college campus and the opportunity for student-athletes to hone their skills and develop as adults at the altar of competition."
USA Rugby partners with Girls Rugby to get more young girls involved in rugby.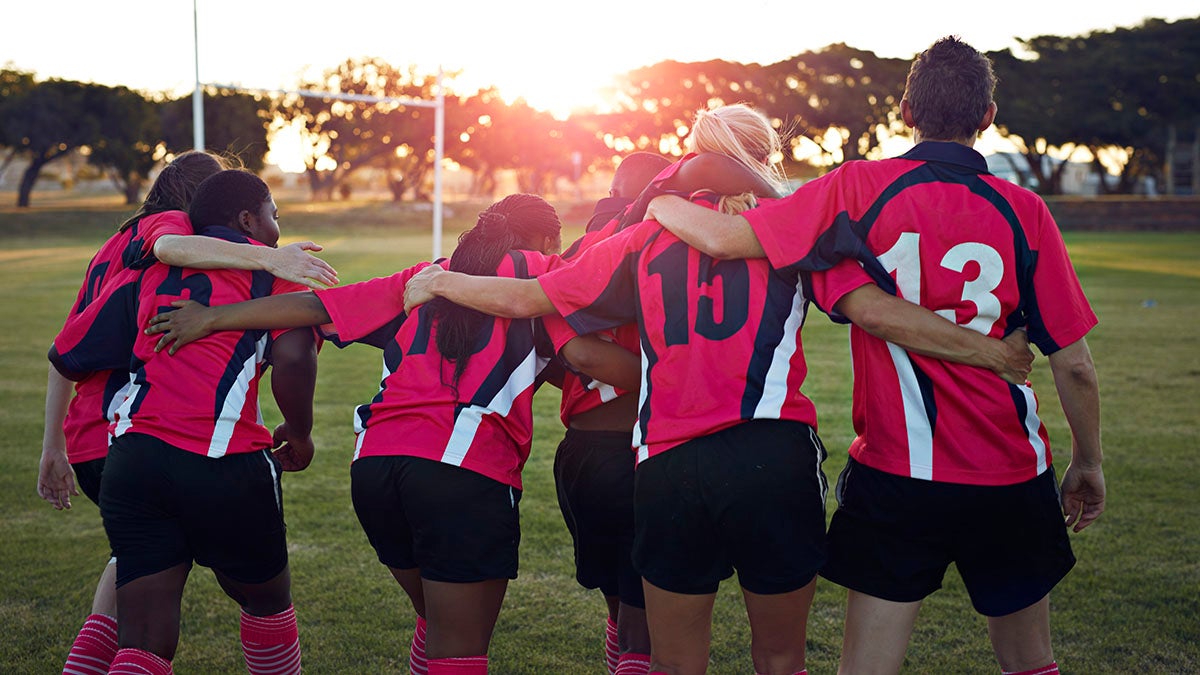 Reasons for growth
Why are these sports more appealing to girls now than they used to be?
"I think that there's a competitiveness in all of those sports that some girls are interested in, that they perhaps can't find in other sports," Howard said. "In today's world, if there's an interest — a girl playing on a boys' team, or enough girls to start a team — the option needs to be provided for them to participate."
Issokson-Silver noted that the success of a sport hinges on multiple factors, including whether the environment feels comfortable, whether there's a female coach — because female coaches can drive greater participation — and whether the sport is financially accessible. "All those dimensions make or break whether or not a girl participates, especially when it's a sport that bumps up against traditional gender norms and expectations," Issokson-Silver said. 
The cost of some sports can be prohibitive. In the Aspen Institute's State of Play report, ice hockey was the most expensive sport listed.
Resources vary across communities, Issokson-Silver said, pointing out "it's a luxury sometimes to be able to choose from a whole host of athletic opportunities."
Weaver noted, "We believe sports like rugby and wrestling have always had an appeal to women and men alike. Unfortunately, lack of opportunity and stigma stood in the way of that participation. We are working hard to fix the opportunity gap."
The Women's Sports Foundation's Coaching Through a Gender Lens report looks at girls ages 7-13 and offers some insight on what girls want out of sports. "In terms of the underlying motivation girls have to play sports, the data makes it clear: It's really a combination of that sense of belonging and their desire for competition and goal setting," Issokson-Silver said. "It's not one or the other. There's been this long-held misperception that girls are solely motivated by social aspirations."
But it's not just spending time with friends and being on a team that girls like. It's also things like "the ability to challenge oneself and learn from mistakes," Issokson-Silver said.
The growth of these formerly male-dominated sports among high school girls is a good thing because some girls might not be interested in traditional sports. These emerging sports might spark an interest, Howard said. "That's what schools are looking at — to try to provide as many opportunities as possible," he said.
Cultural perceptions also figure in. "We've learned a lot from the research about the cultural perceptions that folks have about sports — traditionally, a lot of sports being historically associated with boys and men, and the qualities and characteristics of those sports associated with masculine traits," Issokson-Silver said. "We're really trying to address that — to help people expand their understanding of social norms and expectations, recognizing that girls are strong and powerful and just as capable and interested in competition and athleticism as boys are."
As these social norms shift, Issokson-Silver said, "I think that's opening up a lot of pathways to sports that were once traditionally associated with boys — being of greater interest to girls, and their families as well." She pointed out that cultural perceptions can lead some families to value their sons' participation in sports more than their daughters'.
Importance of women athlete role models
One way to encourage girls to participate is to expose them to female athletes and coaches at the collegiate level. This might include "taking young girls to sporting events, helping to create a fan base, and giving them role models that they can see — that they can aspire to be like," Issokson-Silver said.
"It's really important for our young girls to be able to see that girls just like them — from communities that they come from — play, participate and thrive in sports," so more media coverage would be helpful, she said.
Through its Athlete Ambassador program, the Women's Sports Foundation sends collegiate athletes to visit community sports programs for girls throughout the U.S. "Often, it's not so much the sport that matters but their own personal journey and success" that they share, Issokson-Silver said. "We see that when we bring female collegiate athletes into communities, girls' eyes literally light up, and the collegiate players are rock stars." They share their stories, including their challenges, and the girls identify with them, she said.
"We're raising a whole new generation of girls who appreciate the fact that they can be anything, they can do anything, they can play anything. Especially at an early age, girls feel powerful and strong, and we want to reinforce that passion and sense of self as they develop," Issokson-Silver said.
Allison Torres Burtka is a freelance writer and editor based in metro Detroit. You can read more of her work here. 
Related