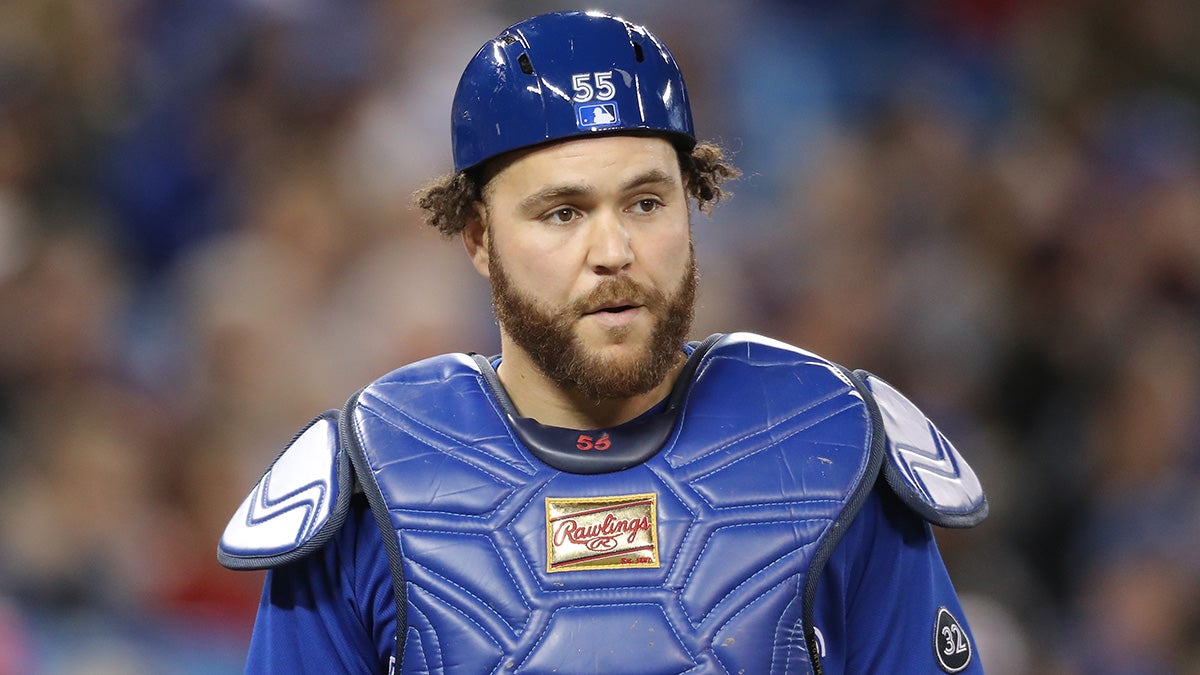 In 1981, 18.7% of major league baseball players were African-American, the highest level of participation since Jackie Robinson broke baseball's color barrier in 1947. Since then, that percentage has continued to hover around double digits, but eventually dropped to 9.1% in 2004. In 2016, only 6.7% of players in the major leagues were African-American. This year the number rose to 8.4%, the highest mark since the 2012.
Ken Rosenthal reported there were only 54 African-American pitchers on all 30 major-league clubs in 2017. As far as catchers were concerned, he found that only five minor-league catchers throughout the entire league were African-American. Russell Martin, who is Canadian, is the only black catcher on a major league roster. He plays for the Toronto Blue Jays.
In an MLB Network roundtable, former Pirates outfielder Andrew McCutchen cited money as the main reason why the number of African American players in baseball today has been decreasing.
"It starts at a young age in the game of baseball," McCutchen said. "If you can't afford it, if you can't pay for it, we're thrown out, we move to something else."
McCutchen's sentiment is one that is echoed by other players in the league, including Brewers outfielder Lorenzo Cain.
"Baseball is very expensive," Cain said. "It's something that I couldn't afford growing up as a kid, you know, they've got all the travel leagues and you've gotta buy bats and gloves and everything else, so it's a very expensive sport."
Cain admits that kids from where he grew up in Florida all gravitated toward football and basketball.
Baseball wasn't even his preferred sport.
"If you can't afford it, if you can't pay for it, we're thrown out, we move to something else." - San Francisco Giants' Andrew McCutchen
"My mom wouldn't let me play football and I got cut from the basketball team," Cain said. "That's the only reason I started playing baseball."
When Cain was with the Kansas City Royals in 2016, General Manager Dayton Moore and other prominent figures in Kansas City broke ground on the site of the Urban Youth Academy to serve the youth of the Kansas City area.
The Urban Youth Academy focuses on inclusion and making sure that everyone has an opportunity to learn the ins and outs of baseball, while also helping children develop into positive forces in their respective communities.
"We found that it's not necessarily an exclusionary issue in regards to African-American youth not having an opportunity to play, but more about the economics of it," said David James, vice president of Major League Baseball's Youth Programs. "One of the areas of focus with us, with the RBI program, is provide play opportunities and the resources that are needed to organizations across the country that want to provide opportunities to play."
According to MLB.com, RBI, or Reviving Baseball in Inner Cities, is "a program designed to promote the game of baseball to teenage boys and girls in disadvantaged areas." RBI partners with the Boys and Girls Clubs of America, major league clubs, parks and recreation departments, school districts and even individual volunteers to sponsor teams. This year, James anticipates approximately 215 to 225 RBI leagues will operate this year, with 1,750 to 2,000 kids between the ages of 5-18 participating.   
RBI employs both a regular-season format and a tournament format, with different groups of kids playing in each. James says that a bulk of the participants play in the regular season component, but the tournament format for 13-18-year olds is also an integral part of RBI's initiative due to the level of competition.
Furthermore, James says tournament play gives kids an opportunity to play against kids who "look just like them."
"In some communities, maybe there's only a handful of African-American kids who are playing baseball and softball," James said. "They don't see too many kids who look just like them, but then they get into the RBI tournament component and it sort of boosts their morale a little bit because they say 'well jeez, we do play, we play in big numbers.'"
In terms of the future for African-American participation in Major League Baseball, James thinks some RBI success stories may give kids a reason to become intrigued with baseball and find an appeal to the sport.
Some progress was made on that front last year, when Hunter Greene, an alum of both the Urban Youth Academy in Compton, Calif. and the RBI World Series, was selected second overall by the Cincinnati Reds in the 2017 MLB Amateur draft. Greene, just 18 years old, is ranked No. 21 on MLB.com's list of baseball's top 100 prospects.
"I think (kids) see that there is a pipeline," James said. "If they have the ability, they can continue to pursue the game for as long as they'd like."
James also discussed Brewers prospect Corey Ray, a former RBI participant in Chicago whom the Brewers drafted with their first pick in 2016, as well as Ronell Coleman, another former Chicago RBI participant who received a full baseball scholarship to Vanderbilt before the Tigers drafted him in 2017.
"With some perseverance and some dedication, there are avenues for kids who want to take the game as far as they can possibly go," James said. "We feel very fortunate at Major League Baseball to be able to provide that pipeline."
On April 10, USA Today reported the percentage of black players on major league Opening Day rosters rose to 8.4%. MLB recognized both RBI and Urban Youth Academy as having played a role in the hike. While the increase is subtle, it's an indication that things are trending upward in respect to the representation of diversity in professional baseball.
"It's getting better, I feel," Cain said. "Some things take time."
Colton Dodgson is a senior journalism student at Arizona State University
Related Articles
Why Have African-American Players Disappeared in MLB?
If you aren't a white male, YER OUT of luck as an umpire
Alternative Baseball Organization aims to strikes out autism discrimination