It is not a disability. It is simply a disadvantage.
That is the motto by which Taylor Duncan lives and preaches. The 22-year-old Georgia native knows all too well the difficulty of getting people to understand that individuals who fall within the spectrum of autism disorders are capable human beings.
One of Duncan's youth baseball coaches was one of those who did not understand. After an enjoyable season as a 12-year-old playing for a coach who he said saw his value, Duncan endured the difficulty of being cut the following year by a new coach who was not nearly as accepting.
"When I was 13 and cut from the team my coach perceived me as too much of an injury risk because of what he thought those with autism could and could not do," said Duncan, who experienced speech and anxiety related developmental delays and was diagnosed as being autistic at age 4.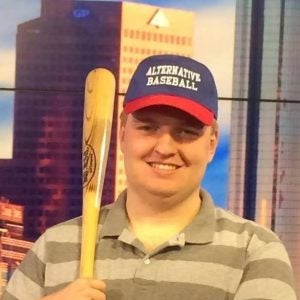 Since he said there were no other outlets for him to continue playing baseball, Duncan settled for slow-pitch softball. But he really loves baseball and wanted to reconnect with the game. So in 2016 he launched the Alternative Baseball Organization. Based in suburban Atlanta, the ABO is a developmental program for individuals who are at least 15 years old and on the autism spectrum.
Duncan, a big fan of the Seattle Mariners' ageless outfielder Ichiro Suzuki and Hall of Fame pitcher Randy Johnson, serves as the commissioner for a league that has two teams with a total of 40 players. Expansion may soon be on the horizon as he indicated there are people in more than 25 states and Canada who have inquired about how to get involved.
"We want to make it an international organization," he said. "We applied for a trademark and are working on a licensing agreement to take our program into new communities across the United States and Canada."
That is noted progress for a young man whose mission was, and remains, to provide an avenue in which autistic individuals can get out and enjoy an activity that may otherwise not be available.
"I started this as a kind of mental health organization because there are a lot of people on the (autism) spectrum that do not feel accepted in this world because of the way others perceive them simply because they are autistic," said Duncan, who is a youth league umpire and a member of the Diversity and Inclusion Committee with the Society for American Baseball Research. "I wanted to find a solution to (make them feel accepted.) We are trying to help them get out there and find out what their gifts are. We are doing everything that we can to help them be successful on and off the field."
The effort is definitely paying off. Just ask 24-year-old Nick Szczybor, who is in his second season with ABO.
"I grew a lot my first year with the team," he said. "I have made a lot of friends and I have felt a lot better socially. I know for a lot of the players it is about getting out of the house and being active. We really have a great time out there."
At 22 Szczybor was diagnosed with "high functioning" Asperger Syndrome, a condition that is not accompanied by the difficulties with language and other aspects of cognitive development that are prevalent in other forms of autism spectrum disorder. Playing the game he did as a Little Leaguer more than a decade ago has not only opened doors to the social aspects that go with being part of a team, but has reignited his passion for the national pastime.
"It has given back my love of baseball," said the Maryland native, who is a big fan of Baltimore Orioles third baseman Manny Machado.
From the love of the game to being among peers, benefits of being a team member can have a tremendous effect on an individual.
"To be able to get out there and play gives them a sense of belonging, a sense of accomplishment and a sense of achievement," said Janet Williams, community outreach manager for Autism Speaks, which among other things is dedicated to researching causes and treatments for autism spectrum disorders. "I don't want to say that they would not have those things otherwise, but that social aspect is so important when it comes to people on the spectrum. It's a big part of their growth."
Being on a team and thriving in that environment can also benefit how others view autistic individuals.
"Absolutely," she said. "Just because they are on the (autism) spectrum does not mean that they cannot perform as any other person who is not on the spectrum."
For those who participate in at least 70 percent of practices and games there is the perk playing in the ABO all-star game, which is held in November. Players take the field with and against former professionals. Atlanta Braves manager Brian Snitker helped coach a team in last year's showcase.
Maybe someday the league will grow to the point there will be an ABO World Series. Most important is that much wider acceptance of those on the autism spectrum of disorders becomes the norm.
"There are a lot of people who tell (those with development disabilities) that they are not capable of doing something," said Duncan. "But that's their opinion and it does not reflect on our inner strength and what we know we can do and accomplish."
When asked if his effort with ABO has made him feel as though he has proven a lot of people wrong, including a certain youth league coach, Duncan laughed and said, "I hope so."
Tom Layberger  has spent more than 25 years as a writer, editor and web producer for various outlets, including the Versus network for whom he managed NHL and college football content
Related articles
Studies: Children on autism spectrum could benefit from sports activities