Science
Archive
Semenya turns to football, continues fight against IAAF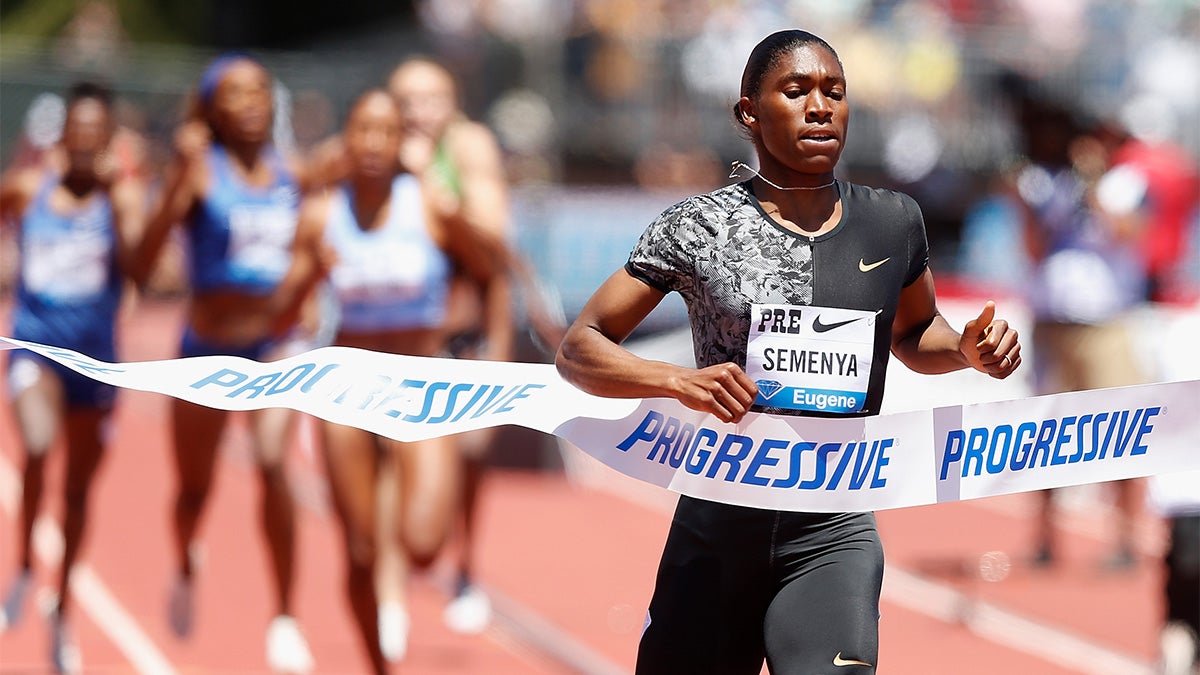 This story updated on Sept. 12, 2019
As South African middle-distance runner Caster Semenya continues her fight against the IAAF's ruling regarding testosterone limits for female athletes, she has shifted her attention to the soccer pitch instead of the track.


A two-time Olympic gold medalist and three-time world champion, Semenya announced her signing with JVW F.C. of the South African Football Association on Sept. 6 via Twitter, noting that her transition to soccer does not signal the end of her track and field career. In the meantime, many of the traits that helped her excel on the track should carry over to soccer, including stamina, leg strength and body control.
In 2009, Semenya set a competition-best time of 1:55.45 in the 800-meter run to nab gold at the IAAF World Athletics Championships. She was subsequently asked to undergo sex determination testing by the IAAF because of her speedy athletic development. This led to an 11-month suspension due to her high testosterone levels, which according to some reports were three times higher than that of an average woman.
Being a footballer doesn't mean I'm no longer a track and field athlete.Just making things clear. pic.twitter.com/15G4u5P120

— Caster Semenya (@caster800m) September 7, 2019

The IAAF testosterone policy was suspended in 2015 following a ruling by the Court of Arbitration for Sports, which allowed Semenya to compete again, and she won won gold in the 800-meter event and bronze at 1,500 meters during the 2017 World Championships.
However, in 2018 the IAAF set forth a new regulation specifying that women with Differences of Sexual Development, or DSD, must have testosterone levels below five nanomoles per liter (nmol/L) if they wish to compete in hurdles or middle-distance running events including 400 meters, 800 meters and 1500 meters. It was determined by a Swiss court that female athletes who fit into the DSD category are at a "competitive advantage."
Semenya wants to defend her world-champion status in the 800, but the presiding court's ruling on the IAAF's participation rules will prohibit her from participating in her event of choice. According to these rules, Semenya is required to take medication to regulate her testosterone levels in order to compete. Semenya previously was on the medication from 2010 to 2015 but stopped because of side effects.
The 28-year-old refuses to comply with the new testosterone medication policy, meaning she will not be allowed to participate in the upcoming IAAF World Athletics Championships in Doha, Qatar from Sept. 27 through Oct. 6.  
The Associated Press reported on Sept. 12 that Semenya will receive her gold medal from the 2011 World Championships after Russian athlete Maria Savinova was stripped of the title for doping. Semenya won't receive the reallocated medal at the upcoming World Championships according to the South African track federation. Instead, the South African federation will receive the medal on her behalf and present it to her in South Africa at a later date.
A very special evening at the @JVWGirlsFootbal training grounds when we had @caster800m come down as a guest player.

Good footwork✅
Powerful shot✅
Rock solid defending✅

Needs to work on her speed though ?

But seems like all the boxes are ticked?

New signing for 2020?? pic.twitter.com/Oqzo3ba3pY

— Janine Van Wyk (@Janinevanwyk5) September 4, 2019

Through her spokesperson, Semenya offered a statement in late July regarding the court's decision.
"I am very disappointed to be kept from defending my hard-earned title, but this will not deter me from continuing my fight for the human rights of all of the female athletes concerned," the statement said.
The transfer window for the SAFA Sasol Women's League is currently closed, but Semenya is set to work under the camp of South African captain and JVW founder Janine van Wyck. Although van Wyck recently signed with Fortuna Hjorring, a women's association football club from Denmark, her coaching staff will lead the way and prepare Semenya for her future in professional soccer. 
"I am extremely elated to have such an iconic athlete join my football club," van Wyck said in an interview on the football club's official website. "I look forward to her working with Coach Ciara (Picco) and our First Team where I am sure she will sharpen up and get ready to play in 2020."
Semenya stepped onto to JVW training grounds on Sept. 3 as a guest player, flashing her talented footwork and forceful striking ability in the process.
Soccer is no foreign concept to Semenya – this is a return to an old passion. Semenya grew up playing the sport at school, training consistently through her youth. Moving from an individual sport such as track to a team-based activity like soccer could prove difficult, but Semenya's previous background on the pitch and her passionate disposition will aid her in making the transition.
"I am grateful for this opportunity and I appreciate the love and support I already get from the team," Semenya said. "I am looking forward to this new journey, and hopefully I can contribute as much as I can to the club."
Dylan Hunter Carter is a senior sports journalism major at Arizona State University
Related Articles
Swiss court reverses earlier ruling, Semenya not allowed to run