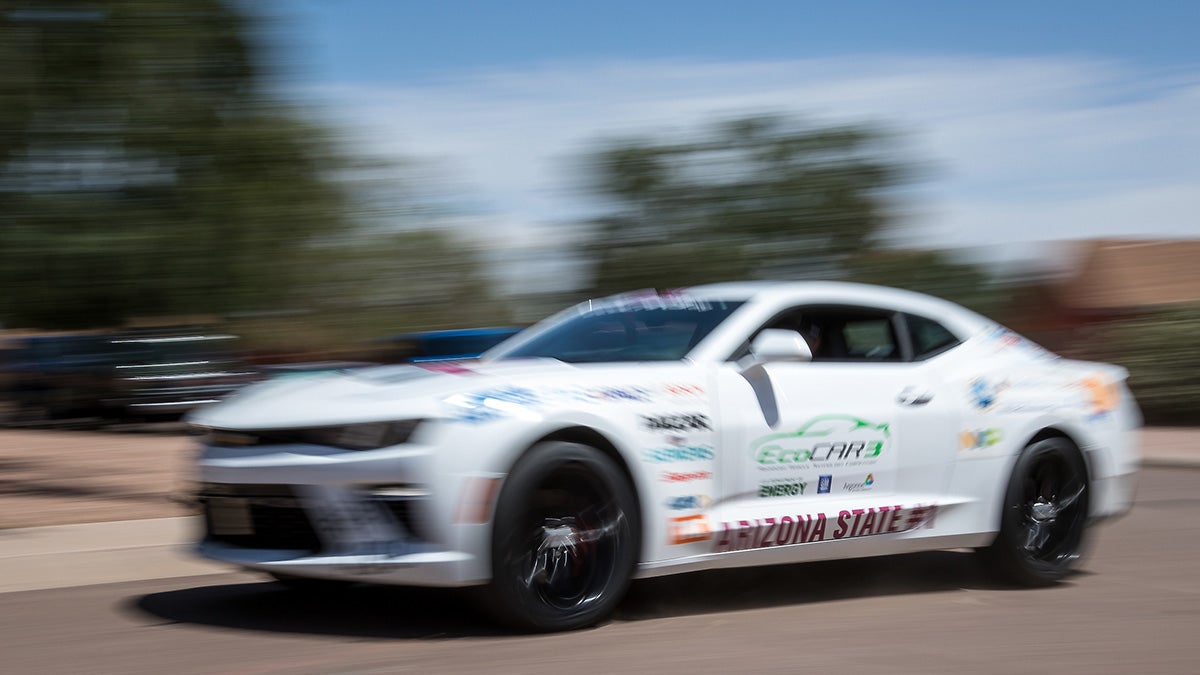 As technology advances, so does its applications throughout various industries. Sport is no exception – electric car racing, especially Formula E, has started to make its way into the competitive racing scene.
Students at Arizona State University are also riding the new wave. For four years, a team of roughly 30 ASU students have been working to develop a 2016 Chevy Camaro, donated by the U.S. Department of Energy and General Motors, into a hybrid vehicle. The car is being called the EcoCAR3 and it's capabilities will be on full display in 12 markets.
"Over the course of the four years the students lived the developmental process that GM uses in making their products," Abdel Ra'ouf Mayyas, an assistant professor of automotive engineering in the Polytechnic School, one of the Ira A. Fulton Schools of Engineering and the team's lead faculty advisor told ASUNow. "They used the cutting-edge tools and software and received state-of-the-art training by tier-one automotive suppliers as well as GM in order to be capable to make this car happen."
ASU's EcoCAR3 team heads to competition from ASU Now on Vimeo.
The cars in these races run on electricity, eliminating the use of fuel. Building the most efficient machine that consumes the least amount of energy is the key to success in the sport. That pursuit in turn would lead to positive effects on the environment.
"The technology invented for this sport would be good for leading with climate change," Sir Richard Branson told Forbes and the Sports with Friends podcast. "It is exciting, as more and more are being drawn in. Like space (exploration) captured the imagination and still does, incredible technologies got developed."
While electric cars have become a bit more common in the commercial market, the trials of the Formula E cars will lead to more improvements and advancement for the technology. Those improvements would lead to a more improved commercial model, which would in turn help the use of electric cars vault into the mainstream.
The initiative has expanded beyond the borders of the U.S., most recently into the United Kingdom. Birmingham, England, has aspiration to act as a host for a 2019 Formula E race. They would join Paris, Berlin, Hong Kong, Rome and Mexico City as other global destinations for the 2019 season.
It's been 30 years since Birmingham hosted a Superprix race.
Andy Street, the mayor of Birmingham, is also of the belief that Formula E would help the advancement of electric cars through research with area universities.
Formula E has piqued the interest of many different groups and has, at the very least, got people thinking about the use of electric vehicles.
Source: TeamSport