Listen
GSM Live: Predictions & Provocations for 2021
Why this matters
In this year's final GSM Live, experts from around the world share their reflections on sport in 2020 and their predictions for 2021.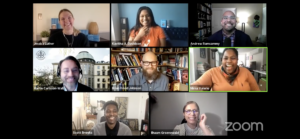 If one thing is certain, it's that there is a lot to learn from this year. 2020 has posed significant challenges to everyone, whether that's the COVID-19 pandemic, racial and social injustice, major elections, or all of the above. While some of these issues will carry on into 2021, it's important to imagine and take action for a better future. 
Across the world, sport has not only exemplified the effects of 2020, but it has been a conversation starter, a platform for activism, and an indicator of social and economic trajectories. For instance, the partial return of sport has been rightfully controversial, initiating re-evaluation of social values. "Most people who have any kind of consciousness had a lot of grappling to do," says Jessica Luther. "We're still in a place where sport is showing how messed up our priorities are but we're happy to be watching them. That tension is difficult."
On the flip side, this pandemic proved once again that sport is instrumental in providing a sense of normalcy and identity. As Kavitha Davidson says, "We keep coming back because there's so much good to be derived from sport."
Throughout this year, persistent athlete activism demonstrated the goodness of sport. Demands for justice off the court were echoed on the court. Activist and marathoner Mirna Valerio acknowledges the magnitude of this phenomenon, especially on fans and sports brands, "We can't go back. This new generation of consumers and customers is very savvy. They know what they want, they know that social justice is important, they know they want to see themselves reflected in what they consume." 
The Black Lives Matter movement was at the forefront of social justice movements, not just in the United States, but around the world. Racism is a global crisis that must be addressed with international anti-racist action. Ilhaam Groenewald, a board member of the South African Sports Confederation and Olympic Committee, is committed to creating an anti-racist, inclusive, and aware culture among athletes and executives. "Social justice is a lot more than just raising your fist," she says. "It's about making it a part of your culture."
Martin Carlsson-Wall, the co-founder of the Center for Sports and Business at Stockholm School of Economics, also emphasizes that sport is an essential vehicle for social progress. However, it is currently at risk due to the lack of funding being allocated to youth sports, grassroots organizations, and women's leagues. "Sport is the social movement," he says. "But what's really interesting is that if sport is the social movement, how can they afford to stay as the social movement?"
Dr. Scott Brooks, the director of research at Global Sport Institute, reiterates Carlsson-Wall's concern and mentions that economic stressors - especially during and after the pandemic -  are exacerbated for people of color and communities with low socioeconomic status. He emphasizes that going forward, efforts for change must be intentional and that there is hope in the new generation. He states, "When you look at youth athlete activism, when you look at elite athlete activism, that to me is the real area of promise."
This year has been hard, but the future is promising. Sport will eventually return in its full form, but it would be wrong for us to return to whatever was normal. New collective knowledge regarding disease, racism, and disaster must be applied to decisions in sport, business, innovation, and day to day life. Brian David Johnson, renowned futurist, says it best: "You can't sit back and be passive. You can't let the future happen to you. Everybody needs to be an active participant in their future and everyone has the ability to shape the future."
2021 will bring its own challenges, but this time, we'll be ready.
Tags:
2021
,
Andrew Ramsammy
,
Brian David Johnson
,
Economics
,
Ilhaam Groenewald
,
Jessica Luther
,
Kavitha Davidson
,
Loving Sports When They Don't Love You Back
,
Martin Carlsson Wall
,
Mirna Valerio
,
Predictions
,
Predictions & Provocations
,
Provocations
,
rugby
,
Scott Brooks
,
South Africa
,
Sport 2021
,
Stellenbosch University
,
Stockholm School of Economics
Monthly Issue
Although no one could have predicted all that 2020 has been, what lessons will the world of sport take into next year?
We asked some of the best and brightest minds to contribute their thoughts.
Related