Health
Culture
Health consequences of PEDs continue to plague ex-East German athletes
Why this matters
East German athletes forced to take steroids as part of a state-sponsored doping program suffered a host of physical maladies, and 30 years after the Berlin Wall fell, many are still reeling from the effects and seek compensation for the damages to their bodies. Yesterday, a look at doping behind the Wall. Today, survivors of the GDR doping program. Tomorrow, how regulators are trying to end state-sanctioned doping.
By the 1980s, the use of performance-enhancing drugs (PEDs) by bulked-up Eastern Bloc athletes was frequently caricatured in Western pop culture.
Saturday Night Live actor Joe Piscopo did print and TV ads for Miller Lite beer in which he portrays a fictional ex-East German swimmer named Helga, alongside other men in drag. SNL also ran a 1988 comedy skit called "The All-Drug Olympics," where the arms of a steroid-powered Soviet weightlifter come off when he tries to lift more than 1,500 pounds.
Perhaps most famously, the training routine of Russian boxer Ivan Drago (portrayed by actor Dolph Lundgren), the giant opponent of Sylvester Stallone's Rocky Balboa character in 1985's Rocky IV, includes a hypodermic needle plunging into his arm.
However, for athletes from the former East Germany, the lasting health consequences from anabolic steroids were neither a laughing matter nor infused with Hollywood glamour. Thirty years after the Berlin Wall came down, many of them have paid a grim physical price for their mandated involvement in the state-sponsored doping program.
Andrea Pollack, who captured two Olympic gold medals with the 1976 East German women's swimming team, died in March of cancer at age 57. Like other members of that team, she was systematically doped as a teenager with Oral-Turinabol, an anabolic steroid created by the state-run company Jenapharm. Christiane Knacke, Pollack's teammate at the 1980 Olympics, said Pollack also suffered a miscarriage.
 The litany of health problems suffered by those who represented the German Democratic Republic (GDR) in Cold War-era competitions was laid bare during the Berlin doping trials between 1998 and 2000 in reunified Germany.

Hepatitis, heart disease, liver tumors, and liver cancer were among the consequences. Women who received injections or ingested synthetic testosterone also had physical side effects such as acne, deepened voices, excess growth of leg hair and pubic hair, and enlarged clitorises. Some female athletes gave birth to children with club feet or other defects.
 In the 2001 book Faust's Gold: Inside the East German Doping Machine, still the most in-depth English-language work on the subject, author Steven Ungerleider notes: "(German researcher Werner) Franke stated emphatically that the risks and side effects of anabolic steroids administered to women and young girls were absolutely well-known to the trainers and doctors in GDR women's swimming."
 Most horrifying, the athletes were not told what was being put into their bodies. They were ordered to either take the "vitamins" or be removed from the team.
 In a communist dictatorship like East Germany, the ramifications of being removed went beyond giving up your quest for athletic excellence. Job prospects, the ability to travel abroad, and access to housing and cars were all at stake in the uncompromising GDR. Its media was totally state-controlled, and East German leader Erich Honecker was famously seen kissing his USSR overlord, General Secretary Leonid Brezhnev.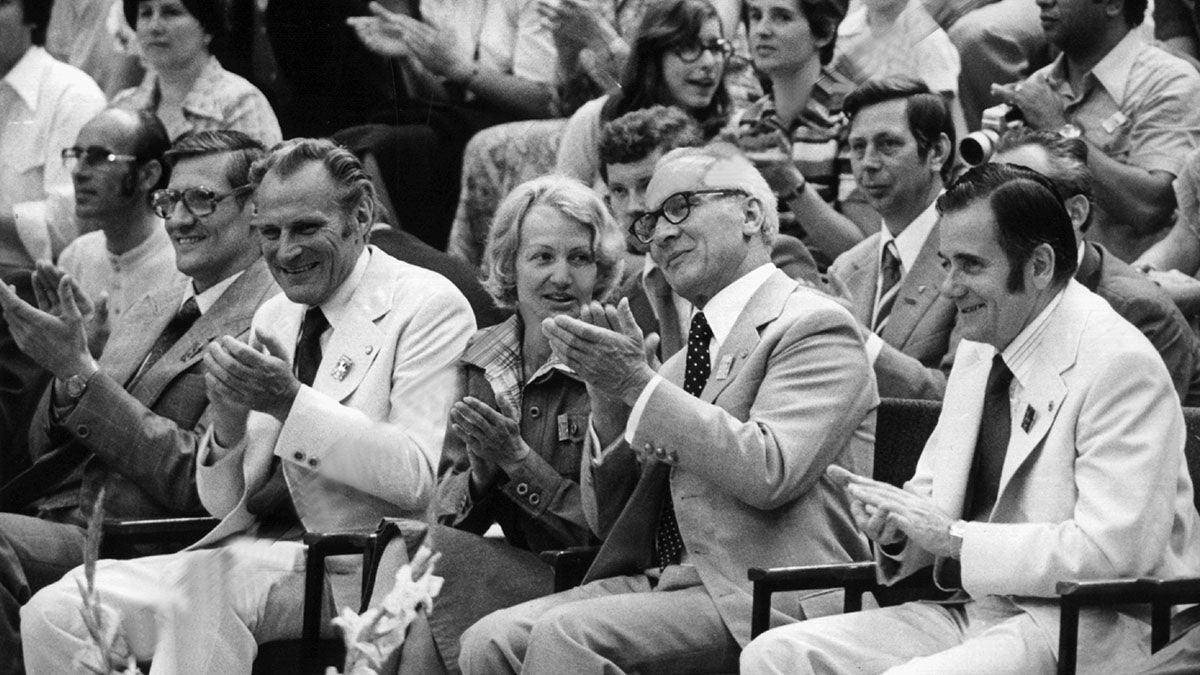 In 2000, GDR sports minister Manfred Ewald and director of sports medicine Manfred Hoeppner received suspended sentences after being charged with causing bodily harm to 142 women – many of whom were personally present during the Berlin trials. Ewald was unapologetic, while Hoeppner said: "I would like to assure the ladies that it was not my intention to cause them deliberate physical harm."
 That statement rang hollow in light of the Stasi (the Ministry for State Security, which ran the East German secret police) files uncovered by Franke and his wife Brigitte Berendonk, a discus thrower who defected from East Germany to compete for West Germany at the 1968 and 1972 Olympics.
 Dr. Lothar Kipke, who administered steroids to nearly 60 underage swimmers, got a suspended jail sentence of 15 months and a fine of 7,500 Deutschmarks (about $4,000) in 2000. Kipke had compounded his power by serving as a Stasi informer and on the medical committee of FINA (Fédération Internationale de Natation), which oversees international aquatic sports. He kept precise records of the doses that each GDR athlete received.
 Not every athlete suffered equally. For instance, Kristin Otto, who won a record-setting six Olympic gold medals at the 1988 Olympics, said she was the world's "most-tested" swimmer and is unaware of having taken anything illegal. She remains a German television reporter and producer to this day.
 "When she claims she cleaned up in Seoul in 1988 without taking anything, then I can only say she didn't win six golds by drinking buttermilk," said fellow GDR swimmer Rica Reinisch, who won three gold medals at the 1980 Olympics.
 Inflamed ovaries and menstrual pain pushed Reinisch into retirement the following year at age 16. She subsequently had several miscarriages, which she attributes to steroids.
 The drugs sometimes pushed athletes' bodies to unforeseen extremes. Shot putter Heidi Krieger was fed steroids throughout the 1980s with the SC Dynamo Berlin athletic club, winning a gold medal at the 1986 European Athletics Championships.
 Suffering from severe thigh and hip pain, Krieger retired in 1989, and found herself in crisis over her gender identity. In 1997, she underwent gender reassignment surgery to become Andreas Krieger. He married former swimmer Ute Krause, another doping victim, whom he met at the Berlin trials.

 Male weightlifter Gerd Bonk peaked with a 1976 Olympic silver medal in Montreal. Tragically, the amount of steroids the East German super heavyweight used in a 12-month period between 1978 and 1979 set another peak.
 According to a Vice story, "12,775 milligrams is the highest quantity of anabolic steroids a human is documented to have ingested in a single year." To put that in perspective, Bonk's intake was more than eight times the amount Canadian sprinter Ben Johnson took in 1988 when he won the men's 100-meter final at that year's Olympics and was disqualified three days later.
 The 6-foot-tall, 320-pound Bonk wound up diabetic and in a wheelchair. He died in 2014 at age 63, with no representatives of German athletics at his funeral.
 Admittedly, the East Germans were not alone in doping during this era. In 1976, their successes led the U.S. Olympic Committee (USOC) to form a committee, headed by Dr. Irving Dardik, to see how sports medicine — including "areas considered taboo" — could be leveraged to help American athletes win.
 Members of the 1984 U.S. Olympic cycling team, including four medal-winners, engaged in blood boosting, receiving transfusions to increase their red blood cell count in order to deliver more oxygen to their muscles. (The IOC banned blood boosting in 1985.) Dr. Wade Exum, the USOC's former anti-doping chief, alleged in 2003 that 19 U.S. athletes were allowed to compete at the 1988 Olympics despite testing positive for banned substances beforehand.
 For anyone remotely aware of U.S. politics, the following Faust's Gold excerpt encapsulates how still-living people are touched by what happened back then:
 "In 1989, in testimony before the Senate Judiciary Committee led by Senator Joe Biden, American sprinter Diane Williams testified that she first received Anavar and then later Dianabol from her coach," the book reads.
 That said, no other country — not even the Soviet Union with its win-at-all-costs philosophy for the glory of socialism — doped in as systematic a way and with as little regard for the long-term well-being of athletes as East Germany in the 20th century. As a PBS documentary put it: "It was German, it was orderly, it was bureaucratic, it was written up."
 In 2016, the German government announced a second fund to compensate doping victims of the 1970s and '80s with a payout of €10,500 per athlete (approximately $11,600), following up on the original compensation fund that paid out in 2002.
 The psychological toll from doping goes hand in hand with the physical ills. Doped athletes who were not caught at the time face the agonizing question of whether to disavow the feats for which they sacrificed their youth and countless training hours. Still-existing relationships remain at stake.
 Gary Bruce's book The Firm: The Inside Story of the Stasi says: "The history of East Germany … holds particular poignancy for current residents of eastern Germany, where those complicit with the regime are neighbors of those who suffered under it. This fact of the GDR being very recent history is indeed the rub, as Ulrich Plenzdorf observed: 'That the GDR is dead is a myth. The people who were the GDR are still alive.'"
 Looking back, it's stunning that so much of the GDR doping scandal occurred right in the public eye for so many years. Unnatural changes in athletes' bodies were often plain to see. As early as 1973, a France-Soir article by journalist Jean Pierre LaCour spotlighted rumors that the East Germans were using performance-enhancing drugs en masse. The collective cognitive dissonance required to act as if it wasn't happening — not only in the Eastern Bloc, but frequently in the West as well — is testimony to the deep human capacity for self-deception.
 Records can be wiped out or broken. Medals can be reallocated. Apologies can be given. However, East Germany's doping survivors cannot rewrite a film script, go back in time, or regain their health.
Lucas Aykroyd writes for the New York Times, espnW, and the Women's Sports Foundation. Based in Vancouver, he has covered women's hockey at five Winter Olympics and four IIHF Women's World Championships.
Editor's note: For the 2019-2020 academic year, the Global Sport Institute's research theme will be "Sport and the body." The Institute will conduct and fund research and host events that will explore a myriad of topics related to the body.
Tags:
Andrea Pollack
,
Berlin Wall
,
Brigitte Berendonk
,
Christiane Knacke
,
Diane Williams
,
Dr. Lothar Kipke
,
Dr. Manfred Hoeppner
,
East Germany
,
Faust's Gold: Inside the East German Doping Machine
,
Gary Bruce
,
Jenapharm
,
Kristin Otto
,
Olympics
,
Orial-Turinabol
,
PEDs
,
Rica Reinisch
,
SC Dynamo Berlin
,
Steven Ungerleider
Related