Health
Culture
Passion for prosthetic advocacy brings 'Forrest Stump' runner to the screen, championships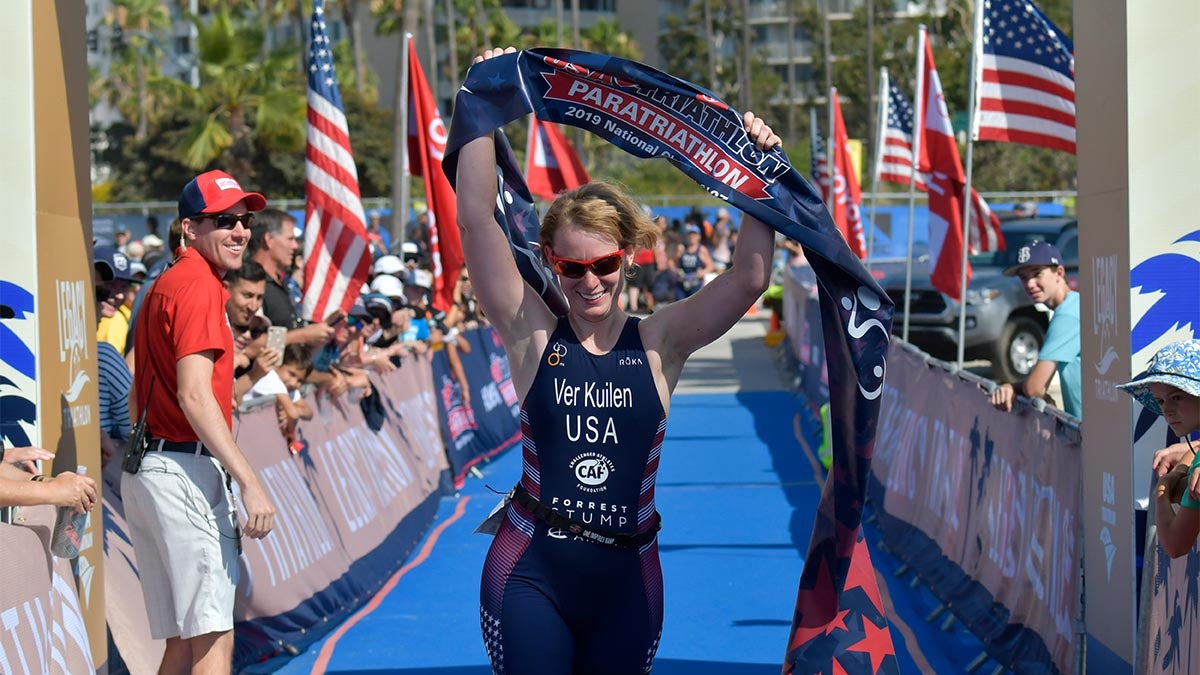 Nicole Ver Kuilen has gone from running on a prosthetic leg ill-suited for the sport to completing a personal 1,500-mile triathlon along the West Coast — a journey she dubbed "Forrest Stump" — to getting her first running blade, to climbing a mountain in Ecuador, to finishing first in her category at the USA Paratriathlon National Championships in July. Now, she is traveling around the country showing a documentary short about her 1,500-mile triathlon at film festivals.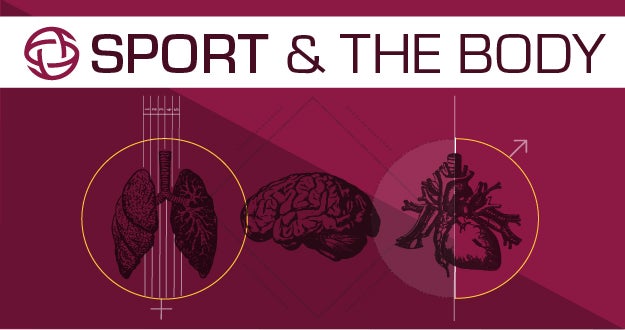 Through all of this, Ver Kuilen has advocated for amputees to have access to the prosthetic technology they need to be active and take part in sports. Health insurance companies often refuse to cover it.
This year's USA Paratriathlon National Championships in Long Beach, California, marked an important first: The championships provided a professional prize purse. In each of the five classes, the top three finishers (and the guides of athletes with visual impairments) received prize money provided by USA Triathlon, Toyota and the Challenged Athletes Foundation (CAF).
The prize money "shows the athletes who are part of this that we're just like other athletes that are out there; that we deserve the same amount of recognition," Ver Kuilen said. "We work just as hard as able-bodied athletes and have to put forward the same amount of training, in addition to many of the medical expenses we have to undergo just to be able to get to the starting line, whether that's a prosthesis or a wheelchair or whatever it is."
USA Triathlon added the prize purse "to increase the level of professionalism for paratriathlon in the United States," said Caryn Maconi, communications manager at USA Triathlon.
"It was long overdue, but it's something that we felt was really important to demonstrate that our paratriathletes are professional athletes," Maconi said. "They're competing on the world stage internationally and winning medals for the U.S."
The prize purse also gives people a goal, Maconi said, "even if they're a kid who is one day dreaming of competing at a higher level, or a military veteran who's just getting started in the sport, or anybody who is just learning about paratriathlon."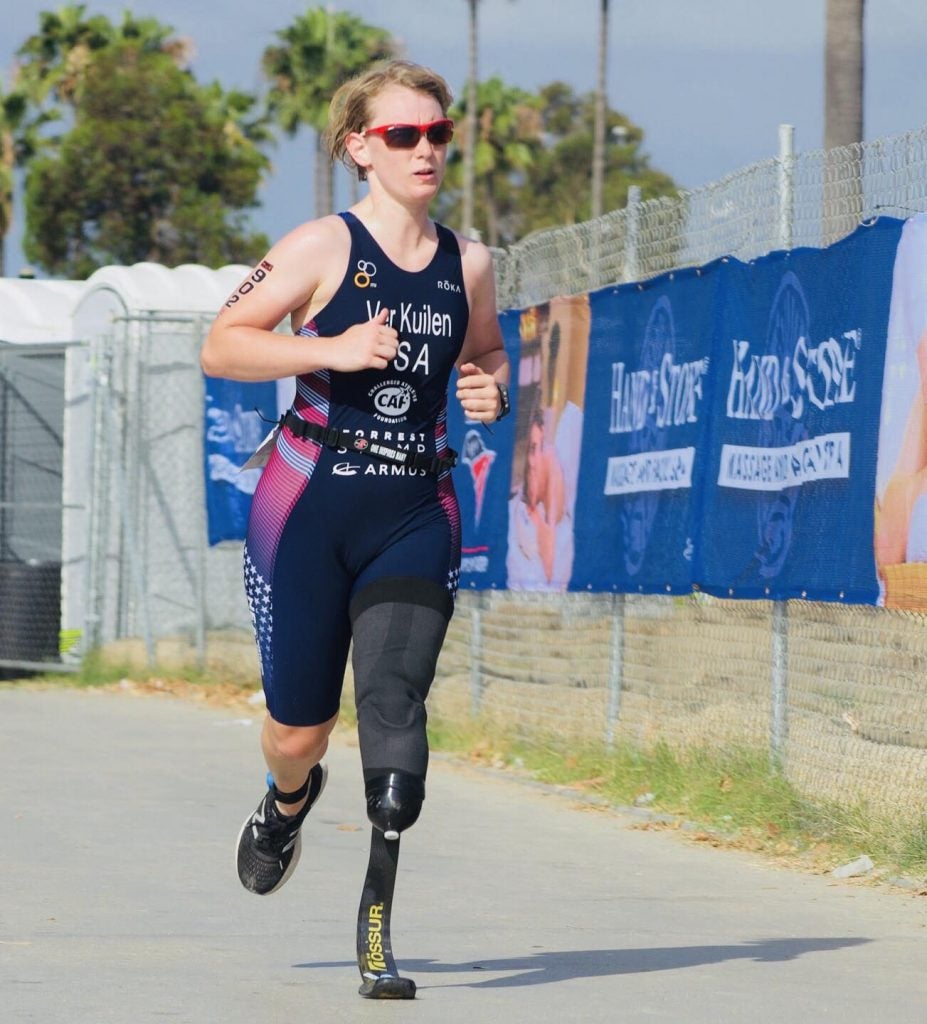 CAF and USA Triathlon have long collaborated, said Travis Ricks, CAF's associate director of programs and athlete relations. 
"We realized we wanted to come to the championships in a bigger way," he said. 
So CAF offered funding, Ricks said. He sees adding the prize money as part of a larger movement.
"You can see that there's a respect that's finally coming to the athletes that are participating in para sports," he said. 
Ver Kuilen agreed, pointing to other leadership decisions during the past year, including the U.S. Olympic Committee's name change to the U.S. Olympic & Paralympic Committee, and the Boston Marathon's addition of competitive para athletics divisions.
 "In the last couple of years, we've seen huge strides in the paralympic movement overall," Maconi said, noting that last fall, the Olympic Committee increased the payments paralympic medalists win to equal what Olympic medalists receive.
The road to a gold medal
Ver Kuilen's win means she'll be considered for the Paratriathlon Development Team Program. Paratriathletes compete in several divisions, determined by the level of physical or visual impairment. The 2020 Paralympic Games in Tokyo will not include the women's PTS4, which is the category Ver Kuilen competes in, so she has her sights set on Paris in 2024. 
Ver Kuilen lost her left leg to bone cancer when she was 10. When she first started running 5Ks in college, she was experiencing a lot of pain, and her prosthetist at the time told her to stop running and find another sport. 
"But because it was something I was so passionate about, I just kept going after it," she said.
 However, Ver Kuilen's health insurer refused to cover the cost of a running blade because it determined running was not medically necessary. Ver Kuilen worked with her prosthetist to adjust her existing prosthetic to minimize the pain it caused.
She now has a running blade that CAF, Microsoft, Össur and Cornerstone Prosthetics & Orthotics gave her at the end of her 1,500-mile journey in April 2018.
"Nicole's a great example of an athlete who did the best she could with what was provided to her," Ricks said. "Knowing she had gone her entire life without a running blade, that was something we wanted to change."
So they surprised her with one.
 "We thought it would be a great opportunity to support somebody who's supporting everyone else," Ricks said.
Ver Kuilen and her current prosthetist, Natalie Harold, founded Forrest Stump as a nonprofit organization to advocate for and raise the standard of care for amputees. Last fall, they climbed Cotopaxi, a volcano in Ecuador, with the Range of Motion Project, an international nonprofit that offers prosthetic and orthotic care to people who lack access.
Ver Kuilen said the 1,500-mile triathlon and Cotopaxi summit were both "a personal journey for myself, to see that I could overcome my own personal limitations, and trying to become more confident as an athlete — but to also understand what other individuals within the disability community were facing."
 "Her drive is impressive. She travels all over the world bringing advocacy and awareness for amputees," said Ver Kuilen's coach, Jamie Brown, who also is an amputee and triathlete. "She certainly has potential in the sport of triathlon as well. It does take a lot of time to build up the right energy systems to compete at the highest levels. She has taken on everything I've thrown at her, even with her busy schedule, and adapted seamlessly. I can't wait to see her growth in the next couple years." 
Ver Kuilen called winning the national championship "an incredible moment."
"I looked back on all the opportunities when I could have stopped and just said this wasn't for me, I'm not going to make it, it's not worth it," she said.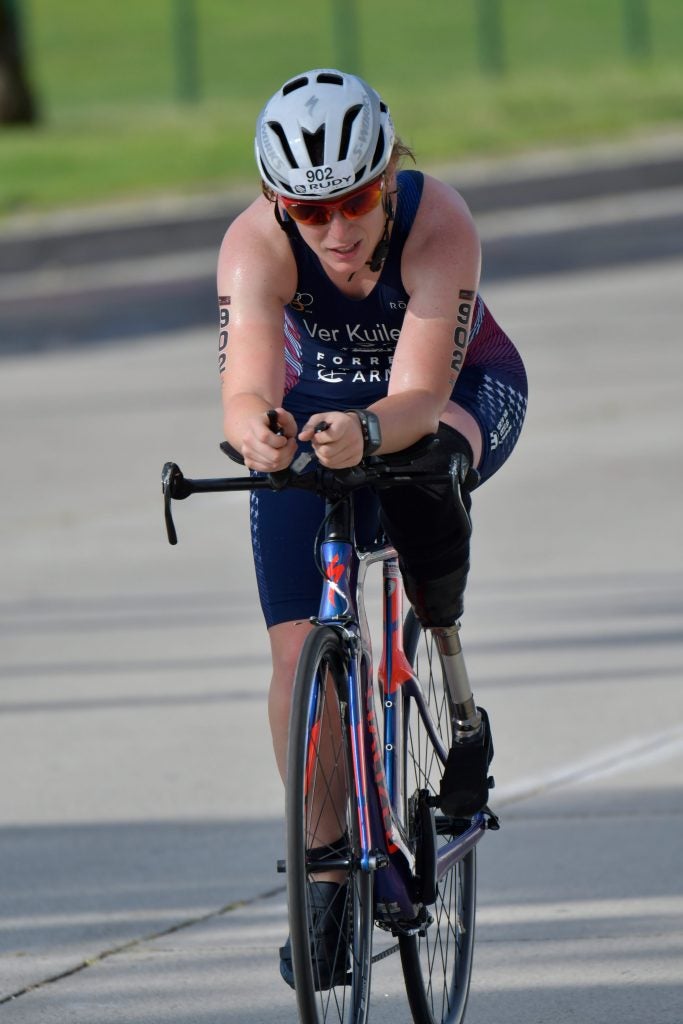 She said support came from "some incredible people along the way who stepped up and said, 'No, you are an athlete. We are going to help you.'"
Even during the national championships, Ver Kuilen said she and others faced obstacles. Amputees are not allowed to swim with their prostheses, so when they get out of the water, they must retrieve their prosthetic as they transition to the bike course. At the course used in Long Beach for the national championships, Ver Kuilen said the distance she had to cover to get to her prosthetic created some difficulty.
"Usually, at the swim exit, you'll have your prosthetics right there." she said. "It ended up being a 100-meter hop from the exit through sand to get to my leg. That transition added on four minutes or so to my time." 
She said this is a safety issue as well as a fairness issue, because not everyone in the same category incurs the same delay, because their impairments differ.
This was the first time USA Triathlon hosted the event in Long Beach, and Maconi said the organization is taking a close look at the details so adjustments can be made in future years.
The documentary
Forrest Stump and Snowday studio created a documentary short about Ver Kuilen's triathlon down the West Coast, called "1500 Miles," and it won the award for best documentary at the Taos Shortz Film Fest. In July, "1500 Miles" played at its fifth international film festival: at Indy Shorts International Film Festival, where it received a standing ovation, Ver Kuilen said. 
"People were really shocked to understand, in general, the lengths that individuals with disabilities or amputees have to go to just to be able to compete at the same level," she said.
 "When people see that amputees don't have access, their immediate reaction is, 'Oh, they're too expensive,' and they kind of stop there," Ver Kuilen said. "The issue is not the fact that prosthetics are expensive. Yes, that's a challenge, but even if running blades weren't that expensive, there still happens to be a policy in place that says running is not medically necessary for amputees."
That policy is something that advocates can change, she said.
 "A lot of our limitations are only set by our minds," Ver Kuilen said, but sometimes the obstacles are not just mental.
"It really is a systemic barrier that is in place that's keeping someone from achieving what they want and what they need to get to that next level. I can try to be the best athlete I can be, and that's what I was trying to do on this 1,500-mile journey, but, at the end of the day, my prosthesis just kept breaking down and creating so much back pain and other issues for me."
 After the film festival circuit, Ver Kuilen wants to share the documentary with as many people as possible, including universities, medical institutions and even insurers.
Encouraging activity and sports
Millions of people with physical challenges do not have access to adaptive sports equipment and programming they need to be active, according to CAF. Nearly half of all adults with a disability get no aerobic exercise, according to the Centers for Disease Control and Prevention.
CAF supports people in all sports, from wheelchair basketball to adaptive surfing, and it aims to get people active before they develop problems such as diabetes, Ricks said.
The paratriathlon is a relatively new sport, added to the Paralympics in 2016.
"Within paratriathlon specifically, there's not as much competition as there could be," Ver Kuilen said. "That's something I would love to see change, to see more people going into this pipeline." 
She believes the prize money may help attract more para athletes to the sport.
"It's an addicting sport, so people do their first one and decide they want to do more and more," said Keri Serota, executive director of Dare2tri, a nonprofit that supports paratriathletes, from introducing people to the sport to running elite and development programs, including coaching and financial support.
More than half of the athletes who competed at the Paratriathlon National Championships were on one of Dare2tri's teams or had participated in one of the organization's camps, Serota said. Ver Kuilen attended its Train2Race camp in June. 
"We believe that everybody deserves to be active," Ricks said. "Sports is not a luxury item. It's something that makes every person whole. And if you want to be active, you should have the right and the capabilities to do so."
 Allison Torres Burtka is a freelance writer and editor based in metro Detroit. You can read more of her work here.  
Related Articles
'Forrest Stump's' 1,500 miles a small step to advocate for better athletic prosthesis access
Cancer survivors reclaim their power through sports
These competitors are blasting away stereotypes of who is an athlete
Recognizing competition, Boston adds para athlete divisions
Adaptive sport improves quality of life for those with disabilities
Podcast: Traumatic brain injury beginning of Jack Rutter 2.0
Alabama's Stran-Hardin Arena brings adaptive sport vision to life
After a shooting left him paralyzed, DeQuel Robinson finding new life in wheelchair basketball
Video: Love of sport, helping others brought Rola Allahaweh back from near death
U.S. veteran Steve Kirk uses breath-triggered gun at Wheelchair Games
Tags:
1500 miles
,
amputee
,
Boston Marathon
,
CAF
,
Caryn Maconi
,
CDC
,
Centers for Disease Control
,
Challenged Athletes Foundation
,
Cornerstone Prosthetics & Orthotics
,
Cotopaxi
,
Dare2Tri
,
film festival
,
Forrest Stump
,
Indy Shorts International Film Festival
,
Jamie Brown
,
Microsoft
,
Nicole Ver Kuilen
,
Össur
,
para athlete
,
Paralympics
,
prosthesis
,
PTS4
,
Range of Motion Project
,
Snowday
,
Taos Shortz Film Fest
,
Train2Race Camp
,
Travis Ricks
,
U.S. Olympic & Paralympic Committee
,
USA Paratriathlon National Championship
,
USA Triathlon
,
USOPC