Health
Science
'Forrest Stump's' 1,500 miles a small step to advocate for better athletic prosthesis access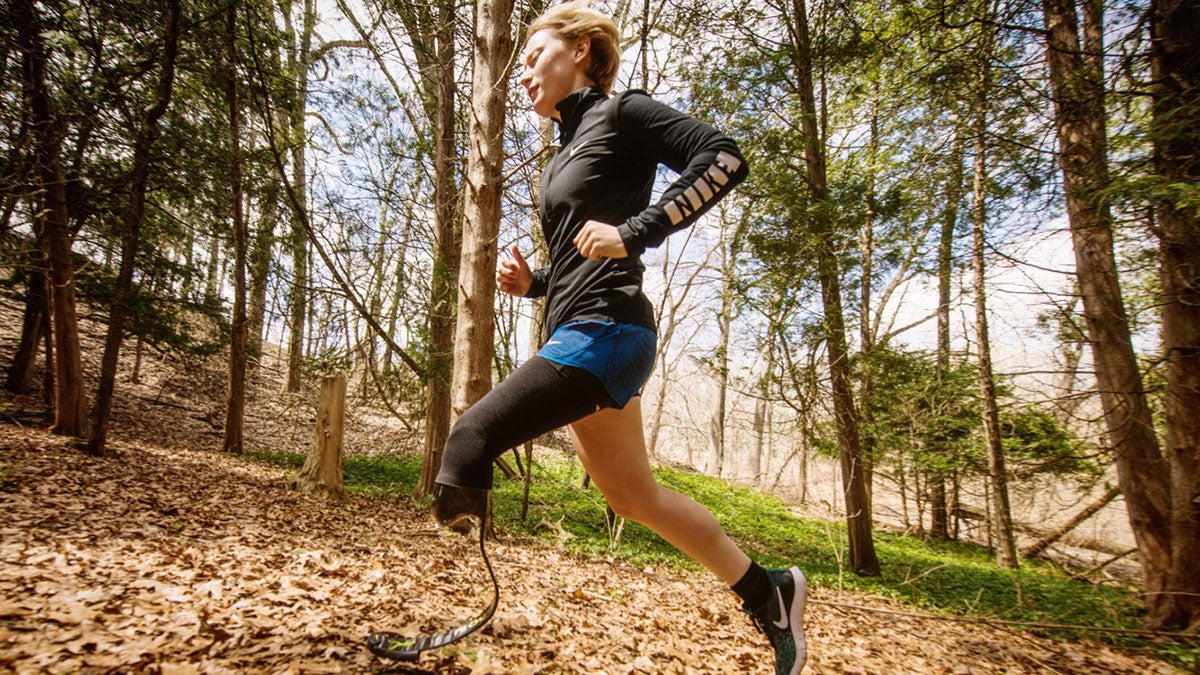 Nicole Ver Kuilen recently completed a 1,500-mile triathlon down the West Coast — with a prosthetic leg.
Although she's a runner, she didn't have a running blade because those are expensive and difficult for many amputees to get. Now, she is advocating for amputees as the National Association for the Advancement of Orthotics & Prosthetics' inaugural fellow — and she's preparing for her next big adventure.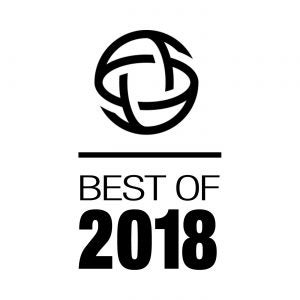 Ver Kuilen embarked on her personal triathlon, which she dubbed "Forrest Stump," to raise awareness of the challenges amputees face in getting the prosthetics they need to participate in sports or even in an active lifestyle. She quit her job and set off running, biking and swimming for 1,500 miles with her prosthetist and training partner. They had to contend with heat exhaustion, swimming while ash from the Columbia River Gorge fire fell on them, a bike crash that sent one of them to the ER, and Ver Kuilen's first ocean swim, of 1.6 miles.
Snowday Studio shot a documentary of the journey, called "1500 Miles," and Ver Kuilen hopes to tour the country with it when it's finished.
Since she was 10, Ver Kuilen has had a prosthetic leg. She was diagnosed with bone cancer and decided to have her left leg amputated to increase her chances of survival.
"I was shocked to learn, when I was given my first prosthesis, that it wasn't waterproof," Ver Kuilen said. "That summer, all I really wanted to do was go out and play with my friends and be active."
When her family requested a waterproof limb, "insurance denied the claim, saying it was not medically necessary — it's a convenience item to have another prosthetic that would be waterproof. So that kind of became my new normal, avoiding situations that had water in them."
Her parents constantly had to fight with their insurance provider to get Ver Kuilen the support she needed. "It was very frustrating to become aware of the fact that our society, our technology, and our insurance and health care were really not up to par for these amputees," said Ver Kuilen's mother, Jan Harley.
After recovering from chemo and the amputation, Harley said, "it took her a while to learn to walk again, first with crutches, then a cane — and then she threw the cane away."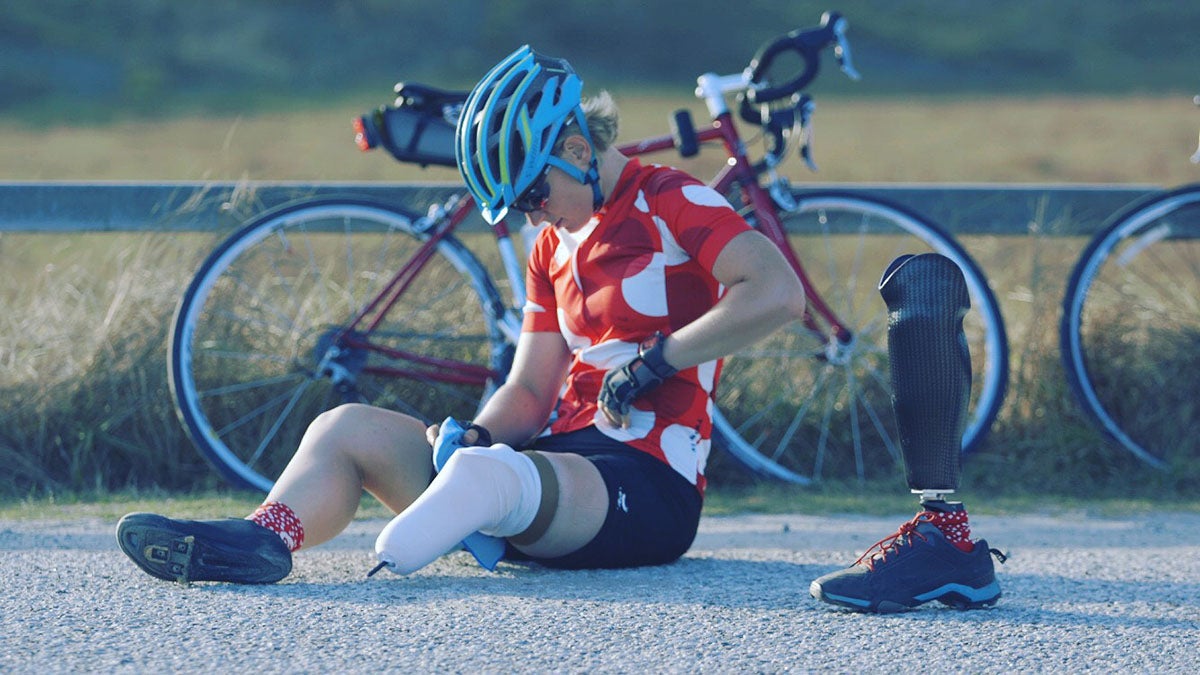 Ver Kuilen had always been active in sports as a child and continued to be, although her prosthesis repeatedly broke and sidelined her. Harley added her coaches usually didn't know how to deal with a prosthesis.
In college, Ver Kuilen took up running and ended up winning her age group in the second 5k she ran.
"I started to set bigger goals for myself with running and biking and swimming, and I sort of unleashed my athletic potential," she said, but her prosthesis started wearing down again and caused pain while she ran. She asked her insurance company for a running blade, "so I'd have appropriate technology for my activities, but again it was denied, saying it wasn't medically necessary for amputees to run, basically."
Kathleen Wang is Ver Kuilen's training partner. She also quit her job to help develop Forrest Stump and prepare for the journey. Ver Kuilen initially got Wang into running, and while they were training for a half marathon, "Because Nicole was running with a leg designed for walking, we often had to take stops so she could wipe the sweat off of her leg," Wang said. "Running is a high-impact sport, and she developed back problems due to running and actually had to take months off from training."
Ver Kuilen spent a lot of time in the prosthetic clinic, "trying to build a new leg that would be covered by insurance but would also be more durable and allow me to continue to do half marathons," she said, but she ended up with one that wasn't much different from what she already had. She started asking questions and found that coverage for prosthetics varies widely.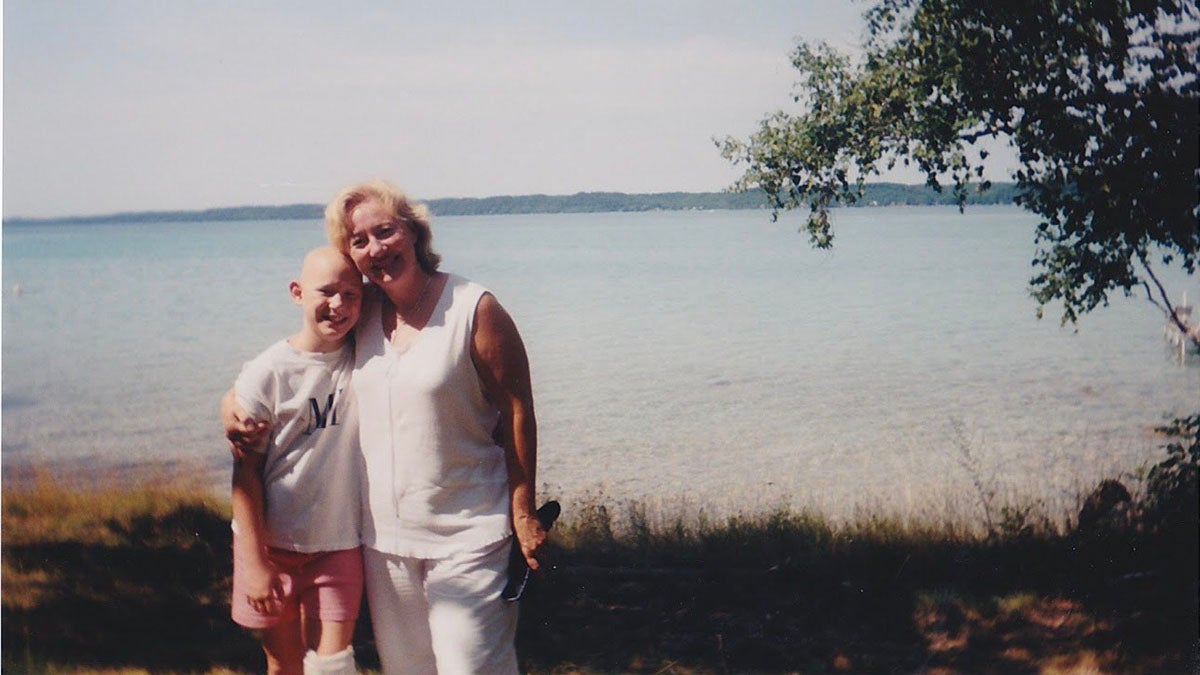 "I saw in the media that Paralympians and veterans were being highlighted left and right with this amazing technology, and the accomplishments that they were achieving," she said, noting that one athlete sometimes had five prostheses. She learned that "there are sort of tiers of care that exist within the amputee population, where at the lowest level, for someone like me who's covered under private insurance, basically, you have access to one prosthetic technology. Anything other than that is not medically necessary."
Some amputees with private insurance struggle to get the most basic prosthetics, she said. "I've met a number of amputees who are having to fight denial after denial just to get a leg to walk with."
The middle tier encompasses Medicare and Medicaid, which have set a certain level of prosthetics coverage. The Centers for Medicare & Medicaid Services' coverage determination for lower-limb prostheses says these determinations are "based on the beneficiary's potential functional abilities. Potential functional ability is based on the reasonable expectations of the prosthetist, and treating physician, considering factors including, but not limited to: 1. The beneficiary's past history (including prior prosthetic use if applicable); and 2. The beneficiary's current condition including the status of the residual limb and the nature of other medical problems; and 3. The beneficiary's desire to ambulate."
In the top tier, the Veterans Administration and workers' compensation provide good coverage, Ver Kuilen explained.
Because Michigan is a "no-fault" auto insurance state, people who lose limbs in auto accidents are covered by auto insurance, "and they have a better standard of care" than private health insurance, she said. "That was kind of mind-boggling, that how or where you lost your limb affects what you have access to."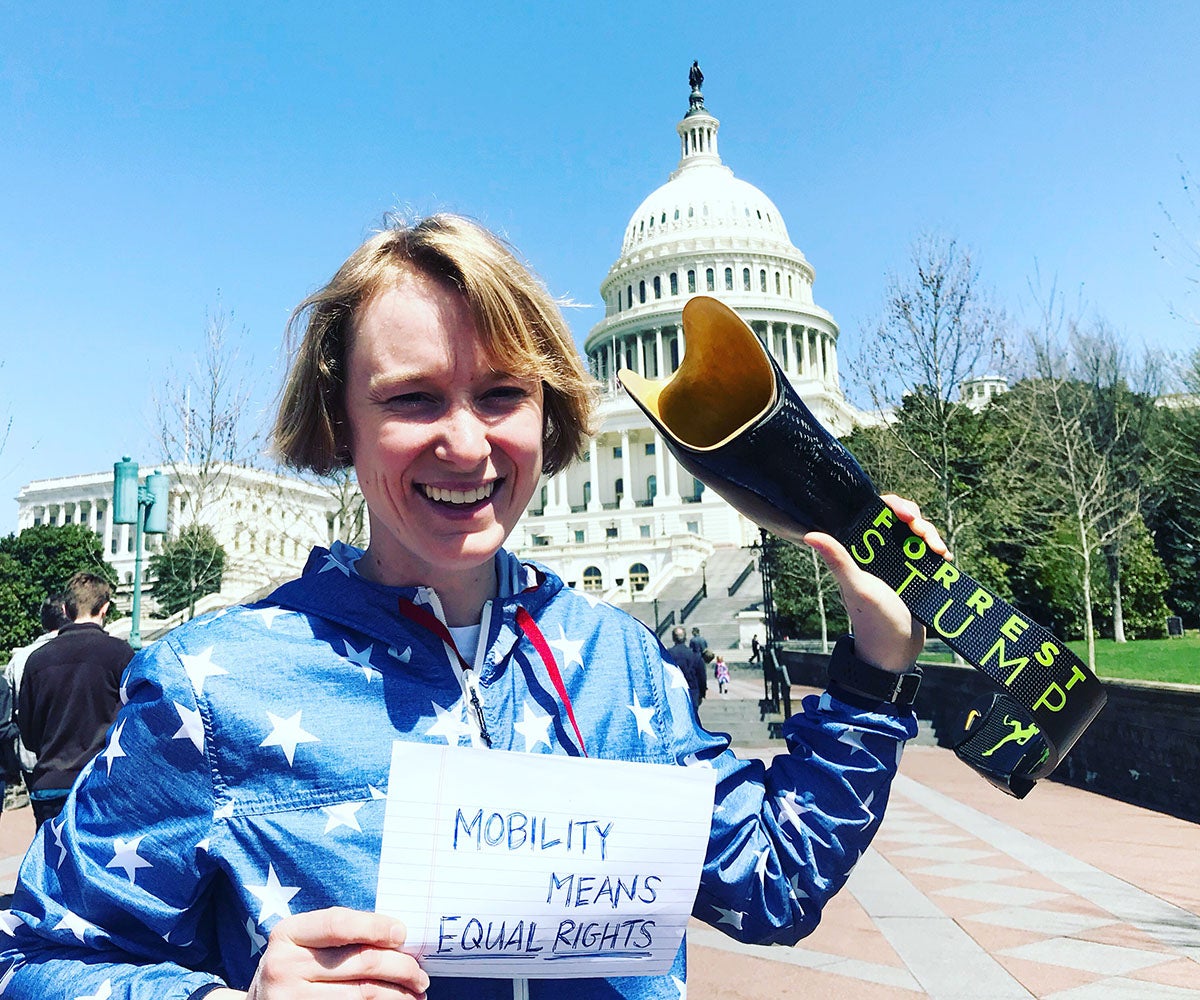 Ver Kuilen met her prosthetist, Natalie Harold, when Harold was a resident at the University of Michigan. They shared similar frustrations about the system of prosthetic coverage — Harold didn't think it was fair that some patients received a certain level of coverage and others didn't. She noted that some plans don't cover prosthetics at all.
Prosthetists ensure the prosthesis fits and is aligned with the leg properly.
"Seeing a patient for the first time, my goal is to figure out what it is they want to achieve and what their current limitations are, and then provide them with tools — that's how I see a device, as a tool — to achieve those goals," Harold said. "When my limiting factor is what their insurance is going to cover, it really impacts what we're able to achieve together.
"Nicole is somebody who doesn't settle for much, and for 16 years following her amputation, she really had to settle for what the system provided her and what the rules were."
When Ver Kuilen explained what she intended to do, Harold joined the effort.
"I was compelled to do it for much of the same reason Nicole was. We both are in the field from different perspectives — her as patient, me as provider — but we have the same frustrations in terms of who has access to what. We just want what's most appropriate for every amputee."
Harley also joined in the journey, buying a camper that she set up at each site to meet the triathletes and prepare meals for them.
"Nicole's attitude has always been: If you believe you can do something, you will see opportunities. If you don't believe you can do something, you're going to see obstacles," Harley said.
At the end of the 1,500 miles, Ver Kuilen received a running blade from the Challenged Athletes Foundation, Microsoft, Össur and Cornerstone Prosthetics & Orthotics.
"It felt like this validation, for the first time in my life — 'Yeah, you are an athlete, you deserve access to this, and we believe that you can overcome your disability, and we believe that you have the potential, just by being human, to do this.' That was really empowering to me," Ver Kuilen said. "And, as grateful as I am, I know that no amputee should have to go to these extreme lengths to get access to the technology they need."
The Challenged Athletes Foundation provides important support to Paralympians, Ver Kuilen said. She added several "nonprofits have been popping up to raise philanthropic dollars to provide limbs to people. And that, to me, is a sign there is this unmet need within our health care system."
Ver Kuilen explained that, in the U.S., "there is a real attack on prosthetics and the durable medical equipment category, which is what prosthetics fall under." She pointed to legislation that passed in New York called "one limb for life," which would allow insurers to limit their coverage to one prosthetic limb for an amputee's whole lifetime. (It has since been modified to cover repair and replacement.)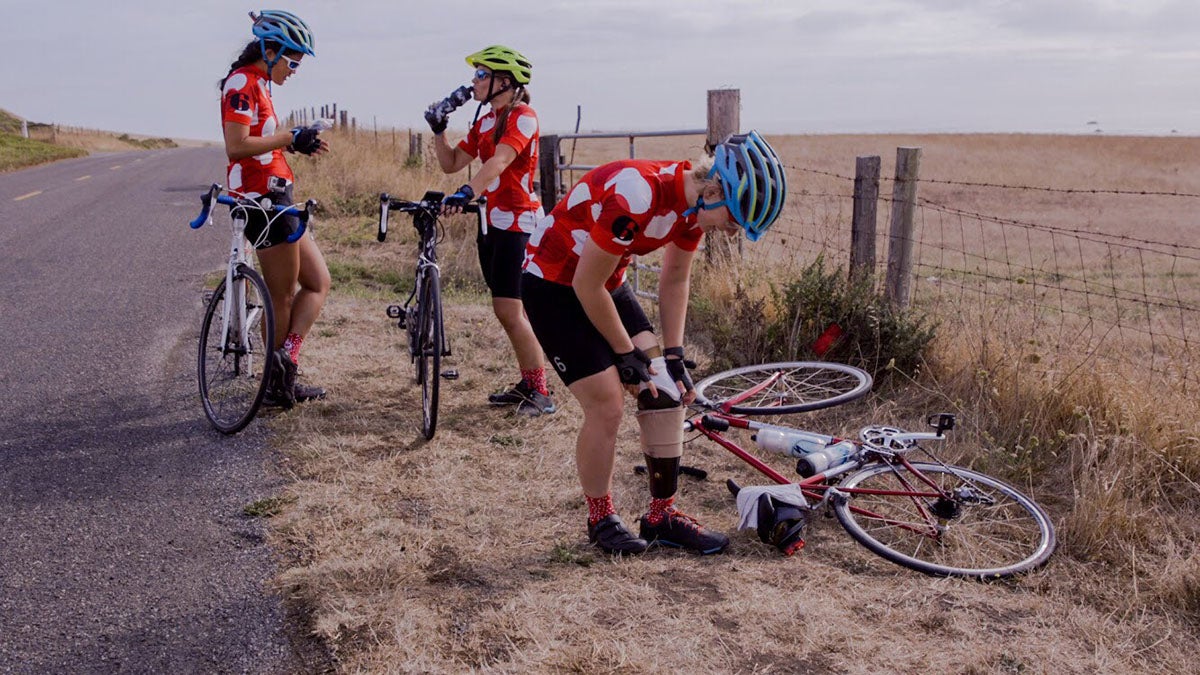 Another nonprofit is Amputee Blade Runners, which provides free running prosthetics for amputees when health insurance does not cover them.
To advocate for amputees and educate people about these issues, Ver Kuilen has met with policymakers and spoken to groups across the country. Next up in her campaign to raise awareness is "Climbing 4 Forrest." In September, Ver Kuilen will climb Cotopaxi, a 19,347-foot active volcano in Ecuador. She will climb with several other amputees from around the world as part of the Range of Motion Project, an international nonprofit that provides prosthetic and orthotic care to people who lack access.
This campaign isn't the first time Ver Kuilen has taken initiative to support others.
"Even before she had an amputation, Nicole was the type of kid who was kind of a natural-born leader," Harley said. "At Mayo Clinic, she is 10 years old, has just gone through an amputation, and she wants to go and visit all the other patients. She made up this little care package for each little patient, and we put it in Saran wrap and tied it with bows, and she walked around encouraging other kids — saying that they could beat whatever it was they were up against."
Ver Kuilen said she sometimes wonders if she would have attempted such athletic adventures if she'd had both legs.
"I do push myself harder than I ever would, because being athletic helps me feel like I have overcome my disability, and that it isn't something that defines me," she said.
"Watching her growth as an athlete has been a privilege," Wang said. "She has found her voice through the power of sport."
Related Articles
Cancer survivors reclaim their power through sports
These competitors are blasting away stereotypes of who is an athlete