Why this matters
Women's and girls' interest in some traditionally male-only sports has grown exponentially in recent years, and new teams and championships are being created in response.
Women's freestyle wrestling has been part of the Olympics only since 2004, but in those 15 years, Japan has dominated the sport at every weight class. Two women, Saori Yoshida and Kaori Icho, have been on the forefront of that dominance.
For Yoshida, wrestling is a family affair. She began wrestling before she turned 5 years old. Her father, Eikatsu Yoshida, was a former Japanese national champion and coach for the Japanese women's national team. He built a dojo at the family house where he taught Yoshida and her brothers wrestling. As Yoshida grew in the sport, her father served as her personal coach.
Her father died in 2014. As Yoshida retired from wrestling this year, she reminisced on the role her father played in her career. 
"I think that from heaven, he would say that I did really well," Yoshia told The Asahi Shimbun.Japan has won 11 of the 18 gold medals contested in women's freestyle wrestling at the Olympics. Yoshida and Icho have combined for seven of those gold medals.
Icho has been wrestling for much of her life as well. She was undefeated on the mat for 13 years of her career.
The women's wrestling world championships have been contested since 1987, and Japan has been just as dominant on the mats there as well. Japanese wrestlers have won 87 total gold medals and 22 team world titles.
Now, a decade later, Japan is stepping up its commitment leading up to the 2020 Olympic Games with a lofty goal: to win 20 gold medals across all sports while serving as the host city.
In order to do so, leaders know they have to invest resources into underserved areas across sport and gender.
Japanese Women's Wrestling
The Japan Wrestling Federation was founded in 1932. Similar to USA Wrestling, it serves as the governing body over the athletes in the three disciplines of wrestling at numerous age levels.
Kaori Icho made history in Athens in 2004, becoming one of the first Olympic gold medalists in the history of women's wrestling and the first for Japan. Following suit was her teammate Yoshida, who would go on to win three Olympic golds before falling in 2016 to Helen Maroulis, the first female wrestler to claim Olympic gold for the United States.
Maroulis' victory snapped the historic and seemingly never-ending reign of Yoshida, who was a dominant force in women's wrestling for decades. She won three Olympic gold medals in a row, 13 consecutive world titles and four Asian Games titles. She had 119 consecutive victories from 2001 to 2008.
"It's frustrating to see Yoshida lose," head coach Kazuhito Sakae said in 2016. "But when you consider that she was going for her fourth Olympic gold medal, and the way she responds to expectations and the way she carries herself, she deserves even more than gold." 
Icho joined a select group of athletes after she won four consecutive gold medals at the Olympics. She won three titles at the middleweight class (63kg) before transitioning to the newly created welterweight class (58kg) at the 2016 Olympics in Rio. In no surprise, she won at that weight class as well. 
She's just the fourth athlete to complete such a feat, and the first woman to do so, joining the likes of American greats Carl Lewis and Al Oerter in athletics, and Michael Phelps in the pool.
"The thought of my fourth consecutive victory didn't put any pressure on me, but I think these are the first Games when I've been a bit afraid," Icho said after her gold-medal run in 2016. "There were many things going on inside my head, but I think I won this because of my desire."
The desire stems from more than just athletic ability and competitiveness. It's an understanding of the sport that stems generations, as the development of wrestling styles over the centuries has been heavily influenced by Japanese masters of martial arts.
As the sport became more solidified in its rules and styles over the course of the 20th century, Japan maintained a steady grip on its influence. Learning how to wrestle in Japan would be similar to learning how to play baseball with Babe Ruth or Jackie Robinson.
Beyond the deeply rooted understanding for the sport, the country itself holds its athletes to a professional standard. Athletes are awarded for winning Olympic medals, and in doing so, their sport as a whole also reaps financial benefits.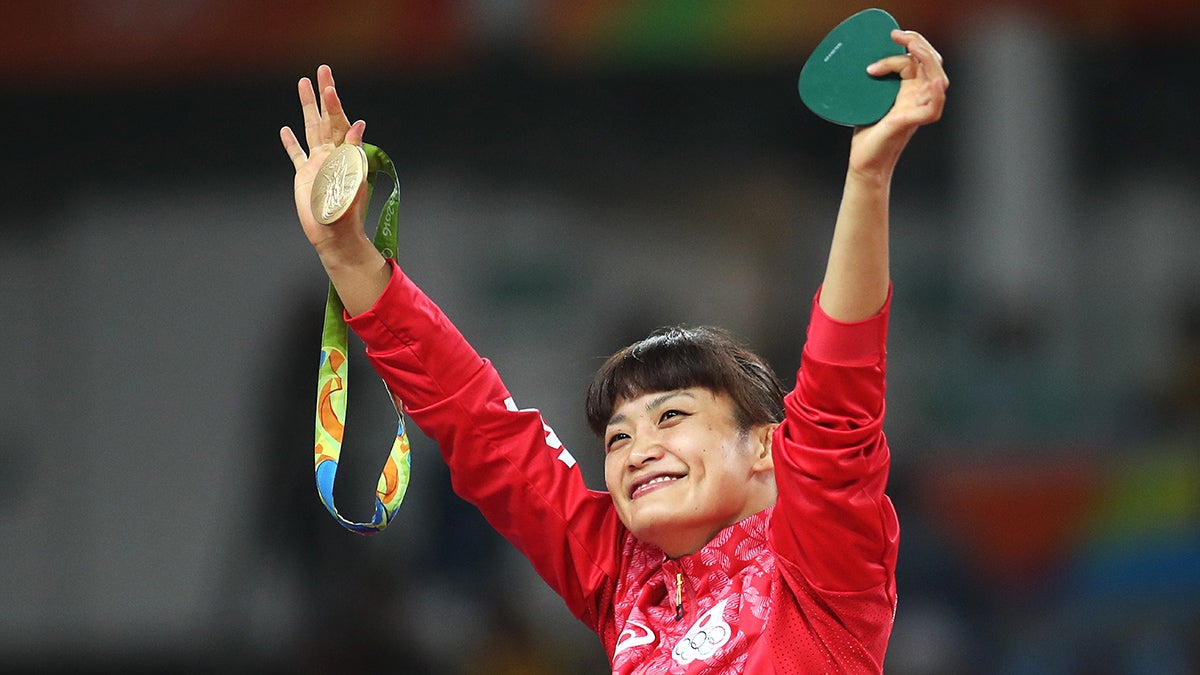 In 2010, Yoshida accepted an award of 2 million Yen (nearly $18,400 USD) from Yomiuri Shimbun, Japan's largest media conglomerate, after successfully defending her world and Olympic titles. In addition, the Japan Wrestling Federation also received 3 million Yen (just over $27,500 USD).
"Japan as a nation is now taking seriously how sports for women ought to be," Seiko Hashimoto said in 2016. "Up until now, there were no specific measures being taken for women in sport."
Hashimoto represented Japan in seven consecutive summer and winter Olympic Games, competing as a speed skater from 1984 to 1994 and as a track cycling sprinter during the summers from 1988 to 1996. She also served as Japan's Olympic chief of mission during the 2016 Games.
"We need to strengthen the National Training Center to underscore the strong performances we have seen already," Hashimoto said shortly after the 2016 Games. "In Tokyo, we want to be number three in total medals, and to achieve this ambitious goal, we need to have training centers inside Japan but also abroad. We need to have a presence outside of Japan where athletes can train."

As the 2020 Games near, Japan has stepped up its commitment to women's sports, doing so by placing women at the forefront of wrestling events. 
In the past, women's freestyle events have been grouped with men's Greco-Roman, leaving men's freestyle as the so-called main event. The 2020 Games will feature a women's weight class bracket in its entirety each day of wrestling competition, alongside both men's Greco-Roman and freestyle.

"The schedule announced by Tokyo 2020 will help wrestling ensure high attendance for each day of the competition," said UWW president Nenad Lalovic. "This schedule will help us reach even more fans and create a positive and energetic environment for all our competitors. The stars of women's wrestling will guarantee that interest level."
Growth of Women's Wrestling Worldwide
Wrestling was contested in the Olympics for more than a century before women were added to the field. In 2004, 108 years after the start of the modern Olympics, women took to the mat for the first time.
There were four weight classes in which 16 women earned medals at the 2004, 2008 and 2012 Games. Then, there were none.
Shortly after the 2012 Olympic Games, the International Olympic Committee (IOC) voted to drop wrestling from the Games. 
"In the view of the executive board, this was the best program for the Olympic Games in 2020," said Mark Adams, IOC spokesperson. "It's not a case of what's wrong with wrestling. It is what's right with the 25 core sports."
There were reportedly a number of reasons, including a lack of popularity outside of Olympic years and a lack of globally known athletes from the sport, but it was also widely speculated that the lack of equal representation of women was a leading reason.

"(Wrestling) has been in the modern Olympics since 1896," said Olympic historian David Wallechinsky. "In London, 29 different countries won medals. This is a popular sport."
After a global push to reinstate one of the original Olympic events, it was women who arguably saved the sport completely.
Changes were made. The governing body for global wrestling, FILA, was reimagined as United World Wrestling in 2014. Within months of the original decision, and after working alongside the governing body to make changes to the rules and make the sport easier to understand, the IOC reversed its verdict through the 2024 Olympics.
In doing so, the sport was split up in a way to give women equal representation as men: six weight classes per discipline, with the same number of spots allocated for athletes across the sport. 
In 2012, 57 women competed at the London Games. In 2016, the added weight classes doubled the number in Rio.
India's Sakshi Malik became the first female medalist for her country when she won a bronze in 2016. Malik was one of the last athletes to qualify for the Games; without the added weight classes and spots in her bracket, India could still be striving for its first female medalist today.
"It's (the victory) the result of 12 years of wrestling day and night. I never gave up in the bout and gave it my maximum," Malik told Indian television news channels after her victory.

The growth for women's wrestling since its inception in the 2004 Games has become a motivating factor for women to strive to be more than just a world champion. The added weight classes and spots per bracket give more women from more countries a chance to achieve the ultimate goal in wrestling.
Increased interest across the world, but especially in the United States, adds a level of competition that fosters success and adds depth to world teams. But it also requires more coaches and places for women, and men, to train.
Introduction of Regional Training Centers in US
According to the National Federation of State High School Associations 2018-19 participation survey, about 21,000 students participate in girls wrestling in the United States. That's up 5,000 from the previous year. Additionally, 18 states now sanction women's wrestling at the high school level.
The increase in participation at the youth level has led to additional opportunities opening up for training beyond high school. Female wrestlers in the U.S. now have options that are more tailored to fit each wrestler.
Historically, there were two options for women to continue wrestling after high school. They could go to a university that had a women's wrestling program, or they could try to claim one of the few resident-athlete spots at the U.S. Olympic Training Center (OTC) in Colorado Springs, Colorado.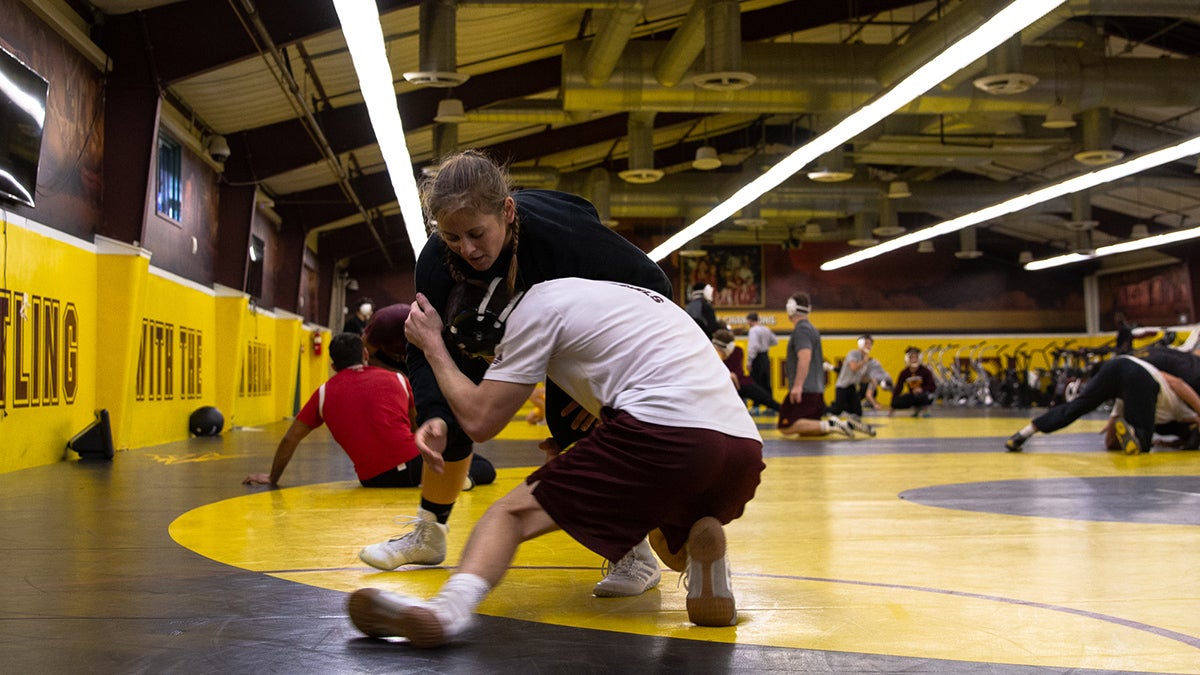 Within the past decade, a shift has begun within American wrestling. Regional Training Centers (RTCs), often located near Division I programs, offer an elite training experience that is organized and sanctioned by USA Wrestling.
"The RTCs have been fantastic for developmental wrestling in the United States," Arizona State University wrestling coach Zeke Jones said. "They've also been fantastic for women's wrestling. [Female wrestlers] can train anywhere in the country that has a regional training center, and that's mostly our best collegiate programs. So it gives our women a vehicle to train with the elite college athletes with aspirations of being the best in the world."
Training at RTCs affords women access to experienced coaches, mentors and world-class facilities. 
RTCs give young wrestlers support to grow as athletes. There are over 40 RTCs located throughout the United States. 
In 1976, Art Martori, a former president of USA Wrestling, founded Sunkist Kids Wrestling Club. This RTC, located in Tempe, Arizona, is one of the oldest in the country. According to Martori, Sunkist supports 40 to 70 athletes around the country every year.
"We [provide the] assets necessary for them to do that," Martori said. "That's coaching. That's travel. That's getting them to the places they need to be in the United States and overseas. And getting them a stipend in which they can pay for their training, food and housing as necessary."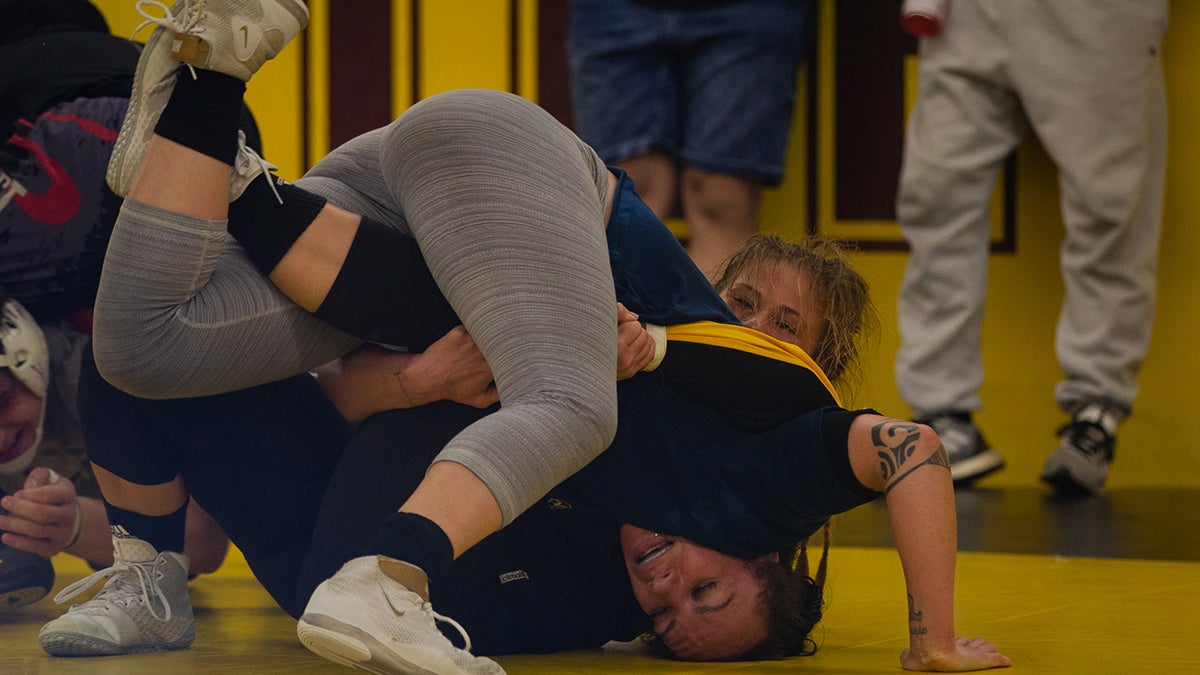 While many RTCs are located within college wrestling programs, athletes don't have to be in college to train at an RTC. Kelsey Campbell graduated from ASU in 2008 and competed on the 2012 U.S. Olympic team. She trains in Tempe and receives a stipend from Sunkist to wrestle full time.
Martori's daughter, Kim Martori, is the executive director of Sunkist and runs the day-to-day operations. She equated the role of RTCs in wrestling to that of clubs in other sports such as basketball and baseball. It gives young athletes access not only to top facilities and coaches but also to training partners, nutritionists and mental health professionals. It provides the support and the knowledge base needed for an athlete to become a professional wrestler.
"If you want that extremely elite experience, being part of a Division I program, we do have some of the best coaches in the world here [at ASU]," Campbell said. 
The added support and opportunities have helped the talent pool for women's wrestling in the United States to continue to grow. In 2016, that led to the country's first Olympic gold medal, the gold won by Maroulis. Through the years, the United States has been more consistent racking up World Championship medals as well. In 2019, American athletes claimed three gold medals.
A Look Forward to 2020
The 2020 Olympics are quickly approaching, and the Japanese wrestling program will have the added advantage of hosting the games in Tokyo.
Yoshida has retired, and Icho will likely not compete after failing to claim a spot on the Olympic squad. But that hardly hampers Japan's medal hopes in 2020. Young talent like Risako Kawai, Mukaida Mayu, Nanami Irie, Hiroe Minagawa Suzuki, Yukako Kawai and Masako Furuichi all medaled at the recent World Championships in Nur-Sultan, Kazakhstan. 
The Americans are not far behind. In November, the top teams in the world were in Narita, Japan, for the World Cup. The American team, including Campbell, finished in second place. 
While the roster for U.S. Olympic team has not been finalized, the squad will have  many experienced wrestlers from the World Championships and the Rio Olympics. Jaccara Gwenisha Winchester, Tamyra Mariama Mensah-Stock and Adeline Gray all took gold at the 2019 World Championships. Maroulis and Gray have already claimed their qualifying spots and look to add to their breakout performances in 2016.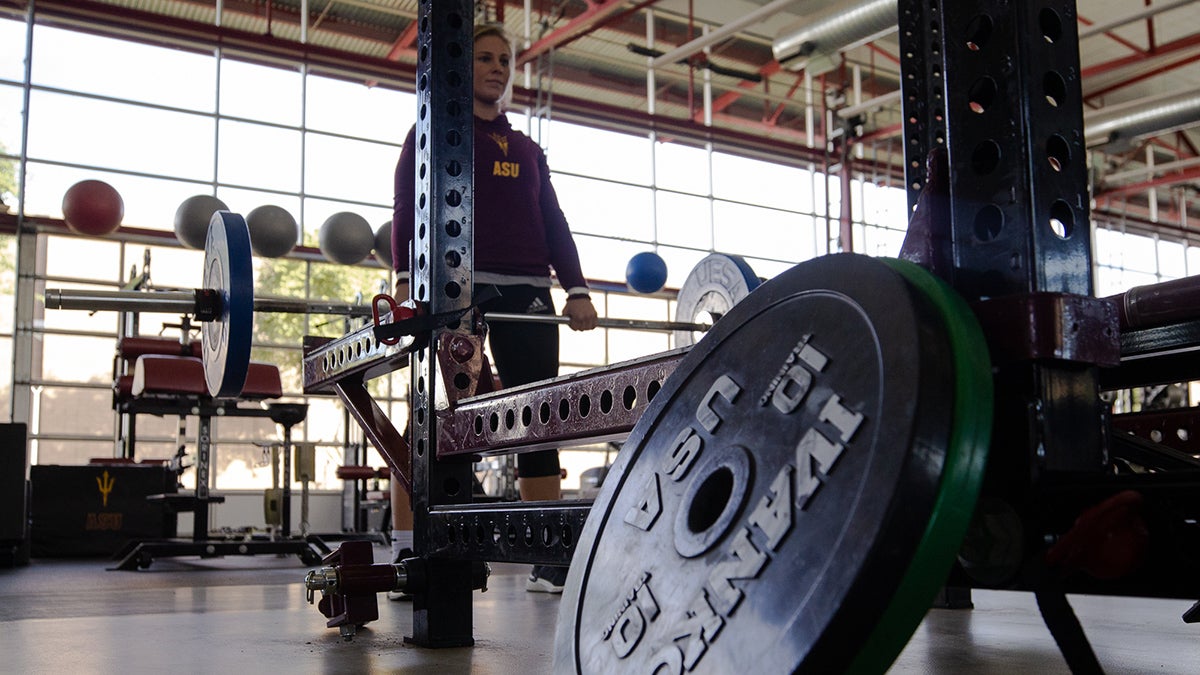 Olympic hopefuls truly come from around the world. Medalists at the World Championships came from traditional powerhouse countries like Canada, Ukraine, Japan, China and the U.S. But medalists also came from countries like Kazakhstan, Mongolia, Estonia, India and Nigeria. Not only has women's wrestling grown in the U.S., it has grown around the world as well.
While Yoshida will not return to the mat in 2020, she still plays an important role in the Tokyo Olympics and in the further development of women's wrestling. She will deliver the Olympic flame, along with the former judoka Tadahiro Nomura, to Japan. She will also help develop young talent, like Kawai and Muya, as an assistant coach in 2020.
Around the world, there are still female firsts to look forward to: The first female two-time Olympic gold medalist for the United States, the first female Olympic gold medalist for India, the first-ever female to compete in a world or Olympic competition for Iran.
As the sport as a whole continues to battle for global recognition and solidify its spot in future Games, women play an irreplaceable role in driving growth in the sport. 
While the women of the 2004 Games and the era of dominance which followed are hanging up their shoes, they will continue to pass the torch to younger generations of female wrestlers to come.
Sarah Farrell and McKenzie Pavacich are masters sports journalism students at Arizona State University
Tags:
Adeline Gray
,
Arizona State
,
Art Martori
,
Asian Games
,
ASU
,
Eikatsu Yoshida
,
Helen Maroulis
,
Hiroe Minagawa Suzuki
,
Jaccara Gwenisha Winchester
,
Japan
,
Kaori Icho
,
Kelsey Campbell
,
Kim Martori
,
Masako Furuichi
,
Mukaida Mayu
,
Nanami Irie
,
Olympic Training Center
,
Olympics
,
OTC
,
Risako Kawai
,
Saori Yoshida
,
Sunkist
,
Sunkist Kids Wrestling Club
,
Tamyra Mariama Mensah-Stock
,
Tokyo 2020
,
USA Wrestling
,
WCWA
,
women's wrestling
,
World Championships
,
World Cup
,
Yukako Kawai
,
Zeke Jones