Culture
Book: Unified Korean hockey team showed impact of sport on global issues
Why this matters
The Unified Korean women's hockey team spotlighted how sport can be a conduit to larger global goals. A new book by Seth Berkman has people talking again about what it all meant.
The last-minute decision to unify the host South Korean Olympic women's hockey team with their North Korean counterparts was the most stunning sports and geopolitical storyline of the 2018 Winter Games in Pyeongchang.
New York Times reporter Seth Berkman is reigniting the discussion about the Unified team's legacy. "A Team of Their Own: How an International Sisterhood Made Olympic History" is the Seoul-born, New Jersey-raised writer's first book, out October 1.
Brimming with first-hand interviews, the deeply researched 368-page book examines the cultural tensions between the team's North Koreans, South Koreans and North American imports; the friendships that were forged; the team's huge underdog status; the political implications; and the question of whether sexism influenced the choice of a women's team – rather than a men's team – to fly the blue-and-white flag of peaceful unity. 
 "There would be no 'miracle on ice' for the Unified team," Berkman writes, "but their transformation from political patsies, to overwhelmed neophytes, now into a team earning the respect and adulation of an international audience was nearly miraculous in and of itself."
Indeed, multiple sources attest that in the 21st century, few enterprises have embodied the impact of sport on society and politics more than this team. 
Given the extraordinary circumstances, the Koreans were allowed to bring a 31-player Olympic roster (as opposed to 23 for other nations). In each game, they had to play three North Koreans, who were less skilled and had learned a different hockey vocabulary.
Beate Grupp's "Unified – The Story Behind," the official commemorative book by the International Ice Hockey Federation (IIHF), stated that integrating the North and South Korean rosters was originally considered as early as 2001, when South Korea launched an unsuccessful bid to host the 2010 Winter Olympics. According to Grupp, "the real discussions started at the 2014 Olympic Winter Games in Sochi, Russia, with the two Koreas and the IIHF Women's Committee."
Still, in an August 2019 interview at the Aurora Games women's sports festival in Albany, New York, Sarah Murray, who coached the Unified team, admitted she remained skeptical until the decision to unify was abruptly announced about three weeks before the Olympics.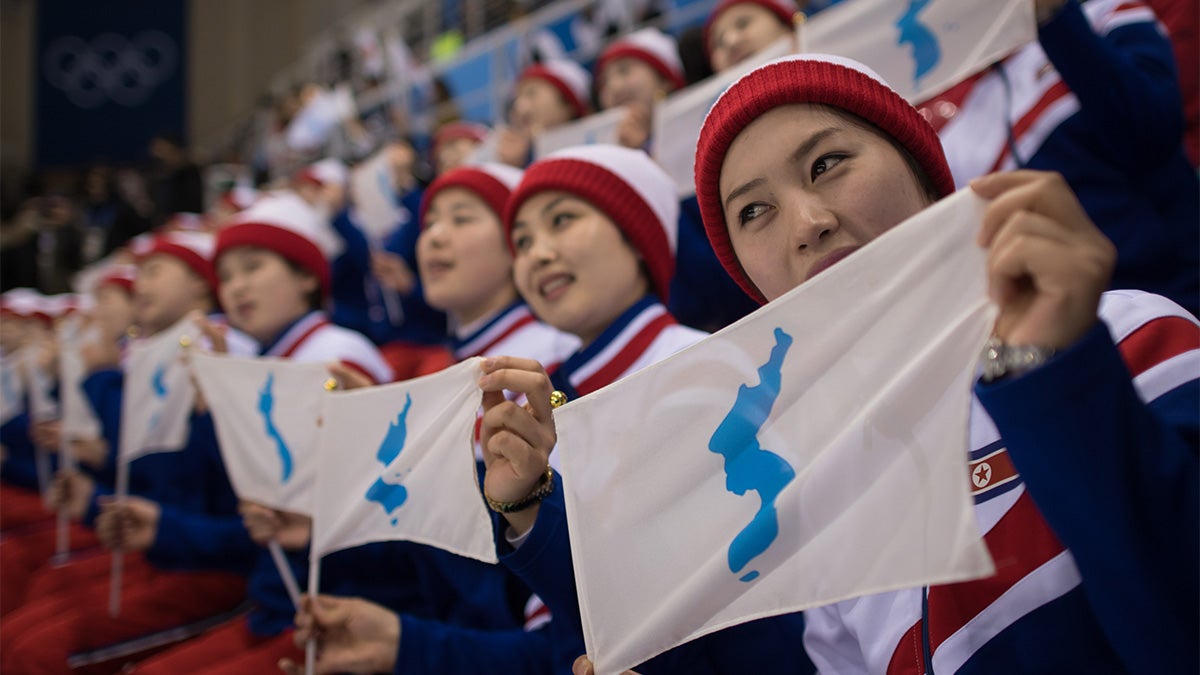 "Never in my four years there did I ever think our team was going to be unified," said Murray, a 31-year-old who played for the University of Minnesota-Duluth before entering coaching. "People had talked about it, and then people stopped talking about it. It had just been, 'Wouldn't it be cool if this happened? How amazing would that be?'"
"Amazing" is an understatement. Communist North Korea and capitalist South Korea have been bitter rivals since 1945, when the Soviet Union and the U.S. divided Korea at the 38th parallel at the outset of the Cold War. The conflict was never resolved with a peace treaty after the Korean War (1950-53).
Amid both rampant skepticism and talk of world peace, the Unified team's Olympic debut on Feb. 10, 2018 was beyond surreal. About 200 jaw-droppingly synchronized North Korean cheerleaders performed at the Kwandong Hockey Centre in Gangneung. More than 3,600 pumped-up spectators attended the game versus Switzerland, a large audience for what is a cult sport in Asia.
"I never thought I would have the opportunity to interact with North Korean players," Murray reflected. "And we had them in the locker room. They were sitting next to us, and their coach was in the coaches' room. It was a really unique experience. I thought – this was naive of me – they were almost going to be robotic. They'd just watch their coach, do what he said, and nothing else. And when they came, they were smiling, and they were just girls."
In the 8-0 opening Swiss victory, Alina Muller tied Olympic records with four goals and six points to spoil the home crowd's party. However, Muller's feat was overshadowed by the presence of political and sports dignitaries, including Kim Yo-jong, the sister of North Korean leader Kim Jong-un; Moon Jae-in, the president of South Korea; and Thomas Bach, the president of the International Olympic Committee (IOC).
Unsurprisingly, the Unified team, lacking stars, finished last in the eight-team Olympic competition. It lost five games and was outscored 28-2. The South Korean men's hockey team also finished last in its 12-team competition. Some observers questioned why the men were not likewise unified with North Korean players.
IOC President Thomas Bach with Team Korea #COR #pyeongchang2018 #olympics pic.twitter.com/3q2LH2ZuU8

— Olympics (@Olympics) February 10, 2018
Berkman wrote: "As much as the government claimed the women's hockey team was chosen for schematic reasons, the decision had centuries of personal, economic and Korean cultural roots attached – the selected athletes were so easily sacrificed because they were female."
However, the talent gap between the well-funded South Korean men, who earned promotion to the elite 2018 IIHF World Championship in Denmark, and their North Korean peers was significantly larger than what existed in women's hockey. And although Murray originally said before the Olympics that she had mixed feelings about the impending experiment, today she is at peace with not having deployed the original squad she trained.
"Big picture, it was great for growing the game," said Murray, who got to see her North Korean players again when she visited their country on a cultural exchange in March 2019. "With short-term thinking, selfish thinking, yeah, maybe things would have been different – but I don't think that much. It's the Olympics, and we had a really young team. Nerves would definitely have gotten the best of us in those first couple of games regardless. When I reflect on it, it ended up being a good thing."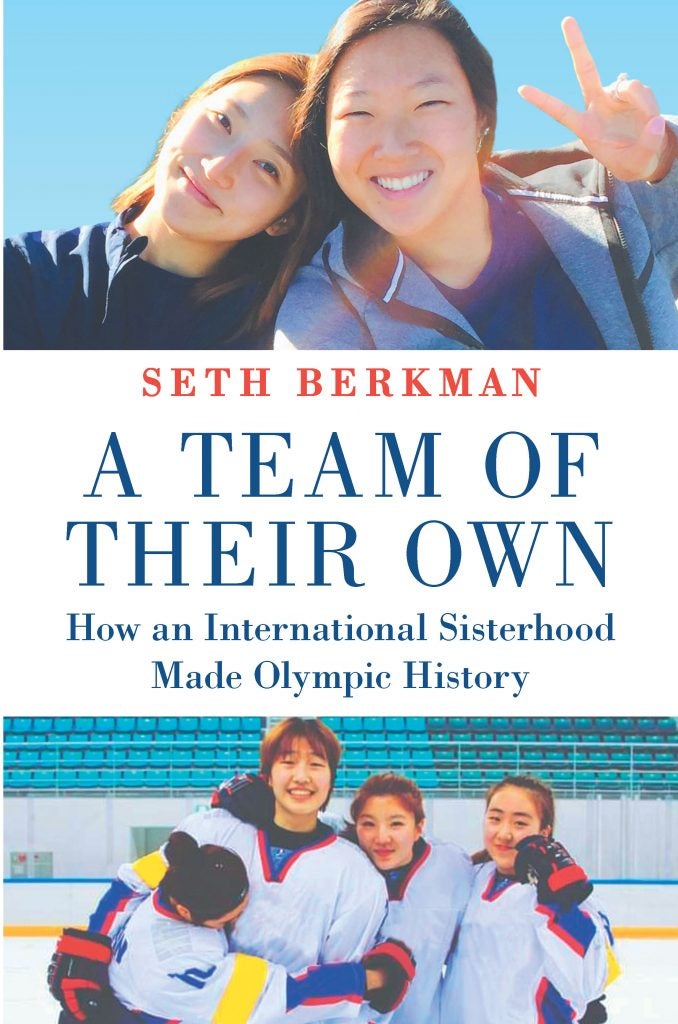 The Unified team transcended borders. In Pyeongchang, forward Hannah Brandt helped the U.S. win its first Olympic women's hockey gold medal since the inaugural 1998 tournament in Nagano, Japan. The Vadnais Heights, Minn., native is also the sister of Marissa Brandt, who was adopted from South Korea and played defense for the Unified team under her birth name of Park Yoon-jung.
"Obviously, just having her there was crazy in itself," Hannah Brandt said. "And then for her team to have that whole other story behind it was even more special. It ended up being a great experience for them, having the North Koreans on their team. It was cool to show the world that we can come together, even if it's just on a small scale like that."
The next steps are harder to predict.
Today, South Korea is 16th and North Korea 28th in the IIHF Women's World Ranking. The teams competed in different Women's World Championship divisions this year. It is unclear whether they will unify again for the 2022 Winter Olympics in Beijing. 
In a broader sports context, the Koreas agreed in February 2019 to unify their basketball, judo, field hockey and rowing teams for the 2020 Tokyo Summer Olympics, although details remain unconfirmed. There has been talk of bidding to co-host the 2032 Summer Olympics.
Meanwhile, the political fallout from Pyeongchang continues. The situation remains volatile, but glimmers of promise exist.
At an April 2018 summit meeting, Kim Jong-un and Moon Jae-in vowed to officially end the Korean War. U.S. President Donald Trump switched from threatening to rain "fire and fury" on North Korea to praising Kim Jong-un on Twitter. In June this year, Trump became the first sitting U.S. president to set foot on North Korean soil.
It is, of course, premature to conclude that a quirky Olympic hockey team whose members included a concert pianist and a Ph.D candidate in evolutionary anthropology will jumpstart the denuclearization and reunification of the Korean peninsula.
Nonetheless, as illustrated by the 1989 fall of the Berlin Wall and the 1990 reunification of Germany, symbolic acts can trigger sudden and significant consequences.
Lucas Aykroyd writes for the New York Times, espnW, and the Women's Sports Foundation. Based in Vancouver, he has covered women's hockey at five Winter Olympics and four IIHF Women's World Championships.
Tags:
"Unified- The Story Behind"
,
Aurora Games
,
Beate Grupp
,
Donald Trump
,
Gangneung
,
Hannah Brandt
,
hockey
,
IIHF
,
International Ice Hockey Federation
,
Kim Jong-un
,
Korean War
,
Kwandong Hockey Center
,
Moon Jae-in
,
New York Times
,
North Korea
,
North Korean cheerleaders
,
Olympics
,
Park Yoon-jung
,
Pyeongchang Winter Games
,
Sarah Murray
,
Seth Berkman
,
South Korea
,
University of Minnesota-Duluth
,
Winter Olympics
Related