Why this matters
Voices is a series of first-person essays from people across the sport spectrum revealing the impact of sport in their lives. The desire to compete despite cerebral palsy brought lawyer and adaptive athlete Victor Ocando to combine his love for sport and the law into a career.

Adversity wears different masks, but if you live your life according to your passion no obstacle is too high. My passion for soccer taught me how to recognize and overcome adversity.
As if I were a striker playing soccer, I was offside when God decided I would arrive two months earlier than expected. Even though it wasn't my moment, the coach had called me to the field to fulfill a mission. I was born at seven months, which caused a break between my body and my mind and produced a spastic quadriparesis as a sequel of cerebral palsy.
Thus began my heated rivalry with this condition, which I now simply refer to as "adversity."
Cerebral palsy is an affectation of the central nervous system that generates spasticity, an increase in muscle tone that makes it hard for me to make the movements that most people take for granted. In simple terms, my brain tries to send orders to my arms and legs, which they can't receive due to spasticity.
Like adversity, if I don't draw all my strength and determination to move forward, spasticity will throw me backwards until I fall.
Without knowing it, that's how a race between my body and my mind began. Taking the lead in the race, my mind did not recognize anything that could be a limitation for my body, leaving my legs behind. Often, I felt like a goalkeeper before a free kick – hidden behind the wall I built for myself for those overwhelming moments when adversity took the lead in our game.
Because my mother did not want me to feel different from other children, despite her fear of seeing me falling or getting hit by a ball, she was always there when I used my crutches and attempted some ball kicks like the rest of my friends.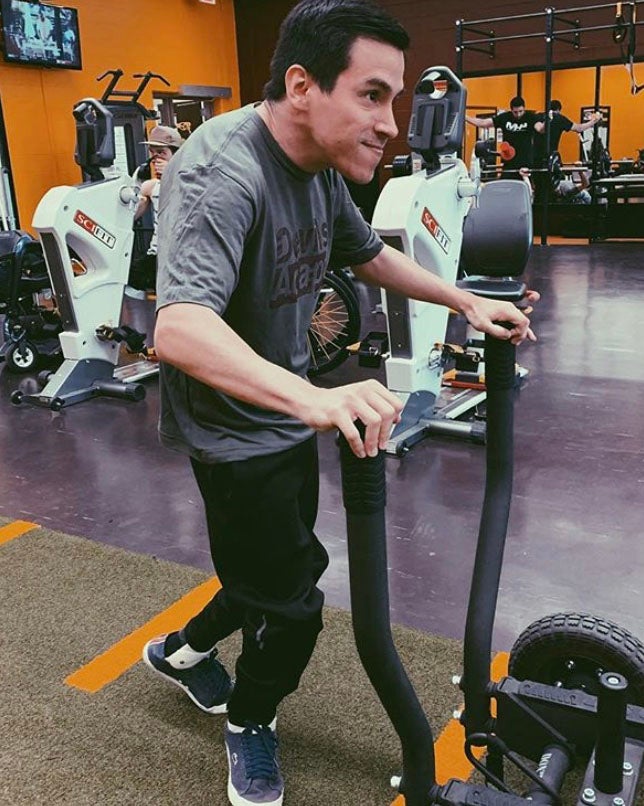 During each physical therapy session, I imagined I was just injured and working to make my way back to the soccer pitch. When my physical therapist told me that I wouldn't be able to play even if I walked, that did not stop me. I was determined to achieve my goal. 
I have within me powerful substances that not even the World Anti-Doping Agency can detect. Resiliency. Passion. And, above all, faith.
After finishing high school, I pursued a bachelor's in law. When I graduated, my next goal was to be a soccer coach. Although I soon found out that I did not have the physical requirements to obtain my coaching license, I was not ready to give up on my dream to be close to the sport I love.
Having obtained my degree, I sought a way to merge my degree with my love for soccer. While there were not many options that would allow me to do this in Venezuela, where I was born, I fortunately found an institute that could grant me a scholarship to receive a Master of Sports Law degree: the Higher Institute of Law and Economics in Madrid, Spain.
I completed my LL.M and became one of the few lawyers specializing in sports law in Venezuela. In 2015, my first client was a second-side Venezuelan soccer team, JBL Zulia, which hired me to argue their case for a promotion to First Division. Winning that case made me feel fulfilled, so I decided the next step was to make my dream of walking come true.
But adversity showed up again, evening the score by making my bones weak with osteoporosis.
Although my dream of walking was taken from me, my motivation was not. Instead, it led me to work for the Venezuelan Professional Soccer League as general counsel, among agencies in South America and Europe, providing legal advice to the league's CEO on the representation of soccer players and assisting in the development of a personal career plan for each player client. I knew my passion for soccer had brought me there. Yet, while I was living my dream, I realized that my true mission is not to obtain greater status in my career as a sports attorney.
It is to motivate others with my story.
While thinking about how to approach this new mission, I decided to visit my siblings in Arizona. Meanwhile, adversity was winning another game back home, where constant blackouts and continuous food shortages aggravated Venezuela's humanitarian crisis. I knew that a return home would jeopardize my mental and physical stability.
In Tempe, I joined the Devils Adapt team at Arizona State University. This challenging experience helped me to grow my inner strength, which allowed me to tear down my own walls, and to rise as a Phoenix, the mythical bird that rose from its ashes.
Today, I keep scoring goals against adversity, enjoying every small victory in the most important Cup, the Cup of Life.
Victor Ocando is an international sports lawyer, who has worked as an external Legal Counsel for soccer clubs and sports agents in South America and Europe. He writes for several media outlets and is also a Sports Law online courses instructor. Follow him on Twitter @ocandovictor
Related