Science
Adaptive Sport Enters Uncharted Waters
Why this matters
While much of the focus on the impact of COVID-19 college sport has been on football, left in the lurch are adaptive sports, which require a higher degree of focus and need. And with the postponement of the 2020 Paralympics, how will adaptive sports deal with the challenges of an already complex situation?
There is no blueprint for running a college adaptive sports program during a pandemic. This year is not how anyone expected to mark the 30th anniversary of the Americans with Disabilities Act (ADA). So for now, it's about the small victories.
"I've been given the green light to purchase more sports wheelchairs," Jason L. Scott said. "We have enough funding for five more chairs, and we get them for about $2,000 apiece. That's with the university discount – they retail for $2,800."
Those are the good numbers for the 39-year-old assistant professor of therapeutic recreation at the University of Tennessee, Knoxville (UTK). The bad numbers, unsurprisingly, relate to the coronavirus.
With more than 2,000 people in COVID-19 isolation as of early September on a campus of 29,000, the reset of college sport this fall will not include the Adaptive Recreation program that Scott oversees for students with disabilities at this 1794-founded institution three hours east of Nashville. It's on hold.
"We have 27 faculty members in Kinesiology, Recreation, and Sport Studies, and probably only five of us are here on a regular basis," Scott noted. He hopes to revive the Adaptive Recreation program in the spring, using appropriate distancing and sanitizing protocols. Sitting volleyball, goalball, and wheelchair basketball are among the offerings. Since 2017, the popular one-credit course has been offered four times a year, with over 200 students participating so far.
At a stressful time when Scott's native Tennessee has recorded more than 2,000 COVID-19 deaths, putting things in long-term perspective can be helpful.
Based some 2,300 miles away in Reno, Nevada, Alana Nichols has never met Scott or attended UTK. Yet the 37-year-old Paralympic icon definitely knows what it's like to start from the ground up – under unforeseeable circumstances – and take adaptive sports to the highest level. She was the first American woman to win gold medals in both the Summer Paralympic Games (2008, wheelchair basketball) and Winter Paralympic Games (2008, downhill and slalom sit-ski).
Nichols, named president of the Women's Sports Foundation in January, has had a challenging life journey. Nine months after she was born in Farmington, New Mexico, her father was killed by a drunk driver, and she was raised by her grandparents.
"Sports were my saving grace," Nichols said. "I was being recruited to play fastpitch softball at LSU and other universities. However, my original collegiate opportunities were stifled when I broke my back while snowboarding at age 17 and became paralyzed. Fortunately, I got a scholarship to compete in the University of Arizona's adaptive athletics program, which was really important for me."
She attended the University of Arizona from 2003 to 2006, and its adaptive athletics program was more advanced on balance than UTK's is today. Even though more future U.S. Paralympic wheelchair basketball team members attended the University of Illinois at Urbana-Champaign, Nichols said the University of Arizona's wheelchair basketball program was held to an NCAA varsity sports standard. (To this day, the NCAA still does not systematically and consistently sanction adaptive sports.). Nichols was able to practice Monday through Friday while working toward her education degree.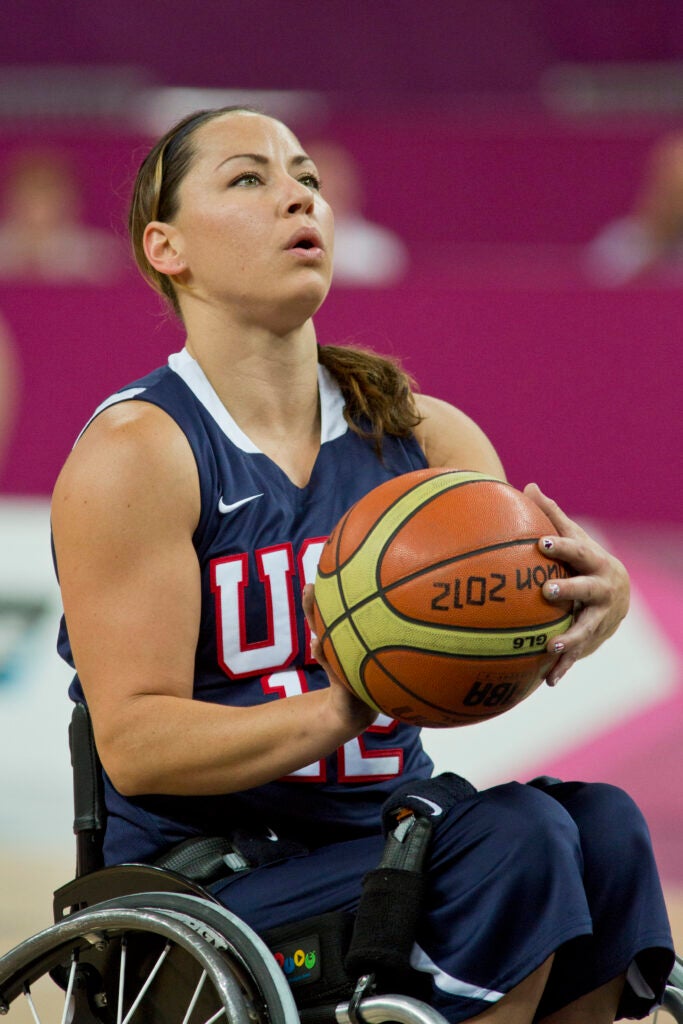 The five-time Paralympian's advice for UTK's Adaptive Recreation program is straightforward: "Stay the course and have a vision that you don't waver from. A lot of the most successful adaptive sports programs in the country were once exactly where they are now. Even if they change just one life, they've done an incredible job."
Previously, UTK has brought in current national team wheelchair basketball star Morgan Wood to assist with its adaptive sports program. That said, the university is taking a multi-pronged, collaborative approach to address the needs of all students with disabilities.
UTK's Center for Sport, Peace and Society recently launched a Global Disability Rights Advocacy Project. There is also the FUTURE Post-Secondary Education program, which "helps young adults with intellectual and developmental disabilities make a successful transition from high school to adult life." UTK's therapeutic recreation program partners with the 1977-founded Camp Koinonia, which runs residential camps for disabled youth aged seven to 21.
In collaboration with Angela Wozencroft, an associate professor of therapeutic recreation, Scott has kept the Adaptive Recreation program running despite receiving no annual funding: "I've been able to fund the program through start-up funds, grants, donations, and student fundraisers to the tune of nearly $20,000 since the spring of 2018."

Nationwide, according to a survey by UTK graduate student Avery Blankenburg, there are about 40 programs similar to UTK's Adaptive Recreation Program, and the demand should continue to grow. Per Challenged Athletes, the U.S. currently has 600,000 high school students with disabilities.
Awareness and emphasis on diversity has come a long way since Nichols' college years. "We once had a fundraiser at the University of Arizona called 'Lame for a Game,'" she recalled. "Our able-bodied basketball team got into wheelchairs and competed against disabled athletes in a game to raise money for the adaptive athletics program. While it was well-intentioned, the lowlight of that was the name, obviously."
Nowadays, 13 U.S. colleges provide the opportunity to compete in both men's and women's intercollegiate wheelchair basketball in the National Wheelchair Basketball Association. That's just one indicator of overall progress.
"The University of Texas Arlington is selling tickets to their wheelchair basketball games now," Nichols said. "When I did my grad work in kinesiology at the University of Alabama, we had to train in the student rec center. Now, Alabama has a separate training center for adaptive athletes."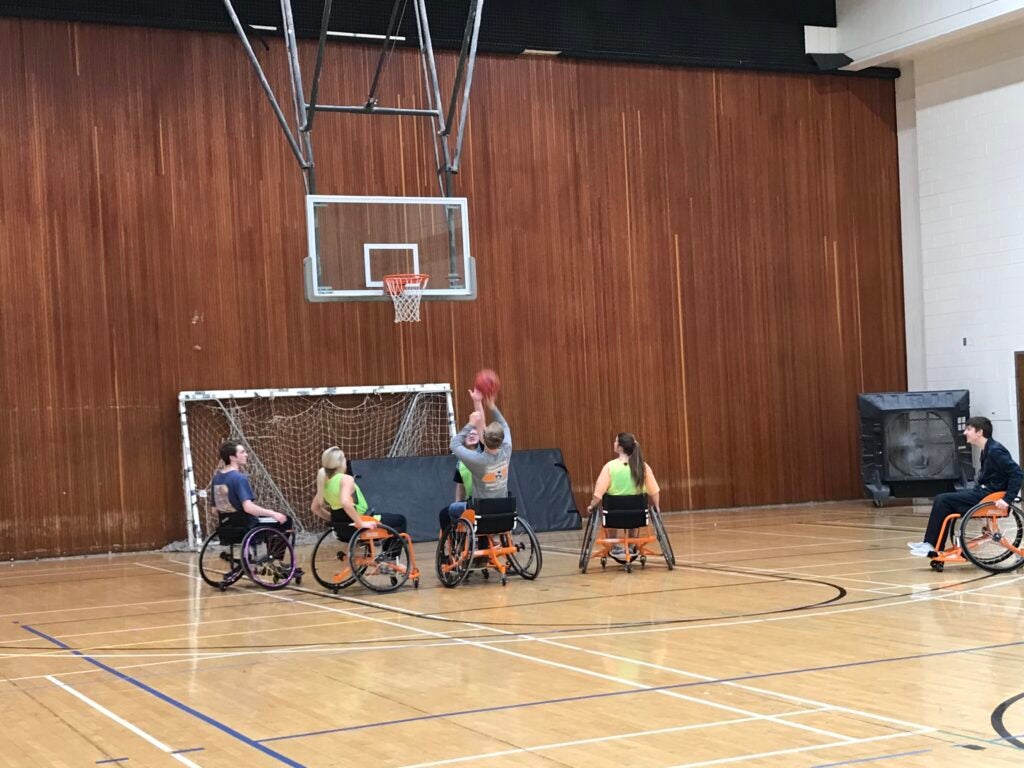 In a different twist on diversity, getting to play multiple adaptive sports is beneficial, whether you're Paralympics-bound or not. Following that principle, Scott said that Elie Madenburg, his current UTK graduate teaching assistant, intends to incorporate her background in yoga and karate into the next installment of Adaptive Recreation.
"Honing your skills in one sport and then challenging yourself in another one just helps you rise to another level," Nichols added. "With wheelchair basketball and Alpine skiing, I was constantly working on my core strength. Also, I went on to become a sprint kayaker at the 2016 Paralympics, and I've never been a better skier than after hours and hours in a kayak, working on muscles that helped me balance on the boat."
Achieving more demographic diversity within the Adaptive Recreation program is a work in progress for Scott. UTK could certainly be more diverse. According to an internal report, at the leadership level alone, 84.9% of UTK staff members are White, 9.5% are Black, and 3.4% are Asian.
On a related note, Nichols points to a 2020 Women's Sports Foundation paper called "Chasing Equity: The Triumphs, Challenges, and Opportunities in Sports for Girls and Women." It notes that "boys with disabilities consistently participate in sport at higher rates than girls with disabilities" and adds that elite female adaptive sports athletes are "rendered nearly invisible" in terms of media coverage.
Although recent documentaries like Tin Soldiers and Rising Phoenix boost visibility for adaptive athletes, Nichols' network TV interviews with the likes of Conan O'Brien and Katie Couric are the exception rather than the rule.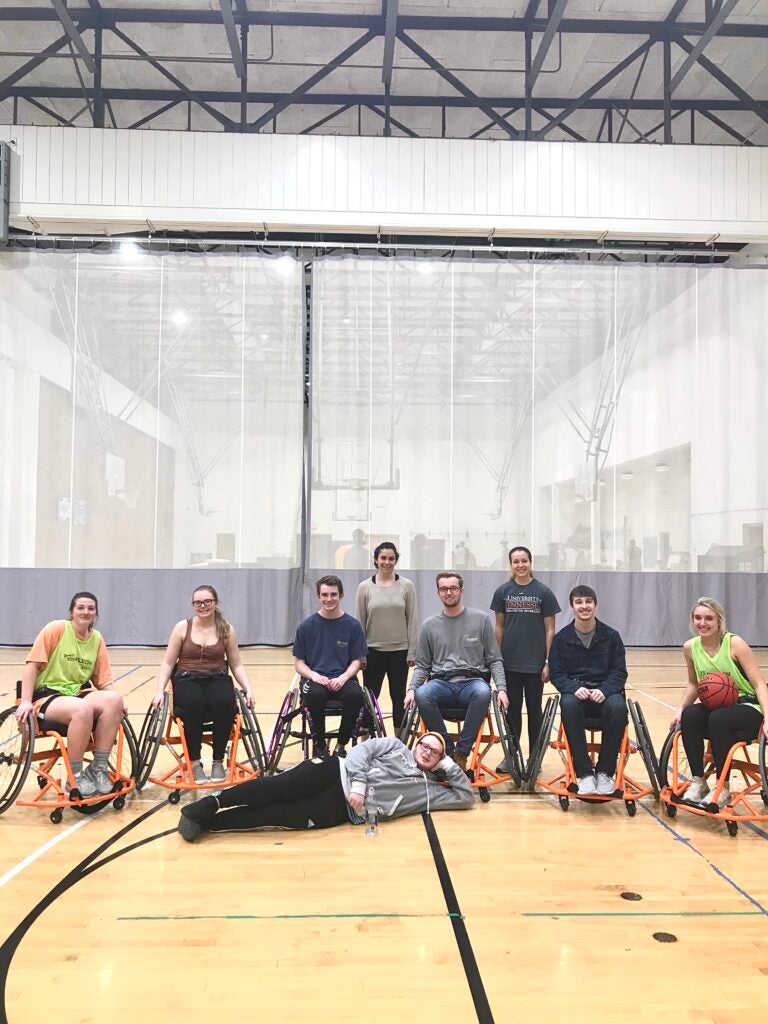 Moving forward, the challenge of sustaining a successful and inclusive adaptive sports program during a pandemic – with all its attendant risks and uncertainty – is taking a toll on UTK staff.
Scott came in with a passion for adaptive sports that he nurtured while developing programming with Miami-Dade Parks & Recreation and working with the Wounded Warrior Program at North Carolina's Fort Bragg. Yet, after co-authoring papers on compassion fatigue and professional quality of life in recreational therapists, he also recognizes the need for balance and self-care.
"In our field, we work with people who have experienced some type of challenge," Scott said. "It can be a recent traumatic event. Sometimes that weighs on us as professionals, seeing that level of suffering and wanting to use recreation as a catalyst to help people become even more motivated. Still, you have to focus on yourself as a caregiver, and not always put all of your energy toward other people. During this pandemic, we've seen a total change in how we provide therapy. It's more telehealth right now. We don't have the same kind of interaction anymore. So the whole mental health aspect is definitely looming right now."
Psychologically, having inspirational role models in adaptive sports is important. In addition to former U.S. Paralympic wheelchair basketball captain Patty Cisneros Prevo, Nichols lauds Paralympic swimmer Brad Snyder, a five-time gold medalist: "A year after he was injured in a bomb accident that blew up in his face and left him visually impaired, he was at the Beijing Games. Watching his career develop has been amazing. I've worked with him on several sponsorship teams. He has such character, he is so smart and well-spoken, and he's just adapted so well to his life. I'm in awe of what he does."
While UTK's Paralympic dreams are still in the future, Scott takes heart from the insights and successes of his academic colleagues. Whether he's listening to the University of Wisconsin's Tim Gattenby lecturing about designing adaptive sports activities or seeing former UTK graduate teaching assistant Nick Giecek succeeding as an adaptive sports specialist at Atlanta's Shepherd Center, it provides motivation in an era where non-revenue sports are particularly vulnerable to getting slashed.
Nichols amplified that thought: "Women's sports, in general, are seemingly always on the chopping block before men's sports. A lot of what we do at the Women's Sports Foundation is to make sure that they're prioritized equally – not more, but equally. And I think that ideally, we do the same for adaptive sports. They're equally as important for character development and all the other positive byproducts of being an athlete."
UTK's therapeutic recreation educators are preparing to unite their initiatives under the umbrella of the new Adapted Athletics program. That will include the university's very first wheelchair basketball club team. Scott is looking forward to having UTK chancellor Donde Plowman participate in wheelchair basketball for a photo op at the official launch.
Both Nichols and Scott derive strength from raising a family. Nichols and her boyfriend have their hands full with their one-year-old son Gunnar. Scott and his wife, meanwhile, enjoy taking their children (6 and 2) out to find stick insects in their neighborhood or trooping around the Knoxville zoo.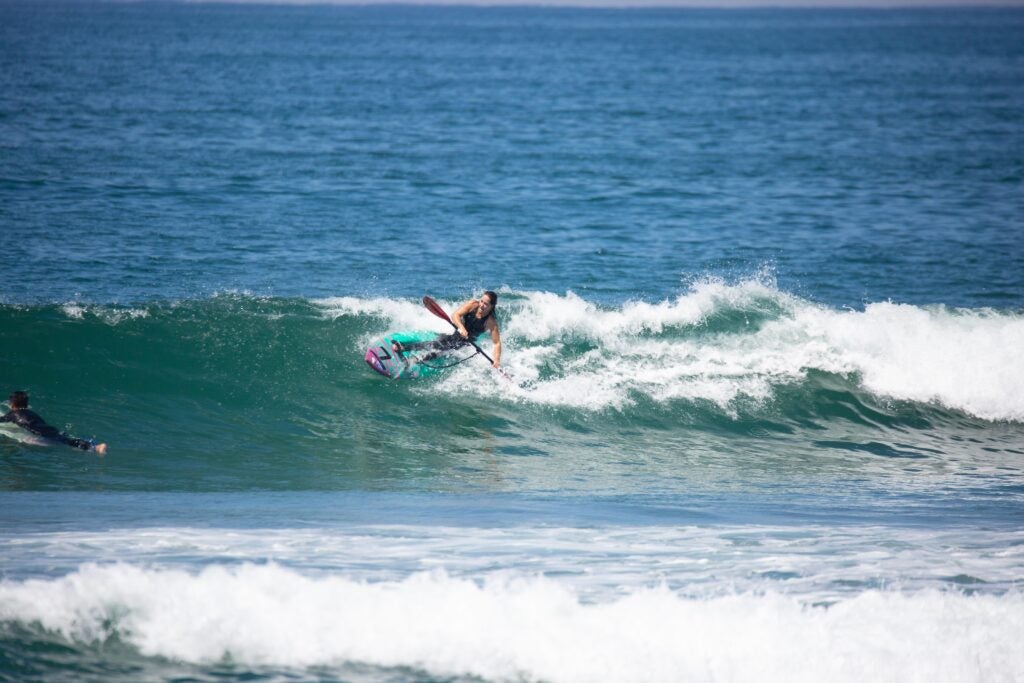 For both Nichols and Scott, it's hard to look beyond this moment, but Nichols does have big future plans. Sponsored by Toyota, she consults on the automaker's mobility solutions. She'll join NBC's coverage of next year's Tokyo Paralympics as a broadcaster. And she added: "I'm really passionate about developing adaptive surfing. I hope to see that in the Paralympic Games in 2028. I'm on the board of the International Surfing Association, heading up adaptive surfing development, and we're making great progress. We had a world event that had over 90 athletes from 30 different countries last year. We're kind of checking the boxes to become a Paralympic sport."
Scott, meanwhile, understands that his wheelchair basketball program still has multiple hoops to get through before competing against other Southeastern Conference (SEC) schools. So currently, it's about setting local rather than global targets in Knoxville, the city that hosted the 1982 World's Fair.
"Our goal for the Adapted Athletics program is to have multiple entry points for students and athletes: PE courses, sports clubs, and in the future, competitive athletics," Scott said. "We also want to incorporate adapted fitness and exercise. Prior to COVID-19, we were having those conversations. In five to 10 years, hopefully, it all will become a reality."
Even in the uncharted waters of this pandemic, UTK looks well-positioned to keep moving forward with adaptive sports.
Monthly Issue
Sport at the college level in America is facing issues reflective of the world at large. From the calls for racial equality, labor disputes and discussions, to health and safety concerns with playing in a pandemic - what will this reset moment look like?