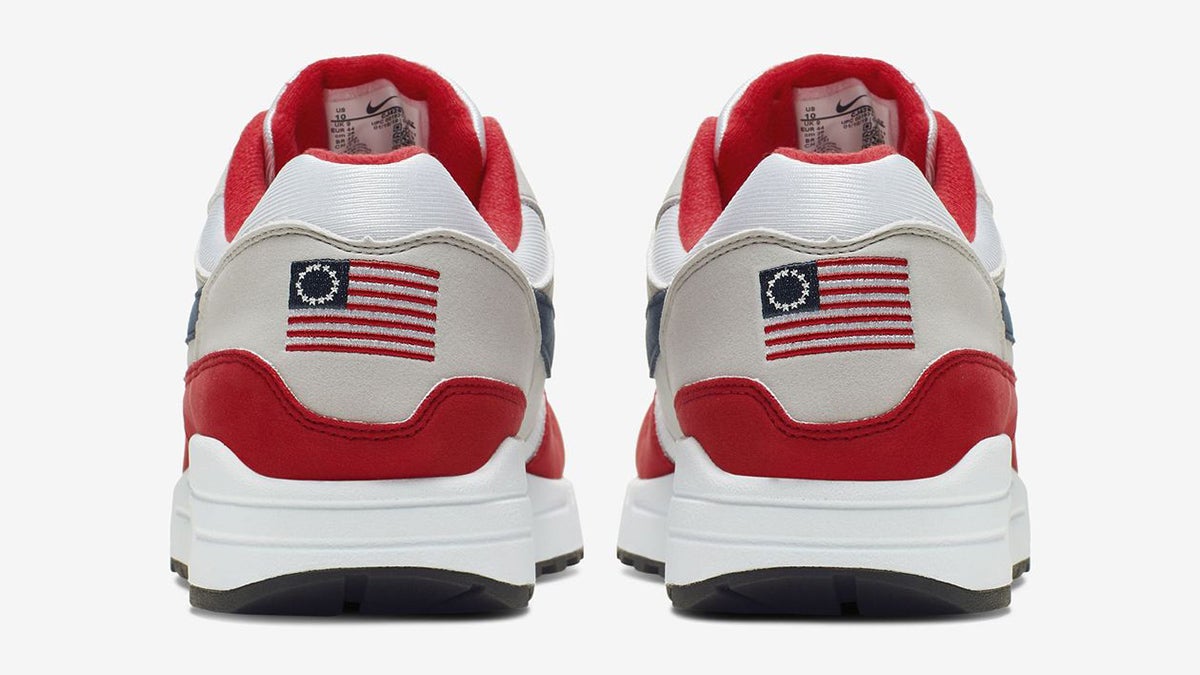 Nike announced Monday that it is pulling a special edition Air Max 1 USA sneaker amid reported objections from former NFL quarterback and current Nike spokesman Colin Kaepernick.


Kaepernick, one of the brand's most powerful athletes, is making millions from an endorsement deal negotiated in 2018. Out of fear that they would lose the former San Francisco 49ers quarterback to a rival shoe company, Nike made Kaepernick central to a revamped "Just Do It" campaign.
Now, Kaepernick and others have halted Nike's Independence Day-themed kicks due to the feeling that the original Betsy Ross flag featured on the heel is "an offensive symbol because of its connection to an era of slavery."
In response to the announcement, Arizona Gov. Doug Ducey stated in a nine-tweet thread on Tuesday that the state would pull its financial incentives linked to the opening of a future Nike plant in Goodyear. The shoe giant has yet to react to Ducey's tweets.
Today was supposed to be a good day in Arizona, with the announcement of a major @Nike investment in Goodyear, AZ. THREAD—>
1/

— Doug Ducey (@dougducey) July 2, 2019
Ross' design, made in 1770 prior to the breakout of the Revolutionary War, was augmented by stars and bars in the 1790s and continued to evolve until the current flag came into existence in 1960.
But in recent years, the Ross flag has become a design associated with white nationalism, appearing on Ku Klux Klan recruitment materials and as symbolism for neo-nazis.
The Betsy Ross flag on a sneaker would be perfect if Nike was starting a new "Just whites" or "Just White It" campaign. Sadly the flag has been become a white supremacist symbol. Here's 2018 KKK recruitment flier, Klan insignia and image from documentary on Neo Nazis with flag: pic.twitter.com/md3bR7S2Wy

— (((DeanObeidallah))) (@DeanObeidallah) July 2, 2019
Global Sport Institute CEO Kenneth L. Shropshire spoke to the usage of centuries-old American imagery and the complexities associated with its contemporary resurgence.
"I think it's related to Confederate statues. I think it's related to historic items that are racist in advertising or otherwise and whether or not they should be publicly displayed, whether or not today's understanding should require us to shun items from the past," Shropshire said. Shropshire is also Adidas Distinguished Professor of Global Sport at Arizona State University and Endowed Professor Emeritus at the Wharton School, University of Pennsylvania. 
(Note: The Global Sport Institute is supported by a combination of institutional ASU funding and a significant philanthropic gift from Adidas. GlobalSport Matters is a publication in partnership between the Walter Cronkite School of Journalism and Mass Communication and the Global Sport Institute.)
Social media has been sharply divided on the news, with figures to the left and right of the political spectrum chiming in.
The majority of Americans would love to be as "oppressed" as Colin Kaepernick. Why does anyone placate this brat? It's embarrassing. He's not brave. He's not a hero. He's actually a zero.

— Lisa Boothe (@LisaMarieBoothe) July 2, 2019
Who made Kaepernick KING of Black Americans and Racism..? The majority of Americans are Patriots and hate Political Correctness. #MAGA
https://t.co/JO8dpr8WO2

— Pastor Mark Burns (@pastormarkburns) July 2, 2019
The Betsy Ross flag has been turned into a symbol of white nationalism and domestic extremism. Conservatives will whine, but Colin Kaepernick was right to speak out and Nike was right to pull the products. https://t.co/rq8HWeaqh6

— Adam Best (@adamcbest) July 2, 2019
If you're going to tweet about the Betsy Ross Flag, make sure you include this part: "It has been appropriated by some extremist groups opposed to America's increasing diversity." https://t.co/k5N5bGhDut

— Shannon Watts (@shannonrwatts) July 2, 2019

Texas Senator Ted Cruz also took to Twitter to state that he is boycotting Nike after the sneaker's release was cancelled.
Kaepernick has a track record of fierce activism and protests centered on inequality. He kneeled as "The Star-Spangled Banner" played during a preseason game in 2016 and continued that trend throughout the 2016 season — which saw the 49ers finish with a 2-14 record. Kaepernick opted out of his contract in early 2017 and has not played since. Current 49ers general manager John Lynch later confirmed that the team would have cut Kaepernick had he not opted out.
Shropshire spoke to why Kaepernick continues to incite such pointed division — not just among sports fans, but also among those in politics and other disciplines.
"It's certainly the way he combined his moment of protest with a moment of patriotism, and people were not able to separate his focus in 'this is the way I'll get people's attention to understand my concerns about social justice' from [how] he chose to kneel during the national anthem," Shropshire said. "It's certainly been amplified — he's anti-military, anti-police. He's certainly touched a number of issues [and] here again is an issue related to a historic flag. If you don't have further context, that can certainly get some people upset. In a lot of ways, that's the world we live in, that deeper context is not what a lot of people have looked to, to understand what is the real meaning."
Jeremy Beren is a senior sports journalism major at Arizona State University
Editor's note: The Global Sport Institute tracks the social justice activities of NFL teams. Check out our season-ending report.
Related Articles
Athlete activism has global, historical aspects
Athlete activism is on the rise, but so is the backlash
Adidas exec on the future of sport, society and Kaepernick
Extending Kaepernick deal bold, controversial move by Nike
Yale sociologist: Colin Kaepernick, LeBron James important role models
After initial fury, Nike's Colin Kaepernick ad "well received"
More than T-shirts and hashtags: Measuring social justice impacts in the NFL
Kaepernick, NFL settle collusion case
Report: NFL paid Kaepernick less than $10 million in settlement
Tags:
2011
,
2016
,
49ers
,
Air Max 1
,
Air Max 1 USA
,
Arizona
,
Betsy Ross
,
boycott
,
Colin Kaepernick
,
Confederate
,
Doug Ducey
,
endorsement
,
flag
,
Global Sport Institute
,
governor
,
John Lynch
,
Just Do It
,
Kenneth Shropshire
,
Ku Klux Klan
,
National Football League
,
neo-nazi
,
NFL
,
NIKE
,
quarterback
,
racism
,
San Francisco
,
senator
,
social media
,
Ted Cruz
,
Texas
,
Twitter
,
United States