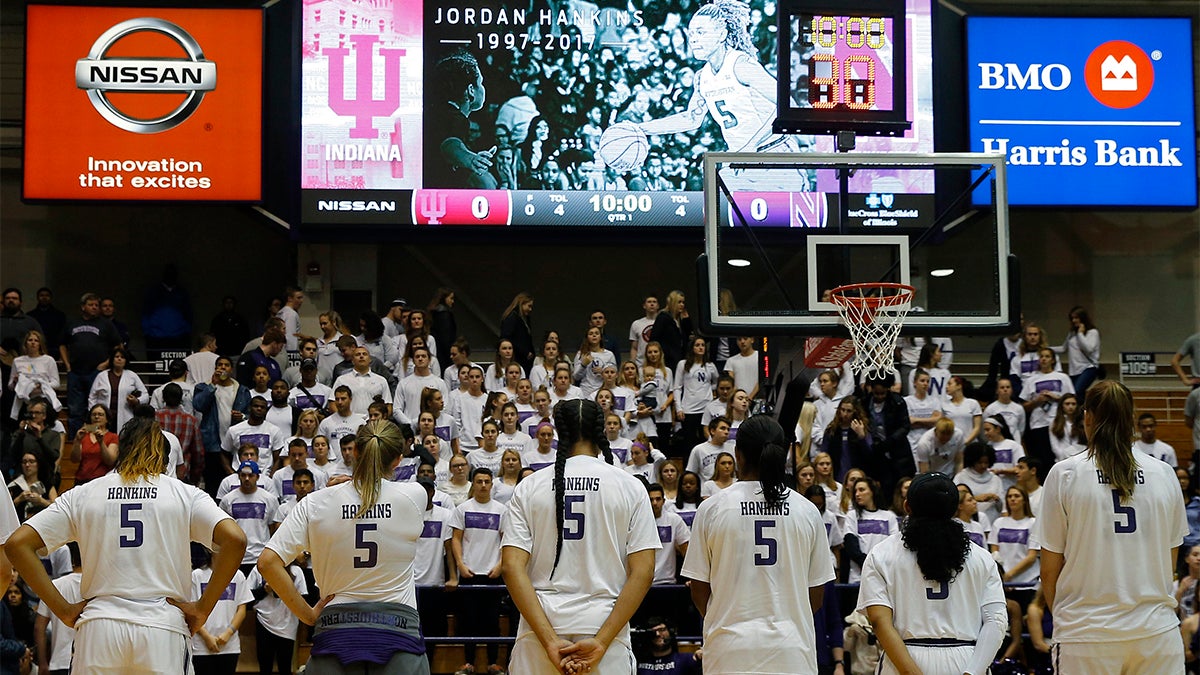 Jordan Hankins' college experience consisted of a scholarship to play basketball and an attempt at Greek life. The sophomore wore purple and white as she helped the Northwestern women's basketball team to victories. Outside of basketball, she pursued membership in the Alpha Kappa Alpha sorority.


The decision proved deadly.
According to a report by CNN, Hankins was found dead in her dorm room on Jan. 9, 2017. The cause was suicide.
Hankins' mother filed a wrongful death lawsuit against the sorority, claiming Hankins' death was a result of hazing activities that "negatively affected (her) physical, mental and emotional health."
In the weeks prior to her death, Hankins voiced concerns about her failing mental health and suicidal thoughts, stemming from the hazing, to AKA members, according to the lawsuit. It claims members did nothing in response.
The hazing culture on high school and college campuses, while condemned, is actually common. The National Study of Student Hazing reported that 55 percent of college students in teams, clubs and organizations experience hazing. That same study found that 47 percent of its participants were hazed at least once in high school.
According to the NCAA, 74 percent of student-athletes experience hazing while in college. The hazing doesn't just end with athletic teams either. StopHazing reports that 73 percent of students in sororities and fraternities are hazed.
Hank Nuwer, author of 2018 book, "Hazing: Destroying Young Lives," chronicles the statistics and stories of hazing. According to Nuwer, at least one death attributable to hazing per year is recorded on American college campuses.
With all of the statistics and stories illustrating the dangers of hazing, why does it continue? In a 2017 article by Nuwer on the The Conversation website, anthropologist Aldo Cimino explained the reason is simple: worthiness.
Experienced members of sororities, clubs and teams believe being a part of their inner circle is a privilege that should not be easily obtained. As a result, veteran members go to great lengths to make new or prospective members prove their worthiness. But, how far is too far?
Jordan Hankins had things dumped and thrown on her. She was severely paddled and forced to eat rotten food, according to a 2019 story in the Indianapolis Star newspaper. She was deprived of sleep, and verbally and mentally abused by the sorority's veterans. The lawsuit alleges these actions triggered anxiety, depression, post-traumatic stress disorder and suicidal thoughts.
In Arizona, Hamilton High School football players called them "initiation" rituals. According to reporting in The Arizona Republic, freshmen on the football team were targets of sexual assault. ABC15 reported the assaults took place from September 2015 to January 2017.
Evan Petrich's hazing experience ended his swim career at Drury University, according to an ESPN report. In September 2015, Petrich and some of his freshmen teammates were forced to drink alcohol until they vomited. Some of his teammates blacked out. Petrich and his teammates also had dodgeballs thrown at them while naked, were forced to watch porn and other lewd activities. Because of this, Petrich was treated for post-traumatic stress behavior.
So, with such horrifying stories piling up, what action is being taken?
According to HazingPrevention.org, the consequences for hazing consist of suspensions, withholding of funds and more. The creation of more policy is also developed. For, example, Time stated that after the hazing death of Penn State student, Tim Piazza, the university created reforms that included a zero tolerance hazing policy. However, suspensions eventually get lifted and policies still don't hold enough strength to prevent hazing.
According to a 2017 story in the Chicago Tribune, hazing policy without active enforcement is rendered useless. One of those interviewed by the Tribune was Linda Langford, a consultant who works with schools to stop hazing. She believes if an anti-hazing policy is created, but not actively applied, the policy loses its value.
The National Federation of State High School Associations' position is it is up to athletic administrations in high schools and colleges to actively enforce policy by partnering with coaches and school personnel.
With strong administrators and staff who are passionate about actively ending hazing, the existence of hazing can steadily decrease in educational institutions.
Katelyn Oates is a sophomore journalism major at Arizona State University
Related Articles
NCAA proposal guarantees mental health services to Power 5 athletes
Stigma of mental health issues a barrier to treatment for athletes
Hope Happens Here grows out of the heartbreak of suicide
Educating athletes about mental health stressors needed ASU researcher says
LGBTQ student athletes risk mental health when joining a sport
Tags:
Aldo Cimino
,
Arizona
,
athletes
,
College
,
Drury University
,
Evan Petrich
,
fraternity
,
Greek Life
,
Hamilton High School
,
Hank Nuwer
,
hazing
,
high school
,
Indianapolis Star
,
Jordan Hankins
,
lawsuit
,
National study of student hazing
,
NCAA
,
Northwestern
,
post-traumatic stress disorder
,
sorority
,
StopHazing
,
teammates
,
teams