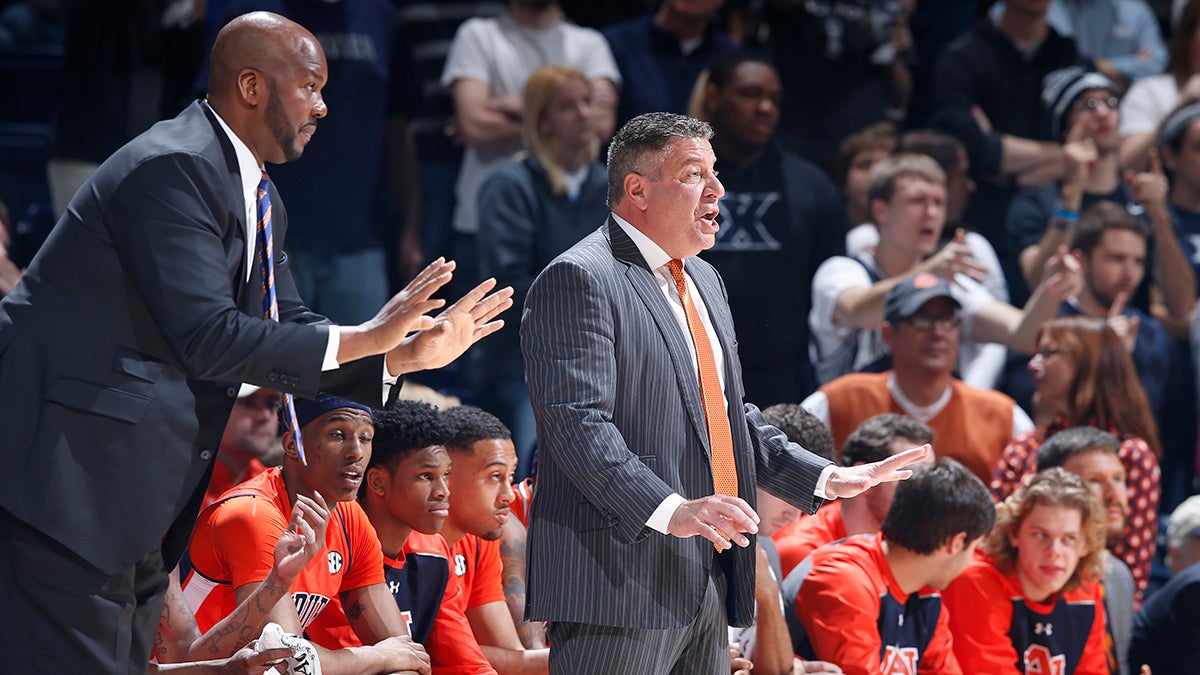 The 2017-18 men's college basketball season started with fireworks that did not involve Midnight Madness.
In September, indictments were handed down alleging collusion between agents, a financial advisor, an apparel company representative and assistant coaches.
Sept. 26, 2017: FBI probe finds early signs of wrongdoing
Ten people were indicted by the U.S. Attorney for the Southern District of New York after evidence of collusion with agents and financial advisors is found. Assistant coaches from Arizona (Emanuel "Book" Richardson), Oklahoma State (Lamont Evans), Auburn (Chuck Person) and USC (Tony Bland) were among the 10 men , named alongside Adidas executive Jim Gatto. The FBI used a cooperating witness to gain insight into the efforts to allegedly allow companies to  funnel money to a player and his family in an effort to persuade the player to attend a school the company sponsored. According to the indictment, the agents and financial advisors would treat the money as a bribe in hopes of retaining the player as a client once he entered the NBA. The transactions would be hidden from the NCAA and the involved universities through a third-party transaction, where the company would wire money to a middleman, who would then pay the player.
Oct. 16, 2017: Louisville head coach Rick Pitino is fired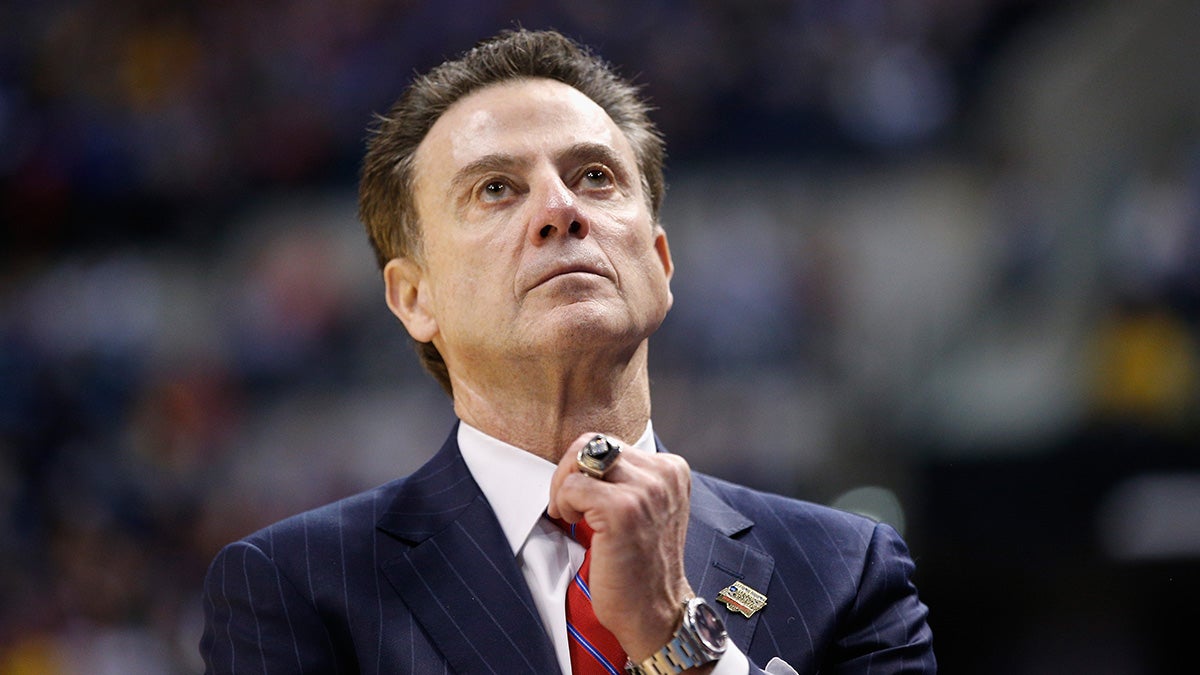 Rick Pitino is fired after a period of administrative leave. Greg Postel, the interim university president, was instructed by the University of Louisville Athletic Association to begin the process of terminating Pitino on Oct. 2. Pitino, who was not named in the federal complaint, said he wasn't aware of any payments to recruits. Pitino's lawyers argued that the coach was unaware of payments to recruits, but the university board believed firing the coach was in the "best interests" of the university. After his firing, Adidas terminated a personal services contract with Pitino. It was reported that Pitino received 98 percent of the $39 million Adidas paid Louisville for sponsorship.
Nov. 22, 2017: Louisville decides five-star recruit Brian Bowen won't play for the team in 2017-18.
After Bowen, the 21st rated recruit in the 2017 class, had his name surface in the FBI's investigation, he was suspended indefinitely. Bowen was allegedly "Player-10" in the FBI's report, the athlete who was compensated $100,000 through Adidas in exchange for his commitment to Louisville. Bowen was eventually cleared by the FBI, but Louisville elected to keep him off the floor. Toward the end of his recruitment, Bowen had allegedly narrowed his search down to two schools – Michigan State and Texas. But he committed to Louisville in the end, in a move that many felt came out of left field. Pitino described the commitment as the "luckiest (he's) ever been." Bowen has since decided to transfer to South Carolina.
Feb 15, 2018: 4,000 intercepted phone calls
According to Yahoo Sports, the early reports suggested that the findings of the case would cause a "substantial and relentless" impact on the sport. In fact, the investigation included 4,000 intercepted phone calls, as well as documents and bank statements from NBA agent Andy Miller. It was also found that Miller acted with Dawkins at the center of the whole investigation.
Feb 20, 2018: Louisville vacates 2013 national championship, 123 victories
In unrelated investigation, Louisville was forced to vacate its 2013 national championship, 123 wins and its 2012 Final Four berth. The sanctions in this case stem from a scandal that surfaced in June 2017 in which Andre McGee, a former Louisville assistant, paid Katrina Powell, a former escort, upwards of $10,000 to bring strippers to dorm parties. The NCAA suspended Rick Pitino for five-games as discipline for his role in the scandal. It was ruled that Pitino failed to monitor his program.
Feb 23, 2018: 20 Division I schools, more than 25 players named in FBI documents
The FBI releases documents from ASM – Andy Miller's agency – in which both current and former college basketball players are mentioned by name. Current NBA players such as Dennis Smith Jr., Bam Adebayo, Kyle Kuzma, Isaiah Whitehead and No. 1 overall pick Markelle Fultz are listed as having received either outright payments or loans from the agency while in school. An ASM expense report also details flights for Duke freshman Wendell Carter Jr.'s mother, advances to USC junior Bennie Boatwright for upwards of $623 and flights for former Louisville recruit Brian Bowen's family. When the players didn't sign with ASM upon turning pro, the decision was detailed in the expense report. Andy Miller has since had his agent certification revoked by the NBA's players union and is no longer able to represent NBA players.
Feb 23, 2018: Duke athletic director Kevin White says Wendell Carter Jr. will remain eligible to play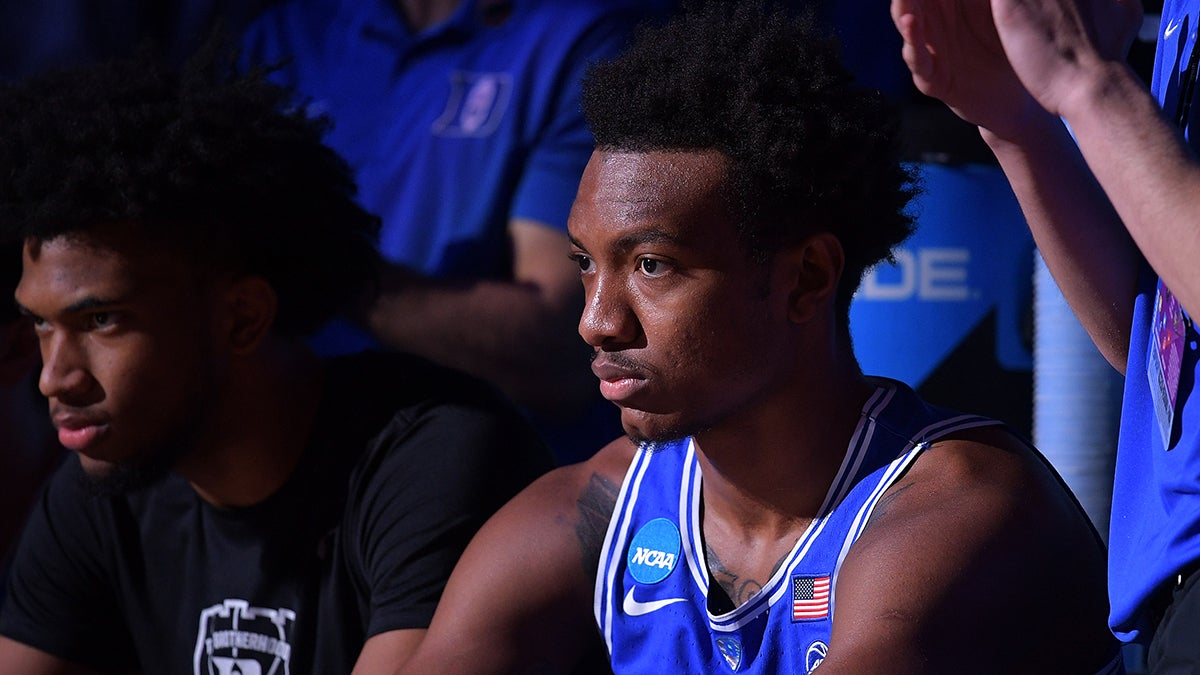 Despite being mentioned in the Yahoo Sports exclusive that made public the balance sheets and expense reports of ASM, Duke's AD says there will be no problems with Carter's eligibility. While the report didn't mention that Carter received any sort of benefits directly, Christian Dawkins's expense report detailed a $106 lunch with Carter's mom at Longhorn. According to  NewsObserver.com, the lunch took place while Carter was still a junior in high school.
Feb. 25, 2018:  ESPN reports Arizona's Sean Miller allegedly heard discussing a $100,000 payment for a recruit's commitment
Amid the thousands of phone calls intercepted in the FBI probe, ESPN's Mark Schlabach reported that Arizona's Sean Miller was included on a phone call with Christian Dawkins discussing a six-figure payment to star recruit Deandre Ayton. According to the ESPN report, Miller told Dawkins to deal with Emanuel "Book" Richardson, one of the 10 men who were arrested in September, when it came to discussing money.  The university held Miller out of one game, Arizona's 98-93 loss to Oregon on Feb. 24. Ayton didn't miss any time.
March 1, 2018: Miller denies any wrongdoing; Schlabach stands by his reporting
In a brief press conference, Miller denied any wrongdoing and denied orchestrating a payment for Deandre Ayton's commitment to Arizona. Miller told reporters that he has never paid a recruit to come to Arizona and "he never will." He returned to coach the Wildcats to a 75-67 win over Stanford on March 1. Despite the adamant denial from Miller, Schlabach stood by his reporting. "Based on my conversations this weekend, I have no reason to believe anything in that story is inaccurate," Schlabach said on SportsCenter. "The telephone conversation recorded by wiretaps remains under federal seal. If and when that seal is removed, we'll find out."
April 10, 2018: Kansas, N.C. State latest schools named in the FBI's findings
Kansas and N.C. State were named as the latest schools benefitting from the alleged improper payments. James Gatto, one of the original sneaker executives arrested in September, allegedly swayed players to attend Kansas and N.C. State through "sham invoices" that would send money to the families of players. This was all in an effort to persuade athletes to sign with Gatto's company.
Colton Dodgson is a senior journalism student at Arizona State University
(Note: The Global Sport Institute is supported by a combination of institutional ASU funding and a significant philanthropic gift from Adidas. GlobalSport Matters is a publication in partnership between the Walter Cronkite School of Journalism and Mass Communication and the Global Sport Institute)
Related Articles
NCAA report: Men's college baskeball 'deeply troubled'
Opinion: Let's stop creating an atmosphere for scandal and pay athletes
Opinion: It's time to end the notion of NCAA amateurism
Tags:
Adidas
,
Andy Miller
,
Bam Adebayo
,
Bennie Boatwright
,
Book Richardson
,
Brian Bowen
,
Christian Dawkins
,
Chuck Person
,
Dennis Smith Jr.
,
Emanuel "Book" Richardson
,
FBI
,
improper payments
,
investigation
,
Isaiah Whitehead
,
Jim Gatto
,
Jr. Kevin White
,
Kyle Kuzma
,
Lamont Evans
,
Louisville
,
Markelle Fultz
,
NCAA
,
Player 10
,
Rick Pitino
,
Sean Miller
,
Tony Bland
,
Wendell Carter