Youth
Archive
Parents joining in on signing day sparks helicopter parent discussion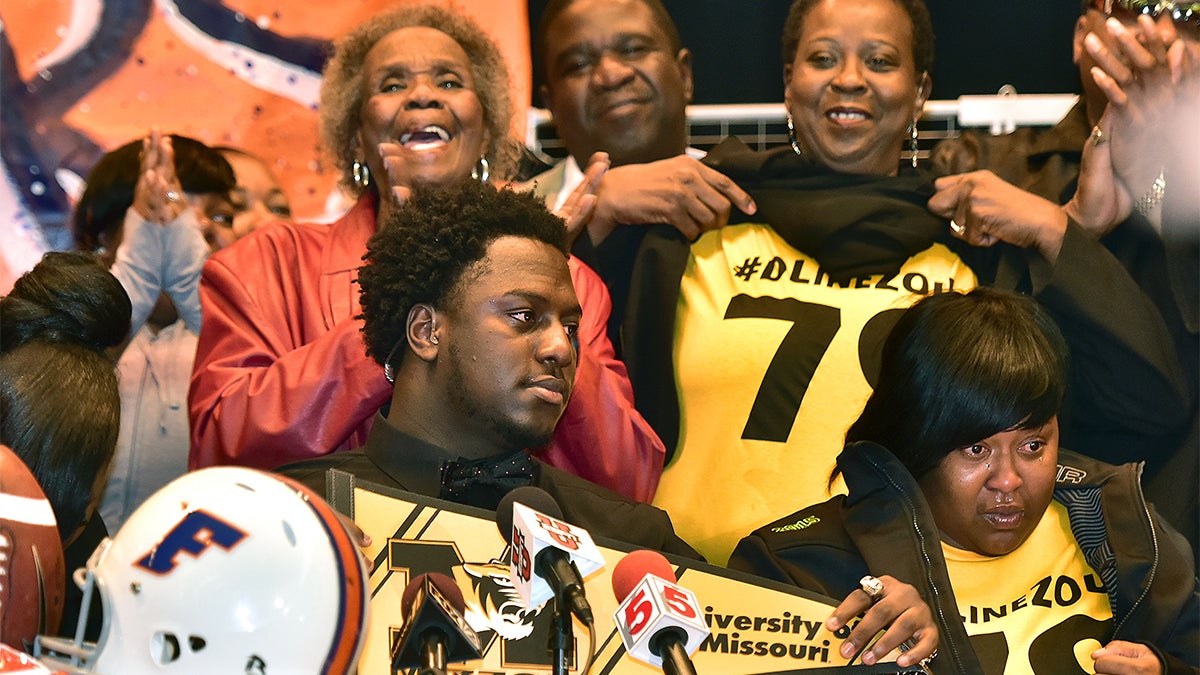 How often do you see a proud parent repping a college or university on their sweatshirt, coffee mug, hat or bumper sticker?


Football parents, specifically, have a particularly strong passion for their talented child and the school they play for. This year, this special subset of sports parents has taken a turn. During the recent recruiting class cycle and national signing day, many parents dressed up in uniforms alongside their sons. The resulting photos blew up the internet.
"I had buddies coming up to me being like, 'You know you're on Barstool Sports?'" Steve Snyder told the New York Times about the image of him posing alongside his son, Sam, during the tight end prospect's official visit to Missouri.
In the online debate surrounding the image as it went viral, critics of the image charged it represents what is wrong with helicopter parenting. Supporters argued it simply represents the next step in college football programs' efforts to sway the decision of the recruit by increasing their efforts to woo the parents.
One of the viral pictures was a tweet from Leslie Smith, a commit for the University of Pittsburgh football team. Smith tweeted two photos of him wearing the Panthers' blue and yellow uniform while standing side by side with his mother.
He asked his mother, Lucretia Chapple, during the visit to put on a jersey.
"She decided, 'I'm going to put on the whole uniform,'" Smith said in an article that ran in the New York Times on national signing day.
"This is the era of 'we' parenting, i.e., 'We have a midterm. We've got a game tomorrow. We're being recruited by top-tier schools,'" former Stanford administrator and the author of "How to Raise an Adult" Julie Lythcott-Haims wrote in an email exchange with the Times.
Lythcott-Haims expanded on the thought by saying if a child is wearing a jersey that signals their recruitment status, the we-speaking parents want to wear the cool jersey as well. She wonders where the "intertwined-ness stops."
When a recruit makes the decision regarding which school to commit to, the decision often comes down to feelings. Even for the top football players, college football is also college, which means getting the family to sign on, too.
In a recent picture on Instagram, Jamal Hill posed alongside his older brother, Jeffrey, who wore Oregon's neon green uniform as opposed to Jamal's black one.
"The recruiting process is not just about the player. They can't recruit the player. They've got to recruit the family," Hill said in the Times article. "It's a long-term decision. You've got to trust them. Once you start recruiting the whole family, that makes it go more smoothly."
Typically on official campus visits, coaches are trying to show the recruit and the family it is a suitable home away from home environment. They are just as likely to show the everyday part of the campus such as dining halls, study halls, etc. as they are to talk about football and the team.
"We spent 20 minutes talking about football," said Steve Ognenovic, who posed alongside his son, Nikolas, during official visits, about his visit with Auburn coach Gus Malzahn. "The rest was about the new addition on his deck, the truck he bought. He's a regular guy."
Florida's second-year head coach, Dan Mullen, seems set on reintroducing to Gainesville the kind of playfulness one can expect from a team whose fans do the gator chomp and his program embraces the family photos.
On the other side, Brian Niedermeyer, a Tennessee assistant coach, tweeted one thing he prays for is "that I NEVER have to outfit someone's dad in full gear for a photoshoot."
Setting aside which college or university has the best prospects lined up to sign with them, this day is monumental to the recruits themselves. They are entering the next stage of their life and this decision could be one of the most important.
"I thought to myself, how many opportunities am I ever going to get to have an experience like this with my son?" Snyder said. "You're very proud parents, lots of hard work."
Related Articles
Have parents ruined sports for kids?
The Helicopter Parent Descends on College Football
Tags:
Brian Niedermeyer
,
college football
,
commit
,
Dan Mullen
,
football
,
Guz Malzahn
,
helicopter parents
,
Jamal Hill
,
Jeffrey Hill
,
Julie Lythcott-Haims
,
Leslie Smith
,
Lucretia Chapple
,
national signing day
,
NCAA Football
,
New York Times
,
Oregon
,
parents
,
Pittsburgh
,
recruiting
,
signing day
,
Steve Ognenovic
,
Steve Snyder
,
uniform