Youth
Archive
Judge rules USA Basketball star Maori Davenport can play after eligibility error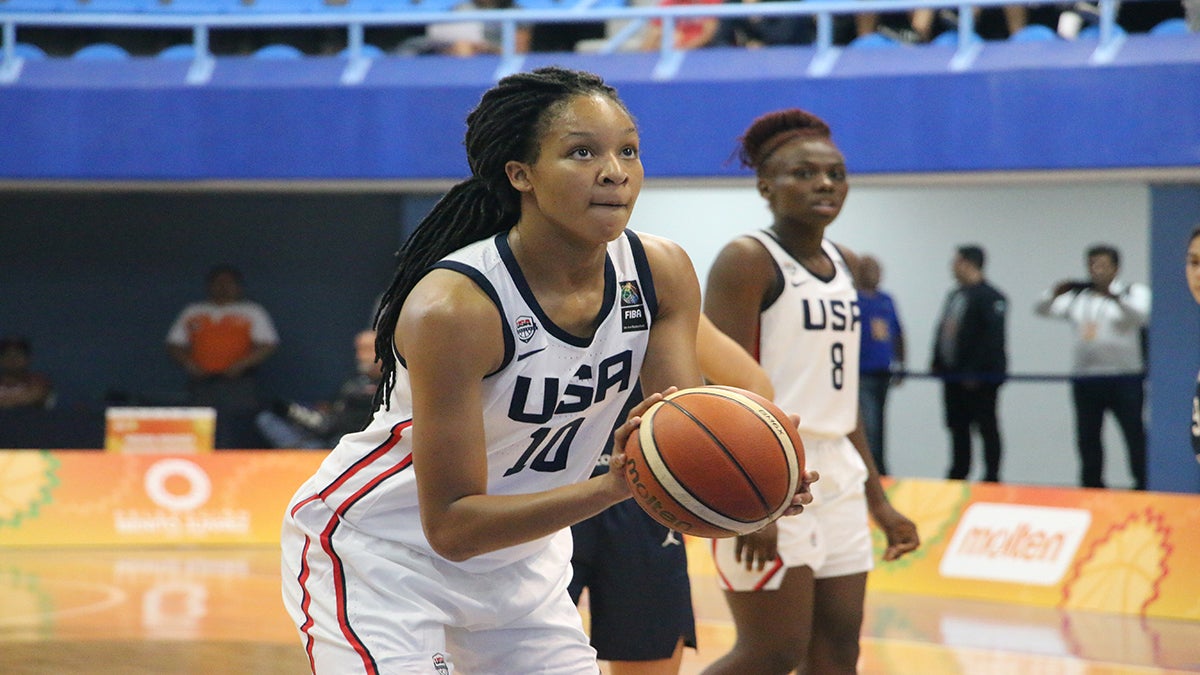 A mistake by USA Basketball has put the eligibility status of a high school girls basketball player in jeopardy, even though the senior corrected the mistake before she was deemed ineligible.
But now, after missing nearly two months of action and having many notable figures in the basketball community rise to her defense, a resolution may finally be coming for Maori Davenport.
On Jan. 11, Josh Bean of AL.com reported that an Alabama judge granted an emergency motion allowing Davenport to play again immediately, starting with Jan. 11's game. This occurred after the Davenport family filed a lawsuit attempting to circumvent the ineligibility ruling by the Alabama High School Athletic Association (AHSAA).
How is this even fair?? She shouldn't pay for someone else's mistake. This is CRAZY!!!! https://t.co/5xvvdi6WHE

— Chris Paul (@CP3) January 4, 2019
Davenport, a 6-foot, 4-inch center committed to play collegiately at Rutgers, was supposed to have a memorable senior season at Charles Henderson High School in Troy, Ala., after leading the Trojans to their first state title last season.
But over the summer, she competed for her country in the International Basketball Federation (FIBA) U-18 tournament in Mexico City in which Team USA won a gold medal. When players spend their summer playing for USA Basketball, the organization provides players with stipends for their time with the team. Think Progress' Lindsay Gibbs reported there is an agreement between USA Basketball and the NCAA to allow players who have graduated high school to accept the stipend.
But for the players with high school eligibility remaining, USA Basketball typically calls the player's state high school association before sending the stipend check. This year, USA Basketball did not do that before sending Davenport and at least two of her teammates checks.
According to the Associated Press, Anaya Peoples, a Notre Dame commit from Illinois, received her check from USA Basketball and cashed it, was informed of the mistake and returned the check to Team USA while her high school athletic director contacted the state athletic association informing them of the mistake. Peoples was informed there would be no punishment.
Davenport's check of $857.20 was issued on Aug. 15, 2018 and deposited into her bank account on Aug. 27, 2018. When Davenport and her mother, Tara, realized a mistake was made, they wrote a check for the same amount to Team USA and told the AHSAA they returned the check. An AHSAA spokesman said the organization didn't know about the check until the Davenports brought it to the state body's attention.
Steve Savarese, the executive director of the AHSAA, ruled Davenport ineligible for the 2018-19 season. He cited the organization's amateur rule: "A student cannot accept payment for loss of time or wages while participating in athletics as part of expenses, a student who has lost his/her amateur standing may be reinstated after the lapse of one high school season for the sport in which the student became a professional…."
Per an AHSAA statement, neither USA Basketball nor Charles Henderson High School disputed that the amateur rule was broken, even though the failure to acknowledge the check by USA Basketball was an accident. It's why the AHSAA upheld its ruling through two different appeals, one through the District 2 Board, confirmed by a unanimous vote of the four-member board, and upheld again through the 15-person Central Board of Control, the board that represents the entire state, voting unanimously against eligibility.
"My school has respectfully proceeded through the steps of the appeal process, but we have been met with a 'rules are rules mindset' throughout," Charles Henderson High School principal Brock Kelley said in a statement. "I understand rules and believe in the fundamental aspects of rules. However, in this case, this is beyond the basketball court, beyond the rule book, and beyond this basketball season.
"This case is about character. It's about integrity. It's about doing the right thing and correcting a mistake when it's is realized."
But the fact that Davenport returned the check has led many around the sports world to voice their Davenport, with perhaps the most significant person being Jay Bilas, a top college basketball analyst for ESPN as well as a practicing attorney.
The Alabama High School Athletic Association should be embarrassed and, frankly, ashamed of itself over this ruling. The AHSAA acts as if the players exist for the AHSAA, and not the other way around. Just awful. Maori Davenport did NOTHING WRONG. @AHSAA_hoops https://t.co/OCKBY1S1Iv

— Jay Bilas (@JayBilas) January 4, 2019
According to an espnW piece written by Bilas, he reached out to the AHSAA to speak to Savarese about the ruling in the case, and Bilas said he had a "nice and revealing" conversation.
Savarese said he had never dealt with a case like this in his 44 years as an educator. When asked who makes the decision in cases like this, Savarese said "I do, I have sole authority." Bilas asked Savarese if he had learned any lessons from dealing with this incident.
His tone changed. "The lesson to be learned here is for the adults that have the responsibility to inform the student-athlete of the rules. It is the responsibility of other parties, school officials, USA Basketball who only had to make a phone call, and her mom who is an assistant coach. She should know better. We work with outside agencies all the time. We work with Nike. All USA Basketball had to do was make a phone call.

"My charge is to uphold the rules. What if I said 'no'? What if I let her play? If I make an exception to one rule, it opens up a Pandora's box on all of our rules. How could I enforce any rule? If I made an exception here, I would be arbitrary and capricious."
Bilas was shocked by the response. He, and many others, said they couldn't believe Davenport was being punished for "not being informed of the rules" when she herself didn't break any rules to begin with. It's led many people in the sports world — and even the WNBA — to come to the defense of Davenport.
The WNBA urges the Alabama High School Athletic Association to reinstate Maori Davenport. Let her play the rest of her senior season instead of being penalized for an honest mistake made by others. https://t.co/CVgHNSqVAZ

— WNBA (@WNBA) January 4, 2019
This is ridiculous. Cmon AHSAA ? https://t.co/GdOP1mQkLz

— Sue Bird (@S10Bird) January 5, 2019
This #MaoriDavenport situation is just about the most ridiculous thing I've heard in youth basketball. Let her play!

— Kobe Bryant (@kobebryant) January 11, 2019
The support is appreciated, as Davenport told the Associated Press, "It just makes me feel like the world has my back in this situation, so I'm not wrong."
But the frustration over the situation continues to mount, especially as the AHSAA stands firm in its position despite the backlash.
"They are trying to punish me because they can't punish Team USA," Davenport said to the Washington Post.
Tara Davenport added: "The point of it is, to me, Maori did not do anything wrong, that is my whole point. Why is she being punished? And they aren't answering that. … I can't wrap my mind around it. The check was sent to her.
"I cannot understand for the world why they are holding onto this rule that really doesn't match the situation."
TJ Mathewson is a junior sports journalism major at Arizona State University