Youth
High school sports struggling with shortage of officials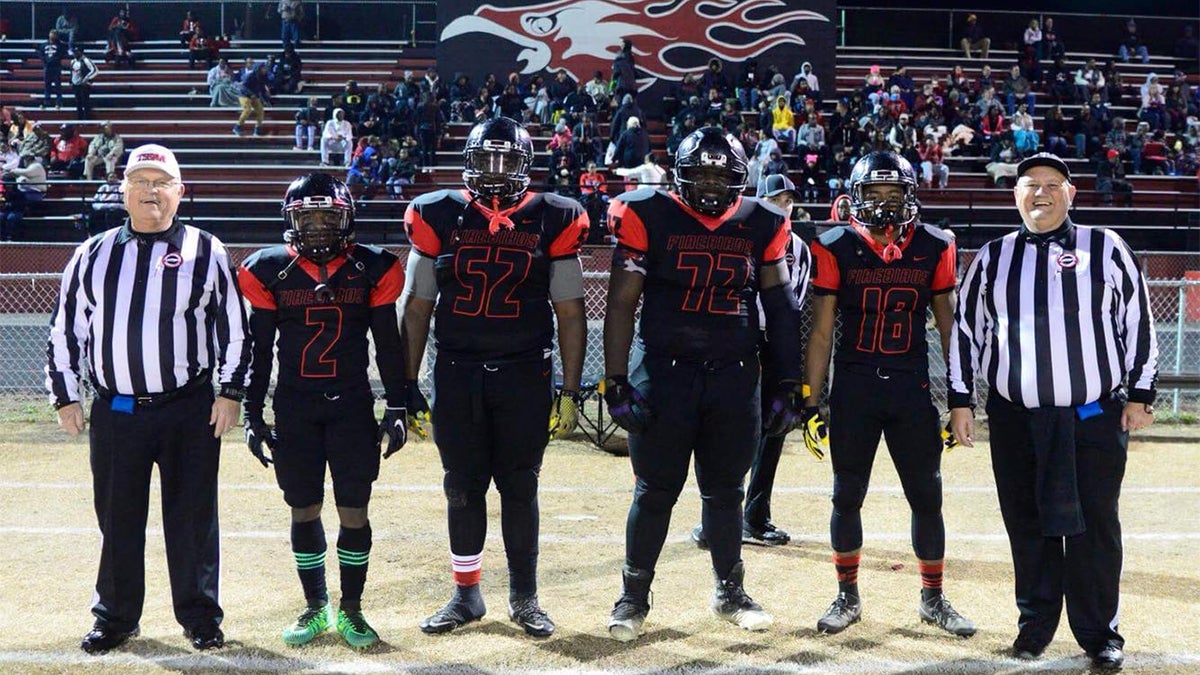 Texas, as the natives are always eager to confirm, has a long list of bragging rights. High on the docket is high school football. From six-man to Class 6A, the width and depth of the sport is buttressed by legends and myths.
H.G. Bissinger's best-selling book Friday Night Lights was developed into a successful movie and a popular television series by the same name. The romance, drama and stories of a town, a high school and its football team are connective tissue for hundreds of places throughout the state. Take a helicopter tour of the Lone Star state on a Friday night, and the illuminated earthbound stars are the well-lit stadiums where teenagers become hometown heroes.
However, the tradition of ending a workweek in the fall with a communal gathering to cheer for the local high school is being sidetracked by a sobering reality. In some rural areas of Texas, it has become Thursday Night Lights or Saturday Night Lights – or even Saturday Afternoon, No Lights. A shortage of officials is forcing schools to move games from nights other than Friday to accommodate all games.
"You can't play the game without us," said Michael Fitch, executive director of the Texas Association of Sports Officials. "If you turn on the lights and there aren't any officials, what are you gonna do? The shortage of officials … 'crisis' is probably too strong a word. I think concern is probably better to describe it. We are constantly fighting the battle of not having officials."
It is not just a Texas problem. Fitch said 80 percent of new officials who join TASO quit after their second season. That matches the retention rate reported by the National Federation of State High School Associations.
"We're certainly aware of the officiating drain and the graying of the current officiating pool," said Theresia D. Wynns, director of sports and officials at the National Federation of State High School Associations. "There are few states that aren't seeing an impact."
The South Carolina Referee Association

reports that 70 percent

of rookie officials in youth soccer quit after one season.

Over the past two years, the New York State Public High School Athletic Association has

lost 160 officials in all sports

and is down to 2,296.

Over a 10-year span (2007 to 2017), the Iowa High School Activities Association had a 12 percent decrease in its number of registered officials in seven sports: basketball, baseball, football, soccer, swimming, track and field and wrestling. "I can see the potential for this decline to become a critical issue in the next three to five years,"

IHSAA director of officials Lewie Curtis said.

The Illinois High School Association estimates it has lost about 1,500 officials across all sports over the past three years.

The Kansas State High School Activities Association had 1,372 registered officials in all sports in 2012-13. This year, that number is down to 1,189.

The Florida High School Athletic Association had 11,029 officials for all sports during the 2010-11 school year. Less than a decade later, the number has dipped to 7,795.

The Madison (Wis.) Metropolitan School District for the 2017-18 school year hired approximately 250 individuals to officiate more than 800 high school sports events.
"We could probably use twice that many," said Jeremy Schlitz, athletic director for both the school district and Madison Memorial High School. "Sometimes, we have to cancel or reschedule games because we don't have enough officials."
Three trends have contributed to a shrinking pool of officials at the high school level. One, the aging of the current officials and a declining number of younger officials joining the ranks. Two, the increase of vile verbal abuse — and the threat of physical abuse — directed toward officials. Three, non-scholastic organizations (Pop Warner football, AAU basketball) can offer more money and more games to officiate.
Baseball's history includes the fan phrase, "Kill the umpire" — there was even a comedy movie made with that title in 1950. Disagreement directed at officials from the paying customers has been heard since the first competition.
While fans have directed ire at the people enforcing the rules, the comments were always somewhat good natured:
Hey, ref, was your officiating test in Braille?

You can't call 9-1-1.

Foot Locker wants its shirts back after the game.

"Hey ref you might want to check your voicemail YOU'VE MISSED A FEW CALLS!"

When I'm old and I can't see, I want to be a REFEREE!!!
One theory is that social media and the ability to troll anonymously is contributing to a lack of civility that seeps into sporting events. Another theory is the advent of instant replay and the emphasis of dissecting split-second decisions has made everyone with an HD TV an expert in officiating.
"A lot of new officials just give [officiating] up after dealing with the coaches and the parents," Fitch said.
"There are a lot of parents, particularly at the younger levels of sports, who think they know the game from an officiating point of view," Wynns said. "I was an official for two decades and when I work with officials I tell them to try to ignore what they hear and concentrate on the players and the game. As long as nobody comes out of the stands for a physical confrontation, you should be OK."
On occasion, such physical confrontations and attacks have occurred. In one instance that went viral, an unconscionable assault on an official by players was ordered by an assistant coach. In September 2015, San Antonio John Jay High School assistant coach Mack Breed told his defensive backs to take out the referee. Breed, who later pleaded guilty to an assault charge, claimed back judge Robert Watts had used a racial slur after ejecting a John Jay player. 

"That was an isolated incident and situations like that could dissuade someone from becoming an official," Wynns said. "Those already involved as officials understand that incident was caused by a coach failing to adhere to the right standards, and an official being physically attacked by a player is a rare occurrence."
Fitch's organization has an initiative called START – Students Today Are Referees Tomorrow. It asks high school coaches to identify prep players who love their sport but might not have the talent to play at the next level and might have an interest to stay involved through officiating. TASO is challenging every varsity coach in Texas to encourage at least one or two players on their team to consider officiating. Fitch believes players have a "game IQ" that could help them officiate games.
Texas is also involved with a national initiative started by former NFL referee and current Fox Sports NFL rules analyst Mike Pereira. His organization, Battlefield to Ballfields, is geared toward getting veterans involved in officiating. It reimburses their local and state dues, cost of training and any equipment needs.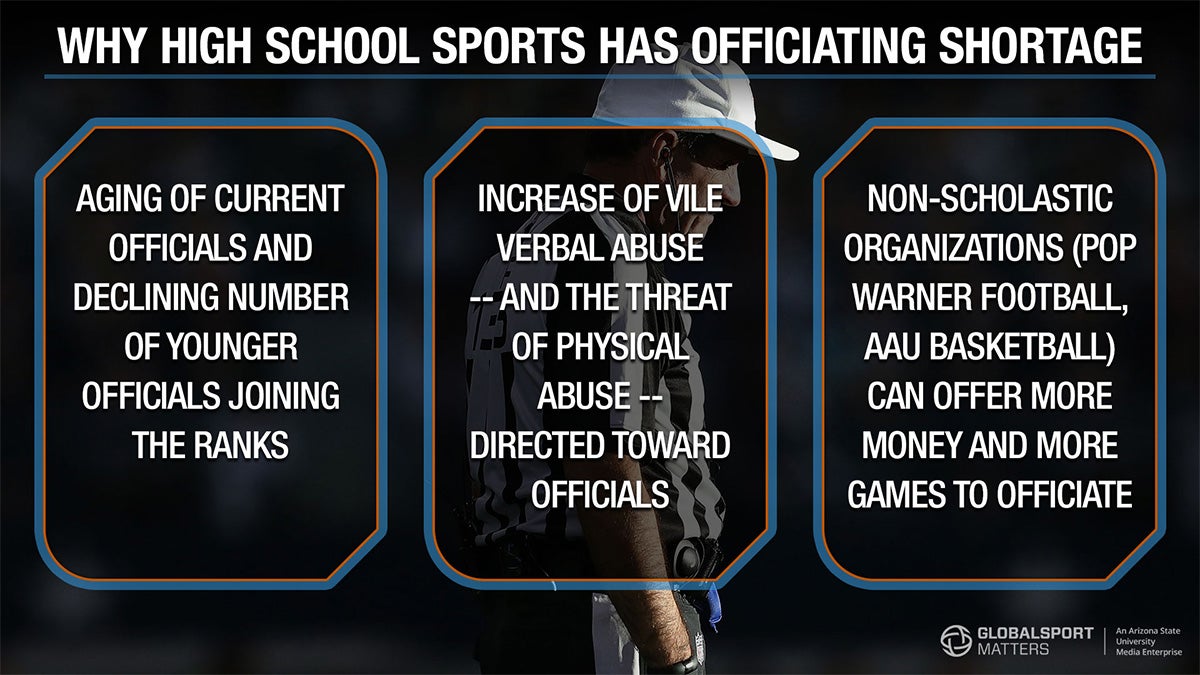 A year ago, the National Federation of State High School Associations started a national officials recruitment campaign targeting high schools. Posters titled "The Final Whistle? – Not So Fast" emphasize that "The High Schools in Your State Need New Officials." It's a campaign similar to the one TASO has engaged.
This year, NFHS added a new program targeting policemen, firemen, first responders and ex-military as potential officials.
"Those people are trained to deal with difficult situations so officiating a sport they're interested in should be a snap for them," Wynns said.
High school officials aren't on the endangered species list, but the demographics of aging refs and the paucity of replacements is a problem that needs addressing. Wynns said last year's recruiting campaign drew interest from about 1,000 high school students but there was a disappointing lack of follow through on taking the next steps in the process to become an official.
"What keeps me awake at night is that we've got more officials over 60 and under 30," Fitch said.
"The old George Jones song 'Who's Gonna Fill Their Shoes' comes to mind. That's the question I have. We don't see the numbers out there right now to do it."
Wendell Barnhouse started his career as a sportswriter at 18 and spent the next four decades in newspapers writing and editing. From 2008-2015 he was the website correspondent for the Big 12 Conference producing written and video content. He has spent the last three years freelancing, most recently covering college basketball for The Athletic.
Related Articles
Coach knocks referee unconscious at Philadelphia youth basketball league, police say