Health
Culture
Yoga gaining popularity as a welcome performance enhancer
Why this matters
Beyond flexibility and balance, athletes are using yoga to strengthen their bodies and minds to boost their athletic performance.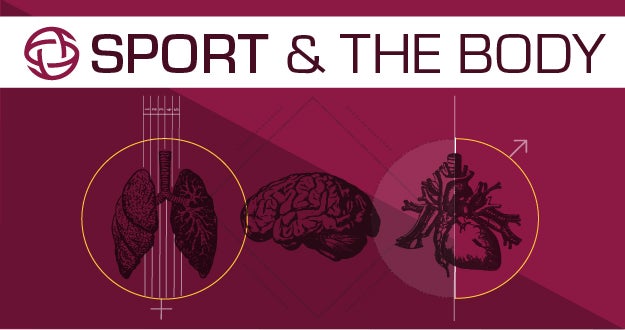 Some benefits of yoga – such as improved flexibility and balance — are well known. So it makes sense for athletes to take advantage of yoga disciplines. But athletes across a range of sports use yoga to improve their performance in ways that may be less obvious.
Yoga can provide both physical and mental benefits, including increased strength and lung capacity on the physical side and enhanced focus in the mental arena. Yoga allows athletes to become more aware of what's happening in their bodies so that they can better identify potential problems and prevent injury.
Practicing yoga is not about trying to twist into difficult poses, said Olympic cyclist Mara Abbott, who began practicing yoga around the same time she started racing professionally. 
"It's about an experience of just being in your body and getting to know it," she said. "I think that a regular yoga practice really helped me to know my body well, so I could tell and be tuned in when things weren't going well.
"If you want to achieve whatever your highest level of potential in sport is, you need to have that relationship with your body." 
Because of its benefits, yoga is growing in popularity among athletes.
 "More teams are incorporating yoga into their training regimen," said Julie Rader, who has taught yoga to high-level athletes in volleyball, football, hockey, basketball, cycling and soccer. "Professional and collegiate athletes are always looking for a way to enhance their performance, and many are turning to yoga to give them an edge over their competitors." 
Gwen Lawrence teaches yoga to professional athletes in many sports, including New York Giants football players and New York Yankees baseball players. She said the use of yoga in professional sports has "grown exponentially" since she started her company in 2003. Now when she works with a pro team, "most all of them have been exposed to yoga while in college — that was not the case when I first started," she said.
Lawrence's Power Yoga for Sports program focuses on six pillars: balance, functional strength, flexibility, mental toughness, focus and breathing. 
The Institute of Yoga Sports Science trains yoga professionals to teach sports-specific yoga to athletes. This requires an understanding of each sport's biomechanics, its physical and mental demands and potential injuries that can occur from competing in it. That combined knowledge is used to design a yoga program for the athlete.
Bonnie Strati, the institute's director of operations and a certified Advanced Yoga Sports Coach, said the resulting program "can be the missing link in an athlete's training program, as opposed to being another training (program)."
Several academic studies have highlighted what yoga can do for athletes. Various research has found that practicing yoga:
Another study demonstrated that using diaphragmatic pranayama (breathing) exercises in yoga reduced exercise-induced oxidative stress in athletes.
Physical benefits
Yoga's benefits of improved flexibility, balance and strength — including core strength — are critical components for injury prevention.
"Flexibility and balance are a huge benefit of yoga and are important for injury prevention and recovery," Rader said. "Many athletes dread stretching because it does not come naturally to most. However, it is essential for increasing longevity in any sport."
As an example, Strati said a runner's tight right hip might indicate an imbalance somewhere in the body that yoga can address. But Strati said it is not simply a matter of using the right yoga poses.
"It's being able to understand why you are using a particular yoga pose or sequence," as well as preparing the body to get into a pose, she said.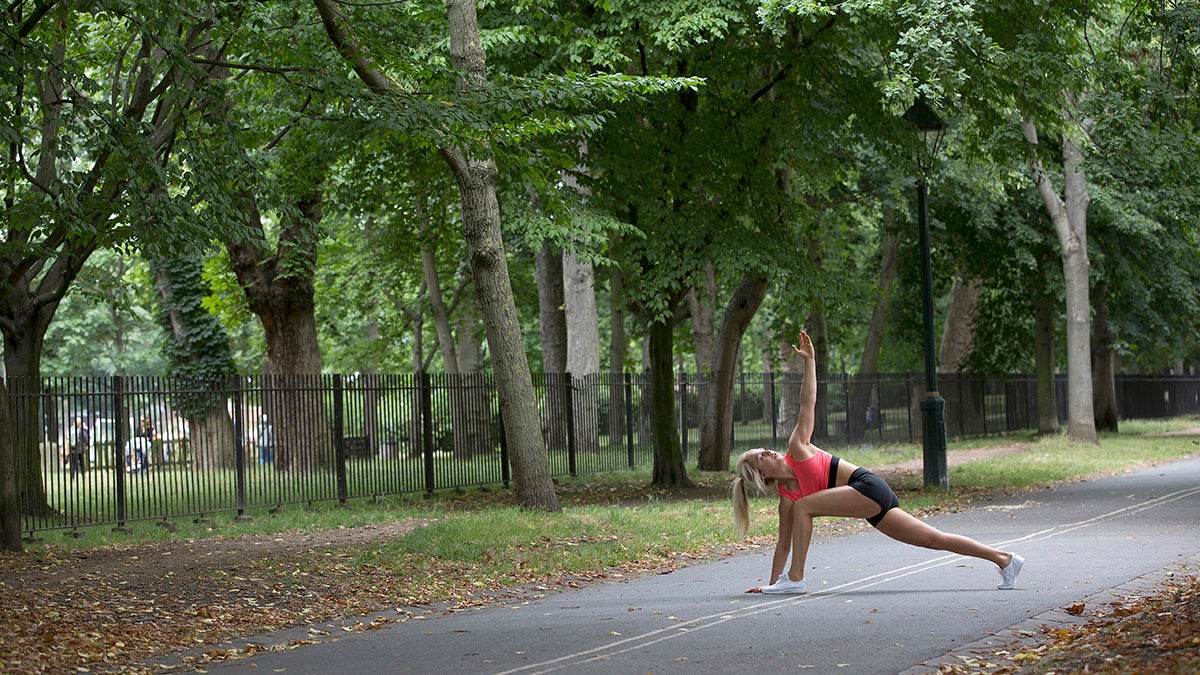 Lawrence tailors her approach to the sport, the athlete and the position he or she plays, but many athletes have common problems. For example, "the majority of athletes need work opening the hips and low back," Lawrence said. "By doing this, they improve range of motion and lessen strain on the knees."
To illustrate how yoga complements athletes in their respective sports, Lawrence sometimes shows photos of people in yoga poses side-by-side with photos of athletes in action. The photos show bodies in the exact same position — such as someone holding a deep "warrior one" pose and a first baseman with one foot on the base while reaching to make a catch.
Rader currently works with the U.S. Women's National Soccer Team when they train in Los Angeles and said it is common for soccer players to have "tight hip flexors and glutes."
 "We do lots of dynamic movement (one movement per breath), such as classical sun salutations,  to warm up the muscles," she said. "After the athletes are warm, we do longer holds."
She said that can mean holding a pose for two or three minutes on one side of the body and then repeating it on the other side.
As yoga practitioners know, yoga is not just stretching — it builds strength through holding poses and through exercises that use the person's body weight as resistance.
A regular yoga practice encourages athletes to check in with their bodies routinely, and to be aware of any harmful tendencies they have, said Whitney Griffin, who teaches yoga to people who have neurological conditions, including athletes who have suffered concussions. To create this kind of sensory awareness, she suggests using "body scan" meditations that strengthen an athlete's awareness of what's happening in his or her body while improving relaxation.
Griffin said sleep hygiene is an often overlooked benefit of yoga. Practicing yoga at any point during the day can help a person fall asleep and stay asleep.
For example, Griffin said yoga helps the body process lactic acid, rather than allowing it to build up.
"Once all the acid buildup has been moved around, it's more natural for the body to be able to sleep, because it's not having to deal with as much cleanup and waste removal at night," she said.
The breath
Yoga incorporates breathing techniques that aim to connect the body and the mind. Proper breathing techniques can increase VO2 max and calm the nervous system.
Breath work can improve athletic performance by building stamina and reducing performance anxiety, Strati said, adding that most people don't use their lungs to their full capacity. Breathing techniques can help athletes breathe more efficiently.
"When you're able to breathe more efficiently and effectively, the body is actually taking less effort to do the same amount of work," Strati said.
Athletes who use breathing techniques to calm down can also focus better.
"I teach breathing exercises as a way to focus the mind," Rader said. "It is a tool athletes can come back to when encountering high-pressure situations on or off the court or field."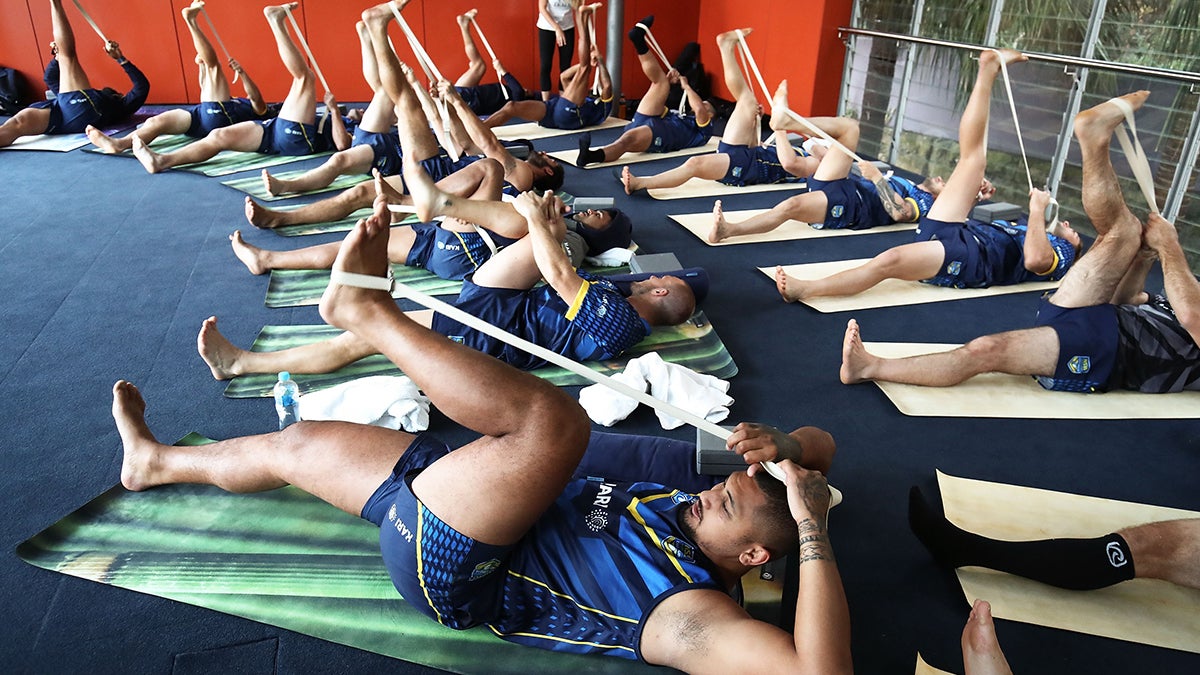 Through diaphragmatic breathing — or deep, belly breathing — athletes can "temporarily shut down the fight-or-flight response and get the brain back to the present," Lawrence said.
Yoga teaches athletes to breathe more efficiently, and how to use breathing techniques for mindfulness and to relieve stress alleviation, according to Lawrence.
 "This makes the athletes more efficient at the specific time of need," she said. 
Griffin said that, in general, people have not been trained how to breathe properly and that yoga classes will "re-educate" an athlete's breathing pattern.
"Research has shown that there are nerve endings at the bottom lobe of the lung that signal our nervous system to relax," Griffin said. "When we breathe in through the mouth, we can only fill up so much of our lungs. It's a very shallow type of breathing.
"When we breathe in through our nose, but we're not conscious about it, we're probably only filling up about 2/3 of the lobes of our lungs, so we're not reaching the part of our human body that has been designed to send us into states of relaxation."
She said conscious deep breathing stimulates those nerve endings located at the bottom lobe of the lungs, reducing stress and strengthening the immune system. 
Breathing techniques can also improve sleep, digestion, mindset and mood, Strati added.
Mental benefits
Trained through the Love Your Brain Foundation, Griffin modifies her yoga teaching to help athletes heal.
 "Our bodies are intelligently designed, and the way our nervous systems are wired is to process threats – like threats to safety – first, and healing second," she said. "Yoga helps people with traumatic brain injuries to enter a state of healing."
Abbott said athletes are often focused on accomplishments and quantifying their training, but  yoga "teaches you a lot about discipline – it teaches you about slowing down and about practicing something without the intent to accomplish anything."
"I think that a regular yoga practice can also help an athlete to achieve a mental boost that they aren't necessarily going to get from their sport training," she said.
This mental boost might make a difference on the field or the race course, especially in stressful situations.
"Science is now proving the mind overrides our physiology," Rader said. "This translates to athletic performance in an athlete's ability to do things most humans cannot, simply because they focus their mind and believe it is possible. This is how some athletes always seem to pull through when all of the odds are against them.
"I believe the most valuable benefit of yoga for athletes is mental strength. A focused athlete is unstoppable. Most athletes at the elite level are extremely physically fit. The athletes who excel and rise to the top are the ones who have a strong, relaxed and focused mind." 
Abbott agreed that yoga prepares athletes for difficult situations. "I think that the tools of self-knowledge that yoga gives you enable you to be a resilient person and a resilient athlete," she said. "Any athlete is going to face adversity, and the mark of a truly great athlete is an athlete who can be resilient in the face of adversity."
Allison Torres Burtka is a freelance writer and editor based in metro Detroit. You can read more of her work here.   
Tags:
Advanced yoga Sports Coach
,
Bonnie Strati
,
core strength
,
exercise-induced oxidative stress
,
flexibility
,
Gwen Lawrence
,
Institute of Yoga Sports Science
,
Julie Rader
,
Love Your Brain Foundation
,
Mara Abbott
,
New York Giants
,
New York Yankees
,
Power Yoga for Sports
,
pranayama
,
sleep hygiene
,
U.S. women's national soccer team
,
USWNT
,
VO2Max
,
warrior pose
,
Whitney Griffin
,
yoga