Health
Youth
Wheelchair-using umpires get their chance to stay in the game
Why this matters
Despite the tough physical requirements of being an official, people of all abilities are finding a way to be involved in sports officiating.
Athletes come in all shapes, sizes and abilities. So do officials.
Jaimie Erskine illustrated that when he served as a first base umpire while using his power wheelchair. The longtime umpire returned to officiating in July during a Little League Softball all-star game in Portland, Maine.
Four years had passed since he last took the field. He was diagnosed with polyarteritis nodosa, "a rare disease that results from blood vessel inflammation (vasculitis) causing injury to organ systems."
Earlier in 2019, Erskine learned Little League International would allow him to umpire from his chair. 

"When (my wife) told me I was approved to umpire again from my chair, I cried. I was just so happy because I was getting back a part of my life I thought was gone forever," Erskine told Portland CBS affiliate KENS 5. 
Erskine is not the only person who has used a wheelchair while officiating. Other wheelchair users officiating able-bodied sports:
Rob McQuay: Baseball
Rob McQuay was paralyzed in a surfing accident in 1990. He is a person living with quadriplegia, but has some movement in his arms and shoulders. He served as an umpire for sub-varsity level high school and recreational baseball in Maryland while using a manual wheelchair.
"I love this game, thinking about what will happen next and where do I need to be," McQuay told the Capital Gazette. "I enjoy the kids. I even enjoy the coaches."
He faces some limitations staying ahead of a play after the ball is hit, but he has found an advantage when he's behind the plate.
"When I'm slotted between the hitter and catcher, my head is in the same position every time," McQuay said. "I would like to think I'm consistent at calling balls and strikes because I'm not moving up and down on every pitch." 
Nathan Mattick: Football
Nathan Mattick, who has cerebral palsy, referees football in Cheltenham, United Kingdom. He dreamed of being a referee as a kid, and, while at university, he jumped at the opportunity to get onto the pitch. 
"When I said I wanted to be a referee, the sports staff at National Star (College), they didn't hesitate to say I could give it a go and see how it went," Mattick told Disability Horizons. 
In 2014, he became an officially licensed Football Association (FA) referee, the first wheelchair user to qualify as a referee in the UK.
"I was really nervous the first time I refereed," Mattick said. "I thought the players and managers would give me a hard time because I am in a wheelchair, and that they would question why I was refereeing an able-bodied football match. But I had no problems from players. In many ways I get less hassle on the pitch than I do in everyday life. On the pitch I am a referee first and foremost."
Joe Slaski: Basketball
Joseph (Joe) Slaski sustained a spinal cord injury during a sledding accident in 1989, which left him paralyzed from the waist down.
Slaski started out as an athlete. He played wheelchair basketball for the Rochester Wheels and Syracuse Flyers and sled hockey for the U.S. Paralympic team before transitioning into his role as an official. He has officiated for wheelchair basketball around the country, as well as junior-varsity basketball, youth baseball and softball in upstate New York.
"It's empowering," Slaski told the Democrat and Chronicle about officiating. "I love it. I get a lot of joy and satisfaction out of it. I also think it's good that the youth, the children, are seeing someone with a significant disability in a leadership position."
As an official for an able-bodied sport, Slaski had to complete the same training and pass the same rules and fitness test as other referees. He's not the only one. Erskine, Mattick and McQuay had to fulfill the same requirements as able-bodied officials as well. There are not specific fitness tests required for amateur baseball or FA matches outside of the league system.
Fitness requirements for officials
So why aren't there more officials who use wheelchairs?
A major reason is the physical demands of being a referee. In basketball, soccer and football, officials are required to move quickly and follow the play. Fitness requirements vary by level of competition, but at the professional level referees are required to pass an annual fitness test.
Male and female FIBA referees must pass a fitness test as part of the licensing process. 
"The pace has certainly increased a lot -- as referees, we're running four to five miles a night," NBA referee Marc Davis told Men's Fitness. "It's our job to be in the best athletic condition that we can be. Our players are just so athletic -- their movements and their ability to explode with power and speed -- and we have to adjust with that and how we officiate."
FIFA's fitness test has a number of sprint requirements with time limits -- 40 meters in 6 seconds for male assistant referees. Soccer leagues around the world have a similar test for referees.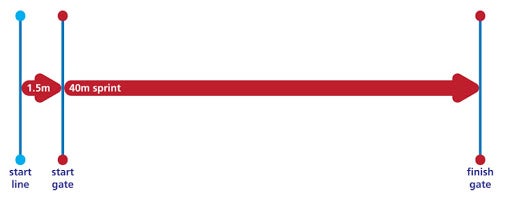 In the NFL, referees are tested annually on flexibility, strength and endurance. Part of the test involves 13 timed 40-yard dash sprints.
While baseball requires less sprinting than basketball, soccer and football, some physical demands exist. Umpires behind the plate must be able to bend their knees and hold the position during pitches. Umpires in the field must jog to reposition themselves. Games can last for hours in the heat, so being an umpire requires endurance.
In 2002, the National Federation of State High School Associations instituted a rule that states, "Umpires and coaches are permitted to use crutches, canes, wheelchairs or other mobility aids," reversing a previous rule that prohibited mobility aids for umpires.
While these are examples of the fitness requirements in place for umpires around the world, flexible guidelines at various levels of competition open opportunities for individuals such as Mattick, McQuay, Slaski and Erskine to continue being a part of the sport they love.
Sarah Farrell is a graduate student studying sports journalism at Arizona State University