Health
Archive
Researcher says stress has long-term health impacts for coaches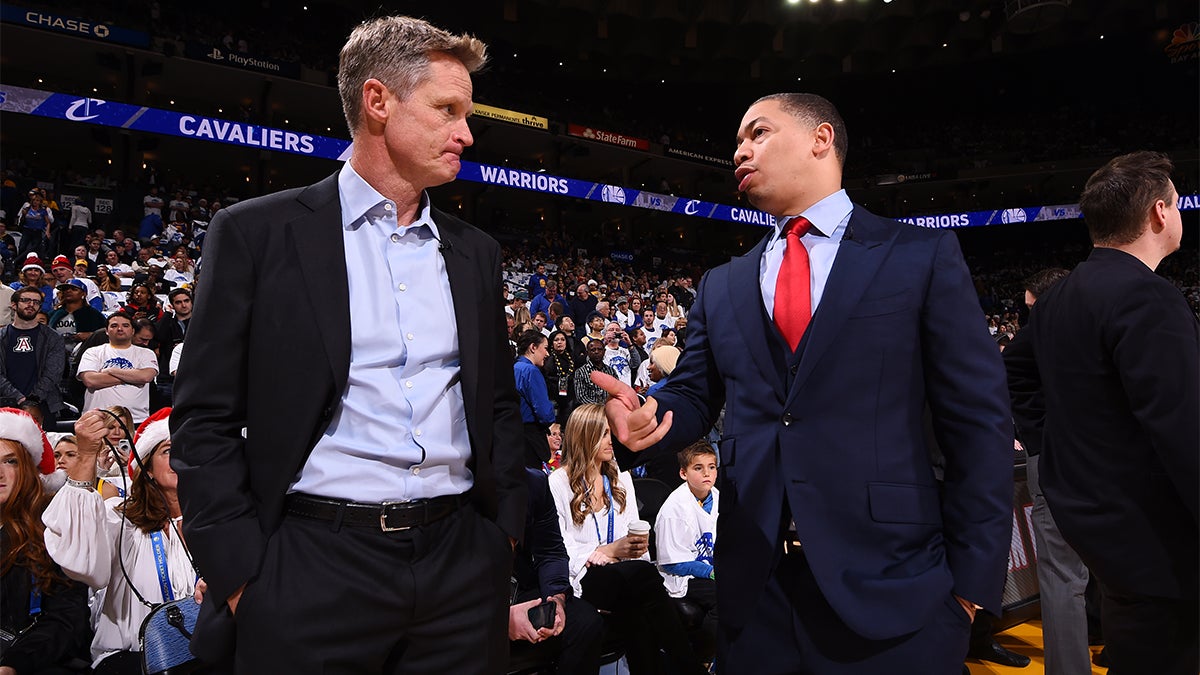 In the last two seasons, NBA coaches Steve Kerr of the Golden State Warriors and Tyronn Lue of the Cleveland Cavaliers — the two men who have faced each other in the NBA Finals the last four years — have missed significant periods of time for health-related reasons.
Hall of Fame college football coach Steve Spurrier retired midseason in 2015, and cited the brutal schedule as a reason he was glad to be done.
The pressure on coaches is increasing, and the growing social media landscape is a factor. While Kerr has serious back issues, Julie Rousseau, a former coach of the Los Angeles Sparks, is convinced both his sabbatical and Lue's time off were related, in part, to the stress that comes with the job. "Absolutely, 100 percent."
"The coaches' work is scrutinized so publicly, everything they do is public; newspaper, television and now with social media anyone can scrutinize their work," Rousseau said.
Rousseau is working on a study on the stress college basketball coaches face. Of the 20 coaches she has spoken to, 19 said coaching is stressful. The study has included 10 male and 10 female coaches, five of each were white and five of each were African-American, in order to get a diverse look at the issue.
According to Rousseau, the fact such a high number of coaches feel an extreme amount of stress can be traced to a variety of reasons: the relationships they have to manage, playing schedule, recruiting schedule and expectations to win.
Rousseau, who is conducting the study for her dissertation at Arizona State University, wanted to shed light on the effects stress can have on coaches' health long term. She said she felt many of these pressures while coaching the Sparks, as an assistant at Stanford University and Nevada, and as the coach at Pepperdine.
So what can coaches do in order to relieve stress?
"The coaches have to decide what do they enjoy doing," Rousseau said. "They also have to take mini breaks. Breathing techniques, massages, yoga, exercise, eating, nutrition and sleep can all be essential to helping coaches."
Rousseau said coaches are not the only ones who should be worried about their health; their superiors also should be concerned and willing to help when needed.
"Creating an environment that allows coaches to take some time and is supportive of coaches in terms of their needs, but also one that allows them to spend time working on self-care and taking mini breaks," Rousseau said.  "Giving that opportunity says to coaches that your self-care is more important to us than wins."
A big issue according to Rousseau is coaches feel compelled to be in their offices at all times to make sure they are doing the work necessary, when in reality a lot of the job can be done from home. Rousseau said creating an environment where coaches don't have to be in the office seven days a week can be very helpful.
In a Forbes article, the coaches of the 2015 NCAA Basketball Sweet 16 teams discussed how they deal with stress. Almost every coach said a major stress reliever for them is exercising.
Both the Forbes article and Rousseau stressed the importance of coaches taking time for themselves away from the job, even if its very brief.
Max Bechtoldt is a senior journalism student at Arizona State University
Related Articles
Educating athletes about mental health stressors needed ASU researcher says