Culture
English Soccer Wrestles with Saudi Takeover of Newcastle
Why this matters
The globalization of sport can connect communities and bring money and attention to new places. But in the case of Newcastle United and the Saudi Arabian Public Investment Fund, human rights concerns have collided with big money to create fault lines among English clubs and fans.
How would you feel if the football team you had supported your entire life, the local team your family had backed for generations, was suddenly acquired by Saudi Arabia's sovereign wealth fund?
That is the question I went to Newcastle-upon-Tyne to pose to long-suffering Newcastle United F.C. supporters the same month that a Saudi-led takeover of their club was announced. (Note: There also are two minority investors, each with a 10 percent stake. One is Amanda Staveley, the dealmaker who brokered the transaction and now presides stoically at Newcastle matches as a director.)
Newcastle United's proud history dates to 1892, when Newcastle East End and Newcastle West End joined forces to make Newcastle a fiercely one-club town. The black-and-white-striped club has had its storied moments, but a fair amount of angst underlies even its better days. Newcastle is widely regarded as having fielded the best team not to win the Premier League in the modern era: the 1990s "Entertainers," a generation that included such stars as Alan Shearer, David Ginola, Les Ferdinand, and Andy Cole. Things have been far grimmer in recent years, including seasons spent relegated to the lower division.
Newcastle's previous owner, Mike Ashley, who sold the club for $430 million to the Saudi-led group, was one of a few remaining English owners of a Premier League club. He'd made his fortune in discount retailing and was roundly denounced by supporters, fairly or unfairly, for lacking ambition and failing to invest enough to win.
But now the Saudis are here, and Jim Burns is excited. I ran into him and his family – all decked out in their Newcastle gear – at the Chicken Coop restaurant in the center of town on a recent Saturday, a couple of hours before a three o'clock kickoff against Chelsea F.C. at St. James' Park, Newcastle's stadium.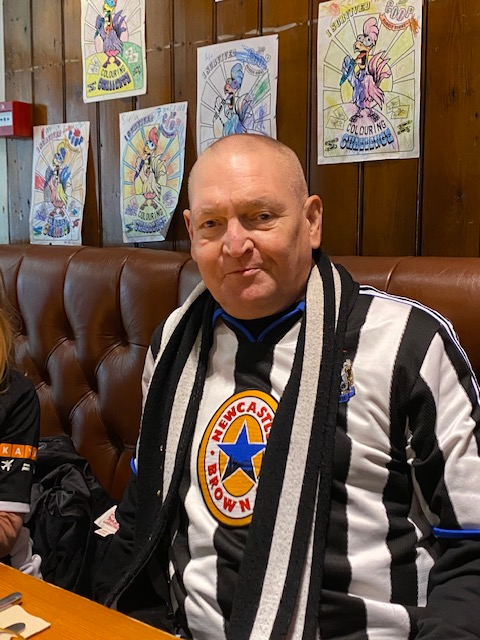 Burns has been going to Newcastle matches for six decades, since his father first took him when he was six. Supporting the team remains a family affair for him, his accompanying daughter, his son-in-law, and two grandkids. "It is like a religion. Once you've been bitten, there is no going back," he said, speaking in the same thick local accent that makes me ask everyone to repeat themselves. He claims there is no other place where a team is as passionately supported by its community – in part because there is only one team in the city proper and in part because Newcastle, in the far northeast of England, is perceived as both culturally and geographically distant from other major English cities.
If you know Newcastle only dimly from reputation, then you know about the city's beer, and you might know about the "foolishness of bringing coal." That expression stems from the city's pivotal role in economic history – an indispensable source of coal, and thus energy, for the industrialization of Britain and the growth of its empire. This gritty city gave much of itself so that others could flourish, and it has sought to reinvent itself in the post-industrial age as a cheerful, whimsical town of exuberant hills, stately architecture, and a scenic waterfront – a playground for its numerous university students, weekend visitors, and crazed football fans, all of whom can let their hair down and let go a bit, since they're practically in Scotland.
Newcastle United is currently struggling, in last place and in danger of being relegated at the end of the season. But now that the team has wealthier owners, Burns is looking forward to a turnaround. "I need to see them put their hands in their pockets and pull out the money," he said. "I expect them to do what Manchester City did, sure. Those are the least of my expectations."
Out from the Basement
There is no NFL-like parity in European football, not even an expectation or aspiration to attain it. While the level of inequality in England's Premier League, the most globalized major domestic sports league on the planet, isn't as stark as it is in the other European leagues, it is still a contest between haves and have-a-lot-mores. And Newcastle has for a long time been on the having-barely-enough-resources-to-compete end of the scale.
But now, Geordies – as locals are known – are giddily imagining what the Saudi Public Investment Fund's $450 billion in assets can do for them. Newcastle wouldn't be the first club to win the foreign money lottery and see their station in football life radically altered. In the past 20 years, Chelsea and Manchester City F.C. were acquired, respectively, by Russian tycoon Roman Abramovich and Abu Dhabi's Sheikh Mansour, and both clubs firmly established themselves in the top ranks of the game thanks to the additional investment. For Burns to allow Manchester City to set his expectations is ambitious: City has won five Premier League titles since the 2008 Abu Dhabi takeover.
I ask Burns if he has any qualms about his club being associated with the Saudis. He gives me a bit of a "there you people go again" scowl, then patiently and good-naturedly lets me in on a bit of a secret: The rest of the country likes to conspire against Newcastle, "to keep us down." Even the league's refs are mixed up in the conspiracy, mind you.
Burns says there is much hypocrisy and not a few double standards behind my question. "Why doesn't anyone care about Abramovich's human rights record?" Pause. "He isn't even allowed into the country," he said, alluding to the fact that for a time after the Russian state was considered to have been behind an attack on a retired Russian spy in Britain, the British government refused to renew the visa of the Chelsea owner, who is a close associate of Russian President Vladimir Putin.
Burns points out that the Saudis are welcome to invest in real estate and British companies, even to buy British armaments, and they have a strong relationship with the British government – but the minute they want to invest in Newcastle, suddenly everyone gets all excited. Which suggests to Burns that the outrage surrounding the deal is more about an aversion to Newcastle than to the Saudis.
Burns's son-in-law, David Jones, is more measured, admitting there are things to be troubled about with the Saudi owners but that they're beyond his control, as supporters have no say in who is allowed to control their teams. "And so, we have to distance ourselves from the politics, and focus on the sport in our community," he said.
Jones, a doctor, is a Newcastle immigrant, having come to the city initially as a university student. He soon joined the Toon Army, as Newcastle supporters are known. "You couldn't buy into the city without buying into the club," he said. He first lived a mile away from St. James' Park, from where he says he could hear the roar of the crowd when Newcastle scored.
"I had moved here from Preston, in the northwest, the hotbed of football," he said.
"No, no, THIS here is the hotbed of football," interjected his father-in-law, pointing down at the Chicken Coop's floor.
Sarah Jones, David's wife and Burns's daughter, offered a hopeful note about the Saudi takeover. "I think it can change things over there, in Saudi Arabia, as they come over here and become more familiar with our ways and experience more freedom," she said. "Their desire to engage with the outside world, and the attention that comes with that could be good for people back there as well."
There was no such hope when I asked the family who would win in the match against Chelsea. All five family members blurted out "Chelsea!" simultaneously.
Perceived Hypocrisy
Walking the uphill cobbled pedestrian streets from the Chicken Coop to St. James' Park – which looms over the city's center, as any proper cathedral should – I came across the Back Page, a football memoir shop that lovingly curates old matchday programs, jerseys, and signed memorabilia from club legends. As I poked around for a couple of minutes, a boy came in with his father and excitedly bought a Saudi flag. "Large," he said when offered a choice. The salesclerk told me they have been selling swiftly and that he wished he'd had more earlier.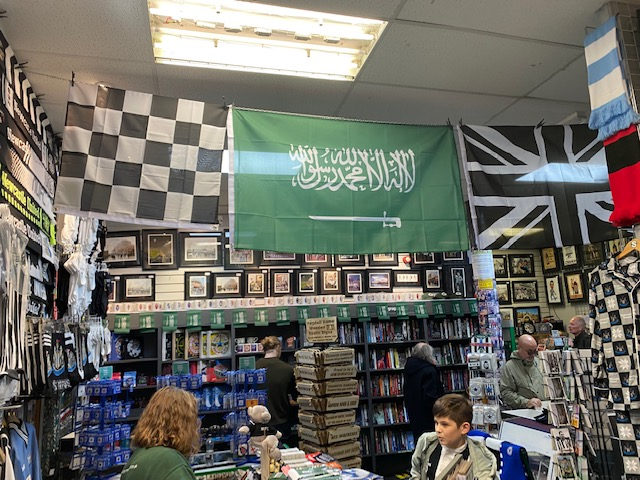 At St. James' Park, as is true across the entirety of English football, the anti-racism, anti-discrimination messaging is relentless, with signs everywhere advising fans to text stadium authorities to help them crack down on any forms of discrimination. The club's avowed values, the signs assure us fans, are "Diversity. Inclusion. Welfare."
Given the treatment of women and gays in Saudi Arabia, to say nothing of the treatment of independent journalists, it is tempting to text something snide about discrimination in the new owners' backyard. Earlier in the week, when Josh Cavallo, a player in Australia's A-League became the only current top-division player in the world to come out as gay, Newcastle tweeted its support. The backlash to the perceived hypocrisy on the part of a club owned by a regime that persecutes gays was as swift and ferocious as you might expect.
United with Pride, Newcastle's own LGBTQ+ supporters group, has endorsed the Saudi takeover and is rebuffing invitations to join other clubs' LGBTQ+ supporters groups to organize coordinated protests against the new owners. United with Pride said in a statement: "There is potential to be a positive influence to improving the conditions of the LGBTQ+ community in Saudi Arabia and elsewhere," given that the owners will experience how minorities are treated elsewhere. The group has also said it is heartened that a woman figures prominently in the new executive team.
On the road, other clubs' supporters have been mounting protests over the Saudis crashing their league. The weekend before the Chelsea match, at Crystal Palace, fans unveiled a massive banner mocking the Premier League for its vetting of prospective owners. The image showed an owners test checklist that included terrorism, beheadings, civil rights abuses, among other atrocities, and a Saudi in traditional dress wielding a bloody sword. The Premier League initially announced it would investigate the protest as a racist incident but then backtracked. (Newcastle had tied itself into knots earlier by telling fans not to wear head coverings or other traditional Arabic attire as a gesture of support, and then reversing itself and saying it was OK to do so.)
'Bringing Attention' to Human Rights Violations
Along with more than 52,000 other spectators in the sellout crowd at St. James', I was treated to a turgid Newcastle performance. The team managed to cling to a 0-0 tie come halftime, but Chelsea finally proved too much for Newcastle in the 65th minute, scoring the first of three goals.
By the end of the match, the Chelsea fans corralled into the away section were chanting melodiously "You are f**** sh***" and "You are going down," referring to the possibility the club might end the season in one of the league's bottom three spots, thereby being relegated to the lower division.
Yet the atmosphere in the stadium was strangely upbeat, energized. A month ago, the same performance likely would have elicited groans, boos, and chants against ownership from the crowd, that restless desperation of fans who see no way out for their team's awfulness. But this awfulness doesn't matter, not anymore, other than as a reminder of what new ownership promises to change.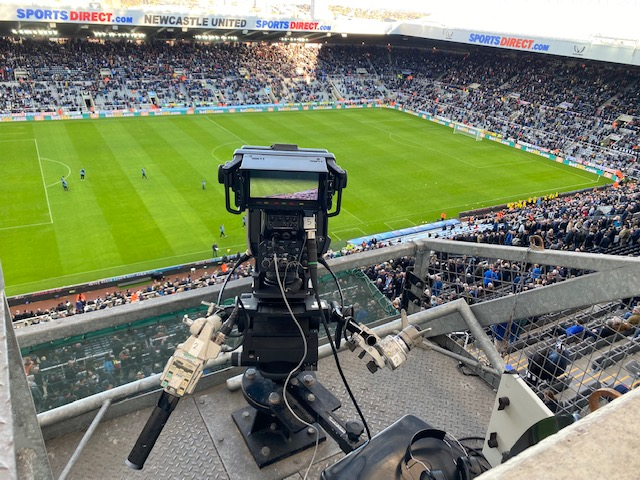 Olly, an 18-year-old season ticket-holder sitting next to me, advised me to "come back in 10 years when we're top of the table."
When asked how he feels about the takeover, Olly said he is very excited. But he also acknowledged it would be "daft" to say that what happens in Saudi Arabia doesn't matter.
"Of course, the situation in Saudi Arabia matters, and from what I hear it includes some horrible human rights abuses," he said.
Echoing Sarah Jones and the United with Pride supporters group, Olly added: "My hope is that this will help improve things there, bringing attention to the situation. More people now know about the situation in Saudi Arabia than ever before, and that awareness will only grow as we get better and draw more attention."
It's a tidy rationalization, but it seemed sincere: Newcastle could just save Saudi Arabia while the Saudis are saving Newcastle.
David Taylor, a Newcastle native and lifelong United fan now working as a journalist in London, doesn't buy it. "I'm appalled that my club is being taken over by owners that don't respect human rights, and I'm honestly quite ashamed that more Newcastle supporters aren't speaking up," he told me.
Taylor feels a complicated mix of emotions. It isn't as if you can switch club allegiances as an adult, and an ownership group doesn't define the club or its history. "My view is it will always be our club, no matter which new owner with an agenda comes along," he said. "But if it is ours, and it is supposed to represent something we're proud of, we probably have to work to make sure the club stands for something that matters – and that's not just about football anymore."
Taylor also helped me understand some of the Geordie resentment toward the rest of the league's opposition to the deal, including instinctive pushback. Newcastle and the rest of the northeast of England have experienced periods of decline and a sense that London elites are content to see the region suffer from lack of investment. And now, as Jim Burns was quick to point out to me in the Chicken Coop, the minute Saudi investors want to invest in Newcastle United – and the broader community, it is hoped – people in London tut-tut about how inappropriate it all is.
'Sportswashing' or a Winning Lottery Ticket?
The other Premier League teams have rushed to try to slow Newcastle's ability to convert the new owner's deep pockets into overnight sporting success. When Roman Abramovich acquired Chelsea in 2003 and the Abu Dhabi group acquired Manchester City in 2008, both teams were transformed in short order by the injection of previously unimaginable resources, and trophies soon followed. But since then, "fair play" financial rules that seek to ensure that teams live within their means have been tightened, conveniently protecting the larger clubs from the upwardly mobile aspirations of smaller competitors. If clubs can spend only according to their current income, it becomes harder for their owners to inject additional investment to fuel rapid growth.
Related-party transactions have often provided a shortcut by deep-pocketed owners to subsidize supposedly organic growth. Qatar and Abu Dhabi made such deals after they took over Paris St. Germain and Manchester City, respectively. The Newcastle version of this – as fearfully envisioned by the other Premier League clubs – could see other Saudi companies controlled by the Public Investment Fund and its chairman, Crown Prince Mohammed bin Salman, agree to inflated sponsorship deals with Newcastle. The club could, for example, sell its jersey sponsorship to the Saudi airline or oil company for $100 million a year even if those rights might command only a tenth of that in the marketplace.
Over Newcastle's objections, the other Premier League clubs recently met to approve a temporary restraint on such related-party transactions, pending a new policy on how to review them to ensure fair value. Sorting out such issues will employ legions of lawyers, but for many Geordies, the perception will be that across a number of fronts Newcastle is being singled out and not allowed to do what others have done before.
Some call it a double standard. Others will call it progress. The world is changing; global sport in 2021 has become more socially conscious than in the past, or at least strives to be. It is the reason Newcastle wants me to text the authorities if anyone feels discriminated against in the stadium. It's the reason all Premier League players take a knee before the start of every game.
The larger unresolved question hovering over the Newcastle saga involves the role of sport in society and the nature of a professional sports team as a community asset. Who is entitled to act as the steward of these assets? Does the highest bid, an imposing balance sheet, and a strong credit rating qualify you, by definition? The Premier League's existing "Owners' and Directors' Test" suggests so.
The Saudis had been interested in taking over Newcastle for a while, but last year the deal hit an impasse and appeared to be off for good. At issue was not the Saudis' human rights record, mind you, but rather a dispute between Saudi Arabia and Qatar – a dispute that included Saudi pirating of Premier League broadcasts from Qatar's beIN sports network, and questions about whether the Public Investment Fund is a separate entity from the Saudi state. Once the Qatari issue was resolved and the league procured a dubious legal finding from obliging counsel that the sovereign wealth fund is sufficiently autonomous from the Saudi government, the deal was back on.
Human rights activists are appalled, and they had been appalled even when the deal appeared to be off, because they deemed it was for all the wrong reasons – a commercial dispute with the league's TV rights' holder in the Middle East.
Even if it had been inclined to block the Saudi takeover of Newcastle on some loftier moral grounds, it isn't clear that the league could have legally done so, lacking the discretion to bar prospective owners who haven't run afoul of certain defined disqualifying events, such as a past conviction for financial crimes. The vetting of prospective owners, such as it is, has developed with an eye toward preventing speculators with insufficient means from taking over cherished community institutions and running them aground. Filters aimed to avoid that category of disasters are not going to pose a problem for the world's deepest pockets.
League critics believe there ought to be a broad "good character" corporate governance clause that might bar you from buying into the most prestigious sports league on earth – thereby "sportswashing" your reputation – if you have bombed Yemen, enslaved women, jailed homosexuals, or dismembered a journalist in one of your diplomatic missions. Even FIFA's own statutes, after all, talk about promoting human rights.
On the other hand, it's understandable that the Premier League might feel constrained to make its own moral judgments, as opposed to taking its cues from the world in which it operates. Saudi Arabia is a close British ally and trading partner. The Public Investment Fund owns stakes in such blue-chip companies as Disney, Boeing, Uber, and Citigroup. Should sport be any different, upholding a different standard? And if you raise the bar and do set a different standard for owning a league club, how many current owners do you disqualify? Or would the Saudis alone be beyond the pale? Still, ongoing tensions surrounding the Saudi takeover of Newcastle appear to have contributed to EPL chairman Gary Hoffman's recent resignation.
Amnesty International has proposed a human rights-compliant revised Owners' and Directors' Test, and the Premier League has agreed to meet with the human rights organization to discuss it. Sascha Deshmukh, Amnesty's UK CEO, said in a statement that he was keen to engage with the league in developing a new test that "can help weed out unsuitable owners complicit in human rights violations, as well as reducing sportswashing and generally improving the governance of the game."
The Saudis are likely in the league to stay, and Geordie fans aren't wrong that they will face greater scrutiny as a result. Whether this leads to meaningful changes in the kingdom, or merely smarter PR on its behalf, remains to be seen; though the odds would seem to favor the latter.
Meanwhile in Newcastle, at St. James' Park, the Toon Army will continue feeling that their bags are packed to embark on a journey to a new life – or to move into their new mansion. The metaphors are as numerous and varied as the Saudi riches fueling them.
They wait, in this curious interim. The old coach has been fired and a new one hired as Amanda Staveley looks down on the matches with serenity, much like Richmond's owner Rebecca does on "Ted Lasso." She, along with everyone else, must wait until January to dip into the new ownership's resources to reinforce the squad mid-season during the January transfer window. Until then, fans have a winning lottery ticket burning a hole in their pockets – and they can't yet collect on it.