Culture
Phaidra Knight's next move: Retired from rugby, pursuing new dreams
Why this matters
Rugby star, Phaidra Knight, reflects on her journey through rugby and coming out of retirement to compete in MMA
Occasionally, Phaidra Knight gets blown off course, abandons the plan and charts a new adventure.
That's how she graduated law school but pursued a professional rugby career. And it's how she got wooed out of retirement in her mid-40s to train in mixed martial arts (MMA).
"Off with one hat and on with a new one," she says, adding, "Why not?"
Eclectic goals keep her life percolating. She tried out for the U.S. Olympic bobsled team; taught rugby to incarcerated youth at New York's infamous Rikers Island jail; and shot a scene in a forthcoming Halle Berry film. But what cements her place in history is her excellence in rugby. A top performer in three World Cup Championships for the USA Eagles, she's a World Rugby Hall of Famer, and in 2010 she was named USA Rugby Player of the Decade.
Black girl, white sport
It might seem odd that a black girl from a town in the South would cross paths with a sport born in the 1800s at England's Rugby School.
Knight, who now lives in New York City, grew up about 100 miles southeast of Atlanta in Irwinton, Georgia, which she remembers as a place with one stoplight and a single gas station. Her mother taught school, her father farmed, and she and her sister picked vegetables to earn money for school clothes.
Local kids favored basketball and football. Knight yearned to play the latter, but there were no girls teams, so she went out for basketball and tennis. Even in co-ed pursuits, though, she said, she found that "girls were not encouraged in the way boys were."
During her undergraduate years at Alabama State University, she set aside sports altogether and focused on her double major: political science and speech communications. But by the time she entered the University of Wisconsin Law School, she missed team competition. She planned to try out for the Badgers' basketball team, until someone at a party encouraged her to check out rugby. The person described the sport—which she'd never heard of—as a cross between soccer and football, the game she longed to play. (Canadian and US gridiron football developed from rugby.)
"They threw me the ball and told me to run," she recalls. "I ran through everything, and I ran through everybody. … I thought, 'Whoa! I love this!' And they said, 'Whoa, put her in the game!' "
Like Knight, many women have become passionate about rugby, and it's estimated that by 2026, approximately 40 percent of players will be female, according to an HSBC Report. (Read the love letter to rugby she penned for Global Sport Matters here.)
After practicing law for a couple of years, Knight knew her fortunes lie elsewhere. She embraced rugby as a career. Besides testing her physical abilities, it gave her a safe space to channel pain from trauma she'd experienced as a child witnessing abuse within the family.
"It kind of saved me," she reflects.
She also has tapped into conventional therapy for those times when she didn't get picked for the team, relationships fell apart or difficult emotions rocked her world.
"You don't always get the trophy," she observes.
Leaving the field
As she was about to hunker down to train for the 2017 Women's Rugby World Cup, NBC Sports asked if she was open to calling games instead of playing that year. The offer came when she was debating retirement. It also reminded her of a dormant interest she held in being on TV, and so, after nearly two decades, she walked off the field, slipped on a headset, and climbed into broadcast booths across Ireland.
"Most opportunities to commentate go to men," she says. "Even the most decorated player doesn't necessarily get those opportunities." She's also called play-by-play for ESPN and several streaming services. And, still, as a black woman in a broadcast space that is mostly white and male, she can feel like "the unicorn in the room."
Last spring, life spun her in a new direction. She and her partner, the CEO of a tech company, were on vacation, discussing Knight's love of Brazilian capoeira and jujitsu.
"You'd be really amazing at mixed martial arts. I think you should fight," Knight's mate suggested, and the retired rugby player thought, Why not?
A week later, she was training full time.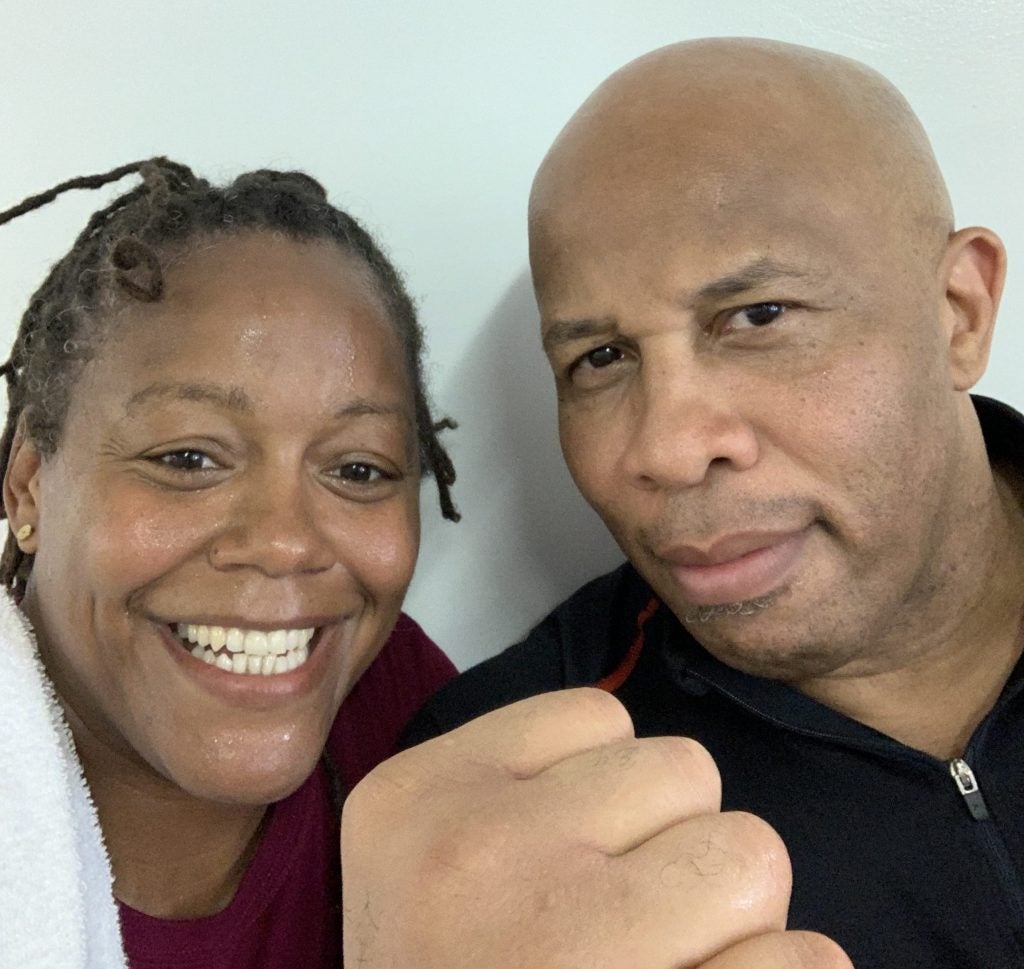 Monday through Friday, she wrestles, spars and lifts weights, with lots of recovery time layered in. That includes brain-calming treatments, stretching and massage.
Standing 5 feet 5 inches and once weighing in at 181 to power down the field, she has shed nearly 20 pounds since September.
Being bulked up is great for rugby, she explains, but "it's not conducive to the lifestyle I want to lead now." Also, MMA's middleweight class tops out at 145 pounds.
"There are no age categories," she notes, "which makes me an anomaly: Women tend to retire from the MMA in their middle 30s, while men tend to retire in their late 20s."
She's already scored a success in the new arena: Through her speech coach, Denise Woods—who also works with Halle Berry, Mahershala Ali and Idris Elba—Knight got to be a scene in Berry's directorial debut, "Bruised," shot at a Newark, New Jersey, gym. The story is about a disgraced MMA fighter who seeks to reconnect with her estranged son.
Coaching the next generation
This is a phase in life where Knight is more focused on giving back. She has coached rugby at Princeton University in New Jersey and Monroe College in New Rochelle, New York, as well as on the MTV show "Made." For the latter, she not only gave a young woman guidance in sports but also helped her gain perspective on discipline and dealing with family.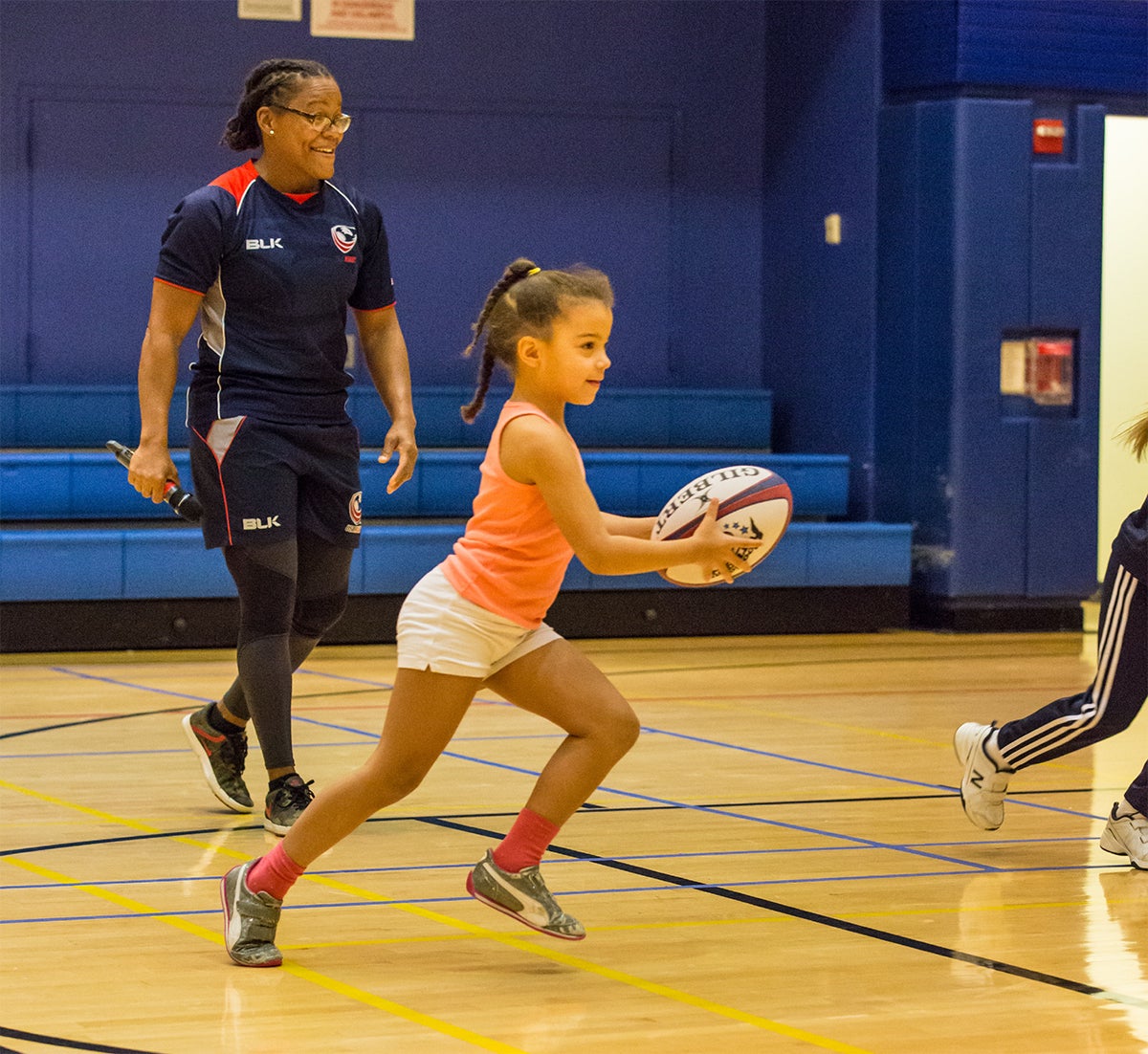 In 2010, Knight coached rugby and CrossFit for high-school-age boys serving time on Rikers Island. Then, about two years later, as she headed out of her apartment, a young man approached her.
"Hey, Miss, I remember you," he said. "You taught me rugby at Rikers."
He told her he'd stopped selling drugs, enrolled in school full time and had begun to make better life choices.
"It was very moving," she recalls.
Feedback like that served as the impetus for her nonprofit, PeaK Unleashed, where she reaches out to incarcerated and at-risk youth to be "a river of hope and give them a place where they can release aggression, come together with other like-minded people, and find community."
A motivational speaker, Knight serves on the USA Rugby Board of Directors and the Board of Trustees for the Women's Sports Foundation.
"We firmly believe that the development of women in rugby is the single greatest opportunity for our sport to grow in the next decade," World Rugby chairman Bill Beaumont said in May 2019.
Knight and her partner enjoy watching rugby matches, catching a movie and hanging out with their two dogs. But always in the back of Knight's mind is the awareness that, in Summer 2020, at the ripe age of 46, she intends to fight her first opponent.
"In rugby, you knock the daylights out of somebody and run away, but in MMA, there's no running away," she says.
She's already battled back from so many injuries, including a broken ankle, a broken foot and a cracked orbital. She once had to undergo eyelid surgery.
The new sport involves hand-to-hand combat, which likely means getting punched in the face. She realizes that could get old quick.
So if MMA turns out to be a passing fancy, she'll move on to the next adventure.
Pamela K. Johnson is a writer, novelist and filmmaker who lives in Southern California.