Culture
Voices: Jordan Marie Daniel is running for those whose voices were stolen
Why this matters
Voices is a series of first-person essays from people across the sport spectrum revealing the impact of sport in their lives. Using her running to bring attention to the missing and murdered indigenous women, Jordan Marie Daniel makes a statement with every mile.
My name is Jordan Marie Brings Three White Horses Daniel, a citizen of the Kul Wicasa Oyate, the Lower Brule Sioux Tribe in South Dakota.  I grew up in South Dakota until I was 9 years old when we moved to Maine. Growing up away from my tiwahe (family) and oyate (nation) was very hard.  Knowing I was different, I struggled to fit in. Feeling the impacts of racism as well as all the things an adolescent experiences in their early teen/adult years in that small, forested town, made me not love my skin and who I was: a Lakota woman. 
I'm a fourth-generation runner.  It's in my family, it's in my blood.  My lala (grandfather in Lakota), Nyal Brings Three White Horses, was an accomplished and well-known runner and multi-athlete who was a credited 4:10 miler in the 1950s. He was an automatic role model and inspiration for me.  He took me on my first run when I was 10 and it's an experience I will never forget.One thing that remained constant, and something I found joy in and appreciated more and more, was running. Aside from being a competitive runner, I've found a new purpose in my running. I'm running for justice, to raise awareness of an epidemic and national crisis: missing and murdered indigenous women and girls. My body is a messenger in this journey and I paint it on my body to honor, remember and recognize those stolen from our communities.
My Ina (grandmother in Lakota), Terra Beth Brings Three White Horses Daniel, an accomplished sprinter for her time who trained  for the 1988 Olympics, also was my role model and inspiration.  Following in their footsteps, as well as those of my great-grandfather, has been an incredible journey.  My family never pressured me to run. In fact, my dad and mom tried to get me to play other sports. I enjoyed them but never felt coordinated enough or good enough.  Running came natural to me. At times, I tried to resist running, from my own pressures, but I kept with it because it's what my family did and it was that connection I felt to them.  
I ran in elementary school, high school, D1 at the University of Maine and I continue to compete.  Luckily, my coach has been very understanding and accommodating with my choice to put my career first while trying to train.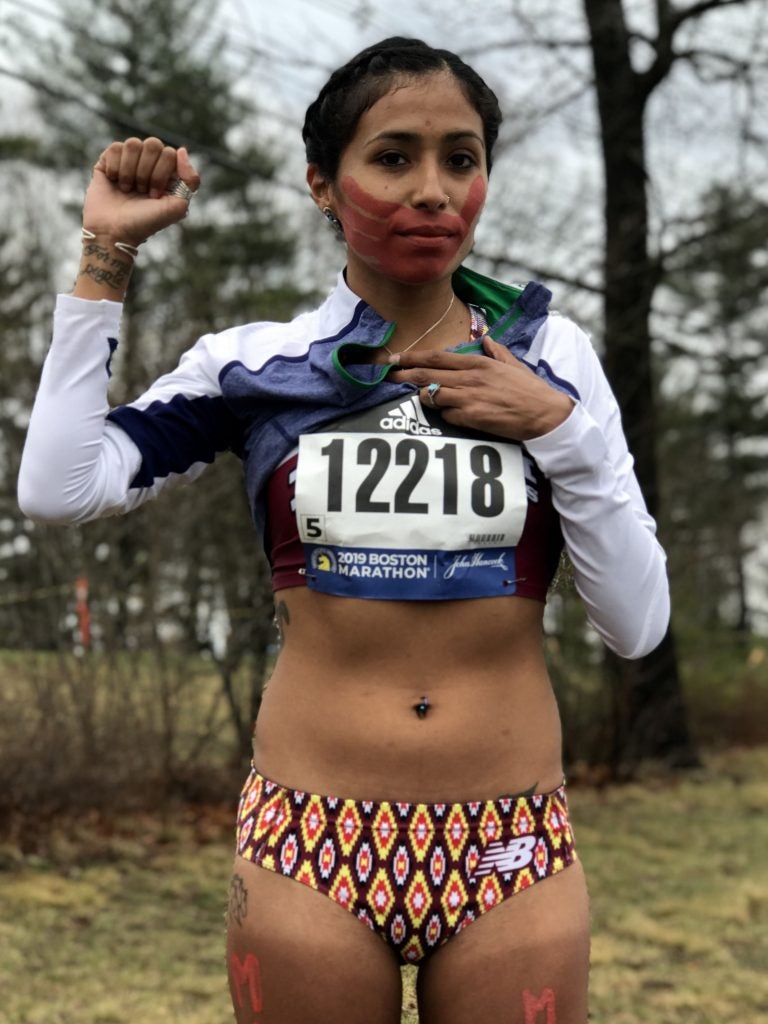 It's been my dream since eighth grade to live in Washington, D.C. and advocate to help create a better future. In 2013, that dream happened.  For nearly five years, I was an Indigenous grassroots organizer, founding Rising Hearts to help elevate and center Indigenous voices and the things we are fighting to protect in the wake of the Standing Rock Sioux Tribe's protests against the Dakota Access Pipeline.
I found new meaning in advocacy in fighting for our people, for our Unci Maka (Earth), our climate, and for our future generations, as well as working full-time jobs helping and supporting Native people. I knew this was the work I was meant to be doing.
Even though I felt burned out and didn't get much sleep, I met so many wonderful people and helped to activate movements to gain more allies. It was all worth it, and still is. 
In August 2016, I organized my first event with help of a Tohono O'odham friend, to welcome the Standing Rock youth to Washington, D.C.  They ran over 2,000 miles to raise awareness of what was happening in Standing Rock, to oppose the Dakota Access Pipeline (DAP), to collect signatures along the way and to deliver that petition to President Barack Obama.
This stand against big oil and corporate greed showed our youth they would not be silenced. Running from the Supreme Court to the Army Corp of Engineers Headquarters with police escort, scheduling private meetings for the youth and providing food and water, I wanted nothing to do with organizing ever again. It was stressful.  I wanted to only support and volunteer for those that do this work.
During that time, my lala Nyal was dying from cancer. The last thing he knew I was doing before he passed away was organizing for our youth, which he said made him proud  because he was a big advocate for our Native youth. Knowing all this, I hoped this would make him proud.
While grieving him, I wanted to honor his life, but I was doubting running. I wondered how I could honor his life and help others. I saw the youth I had welcomed being attacked on the frontlines in the fight against DAP. I started showing up to rallies and marches, began organizing them myself and partnering with other indigenous people and allies. 
I saw our youth run to raise awareness of things they cared about.  I ran for organizations like Running Strong for American Indian Youth, the non-profit co-founded by 1964 Olympic gold medalist Billy Mills, an Oglala Lakota, and Wings of America to raise money for programs that support Native youth.  I ran in prayer vigils before. But never, not once, did I think to combine advocacy and competitive running together. I kept them separate and looked at them separately. I only knew how to run and compete. I even dedicated my bib numbers to the epidemic of missing and murdered indigenous women and girls (#MMIWG) at the San Diego Half Marathon in 2018 and 2019.
But in April 2019, all that changed. 
I had the opportunity to run the Boston Marathon for Wings of America. I was able to chaperone five Native youth juniors selected to have a college visit with Harvard University and to run in the BAA 5k.
A month prior, I dedicated my bib number to raising awareness and honoring #MMIWG  in hopes that it would spark conversations to bring attention to this epidemic. This epidemic and national crisis is seen and is well known within Indigenous circles.  This reality and epidemic extends beyond borders. 
On race day, I decided to run in prayer for #MMIWG.  I asked my parents to find red face paint for me, but I didn't tell them why.  As my partner was driving me to the buses in Hopkinton, Massachusetts, I painted the letters MMIW on my leg and arm, as well as a red hand print to cover my mouth. 
Red represents the movement and the hand print represents all the voices who have been silenced by the long-standing violence our women, girls and relatives continue to experience.  I had seen other Native women with this handprint at rallies and marches. I had seen some relatives with a black handprint over their mouth to raise awareness of those who experienced violence due to the oil pipelines that have man camps near our communities. I felt this symbol and meaning was honoring those stolen. I figured that it would at least be known by our relatives.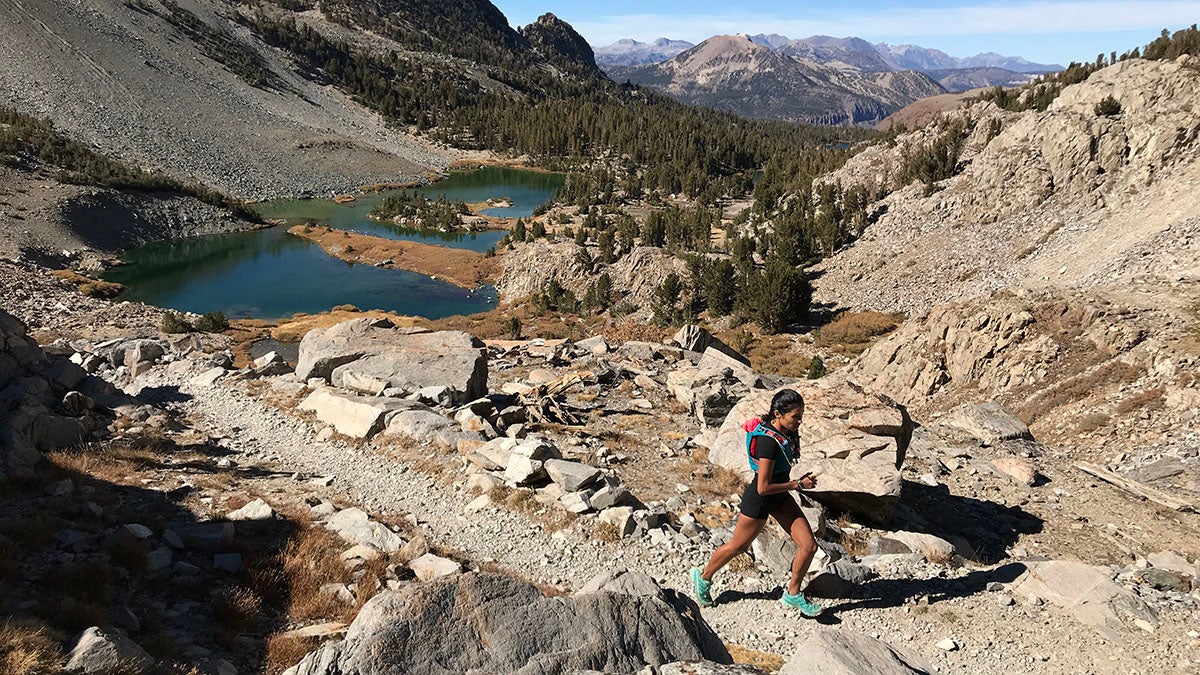 I had 26 names that I dedicated each mile to with a prayer.  After the prayer, I took time to enjoy the remaining mile to be present and to enjoy this run.  Coming into the finish was emotional. It was heavy. I was in pain, only to realize the pain I felt was nothing compared to what our missing and murdered have felt and what their families continue to feel.  In the last two-tenths of a mile to the finish line, I dedicated a prayer and said my lala Nyal's name out loud and just heard him say "You got this, girl" in my head (something he would always say to my Ina and I). 
When I ran the race in 2016, injured and defeated, I finished, and my lala knew I was disappointed, but he was proud I pushed myself to finish. This 2019 finish was for him.
After the finish line, I was greeted by another inspiration, Patti Catalano Dillon, a Mik'maq woman and marathon runner.  She won the NYC Marathon and became the first woman to run sub 2:30. I told her about my prayer run and began crying. She embraced me and acknowledged the difficulty in my reasons to run. But she understood.  So many of us know this epidemic and are impacted by it in some way or another, directly or indirectly.  
With one picture, the hashtags, and the names I ran for, along with facts about this epidemic, our run went viral. To be honest, I thought no one would care (outside of Indigenous circles). This led to amazing opportunities with coverage appearing in such venues as Sports Illustrated, Runner's World, Native Max Magazine, Indian Country Today Media Network, Rambling Runner's Podcast, Airlibre Running – Beyond Running Podcast, Woman of Size podcast, Footwear News, as well as other publications.
I was cast in an MMIW PSA for a film to document this movement and epidemic.   This run inspired younger generations like Rosalie Fish (Cowlitz) to reach out to me and ask for my blessing to the do same at her state meet in Washington. Her prayer run and advocacy have gone viral as well.  Cross country teams like the Hardin (Montana) Bulldogs and Mahpiya Luta have run in prayer for MMIW with the red hand print at their state meets. And it has led to many more runners and Native running groups like Running for Our Lives to dedicate their runs to raise awareness about this epidemic. 
Running doesn't have to be just about getting a fast time.  It took me a long time to figure that out. But having dedicated four races in prayer so far, with every mile for a missing and murdered women, girl, elder, baby, two spirit, man, boy, relative, it has created a new platform for this epidemic to be seen and heard.  It is being seen by a new audience. It has given me a new purpose with my running. 
These past several months have been a whirlwind, but it's been worth it.  I did have really tough, dark times. Running for our stolen, knowing their names, knowing that finding the names seems to be endless, knowing the facts of what happened to them and the stats, consumed my mind and body.  I suffered from depression and anxiety this summer. It's something I am still dealing with and learning to manage, while creating healthy boundaries to protect my mental and physical health. It's a process. But it's coming along and I'm slowly healing, a process I don't want to rush.  Getting through those tough times, I have my family, my partner, my closest friends, and supporters to thank. At my weakest, and what felt like my most vulnerable moments, they were there to be a shoulder, a hug, and were there to encourage me.
My running is different now.  My perspective has changed. I still have my running goals but I believe that once I find a way to do this in a good, healthy way for myself and for those for whom I run, those goals are that much more attainable because I am running for something beyond myself. I have meaning and purpose in my running.  I am blessed and honored to share and create this platform for missing and murdered indigenous relatives.
For those reading this, you can have an impact in this life.  You can make a difference. If you believe in something worth fighting for, do it.  Even if it's just you. Your voice and action can have a profound impact and influence in a small or big way.  Our paths and background may be different, but we are human, we are part of this beautiful world, and I truly believe that we can make a difference and create a better future for our future generations.
Mitakuye Oyasin, we are all related.
Tags:
#MMIWG
,
billy mills
,
Boston Marathon
,
Dakota Access Pipeline
,
Jordan Marie Daniel
,
Kul Wicasa Oyate
,
Lakota
,
Lower Brule Sioux Tribe
,
Maypiya Luta
,
Mik'maq
,
missing and murdered indigenous women and girls
,
Nyal Brings Three White Horses
,
Oglala Lakota
,
Patti Catalano Dillon
,
Rising Hearts
,
Rosalie Fish
,
Running
,
Running for our Lives
,
Running Strong for American Indian Youth
,
San Diego Half Marathon
,
Standing Rock Sioux
,
Supreme Court
,
Tohono O'odham
,
University of Maine
,
Voices
,
Wings of America