Culture
Archive
FIFA says Iran will allow women to attend World Cup qualifier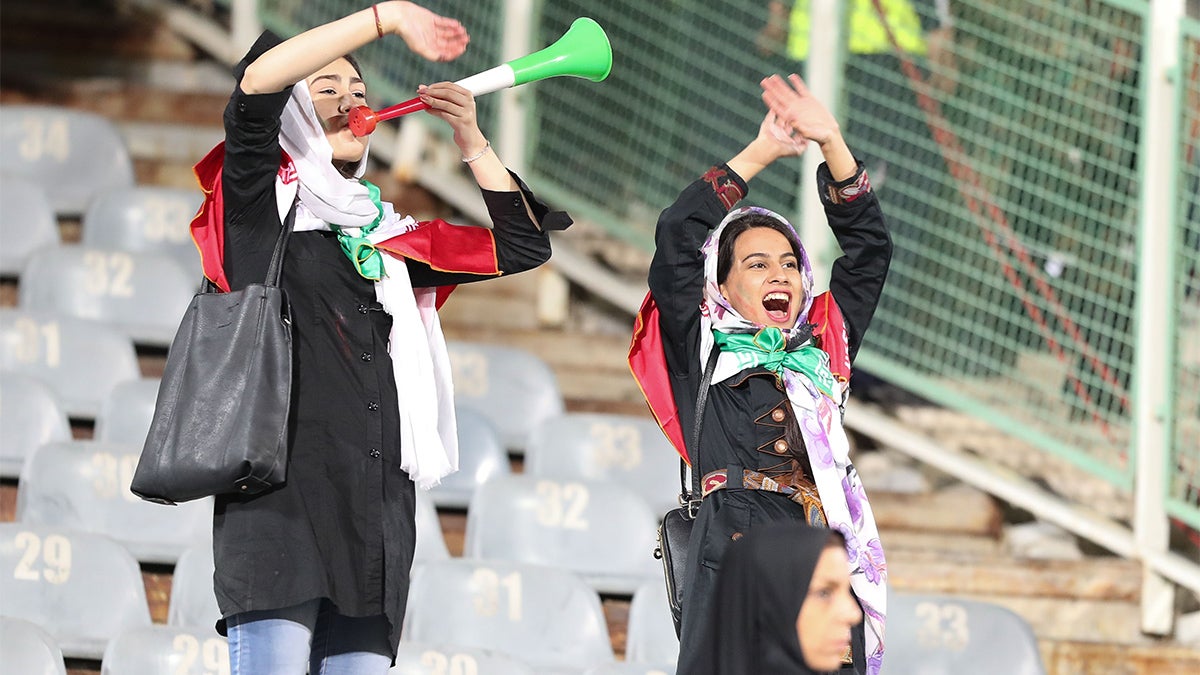 Since Iran's Islamic Revolution in 1979, women have been banned from attending soccer matches with few exceptions. The tragic death of soccer fan Sahar Khodayari might change that.


Khodayari, an Iranian soccer fan known as "Blue Girl" for the blue clothing she wore in support of her favorite team, set herself on fire and died in September 2019 after she was caught dressing like a man and attempting to sneak into a stadium. Following her death, FIFA, the governing body of international soccer, labeled the ban "unacceptable" and demanded that it be lifted. 
Coincidentally, only a few months earlier the United States Women's National Team hoisted the FIFA Women's World Cup in France following a 2-0 victory against the Netherlands. It was viewed as a moment of empowerment for women across America and the world.
However, just more than 3,000 miles away in Iran women are not allowed to enter a sports stadium to watch a match. 
In March 2019 Khodayari attempted to disguise herself as a man wearing a wig and coat in an effort to enter an Asian Champions League match featuring her favorite team, Esteghlal. She was arrested and charged with committing a "sinful act" by appearing in public without a hijab.
Khodayari faced six months in jail if convicted of the violation, which resulted because of Iran's unwritten code barring women from soccer matches. When she learned that she could be sentenced to six months in jail, Khodayari doused herself with gasoline and set herself on fire outside the courthouse.
Her death was not acknowledged by state-run media of Iran. However, FIFA released a statement that said, "FIFA convey our condolences to the family and friends of Sahar and reiterate our calls on the Iranian authorities to ensure the freedom and safety of any women engaged in this legitimate fight to end the stadium ban for women in Iran."
Speaking at a FIFA conference in Milan on Sept. 29, CNN reported FIFA president Gianni Infantino said he had been "assured" women will be allowed to attend Iran's next match against Cambodia on Oct. 10. 
"We've been assured that as of the next international game of Iran, which is to be played on October 10, women will be allowed to enter football stadiums," Infantino said, according to the network. "This is something that is very important, since 40 years this has not been happening with a couple of exceptions."
Khodayari's death sparked both condolences and outrage from members of the soccer community in Iran and around the globe.
Masoud Shojaei, the captain of the Iran men's football team, said on Instagram that the ban is "rooted in outdated and cringe-worthy thoughts that will not be understood by future generations".
Phillip Luther, Amnesty International's Middle East and North Africa Research and Advocacy Director, condemned the Iranian ban in a statement released by Amnesty International.
"What happened to Sahar Khodayari is heart-breaking and exposes the impact of the Iranian authorities' appalling contempt for women's rights in the country," Luther said. "Her only 'crime' was being a woman in a country where women face discrimination that is entrenched in law and plays out in the most horrific ways imaginable in every area of their lives, even sports." 
A.S. Roma, an Italian Serie A football club, released a statement on Twitter saying that "the beautiful game is meant to unite us, not divide us."
#ASRoma is yellow & red but today our heart bleeds blue for Sahar Khodayari. The beautiful game is meant to unite us, not divide us – that's why we set up @ASRoma_Persian last year. Now it's time for everyone in Iran to be allowed to enjoy football matches together. RIP #BlueGirl pic.twitter.com/twB6KDvkJS

— AS Roma English (@ASRomaEN) September 10, 2019
Infantino has not relented in his demand that Iran lift the ban.
"Our position is clear and firm," he said in a statement. "Women have to be allowed into football stadiums in Iran. We understand there are steps and processes that need to be taken before this is done in a proper and safe way but now is the moment to change things and FIFA is expecting positive developments starting in the next Iran home match in October."
The Iran Men's National team begins it's World Cup qualifiers on Oct. 10 against Cambodia at Azadi Stadium in Tehran.
While FIFA attempts to make efforts to promote equality in Iran, some believe that FIFA may have actually played a part in this tragedy. 
Activist Maryam Shojaei, a member of the women's advocacy group Openstadiums, and sister of Masoud Shojaei, has written eight letters to president Infantino detailing the challenges of female soccer fans in Iran.
Sahar Khabazi, the Blue girl,
passed away monday morning.

If humiliation, detention and prison wasn't enough for #FIFA to take action now one us burnt herself to show Iranian women want to watch football too.#دختر_آبی

— OpenStadiums (@openStadiums) September 10, 2019
According to CNN, Shojaei said, "I think FIFA is the one to blame and if they enforced their own human rights and gender discrimination rules, Sahar would have been alive today." 
Chase Williams is a senior sports journalism major at Arizona State University
Related Articles
#Bluegirl's death launches global protests against Iran's stadium ban
Iran censors soccer broadcast due to female referee's attire
Inequality, corruption continue to hamper women's football globally