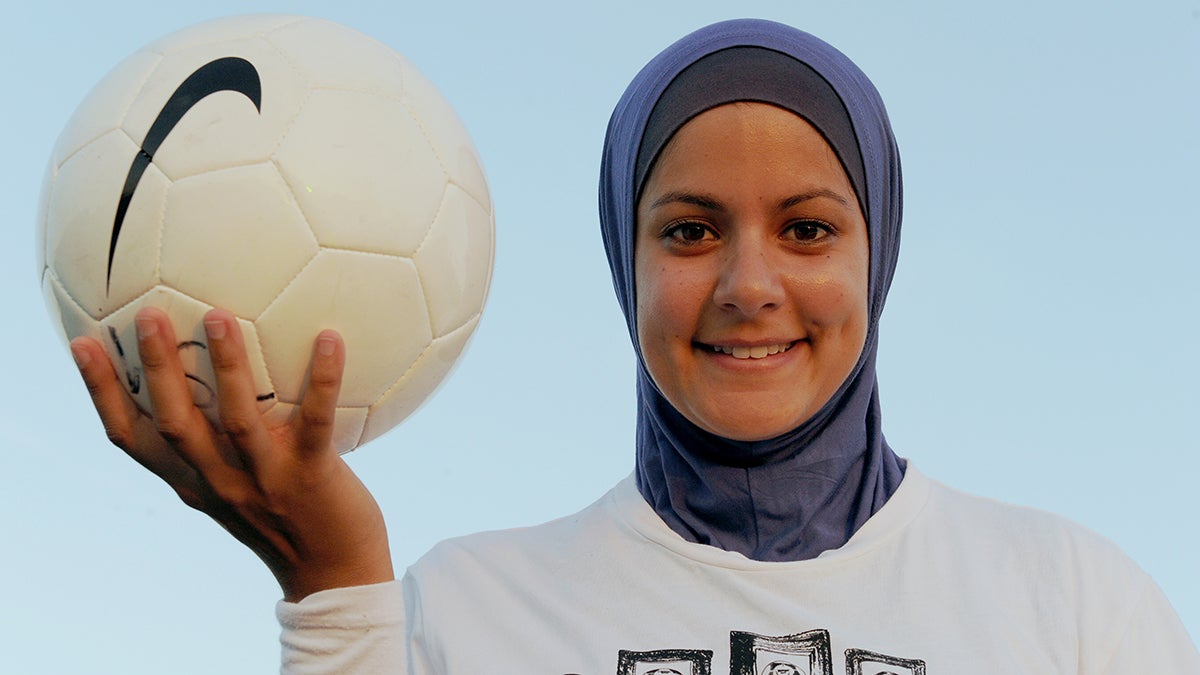 Football is full of incredible histories, many that remain undocumented and unknown. In particular, women's football history gets left aside. There are efforts by historians and football lovers to educate the public on the incredible contributions of women in football. On International Women's Day I was at the National Football Museum in Manchester for a women's football conference to present on football and the hijab to a room of academics and researchers. Although there is much to be celebrated, there is still a sordid past that, as footballers, supporters and writers, we must understand in order to do justice to the beautiful game. There are stories that are hard to tell but must be told.
Asmahan Mansour. That name has stayed with me for more than 10 years. Mansour was the Canadian girl at the centre of what would become an exclusionary ruling by FIFA to ban the hijab from the pitch. In 2007 the young footballer from Ontario attempted to wear a headscarf at a tournament and was not permitted to play by the referee. She was told she could remove it and play but her hijab would not be permitted on the pitch. Her team, from the capital, Ottawa, withdrew from the event in the Québécois city of Laval in response.
The issue with Mansour went to the Canadian Soccer Association and then to FIFA, which decided to uphold the ban and create a policy around it but exempted head coverings that exposed the neck. Despite the fact there was no empirical data or evidence on file that a hijab could strangle a player or injure an opponent, the equipment regulation concluded it was dangerous. This was the basis under which the referee ejected Mansour.
The net result was Mansour did not play. Nor did thousands of girls and women for almost seven years afterwards.
Initially FIFA cited "religious symbolism" as a reason for not permitting head coverings. But that was too difficult to enforce considering the multitude of tattoos, signing of the cross and goal celebrations by prominent male footballers that would have had to be monitored and enforced. So it stuck with "health and safety" as a weak shield for its policy.
In a 2011 Olympic qualifying match against Jordan, Iran's women's team were banned from playing because of their hijabs. They wore hijabs that were supposed to meet FIFA standards. Heartbroken and frustrated, the women left the pitch. Their dreams of Olympic football lay in tatters. Photographs of the sobbing players were plastered over the media. This was not a case of Muslim women being oppressed by their faith, it was a serious case of women being excluded by draconian rules, steeped in gendered Islamophobia and ignorance, that were created by men.
Even the young Mansour felt the pain of exclusion when she told CBC News: "I thought it was disappointing because I thought I would actually make a difference but I didn't."
But football dreams were not over. In came supporters, including Moya Dodd of the Asian Football Confederation, Assmaah Helal, a player and activist, and Prince Ali bin al-Hussein of Jordan, the then vice-president of FIFA and head of the Jordanian Football Association. They spearheaded campaigns and partnered with Right 2 Wear, the United Nations and FIFPRO to put pressure on FIFA to approve the hijab.
Women came to the rescue with designs and practical solutions for problems created by men; problems that kept thousands of people away from the sport they love.
Companies such as Capsters and ResportOn designed sports hijabs with safety recommendations from the International Football Association Board, the decision-making body for the laws of the game.
As the research and work continued, Muslim women were effectively sidelined. They were not encouraged to join regional or national teams because their status was unknown. Would they have to choose between faith and football? Why was this a choice that had to be made in the first place?
On 1 March 2014, after much discussion, testing and clarification, Jérôme Valcke, FIFA's then secretary general, announced that religious head coverings (including hijabs, turbans for Sikh men and kippahs for Jewish men) would be permitted on the pitch. The understanding was the headcoverings would meet Ifab medical regulations.
Muslim women footballers all over the world – and the respective federations – heaved collective sighs of relief. But only after countless budding footballers lost out.
In October 2016, less than two years after the hijab ban was overturned, the Under-17 Women's World Cup was held in Amman, Jordan. It was the first time the hijab would be permitted, and more importantly welcomed, at a major FIFA tournament. It was also the first FIFA tournament to be hosted in the Middle East.
It was an important – yet largely overlooked – moment in football. This victory came after much blood, sweat and toil of advocates and players who refused to give up and believed strongly in their connection and right to play. I tell tales about racialised women who might have been made to stay away from football but persevered with help from allies and guardians of the game.
Football is for all of us. Sometimes it just takes women to prove it.
Related Articles