Culture
Rapinoe's silent protest to speak volumes at Women's World Cup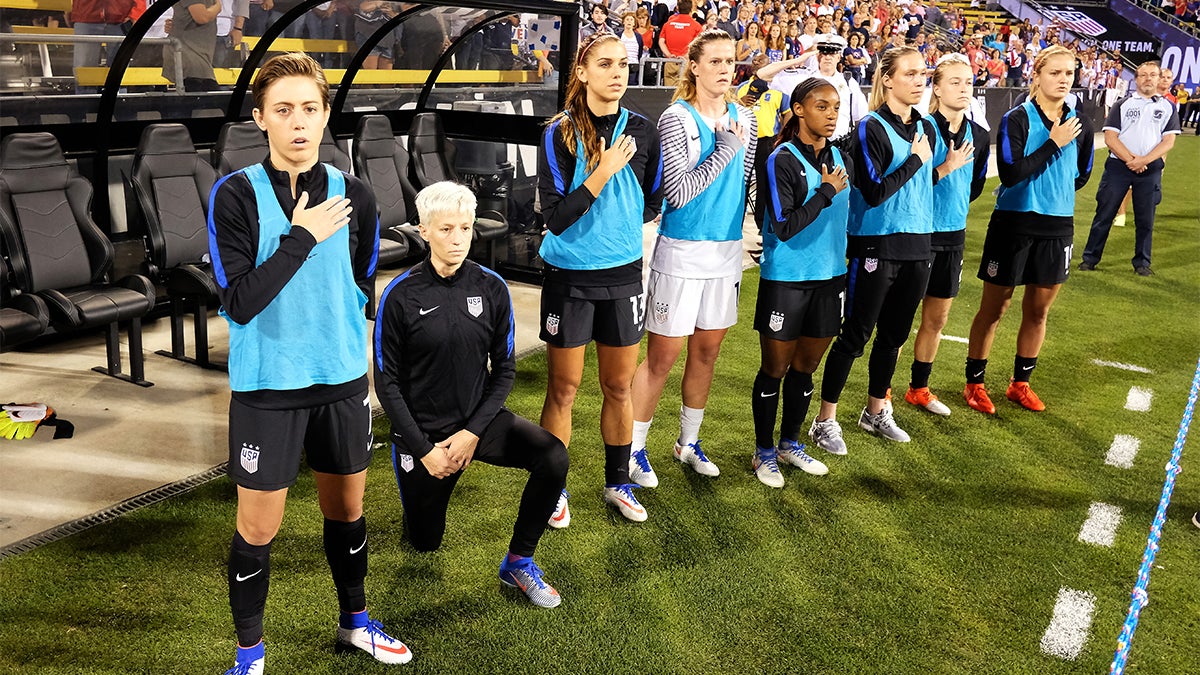 U.S. Women's national soccer team co-captain Megan Rapinoe said she plans to be a walking protest at the upcoming 2019 FIFA Women's World Cup, according to an interview on Yahoo! Sports.


Rapinoe made headlines in 2016 for being the first white athlete to kneel during the national anthem in solidarity with Colin Kaepernick and other African-American athletes. Before joining in the protest for social justice, Rapinoe often enthusiastically sang the anthem, "with patriotism oozing from her entire figure." Now, she can no longer look past the United States's inequality and injustices.
"I'll probably never put my hand over my heart," she said to Yahoo! Sports. "I'll probably never sing the national anthem again."
The article details Rapinoe reconciling her desire to play soccer at the highest level with her distaste for the organizations she must represent while doing so. Rapinoe said she believes the government enables social justice issues like inequality and injustice, and that President Donald Trump is "sexist," "misogynistic," "small-minded," "racist" and "not a good person." At the same time, she must also represent the United States Soccer Federation during the World Cup —an organization she is suing for gender discrimination — that restricted her ability to protest in the first place.
Ultimately, Rapinoe says she can represent these governing bodies in spite of their problems by using her presence as a constant reminder.
"I feel like it's kind of defiance in and of itself to just be who I am and wear the jersey, and represent it," she said. "Because I'm as talented as I am, I get to be here; you don't get to tell me if I can be here or not. So it's kind of a good 'F you' to any sort of inequality or bad sentiments that the (Trump) administration might have toward people who don't look exactly like him. Which, God help us if we all looked like him. Scary. Really scary. Ahh, disturbing."
As Henry Bushnell wrote in Yahoo!:
"In the four years since coming out, Rapinoe hadn't just won a World Cup and Olympic gold. She'd become a staunch advocate for LGBTQ rights and pay equity, partnering with nonprofits and sitting at roundtables with Hillary Clinton. But around the time "things got kind of nasty" in America, a bit before the 2016 presidential election, she experienced what she calls an "awakening."
Rapinoe has never suffered from racial injustice. Never been racially profiled. "But Colin Kaepernick very much inspired me, and inspired an entire nation, and still does, to actually think about these things," she says. "The way he spoke about them so clearly, so matter-of-fact, wasn't trying to convince anyone. Just, 'This is what is happening; this is what I'm willing to do about it.' I found that extremely inspiring and convicting. Like, how can you not support?"
So she knelt. Without forewarning for family members, days after Kaepernick did, she became the first white athlete and first female athlete to follow his lead."
Despite the significant backlash Rapinoe and her family faced, she said it was a necessary consequence of standing up for her convictions.
"It wasn't easy for me," Rapinoe said of the entire episode. "But it shouldn't be. Whenever you're trying to be an ally, and it's super easy and comfortable for you, you're not an ally. ... I think that was a really good lesson for me: This is what it's going to take for things to change, norms to change, conventions to change, to try to break down white supremacy and break down racial bias. It's going to take it being hard. For everyone. … That really resonated with me."
The Women's World Cup begins on June 7 in France. There, Rapinoe will try to bring home a repeat championship for the U.S. without compromising her values.
Jason Krell is a master's of sports journalism student at Arizona State University
Editor's note: The Global Sport Institute tracks the social justice activities of NFL teams. Check out our season-ending report.
Related Articles
To shut up and dribble or not? Bryant, Davis discuss black athlete activism
How do you measure the impact of athlete activism?
Athlete activism is on the rise, but so is the backlash
Athlete activism has global, historical aspects
John Carlos calls athlete activism more than sports
Athletes' opportunity to be courageous still resonates in Mexico City