Culture
Business
Love him, hate him: Geno Auriemma is the king of women's basketball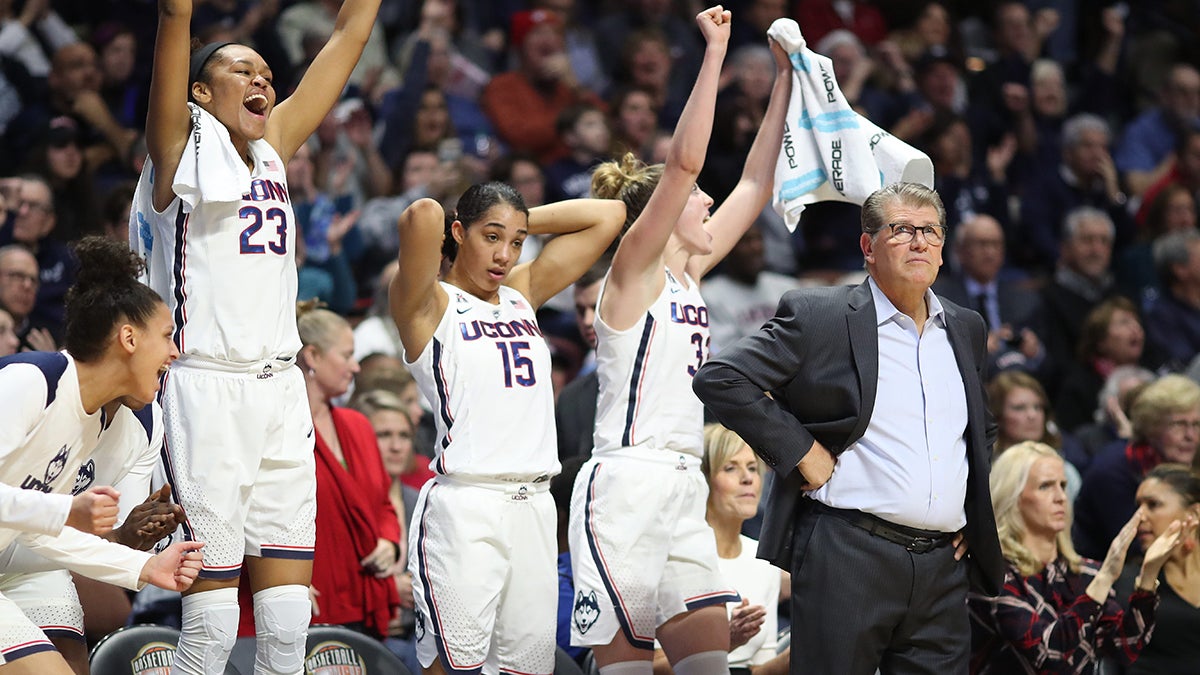 For the past quarter-century or so, the most important figure in women's college basketball has been a man. Since 1991 Geno Auriemma has led the University of Connecticut—UConn—to 11 national championships and 19 Final Fours. Both feats are NCAA records.
Under Auriemma the Huskies have embodied hegemony as the term embodies the letters in his given name. Since the turn of the century UConn has compiled win streaks of 70, 90 and an NCAA-record 111 games. They have advanced to 11 consecutive Final Fours and despite their last-second upset loss to eventual 2018 national champion Notre Dame, is quite remarkable when one considers that when Auriemma arrived in Storrs, Connecticut, in 1985, he had never been a head coach and was inheriting a program that had finished last in the Big East four straight years.
"Geno was never afraid to succeed," says Carl Adamec, who has covered the Huskies for 29 years for the Manchester (Conn.) Journal. "And he was never afraid to set the bar high."
Born in Italy, Auriemma may be the greatest disruptor that country has inflicted upon the New World since Christopher Columbus. As the sailor's pilgrimage induced a chain of events that forever altered the landscape of North America, Geno's expedition into women's college basketball also wreaked havoc. First, it shifted the epicenter of the sport from Knoxville, Tennessee, to Storrs, Connecticut (more on that later). Second and third, it accelerated the flow of both males and money into the sport from a ripple to a torrent.
"When Tiger [Woods] was winning every major, nobody said he was bad for golf."
-Geno Auriemma on the Huskies' dominance
But what if Auriemma, 65, had never pursued a career in coaching women? What if, in hoops terms, his ship had never left port? What would women's college basketball look like today and for the past 25 years? Would there be as much revenue in the sport? As many male coaches? As much rancor?
Certainly there would be a greater distribution of national championship trophies from coast to coast. The Huskies have won 10 national championships since 2000, or more than half of those contested this millennium. It is more than Auriemma hogging the hardware; his teams compel opponents to rise to a level they may have thought, or still think, is unattainable. "Mississippi State upset UConn in the 2017 Final Four, snapping their 111-game win streak," says Adamec. "The same two teams had met a year before in the NCAA Tournament and UConn won by 60. You could say that game opened Mississippi State's eyes as to what it takes."
"The thing I think Geno does is that he makes every coach in the country have to work harder," says Belmont University coach Bart Brooks, who recently wrapped a highly successful rookie season as a Division I head coach with a 31-4 record. "I can't tell you how many times I've thought this season how unprepared my team is if we had to play [UConn]."
Auriemma is not the sport's first leviathan coach, just its first male one. From 1974 to 2012 Pat Summitt led the Lady Volunteers to eight national championships. A former All-American whose playing career overlapped the passage of Title IX—she played her first two seasons at Tennessee-Martin without a scholarship, since such benefits were unavailable to student-athletes—Summitt was the sport's steward and towering figure in the 1970s and '80s as it transitioned from the AIAW (Association for Intercollegiate Athletics for Women) to an NCAA sport.
On Jan. 16, 1995, everything changed. ESPN, taking note of a burgeoning phenomenon taking place 43 miles east of its Bristol headquarters, arranged a nationally televised game between No. 1 Tennessee and No. 2 Connecticut on Martin Luther King Day. It may have been the Woodstock of women's hoops. The Huskies won, 77-66. Suddenly the sport was intriguing: Pat Summitt was no longer the only gunslinger standing in the middle of Main Street.
The Connecticut/Tennessee-slash-Auriemma/Summitt feud was captivating television for more than a decade, which led ESPN to put other worthy programs on TV. That generated a cash bonanza for athletic departments nationwide, which in turn attracted dozens of male coaches who found opportunities closed to them in the men's game. Had Geno never happened, male coaches would have eventually trickled into women's hoops, but certainly not at the rate they have.
"The first time I paid attention to women's basketball was when UConn won it all in 2002 with Diana Taurasi," says Brooks, who at the time was a student intern at the University of Wyoming. "Before then I was trying to get into men's coaching."
When UConn hired a then 31-year-old Auriemma in 1985 at an annual salary of $29,000, women's basketball was decidedly a non-revenue sport. Few if any athletic departments sold women's basketball tickets. "I used to beg my P.E. students to come to our games," says UConn associate head coach Chris Dailey, who has been with Auriemma from the beginning and who augmented her salary by teaching P.E.
The Huskies began selling tickets in 1990 and within 10 years were drawing 6,000 fans not for games but for open scrimmages (to be fair, those were likely more competitive). UConn not only sells out all of its home games but is also responsible for the largest crowds ever assembled at rival women's hoops powers such as Tennessee and Notre Dame. A UConn-Tennessee game in 2004 generated at the time the largest television audience for a basketball game, men or women, pro or college, in ESPN history.
Without Auriemma women's college basketball would have evolved. He simply accelerated the process by a generation or three. And while UConn will pay him $2.4 million in 2018, or 83 times what he earned that inaugural season, his presence has been the rising tide that has lifted all boats. How much does every man and woman currently coaching women's basketball owe Geno Auriemma? "A lot," says Adamec. "An awful lot."
And yet, Auriemma and his teams have frequently drawn withering criticism for simply being too good. After the Huskies defeated Mississippi State by 60 points in the 2016 NCAA Tournament, Boston Globe columnist Dan Shaughnessy tweeted, "Hate to punish them for being great, but they are killing women's game. Watch? No thanks."
In response Auriemma, a man whose parents immigrated to the U.S.A. buffeted by the promise of it being a land of opportunity for those who work hard, made no apologies. "Don't watch," he said the following day. "When Tiger [Woods] was winning every major, nobody said he was bad for golf. Actually, he did a lot for golf. He made everybody have to be a better golfer. And they did. And now there's a lot more great golfers because of Tiger."
The truth is that Auriemma's teams have served as a paragon for their sport, providing visual evidence of the summits women's basketball teams should be able to scale, for more than two decades. In doing so they have not only had an aspirational effect on female 'ballers, but on every young woman—and young man—who bears witness to their excellence.
Nor will Auriemma allow his players to abdicate this role. In the first round of the 2018 NCAA Tournament UConn defeated St. Francis of Pennsylvania, 140-52. The Huskies' opponent opted to accelerate the pace against Auriemma, whose team pounced on the strategy as if it were a chew toy. UConn won by an NCAA-tournament record 88 points, which prompted Josh Peter of USA Today – one of many critics of Auriemma's show-no-mercy approach - to scold Auriemma in print for not showing "mercy."
There is an implied sexism in Peter's admonishment. Was UCLA's John Wooden criticized for leading UCLA's men's teams to 10 national championships in 12 years between 1964-1975? Or for winning 88 games in a row? Was Secretariat castigated for winning the 1973 Belmont Stakes by 31 lengths?
Confronted with this latest criticism, Auriemma succinctly and unapologetically called the writer, whom he does not know, "a dope." Geno continued: "If he ever wrote a lot of good articles and somebody said that he was too good to write — but that will never happen. So he doesn't have to worry about the things that we worry about."
Auriemma would be the first to say that he is a basketball coach, not an activist. But his teams' prolonged and virtually unchallenged prowess speaks for him: What's wrong with treating women who play sports at the highest level as athletes first?
John Walters is an author and former staff writer at Sports Illustrated, Newsweek and NBCSports.com. A 1988 University of Notre Dame graduate, he won two Sports Emmys and was nominated for a third for his work at the 2004, 2006 and 2008 Olympics.
Related Articles
Opinion: It's time to end the notion of NCAA amateurism
NCAA report: Men's college basketball 'deeply troubled'