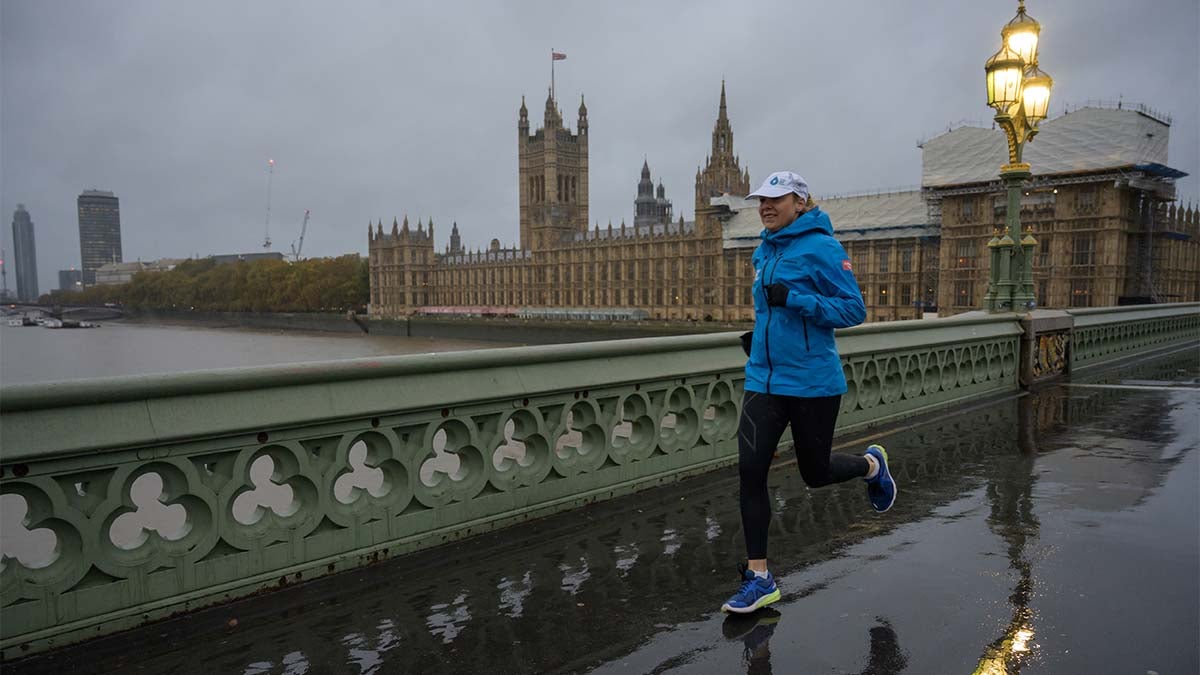 Mina Guli, a 48-year-old Australian, does not classify herself as a runner.
"I feel like I'm not an athlete," Guli told the New York Times. "A runner? I'm not that either."

Guli had run a marathon on the day she spoke with the New York Times, and planned to run one the next day, and the next day and the day after that until she finished her goal: 100 marathons in 100 days, 2,620 miles total.
Guli's goal — to raise awareness of the global water crisis — has attracted a large number of supporters through social media. On Twitter, a recent trend for runners is the hashtag #runningdry and #everydropcounts.
Let's get *everyone* involved this #WorldWaterDay! We need to continue focusing the world's attention on the global water crisis so that we can solve it, and truly ensure that no one is left behind? pic.twitter.com/QuQjBDh6vB

— Mina Guli (@minaguli) March 20, 2019
An important moment for me was when I learnt about the huge amounts of water required to produce simple, everyday items. If we are aware of the water that is hidden in everything we use, we can work together to solve the water crisis?#EveryDropCounts #RunningDry pic.twitter.com/24EBuCbLsK

— Mina Guli (@minaguli) February 27, 2019
But how can she afford to drop everything for at least 100 days?
Guli is one of many runners who have received sponsorships, in a similar way top-level runners coming out of college do. Guli is sponsored by Reebok, which gives her gear, a media campaign and money to cover the logistics of her effort.
Guli is part of a recent trend of non-competitive runners gaining sponsorships and partnerships with big companies as part of the latter's efforts to build an audience.
Her efforts to increase awareness did not stem from the start of her 100-marathon project. Guli is the founder and chief executive of Thirst, a nonprofit that spreads awareness about the global water crisis. Guli continues to reach new people and audiences each day through her sponsorship, social media and nonprofit organization.
Although Guli is not considered an influencer on social media, she has reached hundreds of people through her unique narrative and story. Reebok is making a statement that regular people that look like them and run like them can do great things too.
Merhawi Keflezighi is the founder and president of HAWI Management, an organization that represents athletes such as his older brother Meb Keflezighi, who placed second in the Olympic Marathon in 2004 in Athens and won the New York City Marathon in 2009 and Boston in 2014. Merhawi Keflezighi has been an agent for 14 years. Throughout that time, he has seen sponsorship deals widen and vary, according to the Times.
"Ultimately, they want to be able to tell a story," Keflezighi told the Times.
He added that he thinks people can relate to others who are similar to them, ones who are not just the fastest or strongest person in the world.
Justin Gallegos, the first professional athlete with cerebral palsy to sign a contract with Nike, is a junior at Oregon and a member of the school's running club. Gallegos released a viral video of his reaction to the news he was being sponsored.
"You don't realize how realistic and emotional your dreams are until they play out before your very eyes!" Gallegos said on Instagram. He later added that that moment was perhaps the most emotional moment in his seven years of running.
Gallegos is planning to run his first marathon, the Chicago Marathon in October. He was campaigning for more runners with his condition to run longer distances at the Summer Paralympics in Tokyo in 2020. According to the Times, he wants to run the 1,500-meter race but said that the standards for it are not achievable for someone with cerebral palsy right now.
"I think it put a statement on what being an athlete truly means," Gallegos said. "Yes, talent is important. Don't get me wrong. But you can have all the talent in the world and not have any passion."
Gallegos later added that it is important for companies to expand their horizons because there's "lots and lots of talented athletes out there."
Mirna Valerio, 34, is another popular name in this trending topic. Valerio started a blog, "Fat Girl Running", that is about being an active larger girl in a thinner world. Valerio created her blog as she was training for her first marathon in 2011 and has 2,060 followers.
According to the Times, she named her blog that "because I was fat and I was a girl and I ran. It's as simple as that. I knew that it would be a little controversial, and I was O.K. with that."
What started out as a blog has gained serious attention. Valerio is an author of a bestselling book and a public speaker. She also partners with organizations like Skirt Sports, Merrell, Hydroflask, Hyland's, REI, Swiftwick and Custom Performance of New York.
Strick Walker, chief marketing officer of Merrell, told the Times Valerio has a passion for being outside and challenging herself and her own evolution and development as someone who's passionate about being outdoors.
"They're realizing that their bottom line can be enhanced by including more people, including different communities," Valerio said. "They will say it's about inclusivity, but when you get down to it, it's about your bottom line and market share, and you don't want to lose market share by not being inclusive."
Whether an individual is considered a "slow runner," a "fat girl running" or even has a congenital disorder of movement, these individuals have shown that it is not about the talent or the pace. Endorsements go further than the skill of an athlete or non athlete.
"I'm just a normal person who set out one day to make a difference in this world, and it turned out running was a way to make it happen," Guli said.
Logan Huff is a senior journalism student at Arizona State University.
Related Articles
Navajo ultra distance runner honors the Long Walk by retracing history step by step 
After Kipchoge's blistering Berlin Marathon time, how fast can humans run?
'Forrest Stump's' 1,500 miles a small step to advocate for better athletic prosthesis access
Watch: Nike Surprises Runner With Cerebral Palsy By Offering a Professional Contract