Business
Archive
Super Bust: 1st Super Bowl with legalized gambling falls well short of projections
Expectations were high for the first Super Bowl after the law against gambling was declared unconstitutional, but as the game progressed through the night, it became clear that those expectations would not be met.


For what was once a projected total of $320 million betting handle — a number that would have doubled the previous record — Super Bowl XLIII ended up with (roughly) a $194 million betting handle. About $185.5 million coming from three states (Nevada, New Jersey and Mississippi).
That still broke the record but was a disappointment in terms of the projections. According to industry experts, one reason for the drop in handle could be the presence of the team who won the Super Bowl: the New England Patriots.
"People are tired of the Patriots," said Westgate sportsbook manager Ed Salmons said. "I really think the Patriots' fatigue thing played a role."
In the first Super Bowl since the Supreme Court ruling opened the door to sports betting nationwide, New Jersey was the Los Angeles Rams of sports betting, taking in almost $35 million in sports wagers leading up to the game. The state ended up dishing out about $39.4 million in winnings.
Nevada didn't see the record in handle that was expected, but still held 7.4 percent of its $145.9 million handle for a profit of $10.78 million.
Compared to last year's $1.17 million profit — and despite the 8 percent handle drop from Super Bowl LII — Nevada surely benefited from the Patriots and Rams 13-3 low-scoring affair.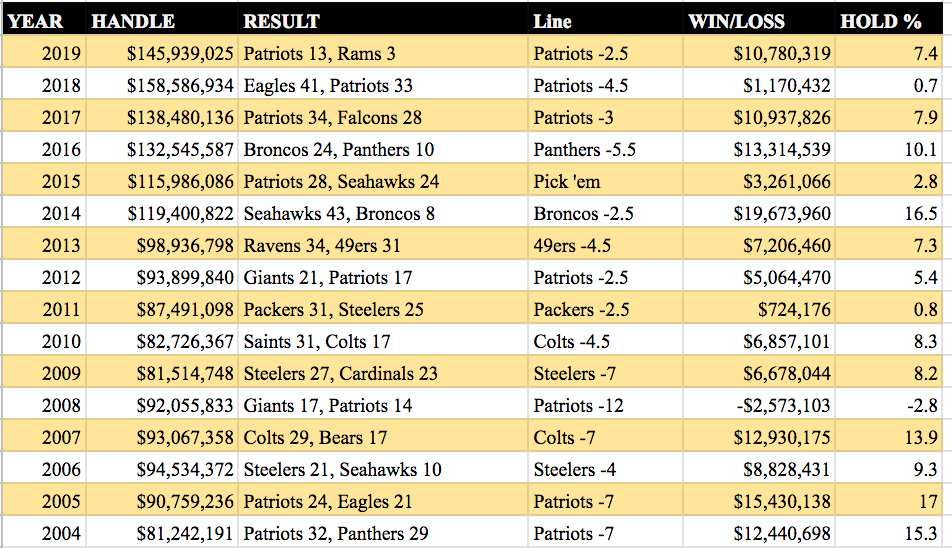 As reported by the Vegas Stats & Information Network, there's been a consistent trend that, when New England wins the Super Bowl, the state of Nevada wins financially. It could take a new AFC team in the Super Bowl next year if a record breaking sports betting handle is going to happen.
Other states also cashed in on the Super Bowl. Rhode Island sports betting handler William Hill reported roughly $6.5 million in wagers while ultimately shelling out about $2.35 million.
Delaware and Mississippi both reported betting handles for the Super Bowl, with Delaware reported a handle of $2.2 million and Mississippi a handle of $4.6 million although no report of wagers won or lost by the states has been stated.
The same is the case for Pennsylvania, New Mexico and West Virginia who have yet to report their handles or payouts for the Super Bowl.
Overall it was a hit-and-miss for most of these betting states when it came to meeting and passing their original projections, with the lone exception being Rhode Island, whose proximity to New England would make sense for Patriots bettors.
"Everybody wanted to see the Chiefs against the Saints or the Rams. I'd be willing to bet if the Chiefs were in the game, the handle would've blew away last year's record," Salmons said.
| | | |
| --- | --- | --- |
| State | Projected Money Gambled | Actual Money Gambled |
| Delaware | $7 million | $2.2 million |
| Mississippi | $12.25 million | $4.6 million |
| Nevada | $160-165 million | $145.9 million |
| New Jersey | $113.75 million | $35 million |
| New Mexico | $3 million | Not disclosed |
| Pennsylvania | $15 million | Not disclosed |
| Rhode Island | $2 million | $6.5 million |
| West Virginia | $5 million |  Not disclosed |
Trej Bell is a junior sports journalism student at Arizona State University
Related Articles
Expanded state gambling fuels Super Bowl betting growth
Supreme Court ruling opens door to widespread sports betting 
Legal sports betting projected to boost revenue for 4 U.S. major sports leagues