Business
Youth
How Do Basketball Players Go Pro in Different Countries?
The NBA G-League recently announced a new option for potential NBA prospects coming out of high school, offering a select one-year $125,000 contract to "elite" prospects who can play in the G-League before they reach the minimum NBA draft age requirement of 19. These select contracts add a viable pro option to college for American players.
The NBA has a number of players who reached the league through different routes, whether straight out of high school, through college or from the international ranks.
How have players in different countries turned pro?
UNITED STATES
Most American college basketball players want to play in the NBA. The number who actually do, however, is small.
According to the NCAA, just 1.2 percent of NCAA athletes make it to the NBA and just 0.03 percent of high school seniors that play basketball eventually get drafted by NBA franchises.
Under the NBA collective bargaining agreement (CBA) introduced in 2005, prospective players have to be at least 19 years old and one year removed from high school graduation for Americans to qualify for the NBA draft.
These players can spend a year in college and play college basketball. They can play in the G-League, play pro overseas or spend the year training.
A majority of American players choose to stay stateside and spend a year in school. The best players go to blue-chip programs such as Kansas, Duke and Kentucky. These schools offer top-of-the-line facilities, expert coaching and training staffs and a quality education.
With more than 97 million people in the U.S. and 180 countries worldwide tuning into the NCAA tournament, the college route is a high-profile option.
However, by NCAA rule, players cannot profit off their names or likeness in any way.
Darius Bazley, a former McDonald's All-American and Syracuse commit, decided to skip college and accepted a shoe contract and "internship" at New Balance.
After decommitting, the 6-foot-9 forward signed with agent Rich Paul and Klutch Sports, who also represent NBA stars such as LeBron James, John Wall and Ben Simmons.
Bazley is guaranteed $1 million from his New Balance contract even if he never plays a minute in the NBA, and he can make up to $14 million if he achieves all of the incentives in the deal, which includes winning NBA rookie of the year honor, finals MVP award and being named an All-Star in each year of the deal.
Outside of training for the NBA draft in the June, Bazley is working with the New Balance marketing department and shoe design team.
Bazley had the option to play in the G-League, in which the maximum salary is $35,000 (prior to the new select $125,000 contracts for "elite" players being introduced). However, he will make more than 28 times as much by signing the deal with New Balance as opposed to playing in the G-League.
"There's just no upside for him (in the G-League)," Paul said about his client.
The G-League offers a higher level of competition then the NCAA, but that comes with drawbacks. The exposure is low, the venues are middling and there is a lack of access to top-flight gyms, nutritionists and everything else that is offered at top Division I schools.
Some players go overseas for a season. Terrance Ferguson, a former top-20 prospect and McDonald's All-American in the 2016 class, backed off of his commitment to the University of Arizona in order to play overseas with the Adelaide 36ers of Australia's National Basketball League. Ferguson appeared in 30 of 31 games for the 36ers, averaging 4.6 points and 1.2 rebounds in a little more than 15 minutes a game.
NBL teams have a soft salary cap of around $1.1 million (Australian dollars), and American imports make anywhere from $60,000-$100,000. Each NBL team can sign up to three American players.
After his season with the 36ers, Ferguson returned stateside and was selected 21st in the 2018 NBA Draft by the Oklahoma City Thunder.
The pioneer of skipping college to play overseas was former Milwaukee Bucks guard Brandon Jennings. After being ranked as the No. 1 prospect in the country by both 247Sports and ESPN in 2008, Jennings, like Ferguson, backed off his commitment to the University of Arizona and decided to play in the EuroLeague instead.
Jennings signed with Pallacanestro Virtus Roma in the Italian Serie A, the highest level of pro basketball in Italy. The guard signed a three-year deal worth $1.65 million guaranteed, while pocketing a $2 million deal with Under Armour to showcase their apparel in Europe.
After a season full of ups and downs for Jennings, he returned to the U.S. after averaging 5.5 points, 1.6 rebound, 2.2 assists and 1.5 steals in 27 games. He was selected 10th in the 2009 NBA Draft by the Milwaukee Bucks.
SPAIN
The EuroLeague, which is the basketball equivalent of soccer's Champions League, is the second-most popular basketball league in the world.
Liga ACB, the top-tier league in Spain, has much looser rules when it comes to players turning pro and entering the league.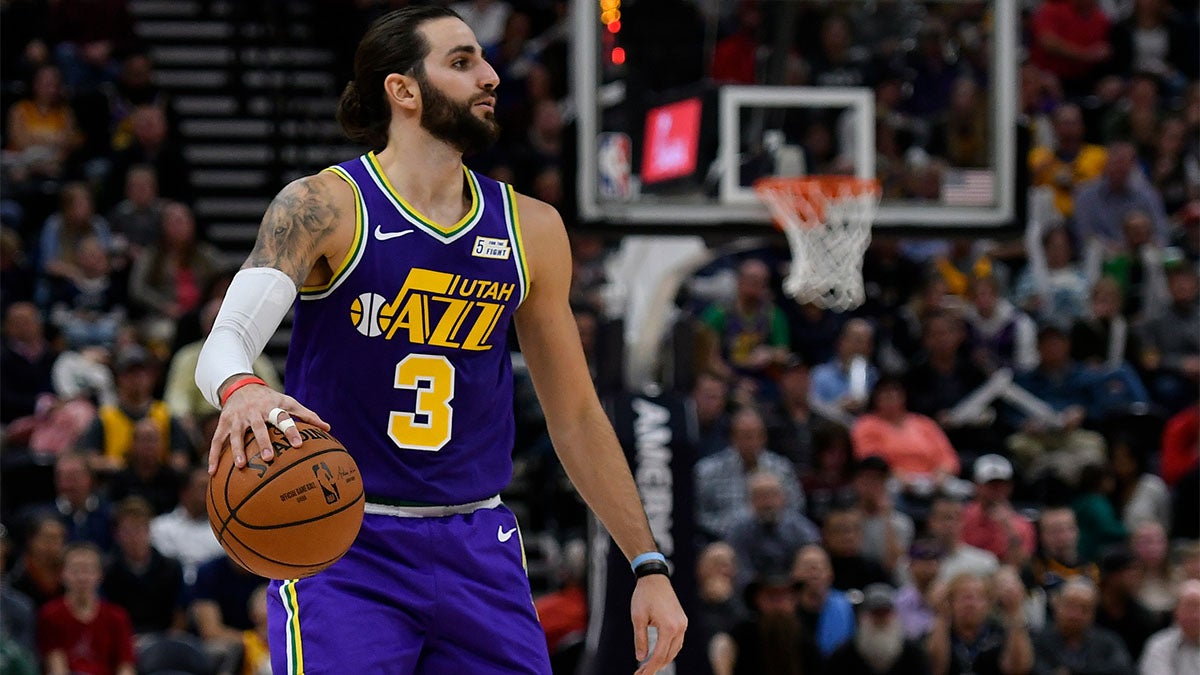 In 2005, Ricky Rubio became the youngest player to make his Liga ACB debut when he played with DKV Joventut. Rubio was 14 years and 11 months old when he made his debut.
Rubio spent four years with Joventut until the 2009 season, when the Spanish guard was selected with the fifth pick in the 2009 NBA Draft.
With the rule in the NBA's collective bargaining agreement preventing NBA teams from paying more than $500,000 toward a player's buyout (which, for Rubio, was around $5.3 million at the time), Rubio was in a tough spot.
He stayed in Spain for two more more seasons, getting traded to FC Barcelona, which bought out his old contract (there were no restrictions for other Liga ACB teams) and signed him to a new six-year deal.
There was, however, an NBA clause in his contract after the 2010-11 season for a $1.4 million buyout.
After winning a EuroLeague championship in 2010 and a Liga ACB championship in 2011, Rubio joined the Minnesota Timberwolves ahead of the 2011-12 NBA season.
SLOVENIA
Luka Doncic was pretty much destined to play basketball from the start. Born to former Slovenian and EuroLeague basketball player Sasa Doncic, Luka seemed different from the other kids his age.
Doncic started playing organized basketball at age 7. When his father, Sasa, joined Union Olimpija a year later, Luka went with him and was invited to practice with the Olimpija basketball school team with kids his age.
Within 16 minutes of practice, Doncic was moved up to play with kids three to four years older, and he was added to the Olimpija selection team.
Doncic spent the next six seasons with the Slovenian club until September 2012, when, at age 13, Doncic joined Spanish powerhouse Real Madrid's under-16 team.
At 16, Doncic joined the professional team in the Liga ACB. He became the youngest player in Real Madrid history to play in Liga ACB and the third-youngest player in league history.
In the 2017-18 season, at age 18, Doncic became the youngest player to earn the EuroLeague MVP honor after leading Real Madrid to EuroLeague finals victory.  
After the season, Doncic declared for the 2018 NBA Draft and was selected third by the Atlanta Hawks, although he was subsequently traded to the Dallas Mavericks in exchange for former Oklahoma star guard Trae Young.
FRANCE
France is rich with basketball lore; it is home to the oldest basketball court in the world. Tony Parker, Boris Diaw, Rudy Gobert and Nicolas Batum are among the Frenchmen who have played in the NBA in just the past decade.
Frank Ntilikina is the most recent French player to jump to the NBA, getting drafted eighth by the New York Knicks in the 2018. Trying to follow the footsteps of Ntilikina is top 2019 draft prospect Sekou Doumbouya.
After being born in Guinea and moving to France at the age of 1, Doumbouya didn't pick up a basketball until he was 12.
After joining the French National Institute of Sport, Expertise and Performance (INSEP) at age 14 and training for two years, Doumbouya signed his first pro contract with Poitiers Basket 86, a pro team that competes in the French Pro B league.
The French forward jumped leagues the following year, joining Limoges Cercle Saint-Pierre, a member of LNB Pro A, the top-tier league in France, to prepare himself for the NBA.
Doumbouya is a projected top-five pick in the 2019 draft.
CROATIA/YUGOSLAVIA
Despite having a population of 4.15 million, Croatia has been a hotbed for NBA talent, producing Dario Saric, Toni Kukoc and Bojan Bogdanovic among others.
None might be more influential than former New Jersey Nets guard Drazen Petrovic. The Croatian guard was considered a "pioneer" for European guards heading to the NBA by Petrovic's childhood friend and current coach of Israeli EuroLeague team Maccabi Tel Aviv, Neven Spahija, as well as former NBA commissioner David Stern.
Before Petrovic came to the NBA in 1989, European guards were few and far between. When Petrovich came to the states, despite his dazzling numbers in the EuroLeague, he was an unknown quantity.
Petrovic began his basketball career at 13, playing for his hometown club team, KK Sibenik (or Sibenka), in Yugoslavia, and he made the professional team by age 15.
KK Sibenik was a member for the former Yugoslav First Basketball League, a league that disbanded with the breakup of Yugoslavia.
After Sibenik, Petrovic moved to former Yugoslav League and current Croatia League member KK Cibona. In his first year with the club, Petrovic led Cibona to the Yugoslav League championship and the club's first European Cup.
In 1986, the Portland Trail Blazers spent their third-round pick on Petrovic, but the then-22-year-old guard decided to stay in Europe. A year later, he signed with Spanish power Real Madrid.
After a second-place finish in the Liga ACB and more impressive scoring numbers, Petrovic moved to America and joined the Portland Trail Blazers for the 1989-90 season.
TJ Mathewson is a junior journalism student at Arizona State University.
Tags:
Bojan Bogdanovic
,
Boris Diaw
,
Brandon Jennings
,
CBB
,
College
,
contracts
,
Croatia
,
Dario Saric
,
Darius Bazley
,
Drazen Petrovic
,
Duke
,
EuroLeague
,
France
,
Frank Ntilikina
,
INSEP
,
Kansas
,
Kentucky
,
KK Sibenik
,
Liga ACB
,
LNB Pro A
,
Luka Doncic
,
NBA
,
NBA Draft
,
NBA G League
,
NBL
,
NCAA
,
New Balance
,
New Jersey Nets
,
New York Knicks
,
Nicolas Batum
,
Olimpija
,
Portland Trail Blazers
,
Pros
,
Real Madrid
,
Ricky Rubio
,
Rudy Gobert
,
Sekou Doum\bouya
,
Slovenia
,
Spain
,
Terrance Ferguson
,
Toni Kukoc
,
Tony Parker
,
Yugoslavia