As we commemorate the 50th anniversary of the seminal moment of the Mexico City Games, when Americans John Carlos and Tommie Smith raised a black-gloved fist from the medals podium, GlobalSport Matters looks back at the year from a global sporting perspective. From the World Series helping a wounded Detroit heal to athletic innovations that trace their origins to those Olympics, 1968 served as a critical pivot point in the role sports plays in society and introduced the modern era of athlete activism.
From a young age, Wyomia Tyus wanted to defy expectations.
In 1968 at the Summer Games in Mexico City, Tyus became the first sprinter, male or female, in Olympic history to repeat as 100 meter champion. On and off the track, the United States Olympic Hall of Fame member and three-time gold medalist has done nothing but break the standards that were placed on her by society.
Well beyond race and gender, Tyus just was looking to prove she should be included.As a 6-year-old on Christmas, her parents wanted to give her brother a cowboy outfit, and for her, a cowgirl costume. That didn't sit right with Tyus.
"My mom insisted I should have a cowgirl outfit. I insisted 'No, I want a cowboy outfit." Tyus said. "Then we had this… well it wasn't really a discussion, I just stuck to my guns. My dad said, 'If that's what she wants to do we have to let her do it. They need to believe in what they want and what they believe is right.' And that was right for me."
Growing up in the Jim Crow South, being discriminated against because of both her race and gender was something she couldn't escape. Even at a young age.
"I grew up in the south where I didn't have too many rights at all," Tyus said. "We saw signs that said 'Whites' and 'Coloreds'… As far as I was concerned I was at a stage in my life where I was always fighting for human rights."

Being aware of how she fit in society at this young age helped shape her outlook on how people should be treated.
Tyus never let other people dictate what she couldn't do. It never mattered who she was up against, she just wanted good competition.
When she was growing up, her dad worked hard every day in the fields, but refused to let her help. What he wanted most for her was to be a smart, educated woman who could understand the issues that plagued society.
Tyus worked hard to make a name for herself as she grew older like her father believed she could, both on the track and in the classroom. So when her father died in 1960, Tyus took it hard. For the first time, the male role model in her life was gone.
However during that summer, she was invited to attend a track summer clinic at Tennessee State University. It was here where she met legendary track coach, Ed Temple, for the first time. He would become one of the most influential people in her life, both on and off the track.
"I've always felt a closeness to him," Tyus said. "He came into my life just when I lost my father. He was always someone you could talk to. I remember he always taught me to never give up, to stand up for what I believed in."
"He really wanted to see good things happen for his team, and his girls, and was always concerned and making sure we all knew what the world was about," Tyus said about Temple. "You're going to be discriminated against twice not just for being black but for being a woman. You have to be a strong person in order to get past that, you have to look beyond that, and speak up against things that are not right."
Temple coached the Tennessee State Tigerbelles track team from 1953-1994 and is credited as being one of the most prolific track coaches ever. He won 34 national titles  and sent 40 of his women athletes to the Olympics, where an impressive 23 won medals and 13 won gold.
However, his main vision for his team was in the classroom. During a time in the 1950s and '60s where a very small percentage of black women attended college, everyone on his team not only received athletic scholarships to compete, but everyone graduated.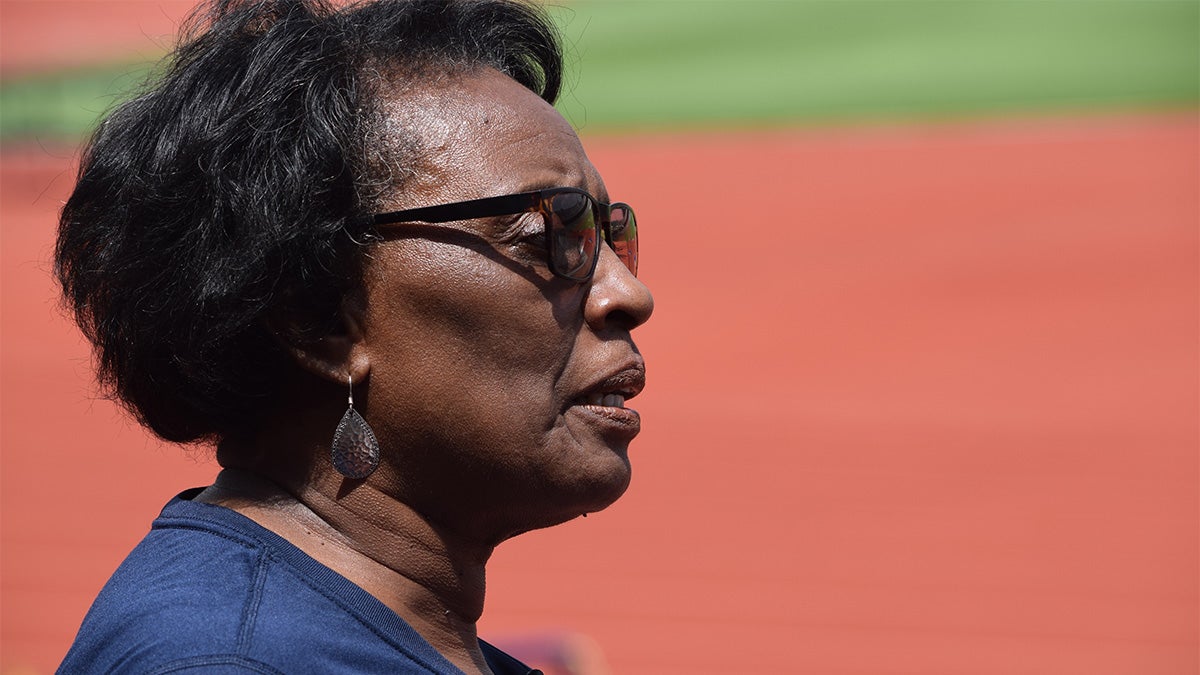 "He always said that he was title IX," Tyus said. "He had a vision. His vision I felt was for black women to get an education…I just cannot give enough praise to him because his vision was more for all women because it gave everybody courage to go out there and do whatever they want. Even though you're not getting the recognition, that you have to be self-satisfied and doing this for you."
Tyus, who went on to be one of the many women sent to the Olympics, became the first 100-meter sprinter to win back-to-back gold medals, including another gold in the 4x100 meter relay.
While she had always felt comfortable being a competitor, Temple had brought out the activist in Tyus.
Prior to the 1968 Olympics, she had heard about the Olympic Human Rights Project, a group that advocated for equal rights and treatment for all people, and their plans to boycott the games and intended to show her support for the cause.
Temple never advised her against boycotting, and instead gave her some advice, saying, "You need to be aware of what you are doing, you need to be on top of what you are doing, you need to understand why you are doing this and stay committed to it."
Therefore, when Tyus watched fellow Americans John Carlos and Tommie Smith walk up to the award podium with no shoes on, thrust their fists during the national anthem covered in black gloves, she knew she had to show her support.
Later that day, after she was awarded a gold medal in the 4x100 meter relay, she dedicated the award to Smith and Carlos in support of equality for all racial and ethnic groups.
"I just wanted them to know I supported them and was all for what they had done," Tyus said. "It was for human rights, and not only for what was happening to us as blacks, but also for a lot of other minorities all over the world."
"The only way to help people is by speaking up for what you believe in. We had a platform where that could happen and one thing I've always believed in is that we are bigger and better in numbers."
So on the 50th anniversary of the 1968 Mexico City Games where she took a stand on social rights issues in solidarity with Carlos and Smith, she remembers speaking most speaking up for everyone. African-Americans and women, Mexican students affected by the riots and the many other groups that are being oppressed.
"It goes back to the whole women's movement, and a lot of people are still not on that page where I am I think. You have to make it so people understand 'Hey, this is about human rights. It's not about just one group of people.' It's about human rights and we all deserve it."
Ross Andrews is a senior journalism student at Arizona State University
Tags:
1960s
,
1968
,
1968 Mexico City Games
,
4x100 relay
,
activism
,
discrimination
,
Ed Temple
,
Education
,
ethnic groups
,
Hall of Fame
,
history
,
human rights
,
IOC
,
Jim Crow
,
John Carlos
,
Mexico
,
Mexico City
,
Olympic
,
Olympic gold medal
,
Olympic Project for Human Rights
,
Olympics
,
racism
,
sprinter
,
Summer Games
,
Tennessee State
,
tigerbelles
,
Title IX
,
Tommie Smith
,
Tyus
,
United States
,
University
,
USOC
,
women
,
wyomia tyus