Why this matters
In 2018, Global Sport Matters and the Global Sport Institute commemorated the 50th anniversary of the seminal moment of the Mexico City Games, when Americans John Carlos and Tommie Smith raised a black-gloved fist from the medals podium. We took a look back at the year from a global sporting perspective.
From the World Series helping a wounded Detroit heal to athletic innovations that trace their origins to those Olympics, 1968 served as a critical pivot point in the role sports plays in society and introduced the modern era of athlete activism. Read all the stories here.
Fifty years ago at the 1968 Mexico City Olympics, American sprinters Tommie Smith and John Carlos created a cultural shockwave felt around the world. By thrusting their fists into the air from the medal podium, it drew focus toward the years of systemic racism and human rights issues that had plagued the United States and international community for years.
That moment today is considered one of the most iconic in sports history.
"What we were fighting for is a lot more than the Olympic Games and sports, but sports can be a platform," Carlos said. "I was thinking about how I would make life better for my kids and my kids' peers."
"We made that statement because we wanted to be that beacon for society, the blueprint," Carlos said at the "Raising a Fist to Taking a Knee" event, sponsored by Arizona State's Global Sport Institute and Center for the Study of Race and Democracy.
Among the other speakers at the event was Olympic Project for Human Rights founder and San Jose State sociology professor, Dr. Harry Edwards. Inspired by the work of Maya Angelou, Dr. Martin Luther King, and Malcolm X, Edwards understands that strength in numbers and support is an important characteristic of successful protest.
"There is necessity of whatever you are doing must have the potential to include everybody," said Edwards. "Because to the extent we leave anybody out we leave a combustible area of life and eventually it will explode."
Reaching across racial lines was something some of his predecessors did not engage in. Edwards vividly remembers when he learned this lesson from Malcolm X's autobiography.
When a young white woman walked up to Malcolm after he finished preaching on the streets of Harlem, she said she believed in the words he was saying and asked him what she could do to support the cause.
Malcolm's response was simple. "Nothing." To which the girl broke down sobbing.
"He regretted doing that," said Edwards. "He knew from then on that we were all in this together. That's one of the paths that I tried to take from the onset of when I started (the Olympic Project for Human Rights)."
When Paul Hoffman and the Harvard rowing team showed up eager to support Edwards and the OPHR, he recalled that lesson.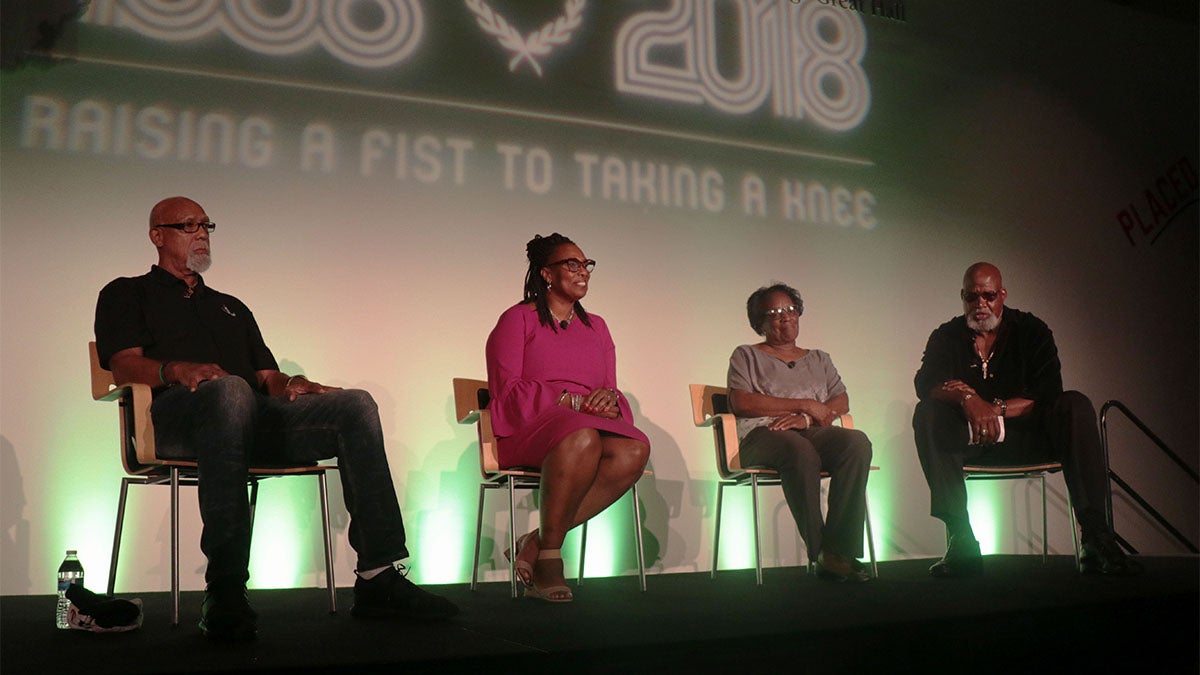 "It really is a tribute to Harry that if you are in sport, you are not out of the world," said Hoffman, coxswain for the Harvard eight and a speaker at the event. "If you are in sports you have an obligation to use whatever you have,"
"I think there was a very large aspect of wanting not to be embarrassed and shamed by inaction."
Hoffman and the rest of the Harvard team told Edwards they would support the movement by writing letters to every member of the U.S. Olympic team, igniting the conversation about racism.
"We'll try and start a dialogue," Hoffman said. "What we promise to do is to write to every single new member of the Olympic Team that is selected and ask them to join the conversation about what our black teammates are talking about."
Hoffman is most famous for giving Australian Peter Norman, the silver medalist in the 200m in 1968, a button showing support for the OPHR. Norman too faced severe backlash at home about the protest, and was barred from Olympic competition for the rest of his career.
However, Edwards still thinks about what he could have done better. One of the topics he draws on is the inclusion of female athletes more deeply in the movement.
"It was this notion that if we deal with the issue of race we would automatically deal with the issue of women," he said. "It didn't dawn on us until later that what happened to them didn't happen because they were black, it happened because they were women."
One of those women who fought for all human rights is Wyomia Tyus, who was the first person to win back-to-back gold medals in the 100m sprint. Even though she was one of the most dominant athletes in Olympic history, reporters were relatively uninterested in covering her.
"It goes back to the whole women's movement, and a lot of people are still not on that page where I am I think," said Tyus. "You have to make it so people understand 'Hey, this is about human rights. It's not about just one group of people.' It's about human rights and we all deserve it."
What was also overlooked was her own protest at the Mexico City Games. Sporting black shorts throughout the games in support of the OPHR, she also dedicated her second gold medal of the games to Smith and Carlos, who had been sent home due to their protesting.
"I just wanted them to know I supported them and was all for what they had done," Tyus said. "It was for human rights, and not only for what was happening to us as blacks, but also for a lot of other minorities all over the world."
Creating a better world through initiating tough conversations is what Harry Edwards, John Carlos and the rest of the OPHR have built their life around. While their fight was 50 years ago in Mexico City, Carlos talked about one particular young athlete with aspirations similar to his own. A guy named Colin Kaepernick.
"He's my hero, there are no ifs, ands and buts about it," Carlos said. "Anytime you see a man that steps up against all odds and says it's not about me, it's about something bigger than me, and I choose to sacrifice myself for this bigger issue. I can do nothing but respect him as an individual. I said to him the first time we met that he was my hero, and it will stand till the end of time."
Edwards still speaks to Kaepernick regularly too, and took him under his wing, teaching him strategies he had learned throughout the years about creating a central focus for his protest. He says that while the Black Power movement is waning after multiple years of headlines, protest movements such as his kneeling for the national anthem "are in the DNA of American democracy."
"There are no final victories, but with all of these we went through, we came out better," said Edwards.
Ross Andrews is a senior journalism student at Arizona State University
Tags:
100m sprint
,
50 year anniversary
,
american democracy
,
Arizona State
,
Australian
,
Black Muslims
,
Black Power Movement
,
Center for the Study of Race and Democracy
,
Colin Kaepernick
,
coxswain
,
Crew
,
Dr. Martin Luther King
,
Global Sports Institute
,
gold medals
,
Harlem
,
Harry Edwards
,
Harvard Rowing
,
John Carlos
,
Malcolm X
,
Maya Angelou
,
Mexico City
,
Olympic Project for Human Rights
,
Olympics
,
OPHR
,
Paul Hoffman
,
peter norman
,
protest
,
Raising a Fist to Taking a Knee
,
rowing
,
Speed City
,
sports history
,
Tommie Smith
,
US Olympic team
,
wyomia tyus