Why this matters
Three Finnish women's hockey players are endorsing menstrual cups in a bid to further shatter taboos around periods, increase awareness about women's bodies, and bring more attention to their sport.
For the coming 2019-2020 academic year, the Global Sport Institute's research theme will be "Sport and the body." The Institute will conduct and fund research and host events that will explore a myriad of topics related to the body. Today marks the launch of the theme week.
Noora Raty, the Finnish women's national hockey team goalie, sparkled with 43 saves in a 4-2 semifinal upset victory against Canada and posted 50 saves in a 2-1 gold medal game loss to the United States at the 2019 IIHF Women's World Championship in Finland in April.
This constituted, arguably, the greatest goaltending performance in women's hockey tournament history. The host nation – perennially third in the IIHF Women's World Ranking – won its first silver medal. 
However, there was an unseen factor for Raty as the four-time Olympian frustrated the North American superpowers in her native Espoo.
"When we played Canada and the U.S., I was actually on my period," Raty revealed. She said she has played many of her best games while menstruating.
The 30-year-old, voted a tournament all-star at the 2018 Olympics and the 2019 Women's Worlds, is sponsored by Lunette, a Finnish menstrual cup company, along with fellow Finnish national team members Annina Rajahuhta and Ronja Savolainen. The company, founded in 2005, sells cups in more than 45 countries, and promoted itself at two Women's Worlds games at Espoo's Metro Areena.
Awareness about menstruation in women's sports has improved since Stephen K. Westmann pontificated in his 1939 book "Sport, Physical Education, and Womanhood" that "complete abstinence from activity in sport is absolutely imperative in the menstruating woman."
The Finnish stars want to keep open the conversation about periods, and their partnership with Lunette is multi-faceted. 
"Having professional athletes proves that the products work in settings where you need reliability, especially during games," Lunette founder Heli Kurjanen said.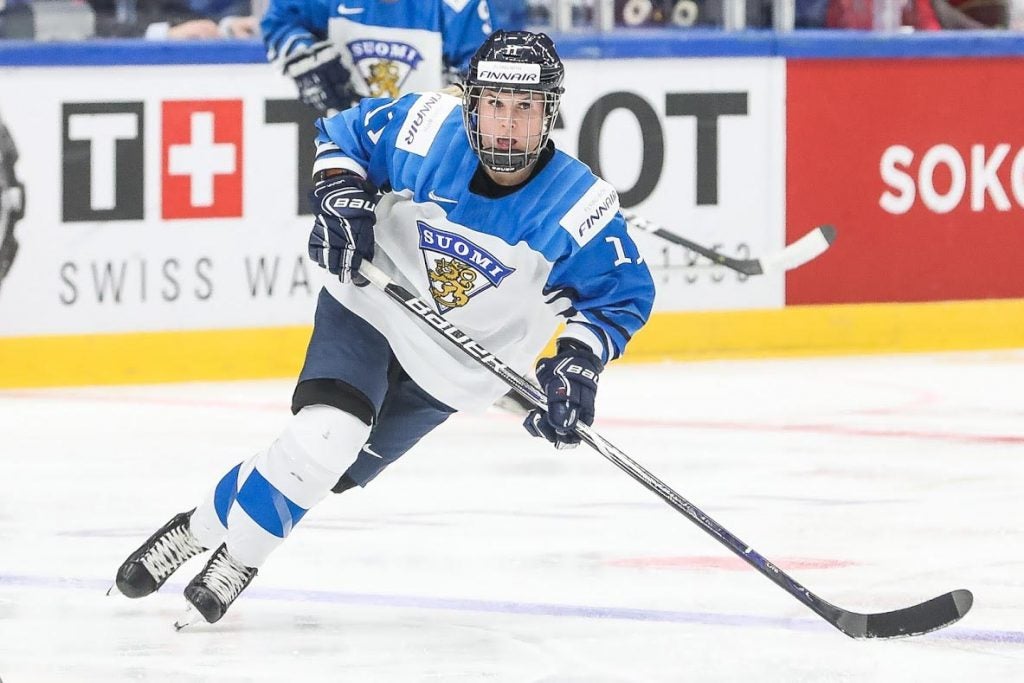 "I love that when I use them during sports, I don't have to think about anything," said Rajahuhta, 30, who has used Lunette cups for more than five years.
The medical-grade silicone cups can collect blood for up to 12 hours, versus four to eight hours for tampons. There are also environmental advantages over tampons and pads. Lunette cups can be used for up to two years and then burned, producing compostable ash.
"I'm a really green person," Raty said. "I try to avoid using water bottles or creating trash that could go in the ocean. So that's a big aspect for me."
Anna Kessel's 2016 book "Eat Sweat Play: How Sport Can Change Our Lives" describes menstruation in women's sports as historically "an enormous elephant in the room, ignored by journalists, coaches, medics, sports scientists and sports governing bodies."
That's changing. Notably, the U.S. women's national soccer team employed research scientist Georgie Bruinvels to monitor their menstrual cycles as they won the 2019 FIFA Women's World Cup.
In hockey, Raty is ahead of the curve. With the University of Minnesota Golden Gophers (2009-13), she began tracking her periods on an iPad. Then strength and conditioning coach Cal Dietz's advice helped her become the all-time NCAA goalie wins leader.
"He found out that a couple of days before your period starts, you're really prone to injuries," Raty explained. "So you should do lighter loads in training. Then once your period starts, you actually are able to max and perform better."
On May 28, 2018 (Menstrual Hygiene Day), Lunette visited the Finnish national team's training camp in Vierumaki for an educational presentation with the full blessing of Finnish Ice Hockey Association CEO Matti Nurminen. Some players there were as young as 16. Even though Finnish culture is known for being blunt and straightforward, the taboo-busting discussion had its challenges. Roughly 10 percent of Finnish women use cups.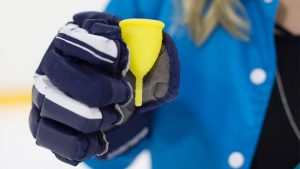 "There was a little bit of giggling, and I remember saying that this is exactly why the topic is so important," Lunette Chief Operating Officer Sonja Karjalainen said. "There shouldn't be any giggling when we talk about a totally natural physiological process, a sign of a healthy body."
"That was a huge thing for me," said Savolainen, 21, a new cup user. "It showed (Lunette is) actually interested in women's hockey. And I know how much they want to help people around the world, to show that a period is a normal thing." 
After the presentation, Rajahuhta, a two-time Olympic bronze medalist who has spoken publicly about her 2014 diagnosis of multiple sclerosis, reached out to Kurjanen about the value she could bring to Lunette. Raty and Savolainen also were sponsored due to their alignment with Lunette's values and their social media savvy.
In sponsored posts, the players sported T-shirts with slogans like "End the bloody taboo" and "This is our period." In a humorous on-ice photo shoot, Rajahuhta fired menstrual cups at Raty. "We just went with the flow, and that gave us a lot of good material," the goalie said.
Raty also appeared on Villi kortti, a comedic sports TV panel show that released a bawdy Women's Worlds fight song. Raty joked about smuggling – in her pre-Lunette days – 450 tampons on one trip to China, where she played professionally for two seasons.
As a progressive Nordic nation, Finland seems ideal for a hybrid partnership between women's sports and menstrual products. In 1906, it became the first country to institute universal suffrage. In the new Equal Measures 2030 Sustainable Development Goals Index, which rates gender equality in 129 nations, Finland is second after Denmark.
That said, just five years ago, backing for Finnish women's hockey was weaker. After an underwhelming fifth-place finish at the 2014 Sochi Olympics, a disgruntled Raty stepped away to compete against men in Finland's third division for three seasons.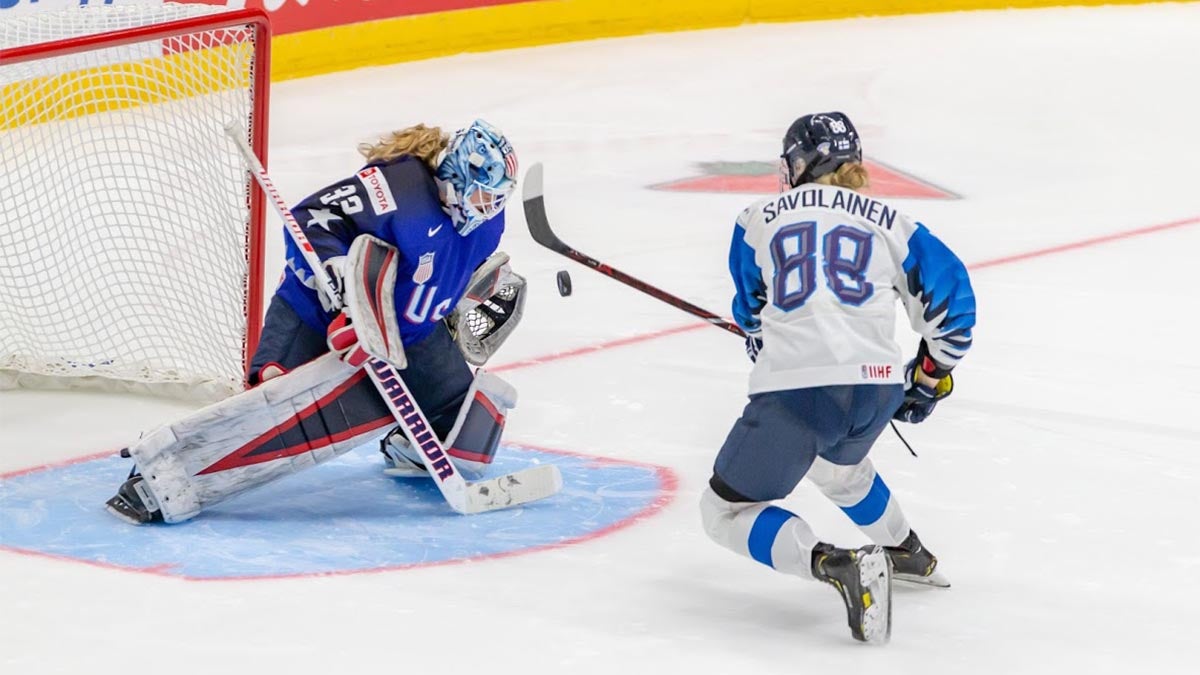 Before the 2019 Women's Worlds, Kurjanen said she wanted Lunette to create a "conversation about the unequal treatment of women in sports."
Today, while several Finnish stars, including Savolainen, play in Sweden's better-supported women's league, the SDHL, national team members get a €10,000 grant annually from the Finnish government. Also, they received a €7,000 gold-medal bonus in April despite losing the final.
In front of a domestic TV audience of 2.5 million, in a nation of 5.5 million, the Finns thought they had won in overtime. However, Petra Nieminen's goal was nullified by a video goal judge, and the U.S. prevailed in a penalty shootout for its fifth straight world title. 
"It was the moment when our women's team finally melted the hearts of Finns with the dramatic ending," said Karjalainen. She believes sponsoring women's hockey has paid off for Lunette. It is another way to create visibility for the increasingly popular sport and educate women – athletes or not – about their periods. 
Lucas Aykroyd writes for the New York Times, espnW, and the Women's Sports Foundation. Based in Vancouver, he has covered women's hockey at five Winter Olympics and four IIHF Women's World Championships.
Tags:
Anna Kessel
,
Annina Rajahuhta
,
Canada
,
Eat Sweat Play: How Sport Can Change our lives
,
End the bloody taboo
,
Espoo's Metro Areena
,
Finland
,
Finnish Ice Hockey Assoctiation
,
Georgie Bruinvels
,
Heli Kurjanen
,
IIHF Women's World Championship
,
Lunette
,
Matti Nurminen
,
medical-grade silicone cups
,
menstrual cup
,
Menstrual Hygiene Day
,
Minnesota Golden Gophers
,
Noora Raty
,
Olympian
,
period
,
Ronja Savolainen
,
silver medal
,
Sonja Karjalainen
,
Stephen K. Westmann
,
This is our period.
,
USWNT
,
Villi kortti
,
women's hockey