Health
No time to breathe: Overuse injuries hit WNBA hard in 2019
The WNBA season kicked off May 24, but many notable names were missing from opening day rosters.


One of the biggest names sidelined is Breanna Stewart of the Seattle Storm. Stewart was the league and finals MVP last season, but during the offseason she ruptured her right Achilles tendon in the EuroLeague Championship Game while playing for her Russian team, Dynamo Kursk. The injury will sideline her for the 2019 WNBA season.
According to a 2006 study published in the American Journal of Sports Medicine injuries to the knee and ankle are most common in basketball, and these injuries occur more often in the WNBA than the NBA. The researchers found female basketball players sustain 60% more injuries than men.
Prayers up for @BreannaStewart who was carried off the court after an awkward landing on her ankle ?. #EuroLeagueWomen pic.twitter.com/5l89Vd6bsV

— EuroLeague Women (@EuroLeagueWomen) April 14, 2019

Anterior cruciate ligament (ACL) injuries are among the most common. According to a 2017 Harvard Medical School study, women who play contact sports are seven times more likely to suffer ACL injuries than men who play similar sports.
Biological factors contribute to this injury discrepancy.
"Female's hormones are a little bit different, especially in the age group of these athletes," Dr. Anikar Chhabra, an orthopedic surgeon and sports medicine specialist at Mayo Clinic, said. "Their ligaments tend to be looser. It's all related to childbearing."
Looser ligaments in the legs, feet, ankles and knees help contribute to higher incidence of injury in female basketball players, he added.
Additionally, structural differences exist in the male and female bodies. Females tend to have wider hips and flatter feet, which affects how they land, putting additional stress on their knees, Dr. Chhabra said.
Finally muscle imbalance tends to be more pronounced in females than in males. Females in certain sports, basketball being one, tend to have a higher ratio of quadriceps to hamstring muscles due to training and the way their bodies are built. That again puts more stress on the knees and ankles.
So how does this frequency of injury translate to what fans see on the court?
Notable Players Missing the 2019 WNBA Season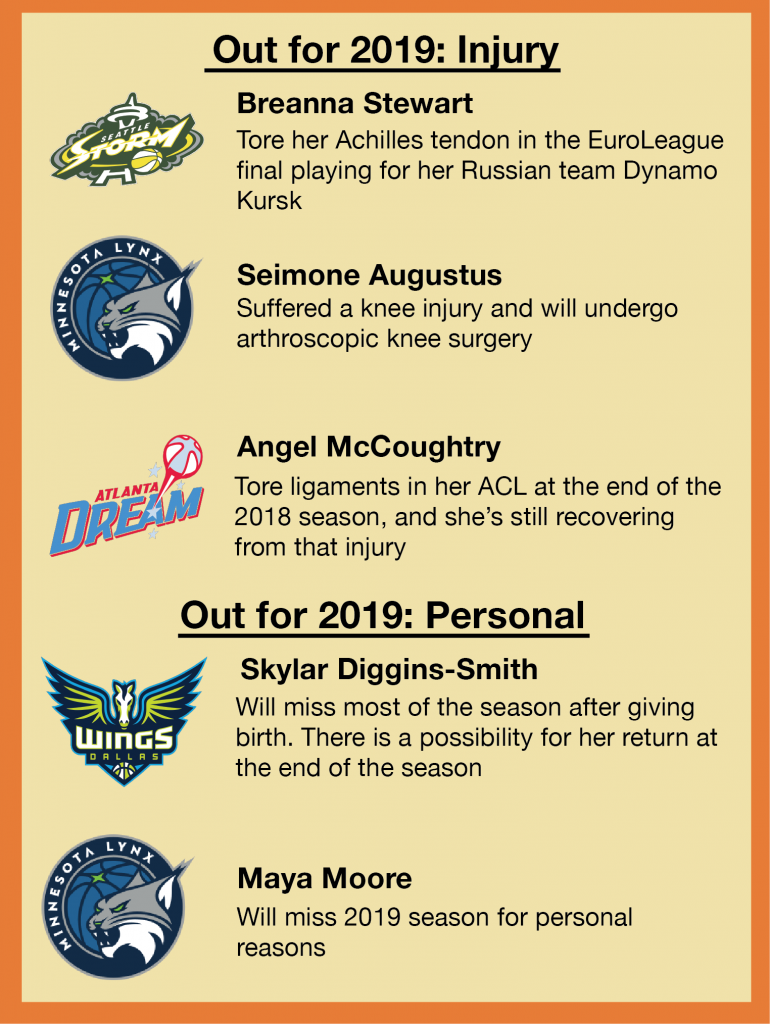 Stewart is not the only past WNBA All-Star who will be out for at least a portion of the 2019 season. Her teammate Sue Bird will miss most of the season following knee surgery. Seimone Augustus and Angel McCoughtry will both be out for the season recovering from knee injuries.
"The year-round play for WNBA players is a detriment to the WNBA product," Minnesota Lynx coach Cheryl Reeve told the New York Times. "The physical and mental toll it takes on the league's elite players is reflected in some of the league's best sitting out the WNBA season to 'rest,' as well as these players sustaining injuries."
Making the Best of the Recovery Period
Chiney Ogwumike sustained an injury in 2015 playing for Italian team Familia Schio. She sat the 2015 WNBA season to recover. During that time, she filled in on ESPN for shows like "His and Hers" and "First Take."
She was injured again in 2017. This time she tore her Achilles tendon while playing in China. Once again, she used the recovery period to work with ESPN. The Nigerian-American Ogwumike began to host the newly launched "SportsCenter Africa," and eventually transitioned into her current role as a full-time NBA analyst.
"The WNBA is, technically, my part-time job," she told Essence. "I will be working (as an analyst) for most of the NBA season. In the NBA, they can't do this because they're hooping for most of the year. WNBA players play from May to September."
Like Ogwumike, Stewart has gotten creative about her income during her recovery period. The Storm suspended her without pay for the season because it was the only way the team could free a roster spot, but according to the Associated Press the league hired her as an ambassador for the 2019 season. ESPN reporter Mechelle Voepel has noted the specifics about the exact nature of Stewart's work for the league are unclear.
Why do WNBA Players Compete Overseas?
According to a doctoral dissertation by Barbra Nalani Butler, an assistant professor of sports management at the University of Tampa, titled "Women on the Move: The Migration of WNBA Players to Overseas Basketball Teams," athletes choose to play abroad for many reasons. Traveling, desire to experience a different culture and staying conditioned for the WNBA season are just a few of the reasons highlighted.
Money is a major motivating factor without question. High-level players can make significantly more overseas than in the WNBA.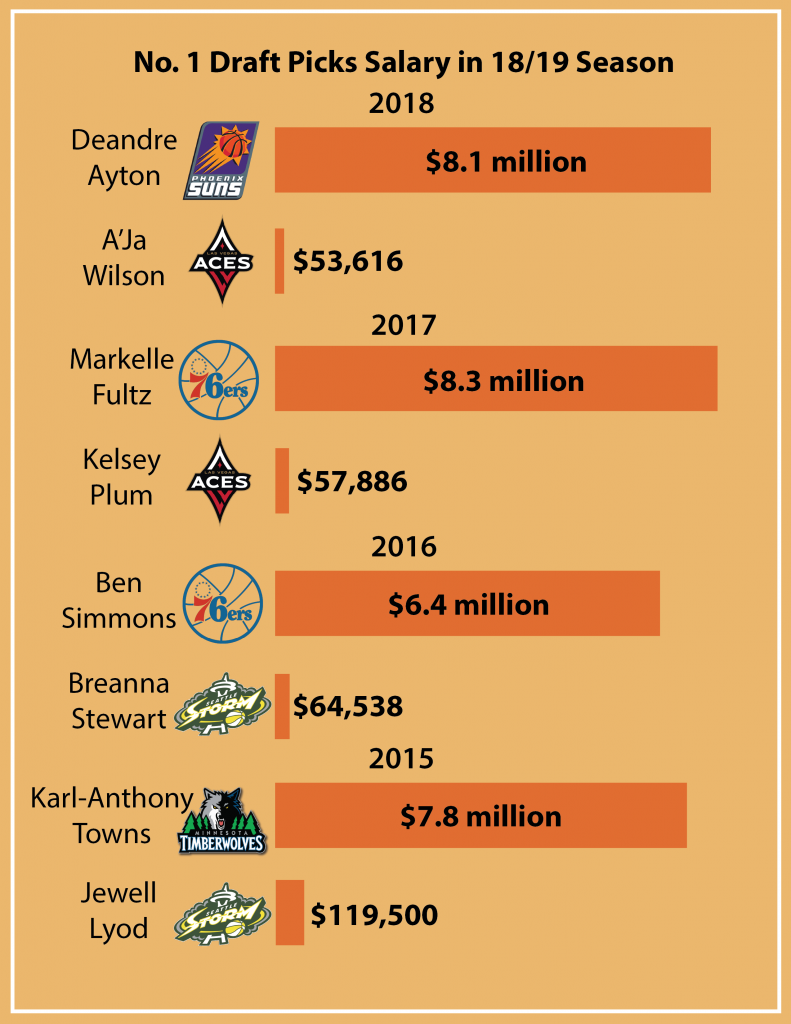 While international salaries are not readily available, The New York Times noted players can make significantly more playing for teams in Europe and Asia, where independent owners are free of salary cap restrictions. In 2015, ESPN reported Diana Taurasi of the Phoenix Mercury made $1.5 million from her Russian team, UMMC Ekaterinburg.
Back in the U.S., WNBA salaries peak at $127,500 for the 2019 season — that's DeWanna Bonner's salary from the Phoenix Mercury. Compare that to the $37 million Golden State Warriors guard Stephen Curry is guaranteed for the 2018-19 season. Bonner's salary is 3% of Curry's.
On the low end, dozens of players make the WNBA league minimum, $41,965, in 2019.
This pay disparity is not limited to veterans. Top picks are compensated very differently in the WNBA and NBA.
NBA players re-sign for multi-million dollar contracts after their rookie deals, but, at most, WNBA players get a $50,000 bump in their salaries.
Most players that choose to go overseas are these talented youngsters. The No. 1 picks from the last four seasons all played abroad this past WNBA offseason.
Sport Specialization Culture in America
With the sport specialization culture in America, athletes are committing to a single sport at a younger and younger age. They no longer cross-train by playing multiple sports, and that is leading to increased overuse injuries and growth plate injuries at a young age, according to Chhabra.
A study published in 2017 in the American Journal of Sports Medicine found athletes who have high levels of primary sport specialization sustained lower extremity injuries more frequently than athletes who participated in multiple sports.
"We see a lot more injuries in college basketball now than we did 10 years ago," Chhabra said. "Because kids, when they come to college now, their exposures are so much higher. They're playing in two or three club leagues. They're playing 100 games a year for four years in high school. So by the time they get to college, they're 400 games of basketball in."
If they do make it to play professionally, athletes have competed in hundreds of games putting all of that stress on their bodies. Athletes are breaking down, suffering overuse injuries, sooner and more often than they were in the past.
Long-term Effects of Playing with a Short Offseason
While many veteran players didn't play overseas this past offseason, they have endured years of constant basketball. That is catching up with them later in their careers, making them more susceptible to injury.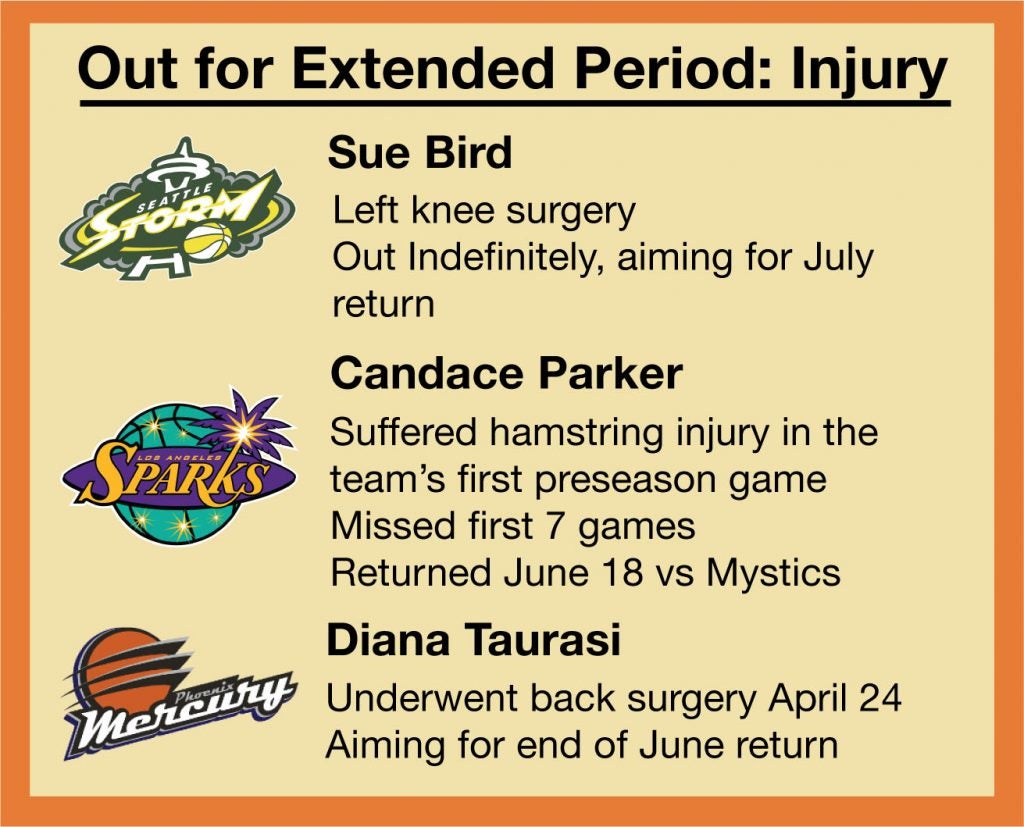 "Basketball is a high-risk sport to start," Chhabra said. "It's a tough sport to play for a long period of time because of the constant pounding and high risk of injury to the lower extremities."
Over time, athletes become more prone to reinjury, especially when they are in the process of coming back from an injury.
Three WNBA veteran all-stars will be sidelined for at least a portion of the 2019 season. Although none played overseas this past year, each had busy schedules in the past.
Seattle's Sue Bird has been playing in the WNBA since 2002. During that time, she had missed one WNBA season: 2013, to remove a cyst from her knee. She played in Russia for three teams during a 10-year period before retiring from overseas play in 2014. She will miss at least two months of the four-month 2019 WNBA season following surgery on her knee.
Candace Parker has been in the league since 2008, and she has played a packed schedule each year. She has experienced her share of injuries as well. During the 2010 and 2011 seasons, she played a combined 27 games due to shoulder and meniscus injuries, respectively. In 2015, she sat more than half the season to rest. She has played for the premiere teams in Russia, Turkey and China since 2010. She missed the first seven games of the season due to a hamstring injury she suffered in the team's first preseason game.
Taurasi has played every season since 2004 for the Phoenix Mercury except in 2015. She was playing for Russian UMMC Ekaterinburg during that offseason when she broke her hand. The club asked her to sit out the WNBA season to rest and recover, and she did.
She wrote in a letter to Mercury fans, "The year-round nature of women's basketball takes its toll, and the financial opportunity with my team in Russia would have been irresponsible to turn down. They offered to pay me to rest, and I've decided to take them up on it. I want to be able to take care of myself and my family when I am done playing."
She retired from overseas competition in 2017 after 12 years total, including five with Ekaterinberg. She will miss a portion of the 2019 season recovering from back surgery.
Professional Women's Basketball Busy Schedule
While Europe isn't the only destination for WNBA players in the offseason, it is home to one of the most prestigious leagues outside of the WNBA — the EuroLeague. About 35% of all WNBA players who went abroad this past year played in this top European league.
The schedule for players is rough though. Take Breanna Stewart for example. She played in both the WNBA and EuroLeague Women Championship Game this year meaning she had one of the longest possible seasons.

Not only do these players compete in EuroLeague games, but they also compete domestically in leagues such as the Turkish Super League or Russian Superleague.
When factoring in the time required for training camp and preseason games, the offseason shrinks more. And this does not count the time some players spend on national teams during Olympic and World Cup competition. Elite female basketball players have little time to do anything except play basketball.
Constantly playing the same sport and working the same muscles can contribute to overuse injuries.
"When you're playing basketball, you're working the same muscles over and over and over," Dr. Chhabra said. "It's like going to the gym and lifting the same body part over and over and over again every day. You're eventually going to get hurt because of a muscle imbalance, and because of an overuse injury."
Athletes in other professional sports have used cross training to achieve more muscle balance. Some NFL players have started doing yoga to help with balance and flexibility, but playing in two professional leagues makes it hard to find the time to train other muscles.
Other Sports Leagues with a Short Offseason
The WNBA is not the only league with a short offseason though. Professional golf and tennis players compete most of the year as well. In the 2018-19 PGA season, 39 days existed between the championship round of the last tournament and the first round of the following season.
Athletes in these leagues also face problems with overuse injuries.
The ATP Tour was hit especially hard in the 2017 season. Seven of the players ranked in the top 20 were forced to end their seasons early due to injury. Novak Djokovic, a league veteran in 2017, cut his season short due to chronic elbow pain. Younger players, such as Nick Kyrgios, also cut their 2017 season short.
In the PGA, top stars such as Tiger Woods have had injury riddled careers. Woods has dealt with everything from back pain to knee sprains to a tear in his Achilles tendon.
The major difference is golf and tennis players have the ability to opt out of tournaments or portions of a season to preserve their bodies. Essentially, they create an offseason for themselves in the course of a season.
Roger Federer chose not to play the French Open for four years in order to rest his body for Wimbledon and the grass court season.
In a team sport such as basketball, players take the court every game, especially superstars such as Breanna Stewart. She played in all 18 of Kursk's games in 2018-19 and averaged 35 minutes a game — the most of any player on the team.
Conclusions
It's hard to address the pay difference between the WNBA and overseas women's basketball leagues, but in an effort to bridge the pay gap female basketball players are pushing themselves to the breaking point. The schedule of constant competition is leading to more fatigued players and an increase in overuse injuries.
I've got some news: thrilled to announce that I've accepted a full-time position as an NBA analyst for @espn while still playing in the @WNBA! So blessed to work for a company that supports the rising generation of sports fans, women and diverse voices. pic.twitter.com/GiOPcKWZfU

— Chiney Ogwumike (@Chiney321) May 1, 2018
"We all know people tear their ACL's at a much higher rate when your body is fatigued," Dr. Chhabra said, "The muscle balance just can't support it. If you look at the literature (these injuries) happen in the third and fourth quarters in basketball games, or at the end of a second practice when people are fatigued."
With a number of top stars sitting out the 2019 WNBA season, the hectic schedule is something that leagues, teams and players will have to consider and contend with in the future.
Sarah Farrell is a graduate student studying sports journalism at Arizona State University
Editor's note: For the coming 2019-2020 academic year, the Global Sport Institute's research theme will be "Sport and the body." The Institute will conduct and fund research and host events that will explore a myriad of topics related to the body.
Related articles
Overseas play a necessary part of life for WNBA players
Breanna Stewart's Achilles injury underscores need for WNBA to find solution to pay issue
Breanna Stewart's injury points up a bigger issue
WNBA Players Overseas: 2018-19
To limit injuries, the WNBA must address overseas play and its short pre-draft period
For WNBA players, the real money is overseas
The Business Of Being a WNBA Player
The second jobs of WNBA All-Stars: Seimone Augustus in Russia
Tags:
Achilles Tendon
,
ACL
,
All-Star
,
Angel McCoughtry
,
ATP
,
basketball
,
Breanna Stewart
,
Candace Parker
,
Chiney Ogwumike
,
Connecticut Sun
,
contracts
,
DeWanna Bonner
,
ESPN
,
EuroLeague
,
Golden State Warriors.
,
golf
,
Los Angeles Sparks
,
Maya Moore
,
Minnesota Lynx
,
NBA
,
Novak Djokovic
,
Overuse Injury
,
PGA
,
Phoenix Mercury
,
Roger Federer
,
Rookie
,
Seattle Storm
,
Seimone Augustus
,
Steph Curry
,
Stephen Curry
,
Sue Bird
,
tennis
,
Tiger Woods
,
WNBA