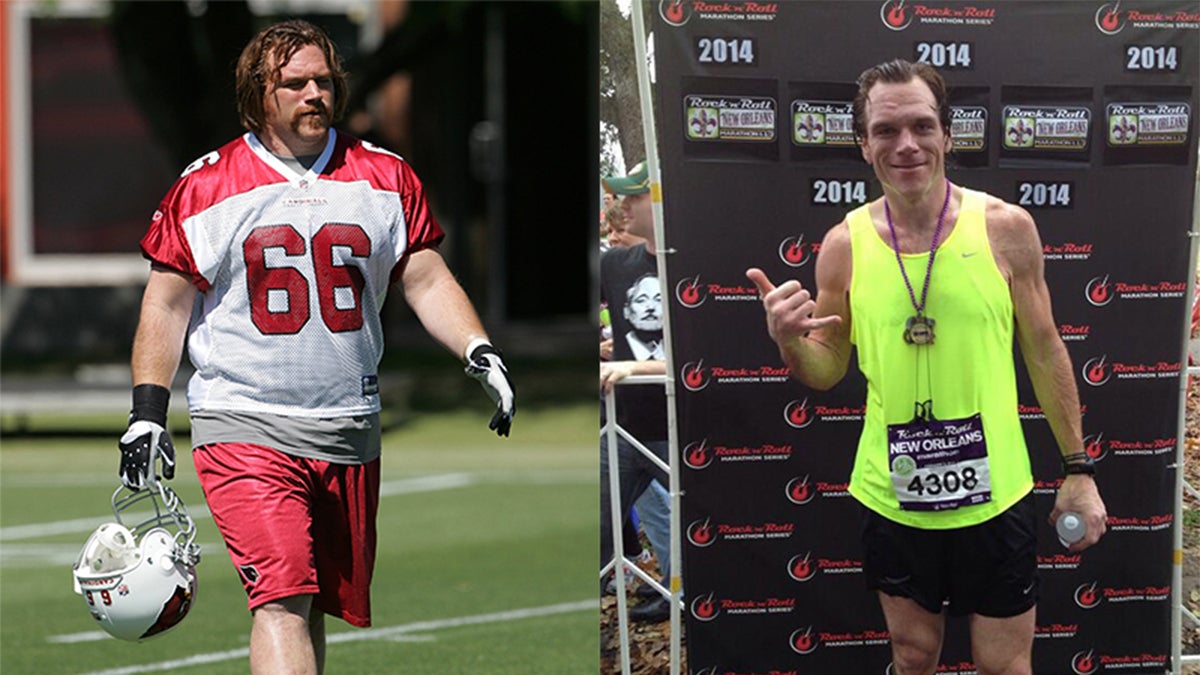 Grey Ruegamer described himself as a "tall, skinny fat kid" his freshman year at Arizona State University. At 6-foot-4, the center weighed 245 pounds. But by the end of his senior season, the scale read close to 290.
On NFL Draft day in 1999, however, Ruegamer learned those extra 45 pounds wouldn't be enough. Miami Dolphins coach Jimmie Johnson made it clear what he wanted from his big men:
"He asked me straight up on the phone during draft day," said Ruegamer, who retired in 2009 after 10 years in the NFL. "He said, 'Grey, do you think you can get to 320?' I said, 'Absolutely.' "
It's an adage as old as football: The game is won or lost in the trenches. Even in the modern age of spread offenses and skyrocketing passing numbers, the ability to push an opponent off the ball will always be a benefit. The expectation of winning in the trenches, however, can cause players to live relatively unhealthy lifestyles, ballooning to sizes far above their body's natural weight.
It presents a challenge for many after football, too. Some follow strict diet and fitness plans to reach a healthy weight. Former Arizona Cardinals guard Alan Faneca, who weighed as much as 320 pounds when he played, ran a marathon less than three years after retirement. But others battle lifelong health issues, including longtime Chicago Bears defensive lineman William Perry, who weighs more than 400 pounds, is battling diabetes and is confined to a wheelchair.
NFL players, linemen in particular, have gotten considerably larger over the decades. Generating force comes in two parts: acceleration and mass (essentially weight). An increase in weight allows the player to produce more force.
The Washington Football Team's fabled "Hogs" offensive line from 1982 weighed an average of 280.2 pounds. Last season, the average Washington lineman weighed 321.4 pounds. It's a trend that's held true across the league for the past four decades.
Although playing at this weight is necessary for many linemen, it's not the healthiest lifestyle. Many of these players retire with the paramount goal of shedding some of that "offensive line weight."
"I don't have to push around 300-pound defensive linemen anymore, and no one's looking at my weight. So let me just do the right thing here and cut that back," said Scott Peters, who played at Arizona State and in the NFL, including for the Cardinals, for eight years. "That was the number one thing I wanted to do when I retired from football, was just lose some weight."
Peters maxed out at 325 pounds during his playing days. Today, he hovers around 270 pounds. Ruegamer now weighs about 275.
"These offensive and defensive linemen typically have body-mass indexes that exceed 30," said Dr. David Geier, a board member of the American Orthopaedic Society for Sports Medicine. "Essentially, many of them are what we consider obese, which is bad for your overall health for a lot of medical reasons."
It's easy to look at a weight of 270 pounds and think, "These players haven't really lost many pounds." But many forget, these are massive, big-boned humans. The 50th percentile (average) height and weight of an offensive tackle is 6-foot-5, 314 pounds, according to data from The Scouting Academy. The average height for an American male, according to the Centers for Disease Control, is 5-foot-9. The average weight is 195.5 pounds.
"My body structure, I don't know if I can ever be below 245 and not look ill," said Mike Pollak, who was drafted out of ASU in 2008 and had a six-year NFL career at center and guard. "Where I'm currently at I feel like I'm in a good place moving forward."
Pollak maxed at 310 pounds when playing, and he, too, is about 270 now.
Some players quickly cut significant pounds after retiring.
Faneca, a 13-year offensive lineman in the NFL, made headlines in 2014 by running his first marathon. Faneca dropped 70 pounds in his first three months after retirement and weighed 210 when he ran the marathon.
Faneca, who played collegiately at Louisiana State, might be the rare player making headlines for shedding pounds, but he's far from the only former player bent on trying.
"When I finished," Peters said, "I was just thinking, 'Man I need to lose some weight. It's not necessary to be this big.' I know a lot of former players who are out and about, and the guys that seem to do really well are the guys that lose weight."
A 1994 study by the Centers for Disease Control and Prevention found that former NFL offensive and defensive linemen experience a 52 percent increased risk of dying from heart conditions compared with the general public.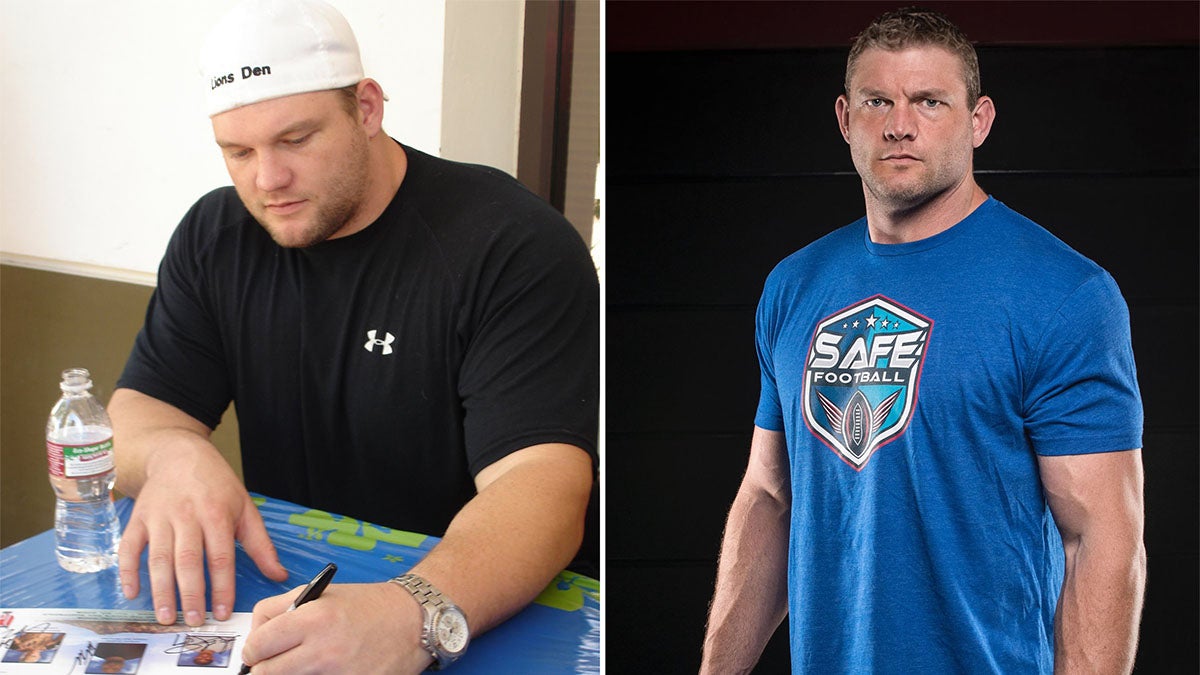 Some researchers disputed the findings, however. A 2009 study in "The Journal of the American Medical Association" found that "the NFL population, characterized by large size and intense physical activity, had a (cardiovascular disease) risk profile that was similar to the general population."
In 2014, a study in The American Journal of Cardiology found that "risk factors for cardiovascular mortality, including hypertension, sleep-disordered breathing and metabolic syndrome, are more prevalent in linemen than in non-linemen."
But extreme weight poses health threats beyond the cardiovascular system. Geier, with the American Orthopaedic Society for Sports Medicine, noted the risks to hips, knees and ankles. This often leads to arthritis symptoms, often emerging mid-career.
"Typically, they want you as an O-lineman to be over 300 pounds, at least over 300 pounds," said Christian Westerman, a former ASU guard who is entering his third NFL season with the Cincinnati Bengals. "Each guy is different; it's kind of based on your body size. Let's say a guy is 6-foot-8, he has a little more room to be, like, 325."
For a lot of players, maintaining that much weight is significant challenge. The NFL life is taxing on your body. Morning workouts in the sun, followed by intense weight training, burns well more than 1,000 calories a day during the season. To gain weight, players have to eat more than they're burning and metabolizing.
"It's not easy. Because of the workload and stuff, it's not easy to gain weight," Westerman said.
Ruegamer said his NFL diet was "pretty much beer and pizza. … Working out a ton and eating a ton. Nutrition wasn't really well understood or implemented."
There are many stories about team dinners where players order multiple steaks or rookies get stuck with expensive bills – largely due to alcohol – but NFL players eat like this regularly, just to maintain their playing weight.
"As you're playing, you're eating a tremendous amount of food," Peters said. "I can't even imagine. I'd be a blimp today if I ate even close to what I ate when I played.
"Your expenditure of calories is so high. You're doing a ton of work, you're lifting weights and you're training like a professional athlete, but kind of part professional football player, part sumo wrestler."
Many teams hold regular, player-organized dinners for their offensive lines, with the bill going to each member on a rotating basis. Peters says these dinners include numerous appetizers for the table, and players order multiple entrees for themselves.
"It just becomes your culture. You don't even think of it as abnormal because you're around other offensive lineman," Peters said. "If you've ever been to an offensive linemen dinner in the NFL, some of the stuff you'd just go, 'Are you kidding me?'"
The National Football League isn't all glitz and glamor. Players live under rigorous daily routines, arriving at team facilities early in the morning for team meetings, film study, positional and team practice and drills, weight training, news-media obligations and therapeutic recovery or treatment of injuries.
Finding a replacement to the arduous NFL routine can be tough after retirement.
"It was harder for me that I anticipated because you're used to weights (and) meetings. Every second of the day is planned out," Pollak said. "I definitely took a more regimented approach to (drop weight). I was getting up early before my kids to go to the gym and maintain some of that (NFL) lifestyle. I've since, in the past 18 months, adjusted that to become a more normal lifestyle."
Having a plan to adjust to post-career life appears to be crucial to success for many players. Peters opened a mixed martial arts gym and got involved in jiu jitsu and boxing. Pollak's younger sister is a registered dietician who has worked with football players before. She helped him develop a strategy. When Westerman retires, he wants to get to 240 or 250 pounds and be "slimmer and more cut up" through bodybuilding or martial arts.
"Everybody adapts differently based on how active they are," Geier said. "I think that's been one of the challenges with (newly retired) NFL players is all of a sudden, they have this huge decrease in what they do. Even if they want to stay active, a lot of them, their bodies still hurt from their injuries in their career. They know they need to exercise more, but it's hard. (They) try to cut back on their eating, but that's become habitual, too, so it really becomes tricky."
Pollak said most guys who don't lose a significant amount of weight in the first year never will.
"There's not many resources post-football for the transitioning factor. There's a lot of guys just relying on one another," Pollak said. "The NFL and NFLPA (the league's players association) want to say there's all these different mechanisms in place, but they're more superficial and aren't really as beneficial when you start to talk to guys that are actually in places of need."
Like Pollak, many former players still talk among one other about this issue, and they talk to current players about post-football life. For them, it's more of a means of accountability, not a way of measuring themselves against their peers. No longer are they in the league with external pressures to remain healthy; they have to rely on each other to be ready when the time comes to walk away.
"The game will take something away from you," Ruegamer said. "It always will. It's not like you can expect to walk into football and expect to be 100-percent purely healthy coming out the other end, that's just not what it is.
"That being said, I would do it again. I would have no reservations about going back into it."
Tags:
"Hogs"
,
Alan Faneca
,
Arizona Cardinals
,
ASU
,
Centers for Disease Control
,
Chicago Bears
,
Christian Westerman
,
Cincinnati Bengals
,
Cronkite NEws
,
Dr. David Geier
,
Grey Ruegamer
,
linemen
,
Mike Pollak
,
NFL
,
NFL draft
,
Scott Peters
,
The Scouting Academu
,
Washington Football Team
,
weight
,
William Perry