Events
Toward A Different Kind of Winning: Nurturing Black Creativity and Masculinity
Why this matters
Black masculinity is a predominant focus of sports culture, and through creativity and self-expression, it can be reimagined.
This event took place on 1/20/2022. For access to the full episode, please contact Kendall Jones by email at Kendall.Jones@asu.edu . To stay up to date on upcoming events, sign up for our newsletter.
Center for Imagination in the Borderlands, Global Sport Institute and the ASU Art Museum held a conversation with Freedom Reads Founder and Director Reginald Dwayne Betts and Pulitzer Prize winning journalist Mitchell Jackson, moderated by Global Sport Institute CEO Kenneth Shropshire.
Toward A Different Kind of Winning: Nurturing Black Creativity and Masculinity engaged the importance of articulating and making legible the many languages and stories that carry us through our most painful and joyful moments, our defeats and victories. It was our luck to experience one of the many fields of strength and care that emerge when Black creativity and masculinity are nurtured together, in story and language, in friendship and in being alongside, through the thick and the thin, toward something that outlasts winning. This conversation was in collaboration with the Undoing Time: Art and Histories of Incarceration exhibit (now until Feb. 12) currently on display at the ASU Art Museum.
The event also included an excerpted performance from Betts' solo show, Felon: An American Washi Tale, which weaves traditional theater, poetry, fine art and Japanese papermaking aesthetic principles into a meditation on Betts' experiences of incarceration and his legal work to free friends that are still in prison.
We're honored to have had the opportunity to hear from Betts, Jackson and Shropshire. This event also contained closed captioning and ASL interpretive services.
*We raffled 10 autographed book bundles of the speakers' works to attendees. Book bundle included: Survival Math by Mitchell Jackson, Felon:Poems by Reginald Dwayne Betts, and Sport Matters by Kenneth Shropshire.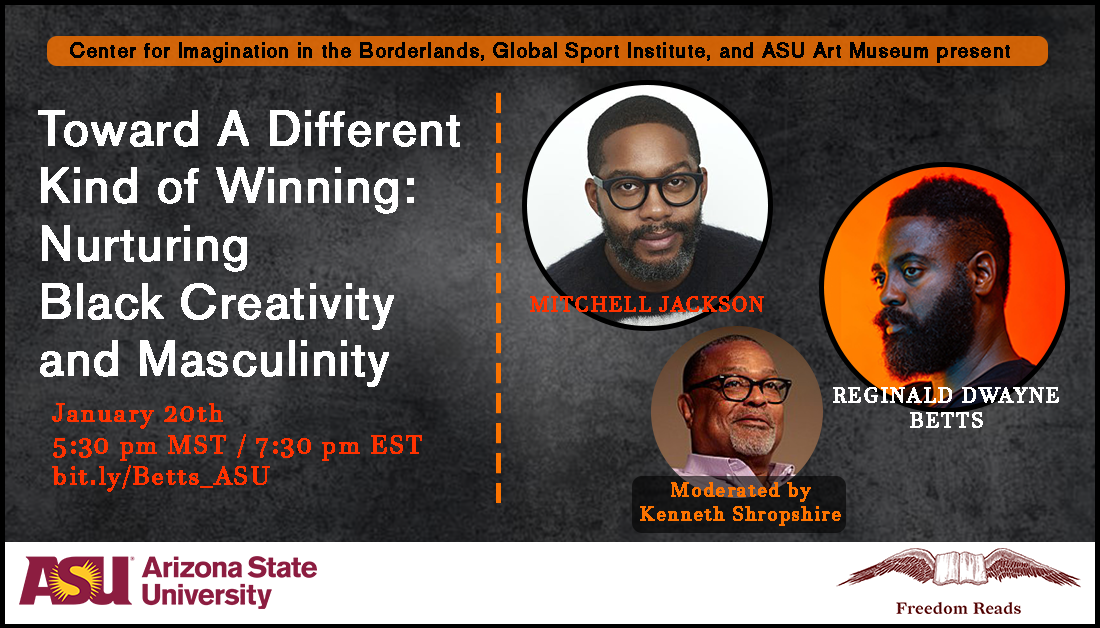 About the speakers:
Professor Kenneth L. Shropshire is CEO of the Global Sport Institute and the adidas Distinguished Professor of Global Sport at Arizona State University. He took on this current leadership role following a 30-year career as an endowed full professor at the Wharton School of the University of Pennsylvania.
Mitchell S. Jackson is the winner of the 2021 Pulitzer Prize in Feature Writing and the 2021 National Magazine Award in Feature Writing. Jackson is also a well-regarded speaker who has delivered lectures and key note addresses all over the world, including the annual TED Conference, the Ubud (Bali) Writers and Readers Festival, and the Sydney Writers' Festival, as well as at esteemed institutions, among them Yale University, Brown University, Cornell University, and Columbia University. A formerly incarcerated person, Jackson is also a social justice advocate who, as part of his outreach, visits prisons and youth facilities in the United States and abroad.
Reginald Dwayne Betts transformed himself from a sixteen-year old kid sentenced to nine-years in prison to a critically acclaimed writer and graduate of the Yale Law School. He has written three acclaimed collections of poetry, the recently published Felon, Bastards of the Reagan Era and Shahid Reads His Own Palm.