Culture
'Urge for masculinity': Homophobia remains entrenched in German football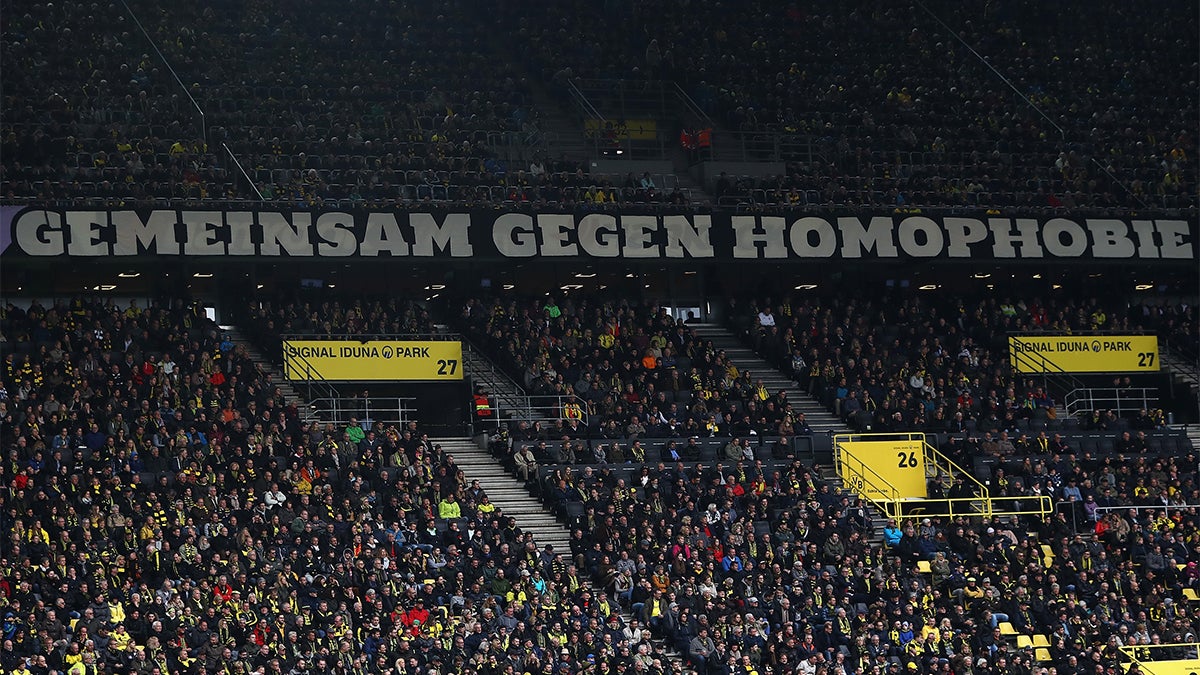 When former German international and current head of sport at VfB Stuttgart Thomas Hitzlsperger came out as gay in January 2014, he said he believed it was a good time to do so.


Heinz Bonn, who played for Hamburger SV in the Bundesliga, Germany's top division, between 1970 and 1973, was the first German male footballer known to be gay. But that was only revealed after his death in 1991.
In 1997, Marcus Urban told his friends, family and closest teammates at FC Rot-Weiß Erfurt about his homosexuality, but he did not go public for another decade, after he had retired.
They remain the only known homosexual male footballers in or from Germany, and none came out publicly during their playing careers.
Homophobia remains a serious problem in German football: large cross sections of players, staff, governing bodies and supporters have created an unhealthy environment to be an openly-homosexual male footballer.
A European Union-wide study by German Sport University in Cologne found that 90% of the LGBT community believe sport is affected by homophobia and transphobia.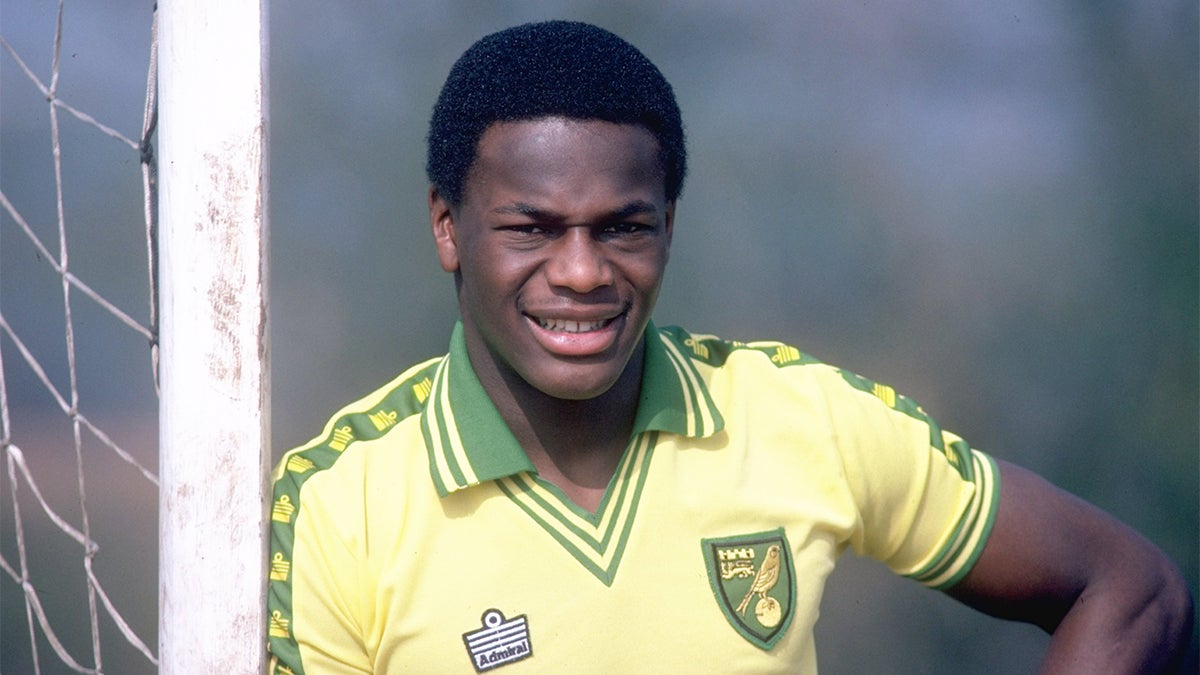 The effect homophobia can have is highlighted by the case of English football player Justin Fashanu, who suffered homophobic abuse after becoming the first openly gay professional footballer in October 1990.
He was targeted with both homophobic and racist abuse, and he was the victim of what he contested was a false allegation of sexual assault by a 17-year-old in March 1998. He took his own life weeks later, protesting his innocence in his note.
Fans continue to sing offensive chants and unveil homophobic banners in Germany, which left players and managers arguing against the idea of coming out as gay before Hitzlsperger's announcement because, in former Werder Bremen manager Rudi Assauer's words, "those who out themselves always end up busted by it."
In 2006, Rund magazine published interviews with two closeted German footballers, having documented their lives from 2004. One of the players had a wife who he claimed did not know about his sexuality, and the other told teammates a close female friend was his partner when, in truth, he was gay. The players' identities have never been revealed.
National team goalkeeper Tim Wiese said in 2010 that openly gay players would be destroyed by "merciless fans," because football is a "macho sport."
That year, Philipp Lahm said: "A player who chooses to out himself has to carry out his job in front of tens of thousands of spectators."
"Football has an uncontrollable urge for masculinity and heteronormativity." – Statement from Bayern Munich fan group
Their comments led Mario Gomez to become one of the first German players to encourage his homosexual teammates to be open about their identities, but he remained in the minority. He said those who managed to speak out would feel liberated because "being gay should no longer be a taboo topic."
Hitzlsperger's announcement, then, a year after he retired as a player, took courage. In his interview with Die Zeit, he said homosexuality was a taboo in the male football dressing room, and that some of the comments made about the subject, including from teammates, made it harder.
"I'm coming out about my homosexuality because I want to move the discussion about homosexuality among professional sportspeople forwards," he said.
While he has moved from his playing career to the boardroom, German football has failed to move forwards regarding homosexuality.
His efforts were summed up in a statement by Bayern Munich supporters group Colegio: "Five years ago, Thomas Hitzlsperger came out as gay, after his career was done. Since then, nothing's changed in Germany's professional leagues.
"Football has an uncontrollable urge for masculinity and heteronormativity."
The group made their message clear as their side faced Hitzlsperger's team, Stuttgart, at the Allianz Arena. They unveiled a banner which read: "Everyone should love whoever they want. The rest should keep quiet! Fight homophobia!"
Similar banners and rainbow flags, in support of Germany's LGBT population who may be on the pitch, watching on the terraces or supporting from home, have been shown at Werder Bremen and St. Pauli's matches this year, but homophobia is still prevalent.
Last month, in a match against Köln, Dynamo Dresden fans showed a banner at the Stadion Dresden, which read: "It is Easter fun for children. In Köln, it is not only today that men chase after eggs."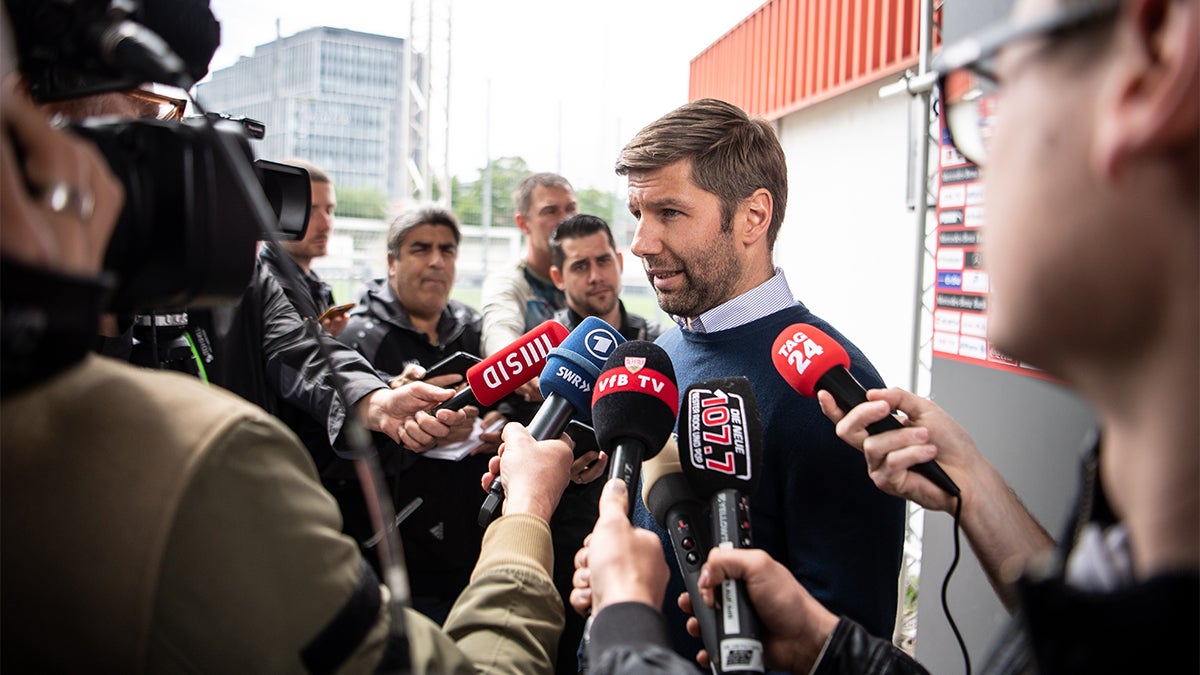 Days later, Borussia Dortmund fans held a banner behind the goal in Signal Iduna Park's south stand that read: "'Rock N Roll' Schalke? You queers are still singing to Kay One," in reference to the supposed demographic that listens to German singer Prince Kay One.
In December, a Red Star Leipzig player reported a rival from Naunhof for using homophobic language toward him, in a match in the Landesklasse Nord, the seventh tier. The case went to the Saxony Football Association court, who dismissed any sanction because it was "typical football language."
It is important to recognise, though, that progress is being made. The German Football Association (DFB) worked closely with the Queer Football Fanclubs to welcome LGBT supporters to Germany's match against Serbia in March, by showing rainbow flags, introducing unisex toilets and allowing fans to choose whether they wished to be searched by a male or female steward. This came after Germany introduced an intersex identity option to legal documents in January.
However, for as long as players, staff and supporters continue to demonstrate homophobic behaviour from the top to grassroots level, homosexual players will continue to struggle to follow Urban and Hitzlsperger's leads. This makes the work of the Fußball für Vielfalt (Football for Diversity) campaign, in which clubs are educating their stakeholders about the LGBT community by working with various charities, so important for the future.
Ryan Plant is a freelance sports journalist from Lincolnshire, England. He is a recent football journalism graduate from the University of Derby. His portfolio can be found at wakelet.com/@ryanplant1998.
Related Articles
More groups offering support to LGBTQ sports community
LGBTQ student athletes risk mental health when joining a sport
Former football player Michael Sam says his sexuality forced him to prove himself
Tags:
Bayern Munich
,
Borussia Dortmund
,
Bundesliga
,
DFB
,
Die Zeit
,
Dynamo Dresden
,
FC RotWeiB
,
German Football Assoctiation
,
German Sport University
,
Germany
,
Hamburger SV
,
homophobia
,
Justin Fashanu
,
Marcus Urban
,
Mario Gomez
,
Naunhof
,
Philipp Lahm
,
Prince Kay One
,
Queer Football Fanclubs
,
Red Star Leipzig
,
Rudi Assauer
,
Rund
,
Saxony Football Association
,
Signal Iduna Park
,
St. Pauli's
,
Thomas Hitzlsperger
,
Tim Weise
,
VfB Stuttgart
,
Werder Bremen