Culture
These coaches take winning to new (heel) heights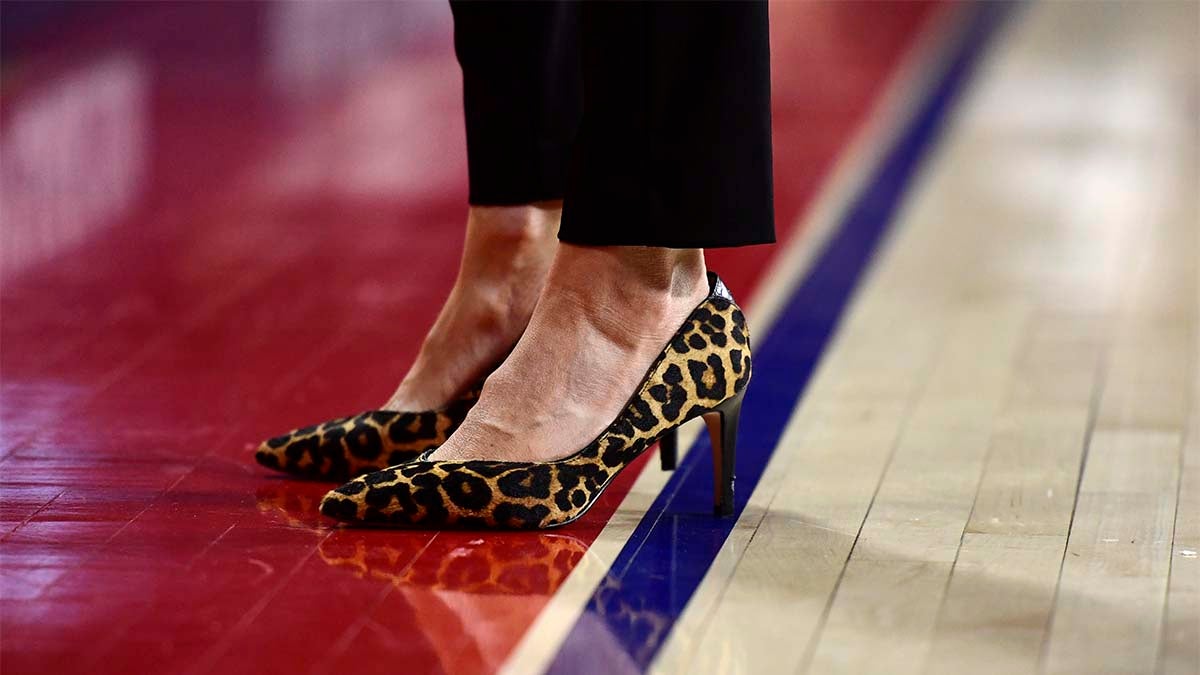 This particular job involves jumping, squatting, pacing and standing for hours in a hot, muggy gym.
So why do female basketball coaches choose to wear designer high heels on the court?

"I love to dress for games because I know for two hours, I can be this very feminine but very powerful, passionate person," Nicki Collen, head coach of the WNBA's Atlanta Dream, told InStyle. "I don't know if I could do it every day, 9 to 5, so I love the balance of what I get to do."
According to the Los Angeles Times, coaches say the fashion consciousness is also due, in part, to the increase interest in women's basketball -- and women's sports in general. In some parts of the country, local turnout has surpassed the men's game.
"Most coaches I know are conscious of their dress," C. Vivian Stringer, the longtime coach at Rutgers University, told the LA Times. "When you talk about 'dress for success,' that indicates something special is about to take place. You pay respect to the event by the way you present yourself."
Female coaches are changing the coaching dress code that has been set and maintained historically by males. Last year, according to ThinkProgress, close to 60 percent of women's college basketball teams were coached by women, which is actually down 30 percent from when Title IX was enacted in 1972. The law incentivized men getting more involved in women's basketball, rather than just men's. From 2000 to 2014, there were 2,080 new head coaching jobs in women's athletics but only about ⅓ of those jobs went to women. In addition, the percentage of women coaching women at the collegiate level has declined from 90+ percent in 1974 to near an all-time low today of 40 percent, a number that has remained stagnant for the last decade.
Historically, when most female teams had a female head coach, they dressed in a way that looked similar to their male counterparts on the court: a dress suit but with heels.
The dress code for coaches varies by league and by school, but for the majority of the sport a strict work attire for basketball has been in place. For other sports, attire is more lackadaisical. In baseball, coaches practically match their players in the dugout. In football, head coaches tend to rep the team logo with a hoodie or a hat.
Why is it different in basketball?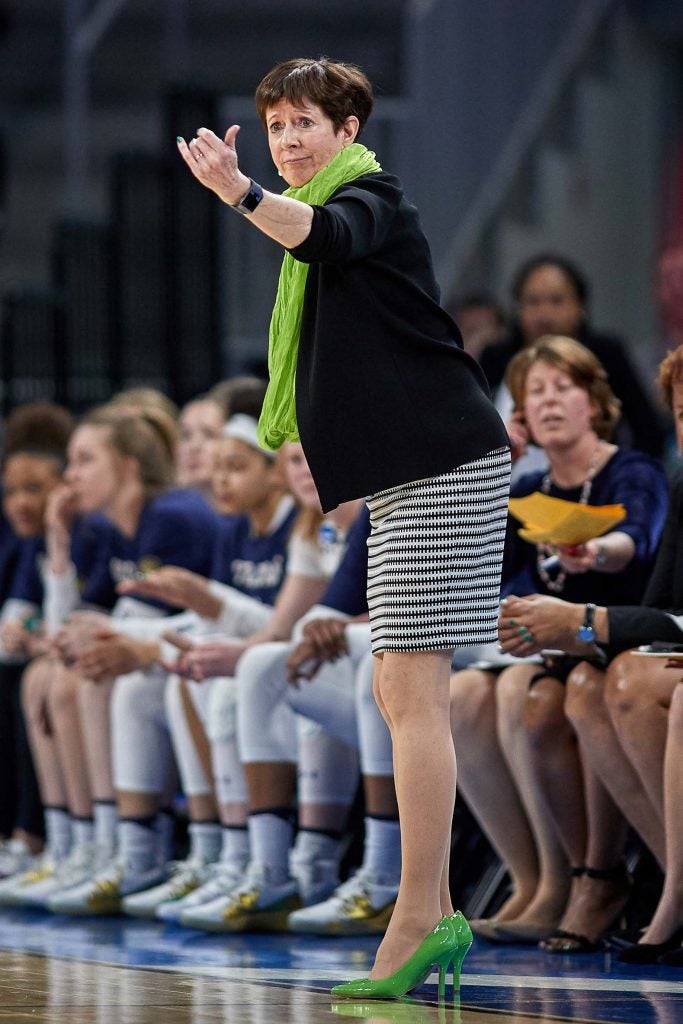 In basketball, different places have different rules. For example, the University of Florida requires its coaches to wear a suit and tie. Until a few years ago, NBA coaches had to wear a collared shirt under a suit jacket.
Yet, in recent years, female coaches have grown more comfortable making a fashion statement courtside.
On the sidelines of a women's NCAA Tournament or WNBA game, coaches are making a statement whether it's sky-high stilettos or bowties. Some have shown their style, such as Muffet McGraw of Notre Dame, who has sported a bright green scarf; Dawn Staley of South Carolina, who wears thick-framed glasses with a leather top; or Kim Mulkey of Baylor, who often arrives in a bright orange suit.
According to the LA Times, Stringer said wearing nice clothes boosts her confidence. She said that in her 23 years of coaching, a team dress code has always been required. Stringer's assistant coach, Jolette Law, said players are expected to wear skirts or dresses and hosiery before and after games and while they travel.
For some coaches, the attire is more uncomfortable. Collen opts for high stilettos. She said perhaps the reason is she stands 5-feet, 5-inches tall, but she said she will always be in a least 3-inch heels.
"I made a personal bet with myself that if we made the playoffs during my first year [as Atlanta Dream coach] I was going to buy Christian Louboutins," Collen said in an interview. When her team made the playoffs last season, the shoes weren't what she was expecting. "I was more tortured that night than any other night. But I looked great!"
Another coach that has taken the "beauty is pain" approach during games is Cheryl Reeve, Minnesota Lynx coach. According to InStyle, Reeve suffers a condition that causes inflammation of tissue in the heel of the foot, plantar fasciitis — partially because of her unsupportive shoes on the court.
"High heels may technically be a voluntary clothing item," Summer Brennan, author of the book "High Heel," said. "But there are so many instances in a woman's life when she is compelled to wear them in order to communicate something about herself, authority and formality being the most common."
The question is, do female coaches typically wear high heels to portray something about themselves or because they know they often are expected to?
Chris Dailey, associate head coach for the University of Connecticut, said wearing high heels is about wanting to be seen as appropriately dressed. She said her No. 1 priority when she chooses her game attire is to describe her look in two words: "professional" and "appropriate."
Charmin Smith, former associate head coach at University of California, Berkeley told InStyle that women are always critiqued on how they look whereas men are not. She said men can dress in a pair of slacks and shirt and tie and no one will say anything.
"Women are always judged on how they look and their appearance," Smith said. "And I do think there is a pressure that the critique surrounding you is positive. It doesn't affect your ability to coach the game, but it is the way our society works and it's something we have to deal with."
A study done by a team of psychology students at California State University, Northridge and Columbia University looked at how dressing professionally influenced an individual's thought process. The researchers found professional dress increases abstract thinking and gives people a broader perspective.
"The formality of clothing might not only influence the way others perceive a person and how people perceive themselves," the researchers said in the study. "But it could influence decision-making in important ways through its influence on processing style."
The study indicates what an individual chooses to wear can have an impact on the way they think and feel about themselves.
In another study, psychologists at the universities of Liverpool and Central Lancashire conducted an experiment in which they edited photos of women, both lengthening and shortening the pictures to change the height appearance of the woman. The results revealed that heightened women were judged more assertive, independent, intelligent and ambitious — not to mention richer and more successful — than their shorter versions.
Despite perceived "expectations," Smith and other female coaches tend to lean toward comfortable work attire without giving up style. Smith often wears blazers with popped collars, shiny Oxfords or loafers or her J.Crew game-day look for comfort. She claims she will never wear heels to a game.
Smith added University of Kentucky assistant coach Niya Butts's Chuck Taylor and bow tie debut inspired her. She said it made her feel like she was able to wear whatever made her comfortable, too.
Courtside at the @ATLHawks game! @nba Basketball and ?, yes please!! @AtlantaDream pic.twitter.com/dgjHwCF4Pm

— Nicki Collen (@NickiCollen) December 4, 2018
A recent trend on social media is coaches tweeting pictures of their gameday attire, particularly their shoes, on the sidelines. After Collen shared a picture of her red high heels, the Dream's social media team told her the tweet they shared of her shoes gained more engagement than anything else on their page.
"There are a lot more coaches in women's basketball who are allowing themselves to step outside the box and be comfortable, or dress the way that fits their personality," Smith said. "And not to try to fit inside this box of what we think a women should look like when we get dressed for work."
Logan Huff is a journalism major at Arizona State University.
Tags:
appearance
,
appropriate
,
Atlanta
,
Atlanta Dream
,
basketball
,
beauty
,
bow tie
,
Chuck Taylors
,
coach
,
college basketball
,
comfortable
,
confidence
,
court
,
dress
,
dress code
,
fashion
,
female
,
feminine
,
gym
,
high heels
,
Louboutins
,
male
,
NBA
,
NCAA
,
Notre Dame
,
outfit
,
pain
,
professional
,
Rutgers
,
shoes
,
skirt
,
social media
,
statement
,
stilettos
,
Title IX
,
work
,
work attire