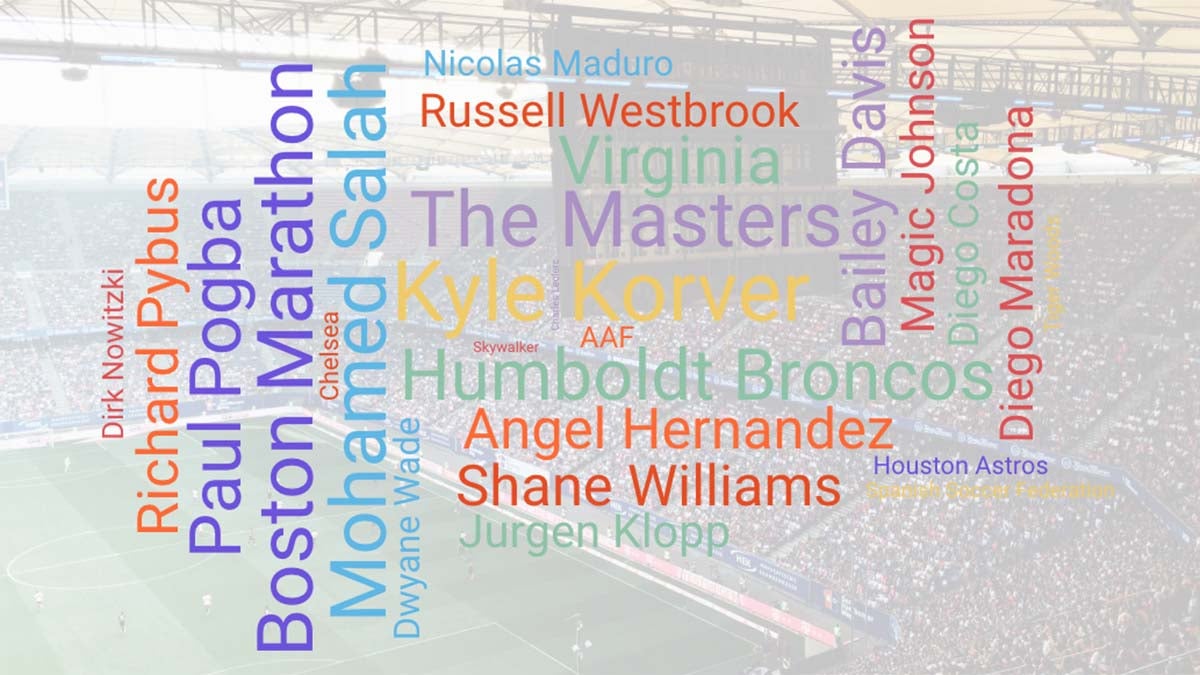 We all experience that feeling that the week can sometimes get away from you. News happens so quickly that it might feel like you don't have a chance to know what is going on in the world. Each week, GlobalSport Matters will compile some of the best of the other stories in the sporting news.  These stories will include new breakthroughs in sport science, information about changing technology and just good reads about the global sporting community. Have a story you'd like us to know about and share? Let us know.
Costa receives 8 game ban for insulting official's mother
Spanish International soccer star Diego Costa received an eight game ban for insulting an official's mother when a call did not go his way. The Spanish Football Federation handed down the penalty - four games for holding the officials arm and four for his comments about the officials mother. 
Maradona fined for dedicating victory to Maduro
Diego Maradona, the head coach for Dorados de Sinaloa, dedicated his team's victory to Venezuelan president Nicolas Maduro and was fined an unspecified sum for violating the Mexican soccer federation's code of ethics.
The cheerleader who blew the whistle on the NFL carries on
Former Saint's cheerleader Bailey Davis filed a sex discrimination lawsuit against the NFL last spring. Over the last year, Davis has become the whistleblower who put her own career on the line in order to represent cheerleaders everywhere as an advocate for equal treatment. She has been on talk shows around the world to talk about her experience and the case against the NFL. Since this began, some teams have switched to more conservative uniforms. The case should have a verdict by this summer.
Woman suing  Astros after mascot's T-shirt cannon 'shatters' her finger
A woman is suing the Houston Astros for a t-shirt cannon "shattering" her finger at a baseball game. Jennifer Harughty is suing the organization after requiring two surgeries to attempt to fix her broken finger from a game in July 2018.
Remembering 16 victims of hockey bus crash
One year after a bus crash killed 16 members of the Humboldt Broncos, friends and family remember. Thirteen others were injured, after a bus taking the Humboldt Broncos junior hockey team to a playoff game collided with a transport truck at a rural intersection in Saskatchewan on April 6, 2018.
Former AAF employee files suit
James Roberson, who was the community relations director of the Birmingham Iron before the Alliance of American Football suspended operations in early April, is suing the AAF and its investors. The suit alleges that the league violated the Worker Adjustment and Retraining Notification Act of 1988, which says employees must be warned at least 60 days prior to a business closing. Another suit has been filed by former players for breach of contract.
Utah Jazz guard Kyle Korver penned an essay expressing concern over his identity within the NBA, particularly as it pertains to race. He wrote that he identifies more with the white fans than his black teammates and opponents, and how that reality showed itself recently when a Jazz fan shouted racist profanities at Oklahoma City Thunder guard Russell Westbrook. He wants to "shut up and listen" to change his own biases as well as how he can be an ally. As Marc Spears of The Undefeated wrote, "If white players show solidarity off the court with their black teammates to quell racism and social injustice as strongly as they do to win on the court together, perhaps the predominantly white fans would be more inclined to listen as well."
Umpire alleges MLB, Joe Torre discriminating against minorities
MLB umpire Angel Hernandez filed a federal racial discrimination lawsuit towards the league two years ago. A previously sealed list of items he's sought permission to speak about related to his federal racial discrimination lawsuit was made public in a filing by his attorney in U.S District Court for the Central District of New York on Tuesday. Among the 27 items Hernandez asked permission to speak about without retaliation included allegations that "MLB has made professional life even harder for minorities in baseball" since Torre was hired as an executive vice president in 2010 after his long tenure as manager of the New York Yankees. 
Chelsea fans barred from match for singing derogatory Salah chants
Thursday's Europa league match between Chelsea and Slavia Prague saw three less spectators than expected after they were identified to be the singers in a derogatory song aimed at Liverpool star Mohamed Salah. The video, that has circulated through social media, contains the lyrics "Salah is a bomber" and contained six individuals, three of which were stopped by away security and three who remained off the grounds of the stadium, Chelsea released a statement pledging to take "Strongest possible action" against any ticket holder found to have misbehaved.
Compiled by the student journalists in the Sports Knowledge Lab at Arizona State University
Tags:
AAF
,
Angel Hernandez
,
Bailey Davis
,
Birmingham Iron
,
cheerleader
,
Chelsea
,
Diego Costa
,
Diego Maradona
,
Dorados de Sinaloa
,
Houston Astros
,
Humboldt Broncos
,
James Roberson
,
Jennifer Harughty
,
Joe Torre
,
Kyle Korver
,
lawsuit
,
Mexican Soccer Federation
,
Mo Salah
,
Mohamed Salah
,
New Orleans Saints
,
NFL
,
Nicolas Maduro
,
Russell Westbrook
,
Slavia Prague
,
Spanish Football Federation
,
T-shirt cannon
,
umpire
,
Utah Jazz
,
Venezuela